Dismiss Notice
Knee Deep In Surf
| Knee Deep Brewing Company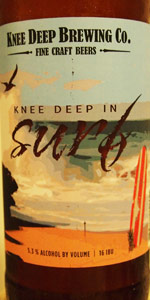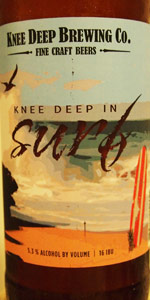 BEER INFO
Brewed by:
Knee Deep Brewing Company
California
,
United States
kneedeepbrewing.com
Style:
Fruit / Vegetable Beer
Alcohol by volume (ABV):
5.30%
Availability:
Summer
Notes / Commercial Description:
No notes at this time.
Added by mactrail on 11-03-2011
HISTOGRAM
Ratings: 9 | Reviews: 6
None found.
More User Reviews:
2.13
/5
rDev
-15.8%
look: 3.5 | smell: 3 | taste: 1.5 | feel: 2 | overall: 2
Wheat ale brewed with pineapple juice.
Pours a crystal clear medium gold color with a very short white head and big bubbles.
No pineapple in the nose but medium assertive esters, very much like a stereotypic Belgian nose.
Mouthfeel is thin and full of a citric acid character - there is a pucker factor that actually causes salivation from the acidic character; not very pleasant truth be known - not like a sour or wild ale.
Flavors are just plain "off." There is a sour citric acid character but not that of an intentionally sour or wild ale. I got absolutely no pineapple flavor, tone, hint or otherwise. It tastes like someone took a Coors or a Bud and poured lemon juice in it - really. Tastes more like "lemon added" beer than anything else and with no appeal.
Finish is unpleasant citric bitter and short. Not one I'd try again.
845 characters



3.09
/5
rDev
+22.1%
look: 4 | smell: 2.5 | taste: 3 | feel: 3.5 | overall: 3.5
This takes some getting used to. You'd think pineapple might add a pleasant tart frutiness. The first smell is more sour than aromatic, and more like the fresh pineapple you left a couple days too long on the window sill. The taste starts our boggling, but after half a glass, it actually tastes pretty good. I would also add that my stomach finds it quite acidic. A big foamer, with a white head on the yellow beer. Settles down to a heavily carbonated light-weight quaff.
For flavored beers, the trouble with unusual ingredients is whether it actually improves the beer flavor. I think the jury is still out on this one, but it does taste more like fresh than canned juice.
679 characters

2.57
/5
rDev
+1.6%
look: 4 | smell: 2 | taste: 2.5 | feel: 3.5 | overall: 2.5
1 pint 6 ounce bomber. Decanted into a pint glass.
Appearance: Heavily carbonated. So bubbly, in fact, that it's tough to pour. Had to be done in stages. The result is a misty yellow beer with a lofty, billowy head.
Smell: Sweet and sulfury. Kind of harsh.
Taste: Musty with a canned pineapple flavor. A little tart. Faint bananas and cloves. The finish even has that slight numbing effect that cloves give you. The pineapple sticks around for a bit, and fades away slowly. Everything is very toned down and easy.
Mouthfeel: Light body with sharp carbonation.
Overall: I'm not sure that I'll need to buy another bottle of this. I love this brewery, and I see what they're doing here, but it's just not my cup of tea. It's not a terrible beer, but the aroma is a bit harsh and may turn some folks off.
813 characters
2.71
/5
rDev
+7.1%
look: 3 | smell: 2 | taste: 3 | feel: 2.5 | overall: 3
I tried this beer out because its local for right now (temporarily in lincoln, CA.). I noticed that this beer was discount off it previous price, I wonder why that might be.
The beer is sour to me, smells sour, kind of acidic. The taste is the same, really has that acidic taste up front that really impacts the whole beer and I don't really notice the pineapple because of it. After trying this beer twice I just don't see any real appeal to the taset of it besides that fact that it is quite sour. One other thing I noticed was that it has the best head I've ever seen on a beer. This beer looks like suds in water no joke. Well I'd like to try some other beers from Knee Deep to see what else they have to offer.
717 characters
1.98
/5
rDev
-21.7%
look: 3 | smell: 2.5 | taste: 1.5 | feel: 2 | overall: 2
First review, but definitely not my first beer by a long shot.
Got a bomber of this at my bottle store. I was really excited to see what a pineapple-based beer would taste like.
Opened the bottle and immediately knew this was either overcarbed or plain infected since it immediately gushed out although it had been chilling for several days and as far as I know hadn't been jostled or anything like that. Rushed it to the sink to let it sit a while. I recommend opening this beer over your sink because it is seriously overcarbed.
Appearance was golden yellow as I expected with crazy amounts of head due to the overcarb. Hazy.
Aroma is alright, but if you're looking for the smell of beer you might go elsewhere since this is heavily fruity. You can smell funk from the pineapple. Heavy smell of stale beer, but that's probably due to it spilling all over the place as I rushed it to the sink....
Taste is certainly not what I expected as there was basically no malt or hop flavor at all. It reminds me of a pineapple wine more than a beer. Maybe they bottled with champagne yeast or something and it seriously over-attenuated. I liked the taste but I do like champagne and mead and such. I wouldn't specifically buy this for that taste though, I'd get an actual pineapple champagne.
Mouthfeel is very light, kind of watery, with excessive carbonation. It really did feel like a watery pineapple champagne.
Overall, I would never buy another bottle of this nor would I recommend that anyone else buy it. They have some work to do when it comes to fixing their carbonation issue or stopping the yeast attenuation or whatever went wrong here. Maybe they try to bottle with pineapple juice? This beer needs serious work and should be pulled from the shelves because people are going to get wet with that level of overcarbonation.
Edit: Wrote to the brewery because this just didn't feel right. Brewer said this bottle should not have been in the store. So, if you bought one of these recently, you may want to take it back for a refund.
2,042 characters

3
/5
rDev
+18.6%
look: 3 | smell: 3 | taste: 3 | feel: 3 | overall: 3
Slightly cloudy orangish yellow, small white head soon thins to foamy ring, some weak foamy lace.
Aroma is grain, bread, hints of pineapple, sulphur, apple.
Taste is, in sum, like a slightly strong basic pale lager with an unusual fruitiness. It is light crisp grain, mineral, faint grassy bitterness with light, vague gumdrop fruity sweetness, light cracker aftertaste, and lightly evidence alcoholic quality.
412 characters
Knee Deep In Surf from Knee Deep Brewing Company
Beer rating:
2.53
out of
5
with
9
ratings