Citra Extra Pale Ale
| Knee Deep Brewing Company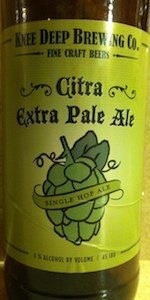 BEER INFO
Brewed by:
Knee Deep Brewing Company
California
,
United States
kneedeepbrewing.com
Style:
American Pale Ale (APA)
Alcohol by volume (ABV):
7.00%
Availability:
Rotating
Notes / Commercial Description:
A single hop, West Coast style American Pale Ale with intense hop flavor and aromas. This is a citrus bomb that has grapefruit and passion fruit aromas with citrus lime flavors.
Added by HopHead84 on 12-18-2011
Reviews: 133 | Ratings: 674

3.53
/5
rDev
-8.8%
look: 4 | smell: 3.5 | taste: 3.5 | feel: 3.5 | overall: 3.5
Picked this up because of the big "Citra" on the label. Thought I'd give it a try while in CA. Taken from notes while in my hotel room in CA.
Appearance – Pours into a hotel glass cup with a golden color, lots of carbonation can be seen, and a finger of off white head.
Smell – Grainy sweet malts and caramel first and foremost, then citrus such as grapefruit and tangerine.
Taste – Again more of a sweetness up front. Lots of the grainy malts as mentioned, bread, and toffee. There is some slight hoppiness to it, though not nearly as much citrus flavor form the Citra hops as I was hoping.
Mouthfeel – Medium to lower bodied, plentiful carbonation.
Overall – A decent single hop beer. Was not nearly as good as I was hoping.
747 characters
3.98
/5
rDev
+2.8%
look: 4.5 | smell: 4 | taste: 4 | feel: 3.5 | overall: 4
On tap at Naja's, on a slow tap night (as is often my luck). The beer is light copper colored with a fine haze and thick sheets of lace. Hop-forward aroma, obviously citra. Pretty Damn solid tasting too, slightly sweet with faint notes of toasted malts, more decidedly bitter on the back but with lingering Citra flavor. A simple combination that I'm a sucker for.
364 characters
3.56
/5
rDev
-8%
look: 2.5 | smell: 4 | taste: 3.5 | feel: 3.5 | overall: 3.5
A - Clear copper color with almost little head and no retention. Lacing is non-existent.
S - Here we go! Pineapple, mango, grapefruit, passion fruit. Lots of tropical citrus here.
T - Follows the nose pretty well, but everything seems a bit muted. Still tropical fruit, but malt is more prominent. Nicely balanced, I just wish the flavors were brighter.
M - Carb is good, and it leaves the mouth somewhat sticky and sweet. Pretty nice.
O - I like this beer. Nice and hoppy, but by no means a hop bomb (to me anyways). It would be nice if the flavor was a bit more vibrant, but overall I could drink this all day no problem.
627 characters

3.44
/5
rDev
-11.1%
look: 3.5 | smell: 4.5 | taste: 3 | feel: 2.5 | overall: 3.5
22oz bottle with no date. A golden hue with cloud white lacing. Wonderful coniferous aroma and petroleum fumes. Very hop forward with a barely detectable malt backbone. Slightly off kilter and imbalanced with a too bitter aftertaste. Citra is a wonderful hop variety, and Knee Deep is well on its way to brewing a stellar single hop XPA.
337 characters

4.2
/5
rDev
+8.5%
look: 4 | smell: 4 | taste: 4.5 | feel: 4 | overall: 4
Picked up two 22oz bombers from Olive Tree Market here in OB for $7. each and drank them with a good friend straight from the bottle (I know, i'm a savage for not pouring it into a glass - whatever!).
Bottle states: 6% ABV / 45 IBU
A: Drank it from the bottle - averaged the points with the rest of the aspects of this brew.
S: Super hoppy (like an IPA by most people's standards) - very earthy, fresh cut grass, herbal tea with a good dose of sweet malt at the end that takes a back seat to the hop presence which is dominant in the overall mix.
T: Big time floral hop starts this one off right - earthy and resinous, citrus rinds and a hint of vanilla with a good dose of sweet malt, fresh grain and crackery goodness. The hop/malt balance is much more evened out in the flavor over the nose but this is not a complaint. This beer should really serve as a threshold to all pale ales out there that consider themselves to be world class without having any type of hop character - this has it all - both hop and malt are cranked way up, but work perfectly together.
M: Light to medium bodied, a bit sticky with perfect carbonation for the style. Finish is creamy and smooth - goes down like nothing.
Overall this is one of the better pale ales out there - it truly does feature the Citra hop, which is one of my favorites. Not sure why this one doesn't get more love here, though people have a tendency to grade a beer similar to the person before them (???) - someone mentioned "body odor" in the flavor/nose - haha...what!? Don't be fooled. Me and my buddy could't get enough of this one. My only grip is $7. per bottle - just outrageous! Knock the price down to $4.99 where it belongs and i'm sold!
1,709 characters

3.95
/5
rDev
+2.1%
look: 4 | smell: 4 | taste: 4 | feel: 3.5 | overall: 4
When you can pop the cap off an IPA and immediately catch a strong whiff of hops, you know there's some hopsy lovin' going on. Not the intense grapefruitiness of Citra DIPA, but a nice, stiff aroma that deepens as it's poured into a pint glass. Color starts gold with orange coming in as the glass is held to light.
Taste is straightforward bitterness, not too intense, but a single-note flavor as the brew is swished all around the inside of the mouth, giving away to a slight citrus feel on the sides of the tongue. A mild, bark-like bitterness is the last taste sensation left.
I call it refreshing. Have no idea how old the bottle is, but suspect I've gotten a hold of a recent batch. It's a simple beer, but that's probably the nature of a single-hop brew. Quite worthy.
777 characters
2.11
/5
rDev
-45.5%
look: 3 | smell: 2 | taste: 2 | feel: 2.5 | overall: 2
I write this review instead of using "Hads" to keep track of my tastings so that it can garner sufficient reviews to get a grade.
Pours a clear orange amber with gold highlights and a light pure white head. Nice looking although head fades fast.
Nose starts with an almost saison funkiness but goes to a bit of "smelly" oranges. No other way of putting it but smells a bit like "sweet sweat." Hints of body odor in my beer is not what I'm looking for.
Mouthfeel is medium/thin but quickly forgotten with the giant assertive pine/bark/old bitter grapefruit skin flavor profile.
Flavors are big and bold but just singularly unattractive.
Finish is all bitter pine/earth/old grapefruit skin.
697 characters

3.2
/5
rDev
-17.3%
look: 3.5 | smell: 3.5 | taste: 3 | feel: 3.5 | overall: 3
12/17/2011
On tap at Churchill's.
A: Transparent yellow gold with a finger of white froth.
S: Aromatic tangerine meets grainy malt with notes of bread and caramel. The nose is dry with a decent amount of orange pith.
T: Bready, grainy malt with little sweetness, blending with faint tangerine and orange notes. Bitterness is at a moderate level. Finishes dry and bitter with citrus rind.
M: Upper light body with lower high carbonation.
Overall: A solid single hop pale ale. Not exactly bursting with flavor or aroma, but there are worse things than tending toward insipidity.
582 characters
Citra Extra Pale Ale from Knee Deep Brewing Company
3.87
out of
5
based on
674
ratings.