Grassroots Viola Sofia (Barrel Aged)
| Grassroots Brewing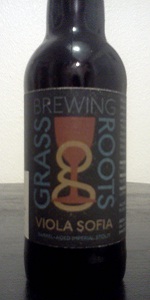 BEER INFO
Brewed by:
Grassroots Brewing
Vermont
,
United States
Style:
American Double / Imperial Stout
Alcohol by volume (ABV):
10.80%
Availability:
Limited (brewed once)
Notes / Commercial Description:
Aged in Jack Daniels barrels for 3 months on top of cocoa nibs. 984 bottles produced.
33cl bottles.
Note: There is a "un-barreled" version of this beer in 50cl bottles made exclusively for "Ma Che Siete Venuti A Fa'" in Rome, Italy.
Added by Kelp on 11-24-2011
This beer is retired; no longer brewed.
Reviews: 15 | Ratings: 31

3.31
/5
rDev
-17.7%
look: 4.5 | smell: 3.5 | taste: 3 | feel: 4 | overall: 3
A: Pours a pitch-black color, fat two finger-width head, sticky lacing
S: Lots and lots of bourbon, with a strong helping of musky woodiness, like taking a deep breath while standing in a damp old basement filled with old wood.
T: Bourbon, bourbon, musky wood, and more bourbon. This tastes like someone took a damp bourbon barrel that's been sitting in a basement for a few years, liquefied it, and then bottled it. The taste isn't necessarily bad, just not really my thing.
M: Medium-light viscosity, buttery, barely any carbonation, slightly boozy
O: It's an good imperial stout, but has this weird damp musky/woody taste that gets worse the more you drink the beer. Glad I got to try it, but don't think I'll ever get another
737 characters

3.75
/5
rDev
-6.7%
look: 4 | smell: 4 | taste: 3.5 | feel: 3.5 | overall: 4
Purchased at Hill Farmstead
A-Pours coal black with burgundy highlights and a thin, bubbly milk chocolate colored head. Streaky lacing.
S-Mellow aromas of bourbon and milk chocolate, offset by a subtle roastiness. Making my mouth water.
T/M-Much hoppier and roastier than suggested by the nose. Underneath the initial milky soft mouth feel and chocolate/bourbon sweetness is a layer of palate coating, astringently dry hoppiness. There is also a significant warming booziness on the back end that hurts drinkability. I would have a little trouble getting through a whole bottle by myself.
O-I think this could use a year to age out the harsh hop bitterness. Good things happening once you get past the oppressive bitterness.
728 characters

3.75
/5
rDev
-6.7%
look: 4 | smell: 4 | taste: 3.5 | feel: 3.5 | overall: 4
Thanks Robert, pours a thick black with cappuccino foam atop. Nose is roast, a fair amount of coffee beans, vanilla, dark chocolate, and a pleasant note of toasted nuts and bourbon. Very dry uprfront with a lot of roasted coffee beans opening up. A lightly bitter bourbon along the finish. Thinner in the mouth than I expected. Carbonation is pretty sharp, too much so. Bitter roast and bourbon open up as it breathes. Pretty nice, I enjoy that it's dry and well integrated, but kind of unexceptional and overly roasty-forward.
527 characters
3.76
/5
rDev
-6.5%
look: 4.5 | smell: 3.5 | taste: 4 | feel: 3.5 | overall: 3.5
Don't know the year but, we've got laser etched 19.04.2012 and best before Jan '13 on the label.
A: Black with candy apple and brown notes. Thin light brown head settles down to an archipelago of varying topography.
S: Not what I would have guessed- red wine, oak, dust, attic, coffee cake, cinnamon, and a whisper of well drinks.
T: Bonfires, hard candy, cocoa, stale coffee, green wood. Barrels? idk about them. It seems as if this beer was aged on freshly pruned twigs ripe with green pulp.
M: Moderate to full feel, sustains for a decent few seconds then fades uniformly. Carbonation is moderate. Dry from the roastiness.
O: I had this in what ended up being what I feel is an appropriate portion - 6 oz. Interesting beer.
734 characters

3.83
/5
rDev
-4.7%
look: 4 | smell: 3.5 | taste: 4 | feel: 3.5 | overall: 4
Picked up at the Hill Farmstead Nor/Birth of Tragedy release a few months ago.
A Pours very dark black and completely opaque in my glass. Medium colored brown head forms above the body has some pretty good retention and turns foamy
S Sweet and earthy notes on the nose with some chocolate and alcohol as well
T Whiskey is most noticeable upfront along with some chocolate and bitterness. Chocolate and roast come through toward the middle with a light raisin taste. Theres some alcohol too and the finish is sweet and bitter. The whiskey flavor is strong.
Taste opens up as it warms. The choolate and roast become much more noticable and the whiskey alcohol comes down a notch
M About a medium mouthfeel and is a little bit thick. Almost no carbonation on this one and theres some alcohol present
O I liked this one and wish I had another one to sit on for a year or so.
879 characters
3.95
/5
rDev
-1.7%
look: 4 | smell: 4 | taste: 4 | feel: 3.5 | overall: 4
Thanks to Michael for sharing this one.
Pours a dark brown with a pretty minimal tan head. Smell is heavy on the bourbon and appears to be very sweet. Very odd flavor after such a heavy bourbon aroma, the bourbon is largely missing from the taste. Instead chocolate dominates the flavor, which is good in a different way, but not the way I expected it to be, roast is present, but pretty minor. Mouthfeel is a medium-bodied, a little on the thin side for an imperial stout though, and fairly low on carbonation. Overall, this is a very solid imperial stout, but I would've liked a little more of the bourbon carrying over into the flavor.
639 characters
4.05
/5
rDev
+0.7%
Best by Jan 2013, thanks to rudzud.
Very little bubble head, little thick Dark fudgey black color. 4
Nose super fudge dark choc, super rich expensive cocoa, little barrel notes, faint booze, layered tiramisu like aroma, choc cake like, nice bourbon and barrel in general, so much fudge and cocoa. 4.5
Taste starts watery chocolate, little creamy mild choc notes, mild fudgey, bitter roast, and support bitter dark choc, thin and like powdered choc water. Little barrel notes, faint bourbon, vanilla, caramel, etc. Little bitter earthy bitter hop note. Finish is sticky sweet, caramel, dark cocoa, choc fudge, chewy, quite bitter lingering. 4
Mouth is med bod, bit thin but still fudgey, and no carb unfortunately. 3.75
Overall mixed, started great, has some great cocoa and fudge, mild barrel, pretty enjoyable though despite the lack of carbonation and bottle like. 4
873 characters

4.08
/5
rDev
+1.5%
look: 4.5 | smell: 4 | taste: 4 | feel: 4.5 | overall: 4
Thanks to AshleyMiller for this one. Served in a Darkness snifter. Best before January 2013.
A - Two fingers of creamy mocha foam settle to a thick cap, leaving omnipresent lacing. Body is an opaque, very dark brown.
S - There's a shocking amount of Jack Daniels for a European barrel-aged stout. Behind that there's charred oak, vanillin, cocoa, dry roasted nuts, and a lightly fruity note. A bit nostril-singing, but otherwise quite enjoyable.
T - The taste is more roasty, with dark chocolate, light whiskey, char and espresso, and an intensifying bitter finish that commingles licorice, tar, and Jack Daniels. Exemplifies the Scandinavian stout aesthetic, with low sweetness and intense burnt malts flavors.
M - Texture is very milkshake-esque, with a low but active carbonation level. Chewy and viscous, with minimal alcohol presence, and a mild amount of barrel tannin dryness. Some mouth-coating sugars linger.
D - This was very easy to drink, and I easily finished the 33cl bottle on my own. I suspect this will have the typical BA/RB disconnect, as the European crowd seems to really enjoy charry and bitter stouts like this one. I tend to be more into these flavors than my Chicago brethren, so I enjoyed this quite a bit. I'd definitely have this again if it was reasonably priced and available.
1,311 characters
4.18
/5
rDev
+4%
look: 4.5 | smell: 4 | taste: 4 | feel: 4.5 | overall: 4.5
Soft tan bubbles resides around the edges of this Hair of the dog snifter. Scotch, oak, and chocolate are penetrating those olfactory senses. Taste? Very nice. Absolutely well balanced barrel aged RIS. Some dark chocolate notes, bourbon, cocoa, and oak. Medium viscosity, and really, quite nice. Have not been disappointed with a single beer Shawn Hill has been involved in. this is a very good barrel aged RIS, and it looks like Shawn is starting to explore this style a bit more as indicated by recent releases, which is very exciting. Considering it's aged in JD barrels, which is often not particularly useful in crafting a tasty -bal aged beer, this is definitely the exception. Recommended.
696 characters
4.19
/5
rDev
+4.2%
look: 3.5 | smell: 4.5 | taste: 4 | feel: 4 | overall: 4.5
12 oz bottle. Thanks Ashley!
Pours a near black with a thin, fleeting tan head. Potent boozy aroma of bourbon, cocoa, roast and light oak. Flavor begins initially heavy on the bourbon and dark fruit before subtly transitioning mid palate to a cocoa and chocolate malt with light roast. Any traces of the barrel nearly disappear by the finish. Medium light body, soft carbonation, a little thin for the style. A very unique, drinkable barrel forward stout.
456 characters
4.2
/5
rDev
+4.5%
look: 4 | smell: 4.5 | taste: 4.25 | feel: 3.75 | overall: 4
This was picked up in a simpler time...back when one could stroll up to Hill Farmstead and spend two hours there talking with Shaun and Phil and not seeing another customer. Ah...the good ol days. Shared with JLindros.
A - Poured into a Kate the Great tulip a super dark brown nearly black hue with next to no head that fades to leave a thin halo and nice legs. 4 (x .05 = .2)
S - Aromas of fudge fudge fudge galore, delicious chocolate. This is a precursor to Damon and birth of tragedy and Shaun clearly knew he had a winning base beer. Super aromatic, great bourbon and barrel, light coffee. This is super aromatic. 4.5 (x .02 = .9)
T - Taste is loads of roast still, little bitter acrid roast, light chocolate. Bourbon is there, faint, rather watery chocolate. A bit of a let down to as good as the nose is. Just a bit thin on the taste, while good it's a shadow of the nose. 4.25 (x .45 = 1.913)
M - Mouthfeel is very thin and watery, basically flat. Quite the shame, alcohol is hidden well though. 3.75 (x .1 = .375)
O - Overall this beer had big sways of good and bad. Awesome nose but the lack of carbonation hurt this. The things that get lost in a cellar... 4 (x .2 = .8)
Total Rating Score: 4.19
Serving Type: Bottle
1,234 characters

4.27
/5
rDev
+6.2%
look: 4 | smell: 4.5 | taste: 4 | feel: 4.5 | overall: 4.5
Black in color with a solid tan head. Really nice whiskey and vanilla nose right away. Great roasted malt and chocolate along with some toffee and molasses sweetness. The flavor is just more of the same. Really smooth and rich on the tongue, too. Great chocolate and vanilla flavor, moderate whiskey and controlled booze. Awesome stuff.
336 characters

4.35
/5
rDev
+8.2%
look: 4 | smell: 4 | taste: 4.5 | feel: 4.5 | overall: 4.5
Bottle courtesy of yourefragile. Served in a tulip.
Pours near black with a good tan head and a thin collar. The nose has really nice bourbon and cocoa. Some roast. The flavor has a great dose of bourbon along with really nice cocoa. Feel is medium and rube-smoothm. A bit of oak and vanilla. Fantastic.
304 characters
4.58
/5
rDev
+13.9%
look: 4.5 | smell: 4 | taste: 5 | feel: 4.5 | overall: 4.5
A-Pours out black and inky with s light head that quickly dissipates. Some lacing follows the beer down the glass.
S-First smell is the Jack from the barrels used for aging. There is also some chocolate and roast on the nose.
T-The barrel is there, but not at all overpowering. A bitterness is also there from the chocolate they used. As it warms the chocolate becomes more apparent along with a roastiness. The finish also changes to a small amount of warmth and barrel.
M-A velvety smooth feel across the tongue, a bit of chewiness, and a slight dryness on the finish.
O-This is a great beer, that I wished I had bought more of now. It just gets better as it warms and is a fine example of an imperial stout.
714 characters

4.59
/5
rDev
+14.2%
look: 4.5 | smell: 4.25 | taste: 4.75 | feel: 4.5 | overall: 4.75
11.2oz bottle poured into a Hill Farmstead oversized wine glass.
A~ completely black, small brown head and the tiniest bit of lacing.
S~ strong boozy bourbon up front. followed by a little coffee, bitter dark chocolate and a ton of dark malts.
T~ a burnt coffee, dark chocolate master piece! the cocoa nibs really shine here. then the bourbon comes on with nice vanilla and caramel. surprisingly no boozyness at all! which might be because of the almost 2 years of age.
M~ nicely carbonated, not over done. smooth and extremely drinkable at almost 11%.
O~ this is seriously incredible even way past its best before date of Jan. 2013. the burnt coffee/cocoa nibs really throw this over the top. i'm always surprised with how well Jack Daniels barrels age a stout. it gives this unique sweetness thats really hard to put a finger on which also comes out on JD BA Mexican Cake minus the key ingredients of course but the JD barrels make these 2 brews very similar in a fantastic way.
986 characters
Grassroots Viola Sofia (Barrel Aged) from Grassroots Brewing
4.02
out of
5
based on
31
ratings.