XHOPS Pale Ale (Rainbow)
| Toppling Goliath Brewing Company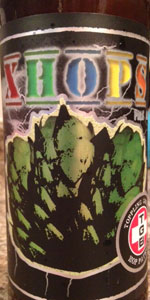 BEER INFO
Brewed by:
Toppling Goliath Brewing Company
Iowa
,
United States
tgbrews.com
Style:
American Pale Ale (APA)
Alcohol by volume (ABV):
not listed
Availability:
Limited (brewed once)
Notes / Commercial Description:
Deep in the labs at Toppling Goliath, through the vaulted door, down the steps, and past the room labeled "Beware the Leopard" lies a series of experiments long forgotten. The Xhops series - a biological hybrid of many experimental hops. Each color a unique flavor of pale ale. Released throughout 2013 and 2014, this beer begs to make a return, but can you handle it?
Added by Rilesmiles on 03-14-2014
This beer is retired; no longer brewed.
Reviews: 12 | Ratings: 79
3.64
/5
rDev
-5.2%
look: 4 | smell: 3.75 | taste: 3.5 | feel: 4 | overall: 3.5
650 mL bottle poured into a snifter.
Appearance - Hazy bright orange. Nice white head. Faint wisps on the surface.
Smell - Orange hops, A bit of an herbal character. Light doughy malts and a hint of grain.
Taste - A little less exciting, but still nice. Slightly nondescript orange citrus hops. The herbal notes are lost. Doughy malts make a brief appearance, but the finish is grainier.
Mouthfeel - Light and drinkable. Medium carbonation and low bitterness.
Overall - Well made pale ale. Better made than most, but isn't earth-shattering.
545 characters
3.79
/5
rDev
-1.3%
look: 4 | smell: 3.75 | taste: 3.75 | feel: 4 | overall: 3.75
Bottle shared by Pat. Thanks.
Pours a hazy golden orange with a thin white head. Doughy malt nose, pine, orange resin, grass. Flavor is doughy malt sweet, light orange and pine bitterness, lemon rind, and bready. Medium thick body, smooth, moderate carbonation
261 characters
3.9
/5
rDev
+1.6%
look: 4 | smell: 4 | taste: 3.75 | feel: 4 | overall: 4
A-nice orange amber color with a nice off-white head and good lacing
S-cracker malt, pine, citrus, light orange, floral
T-bready malt, grapefruit, orange, pine, floral, little grassy, moderate bitter finish
F-medium body with moderate carbonation, crisp
O-decent pale ale, but the hops aren't well-balanced, would have been interested in trying the individual ones to see if any were particularly compelling
411 characters

3.93
/5
rDev
+2.3%
look: 4.25 | smell: 3.75 | taste: 4 | feel: 3.75 | overall: 4
Appearance - nice full head on top of an opaque orange color. Quite beautiful
Smell - strong citrus up front and lots of hops on the back end. Is this a Pale Ale or IPA?
Taste - This one goes from sweet to bitter and back with a bitter finish. Very bitter finish as well. While good, I am confused between IPA or Pale Ale.
Mouthfeel - while very carbonated with left quite a bitter taste.
Overall - Wish I could get more TG near me. Quite the fan of the brewery and I am glad I got this in a trade.
502 characters
3.5
/5
rDev
-8.9%
look: 3.5 | smell: 3.5 | taste: 3.25 | feel: 4.5 | overall: 3.5
A: Very hazy pale straw, thick pillowy head that lingers.
S: Predominantly canned pineapple with some kiwi, and orange. Some bready herbal notes with a slight skunk as well. Not a bad aroma
T: Really doughy with a slight citrus tang. Can't really but my finger on anything else, maybe some orange?
M: Medium body that is slighty dry with some light sweetness. Chalky.
372 characters

4.23
/5
rDev
+10.2%
look: 4.25 | smell: 3.75 | taste: 4.5 | feel: 4.25 | overall: 4.25
A- Foggy golden honey with medium to large lacing no legs.
S- Probably the weakness IMO on this one. Citrus (grapefruit, orange), bready malt and mild hop profile.
T- Some citrus, big back malt profile, some citrus hops.
M- Thick and smooth. Somewhat milkshake. Medium carb
O- Another great TG offering
309 characters

3.93
/5
rDev
+2.3%
look: 4.5 | smell: 4 | taste: 4 | feel: 3.5 | overall: 3.75
22oz bomber poured into tulip.
A: Pours a very hazy marmalade-orange with large, creamy head.
S: Orange, pineapple, banana, and slight floral.
T: Orange, grapefruit, some floral with mild bitterness. The malt presence doesn't seem as prevalent as in their other pale ales. Finishes rather dry. Definitely improves as it warms, the resinous pine starts coming through much more.
M: Med-light body. Clean and refreshing, but comes off as almost watery.
O: A pleasant drinking pale ale overall, worthy of purchase in my opinion.
530 characters
4.16
/5
rDev
+8.3%
look: 4.25 | smell: 4.5 | taste: 4 | feel: 3.75 | overall: 4.25
Poured a very hazy tangerine, 2 fingers of head awesome lacing
Smell is kiwi, pineapple, oranges, tangerine, huge herbal nose, spruce, some spicy hop, big bready and biscuit notes, vegetal quality in there aswell
Tastes is vegetal hop, dank, tangerine. pineapple, herbal grassiness hops, bready malt, caramel, spicy yeast
Mouthfeel is medium with heavy carbonation, slightly dry with a lingering bitterness
Not sure why such low scores on this one, great depth of flavors,
But I will say some of the hops work better on there own.... One should never beer in beer!
570 characters

3.64
/5
rDev
-5.2%
look: 4.75 | smell: 3.75 | taste: 3.5 | feel: 3.5 | overall: 3.5
A: Pours a golden haze with a 2 finger white head. Good retention and lacing.
S: Citrus, pineapple, with a little floral.
T: Light on the tropical fruits and minimal pine. A lot of sweetness in this one.
M: Good carbonation. Medium body and some bitterness.
O: TG has been brewing some amazing beers lately, this one is no home run but still a pretty good brew.
363 characters

3.81
/5
rDev
-0.8%
look: 4.75 | smell: 3.75 | taste: 3.75 | feel: 3.75 | overall: 3.75
22oz bottle from the recent delivery to Madison. Poured into a TGB gold snifter today, 3/18/2014.
App- Hazy, pale orange-straw body with an absolute beaut of a thick, 2 finger light-coloured tan head with fantastic retention and great lacing. As far as APAs go, this is a real beauty.
Smell- Floral, grassy, quite dank. A nice sharp spice similar to fennel but it is not quite fennel character, more of a rye. Belgian candi sugar sweetness underlying the hops. Clearly this is a hop forward beer.
Flavour- The floral hops hit first in force. A resinous dank character pervades the entire palate. Hints of citrus and tangerine. A small amount of candied sugar sweetness attempts to balance out the hops, but make no mistake, this is a very hop-forward APA without much trace of caramel or other characteristic sweet flavours of pale malts. The finish is dry, with a lot of grassy hop character that provides a fair amount of bitterness.
Mouthfeel- Medium bodied but on the thinner end; not quite watery. Finish is dry, grassy with a fairly long-lingering bitterness for an APA. Good carbonation, not fizzy and not flat.
Overall- A fine APA that demonstrates more grassy and floral character with a nice dry bitter finish. Seems to be more of a complete drinking experience with the proper amount of hop aromas and bitterness. Very good, above average APA but isn't outstanding in the palate department for me.
1,413 characters

3.93
/5
rDev
+2.3%
look: 3.75 | smell: 3.75 | taste: 4 | feel: 4 | overall: 4
A- light orange hazy color. White head with good lace. A thin cap keeps up as the glass empties.
S- fresh baked pastry dough, dole canned pineapple, goose bury.
T- starts out with a minerally citrus, a bit of pear, some grapefruit and a round gooseberry, New Zealand Sauvignon blanc. The finish shows some roast character.
M- appropriate pale ale carbonation. Smooth finish.
O- overall, a good pale. Unsure what the hops are but I'd bet it's something from New Zealand.
475 characters
3.44
/5
rDev
-10.4%
look: 3 | smell: 4 | taste: 3 | feel: 3.5 | overall: 3.75
Very hazy orange-yellow appearance. Way way over carbonated, about 10 oz almost overflowed a 16 oz glass with a very gentle pour. Never had anything from TG this carbonated.
Good aroma (not Sue level). It smells of citrus/lemon, mango and tropical fruit but is also slightly stale.
Very unusual middle of the palette bitterness, perhaps from the carbonation. Really distracts from the flavor and makes me crave a glass of water. Otherwise flavor is fine; there seems to be an interesting fruit flavor going on in the background but the strange bitterness makes it hard to distinguish.
Mouthfeel is fine, fairly creamy except for the prickliness due to carbonation.
Overall, not bad but not something I'd prefer to drink. I also had Red and Green (red was the best) but this was definitely well below the other two I tried. Definitely not up to TG standards…but then again it was an experiment. Glad I got to try, but also glad there was a 1 bottle limit..
962 characters
XHOPS Pale Ale (Rainbow) from Toppling Goliath Brewing Company
3.84
out of
5
based on
79
ratings.