Toppling Goliath / Tree House David
| Toppling Goliath Brewing Company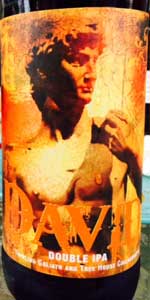 BEER INFO
Brewed by:
Toppling Goliath Brewing Company
Iowa
,
United States
tgbrews.com
Style:
American Double / Imperial IPA
Alcohol by volume (ABV):
8.60%
Availability:
Limited (brewed once)
Notes / Commercial Description:
Collaboration with Tree House Brewing. Originally brewed at TG May 2014.
Midwest meets the East Coast! Our friends from Massachusetts "Tree House Brewing Company" embarked on a twenty hour, 1,200 mile journey across the central United States to collaborate with us on this super hop-saturated Double IPA. We merged a grist of Pale and Caramel malts with a very liberal dose of Citra, Mosaic, and Simcoe hops to produce a soft but extremely potent creation. Your nose will be greeted with aromas of bright citrus and tropical fruits before a sip unlocks a flavor much like biting into a ripe juicy orange. A complex bounty of hoppy/fruity flavors continue as a clean citrus bitterness balances things out propelled by tight carbonation and a luxurious mouthfeel. We find "David" to be absolutely delightful. . . the product of our respective brewer's dedication to an uncompromising, delicious product. David is fleeting and ephemeral, so enjoy him fresh with a friend and forget about life for a while.
Added by Lionhawk on 05-08-2014
This beer is retired; no longer brewed.
Reviews: 11 | Ratings: 166

4.5
/5
rDev
+3%
look: 4.5 | smell: 4.5 | taste: 4.5 | feel: 4.5 | overall: 4.5
Bottled May 2014; drank 6/7/14 @ the Kid's.
Semi-opaque yellow/orange hue.
Bright white head; strong lace.
Pineapple, mango & fresh marijuana nose. Bold!
Medium mouthfeel. Pineapple, pine, mango & fresh marijuana flavors. A nice mix of sweet citrus & hop bite; a touch too dry but nearly perfect.
304 characters
4.93
/5
rDev
+12.8%
look: 4.75 | smell: 4.75 | taste: 5 | feel: 5 | overall: 5
Growler from Tree House that was generously IP traded from another BA'er who agreed to meet at a Dunkin Donuts location in exchange for a growler of Abner from Hill Farmstead. Gotta find out who that awesome person was, as I didnt set up the trade....
A - Straw, hay, yellow haze. Half inch head.
S - Hops! Mosaic and Simcoe, dripping wet. Has a touch of that familiar Simcoe earthy basement with the CItra/Mosaic balancing it incredibly well.
T - Crisp, floral hops with a perfectly balanced pale malt lingering with every hoppy sip. So juicy, nothing but juicy hop goodness here.
M - Juicy, quaffable.
O - The homer in me loves this beer, as we share the same name. I would put this IIPA up against any in the world. Regrettably have not had a chance to try King Sosus which, by many accounts, is the IIPA of 2014. Again, best IIPA I had in 2014.
849 characters
4.39
/5
rDev
+0.5%
look: 4 | smell: 4.25 | taste: 4.5 | feel: 4.25 | overall: 4.5
Notes from a tasting 2 weeks ago.
a - orange. some haze. white head. retention is fine.
s - citrus, tropical, mango, grapefruit, earthy and dank. kinda similar to Pseudo Sue, albeit less tropical and more dank.
t - boatload of grapefruit, tropical, mango, citrus, earthy grassy piny dank. very little malt and pretty high bitterness.
m - smooth, medium-high carbonation, lots o bitterness. some alcohol. feels bigger than 8%.
o - Toppling Goliath, you've done it again! big ol dank and fruity bitter hop bomb, a big beer but still pretty drinkable.
553 characters

4.16
/5
rDev
-4.8%
look: 4 | smell: 4.25 | taste: 4 | feel: 4.5 | overall: 4.25
From 06/22/14 notes. Big thanks to BeerLawyer85 for sharing this one. 22 oz. bottle into a tulip.
a - Pours a deep orange-amber color with one finger of fluffy bright white head and moderate carbonation evident.
s - Smells of honey, fruity malts, lemon zest, caramel malts, bready malts, and citrus hops. Nice nose, more malts than I was expecting, but very fruity and good.
t - Tastes of citrus hops, grapefruit, lemons, fruity malts, caramel malts, bready malts, and light floral notes. More malts than the nose. Good, but not super hoppy.
m - Medium body and low carbonation. Very smooth and easy to drink, with no bitterness at all.
o - Overall I liked this one quite a bit, but it is very malty, especially in the taste; I found it less hoppy than PseudoSue. Easy to drink and nice nose, I was just surprised by the lack of hops in the taste. Not a big deal as it was a very good beer, just don't expect a hop bomb.
925 characters

4.08
/5
rDev
-6.6%
look: 4.25 | smell: 4.25 | taste: 4 | feel: 4 | overall: 4
Reviewing David, a collaboration imperial IPA between Toppling Goliath Brewing Company out of Decorah, Iowa and Tree House Brewing Company out of Monson, Massachusetts.
Score: 91
Bottle from the May 2014 release. Served in an Upland snifter and enjoyed on 06/11/14.
Appearance: Pours an orange color with a half finger of cream colored head that settles to a foggy cap. Great lacing and retention. Some floaties/sediment present. 4.25/5
Smell: Fruity, grassy hops with a light caramel sweetness and booziness. Behind that is a pine/resin character and a sweet tropical fruit nose. Does not quite jump out of the glass like Triple Sunshine did. 4.25/5
Taste: Big sweet/juicy fruity mosaic hop character with a little musty/funky orange towards finish. Booziness in the middle. Reminds me a lot of Sosus, but boozier. Grapefruit, sweet caramel maltiness. Lots of sweet juiciness, no real bitterness or pine quality to the taste. Solid integration. 4/5
Mouthfeel: Medium bodied, low carbonation. Oily mouthfeel with a malty sweetness and light bitterness on the finish. 4/5
Overall: A nice and fruity IPA that is more in the vein of Sosus than Pseudo Sue. The mosaic hop fruitiness dominates the flavor (mosaic hops are not among my favorite variety) and there is no real bitterness or bite here. This beer is definitely well made, and definitely delicious. Alas, for me, it was merely good and not great, lacking some of the IPA bite that I was hoping for given the brewers involved.
Cost: $10 for a 22 oz (bomber) bottle.
1,528 characters

4.65
/5
rDev
+6.4%
look: 5 | smell: 4.25 | taste: 4.75 | feel: 4.75 | overall: 4.75
A: Sparkling bubbles trail the sides of the glass as I rotate the beer, a beautiful copper color
S: Piney aroma which fills the glass, you can catch a whiff the moment you start pouring
T: Powerful full bodied hop flavor with a seamless transition to mellow bitterness that leaves a tingle down your throat
M: Medium texture that leaves the hop bitterness hovering on the palate before descending upon swallowing. Moderate bitterness that lasted for a few seconds before fading away.
O: Mission accomplished. This is a fantastic double IPA which is full of complexity from start to finish.
Poured from bottle to tulip glass
628 characters

4.34
/5
rDev
-0.7%
look: 4 | smell: 4.25 | taste: 4.5 | feel: 4.25 | overall: 4.25
A- 22oz bottle poured to four pint glasses to share at a tasting. The body is golden and somewhat hazy and a two finger white head forms atop that. The creamy cap has good retention. Medium thick ring leaves webs and spots of lace.
S- Aroma opens up fairly similar to PseudoSue with deep, juicy stone and tropical fruits with big mango, melon, dank herbal tones and papaya. Differing from the pS is a big grapefruit citrus and pine.
T- Changes from the aroma a fair amount but carries most of the same things in different balance. Bitter grapefruit rind takes precedence with some pine resin which is followed by the tangerines, oranges, mangoes, lime, papaya and minty herbs. These latter notes gain strength with time. Just a bit of dusty grain maltiness.
MF- Medium thick bodied with a crisp, creamy texture. Carbonation is on the high side with a bit of a bite but it helps those delicate hop flavors pop out. Moderately high bitterness in the finish.
A very nice mix of grapefruit citrus hops with those pulpy stone and tropical fruit notes. Very clean of malts and yeast for 8% and fresh, delicious hops.
1,114 characters
3.84
/5
rDev
-12.1%
look: 4 | smell: 3.75 | taste: 3.75 | feel: 4 | overall: 4
Poured from a bomber into a Duvel by Parra chalice.
A: Deep, clear amber with two fingers of abundant white head that leaves thick lacing around the crown of the glass.
S: Hoppy, grapefruit is most present followed by orange citrus. Some caramely malt as well.
T: Lots of citrusy grapefruit and orange from the hops, followed, like the nose, by a thick, caramely malt flavor.
M: Medium bodied with ample carbonation; perfect for a DIPA. An amazingly smooth malty mouthfeel, overall.
O: A solid beer, and a real knockout for a DIPA, but just cant hold a candle to Sue, IMO.
577 characters
4.1
/5
rDev
-6.2%
look: 4 | smell: 4 | taste: 4.25 | feel: 4 | overall: 4
650 mL bottle poured into a snifter.
Appearance - Mostly clear orange amber body. Medium white head. Medium collar.
Smell - Grapefruit and orange hops. Very tropical A little bit of musty pine. Caramel malts.
Taste - Orange and grapefruit, in that order. Tropical fruit juiciness in the middle. Hefty caramel malt presence, but not too sweet. Lightly toasty malts.
Mouthfeel - Medium body. Medium carbonation. A little boozy?
Overall - The technical execution is perfect, of course, but this doesn't hold a candle to King Sue. I would call this a well-balanced DIPA.
572 characters

4.47
/5
rDev
+2.3%
look: 4 | smell: 4.5 | taste: 4.75 | feel: 4 | overall: 4.25
A- Translucent golden honey, minimal carb lacing with no legs. I am surprised at how much you can see through this beer; because flavor is packed in here pretty tight.
S- Big Citra, with big other hop characteristic. Grapefruit, passion (bucket) fruit, then a nice malt roasty earthy backbone.
T- Comes off a 7Sue, but the malt has more of a presence. Lots of citra coming off of this brew, and the remaining hops (forgot what it said) play a back role.
M- Kinda smooth, but I have been pampered with King Sue so my standards are shot. So to the style very very smooth, perfect amount of carb going down giving this a creamy texture.
O- This is a def great tick beer if you have not had it. Diff than the Sue bottles, and lighter and less creamy than King Sue. Def worth a try.
785 characters

4.88
/5
rDev
+11.7%
look: 5 | smell: 5 | taste: 4.75 | feel: 4.75 | overall: 5
Made the trip up to Decorah last Friday to pick up a case of this. It was well worth the trip! It has an amazing smell, Taste, Texture...a true oh my god moment when it hits your tastebuds. I would highly recommend this if you can get your hands on a bottle. It's unfortunate it was a one time deal.
299 characters
Toppling Goliath / Tree House David from Toppling Goliath Brewing Company
4.37
out of
5
based on
166
ratings.