Rover Truck
| Toppling Goliath Brewing Company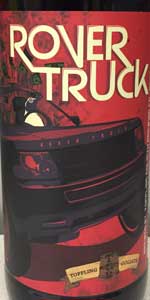 BEER INFO
Brewed by:
Toppling Goliath Brewing Company
Iowa
,
United States
tgbrews.com
Style:
Oatmeal Stout
Alcohol by volume (ABV):
5.70%
Availability:
Rotating
Notes / Commercial Description:
Baby get the keys to the Rover Truck. Man, let me get this Oatmeal Stout over, bruh. Ain't no beer here up in Iowa like it. Bust your big head is what was told to us. Now play it how you say it - I bet ya won't. I'll have you drinkin' its sweet molasses when I give you what you want. Lookin' good, doin' bad, and my nerves bad with it. Drink on up, you know you gonna hit it.
35 IBU
Added by FreshHawk on 04-05-2012
Reviews: 81 | Ratings: 527
4.1
/5
rDev
+5.9%
look: 4 | smell: 4 | taste: 4 | feel: 5 | overall: 4
Had it on tap once. Drinking from the bottle now. Medium dark body with minimal head. Chocolate oat aroma. Smooth velvety mouthfeel. Lots of cocoa taste with some roasted notes. Yummy.
★
184 characters

3.88
/5
rDev
+0.3%
look: 4.25 | smell: 3.75 | taste: 3.75 | feel: 4.25 | overall: 4
poured 22oz bottle into chalice.
A - Shiny obsidian with a 1.5 finger mocha colored head. Fades quickly and leaves a thin ring with nice webbed lacing on the glass.
S - Nice and roasty with dark chocolate covered almonds. Cocoa powder, heavy cream, and caramel mix with the bitter hints of coffee.
T - Dark, bitter bakers chocolate with a caramel center. Some cocoa powder and rich cream. Finish has more bitter roast and some hints of coffee.
M - Medium bodied and very smooth and creamy. Just enough carbonation. A very easy drinking stout.
O - A tasty oatmeal stout that is on the simplistic side. I could see this used as a base to add in some other flavors, such as coffee or vanilla. Enjoyable for $6.
★
715 characters

4.28
/5
rDev
+10.6%
look: 4 | smell: 4 | taste: 4.5 | feel: 4.25 | overall: 4.25
16 oz. pint poured at the brewery, unknown brewing/packaging date, drank over 30 minutes
A: 3/3 - jet black, low clarity (cannot read or see through), initial frothy khaki colored head settled into a 1/4 finger lacing, tight carbonation bubbles, moderate alcohol legs
S: 9/12 - big roasted malts - chocolate, coffee and burnt toast, slight PNW hop character and oatmeal; muted alcohols; no diacetyl, no DMS
T: 15/20 - moderate bitterness on the front of the tongue that succumbs to a rich roasted malt character that compliments the aroma; these flavors continue on the late palate with some warming alcohol and oats; finishes dry and inviting
M: 4/5 - moderate body, creaminess, moderate carbonation
O: 8/10 - very good oatmealt stout and one of the underrated surprises from my TG trip; would have liked some more body and malt complexity but that's starting to get nit picky; highly recommended for the cheap price point ($4.50/pint)
TOTAL - 39/50
★
956 characters

3.67
/5
rDev
-5.2%
look: 4 | smell: 3.75 | taste: 3.5 | feel: 3.75 | overall: 3.75
Reviewed from notes. Served in a shaker pint.
This beer has a black body that is covered by a half finger's width of dense, brown sugar foam.
The malts come through a little roasted, with brown sugar, cocoa, and some fig.
The roasted malt really carries through the entire drink with some cocoa near the middle. The finish captures some vanilla flavors with more of the roast and brown sugar. It is not doing anything big, just solid.
Rover is incredibly creamy, but the slight astringency from the roasted malt takes away a little bit here.
Rover Truck is a fun stout with lots of flavors to explore as it warms. It feels like the roasted malts were laid on a little thick and detract from the experience of getting to all the other great flavors, luckily the astringency is very low despite this.
★
804 characters

3.5
/5
rDev
-9.6%
look: 3.5 | smell: 3.5 | taste: 3.5 | feel: 3.5 | overall: 3.5
Fairly standard interpretation of the style in my opinion, but somewhat above average nonetheless. Burnt roast, coffee and chocolate appear in varying proportions. Medium feel and appropriate carbonation.
In fact, all the beers seemed to have a very fit level of carbonation.
★
276 characters
4.08
/5
rDev
+5.4%
look: 4.5 | smell: 4 | taste: 4 | feel: 4.5 | overall: 4
A - Dark cola brown/black. Medium sized, creamy, smooth, cafe colored head. Great retention leaving a nice patchy lacking.
S - Dark and milk chocolate, roasted nuttiness, and cocoa nibs are abundant. Slightly sweet and slightly bitter.
T - Similar to the nose but slightly sweeter. Some toffee and brown sugar hints are in there. Subtle coffee notes but they play second fiddle to the chocolate/cocoa. A nice roasted malt flavor with a strong roasted nuttiness. No astringency and well balanced sweet and bitterness.
M - Medium body with average to slightly below carbonation. Very smooth and creamy. Great mouthfeel that you expect from an oatmeal stout.
D - Well balanced stout with the bitter and sweet aspects. Chocolate, nuts, cocoa, coffee, cream, etc. blend well together. Easy drinking stout with a nice finish.
Notes: Nice oatmeal stout. Doesn't necessarily wow you, but it is very easy to drink. Nice balance between sweet and bitter with a nice chocolate milk kind of finish. Great, creamy body.
★
1,021 characters
Rover Truck from Toppling Goliath Brewing Company
3.87
out of
5
based on
527
ratings.