Black Duck Porter
| Hawkes Bay Independent Brewery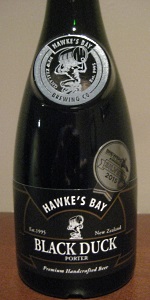 BEER INFO
Brewed by:
Hawkes Bay Independent Brewery
New Zealand (Aotearoa)
hbib.co.nz
Style:
English Porter
Alcohol by volume (ABV):
4.00%
Availability:
Year-round
Notes / Commercial Description:
No notes at this time.
Added by irishevans on 09-14-2010
Ratings: 10 | Reviews: 7
Reviews by chinchill:

3.52
/5
rDev
+13.9%
look: 3.25 | smell: 3.75 | taste: 3.5 | feel: 3.25 | overall: 3.5
500 ml [4.0%] in NZ
Pours clear, very dark mahogany with a small light brown, fizzy head that quickly expires.
Feel: medium body; smooth but the tingly carbonation seems a tiny bit too high.
Aroma: sweet caramel malts, toffee, brown sugar and dark roasted grains with some dark fruit overtones.
Flavor: similar to the aroma but not as strong or appealing, Has just a hint of smoke. Dark roasted malts with a bit of coffee, dark chocolate and toffee in the aftertaste.
O: an enjoyable porter with an excellent aroma. Best if not too cold.
546 characters
More User Reviews:
3.41
/5
rDev
+10.4%
look: 3.25 | smell: 3.5 | taste: 3.25 | feel: 3.75 | overall: 3.5
330ml short Champagne-style bottle, another cute yet classy offering from this north island Kiwi brewing concern to make its way the hell over here.
This beer pours a clear, very dark red-brick brown colour, with two fingers of puffy, rocky, and chunky beige head, which leaves some rolling hilly landscape lace around the glass as it lazily recedes.
It smells of lightly roasted, bready and doughy caramel malt, further free-range ashy notes, a hint of skim milk gone awry, ethereal day-old coffee, some not-yet-dead yeastiness, and very subtle leafy and floral green hop bitters. The taste is gritty and grainy pale malt, a lesser caramel/biscuity toffee sweetness, wan cafe-au-lait, an increasingly ephemeral smokiness, some muddled dark orchard fruitiness, and a sense of bittersweet chocolate that has seen better days.
The bubbles are pretty tame in their barely perceptible at times frothiness, the body a so-so medium weight, and mostly smooth, with just a tinge of char taking a wee chink out of the otherwise sturdy armour here. It finishes off-dry, the malt keeping up airs, while the other sundry essences kick off, one by one.
Overall, this is a fairly underwhelming, if not exactly poorly rendered iteration of the style, with both the rather light appearance and lack of souring character making no friends around here. Once again, easy enough to drink, but missing the target by more than a few degrees of separation.
1,440 characters
2.9
/5
rDev
-6.1%
look: 3 | smell: 3 | taste: 3 | feel: 2 | overall: 3
Pours dark copper with a small head. Nose is made up of soft roasted malt with hints of dark chocolate and nuts. Quite faint. Flavours are equally light on, showing sweet crystal malt with soft roasted character later. Possibly the porter with the least amount of roasted malt I've ever tasted. Body is watery to excess.
322 characters

3.99
/5
rDev
+29.1%
look: 3 | smell: 4 | taste: 4 | feel: 4.5 | overall: 4
A-Dark brown/Red, very much like a blood stain color when held up to the light, not very opaque. Light tan head retained well but not much lace, at least for the style.
N- Earthy, lots of roasted grain, and a bit of brown sugar in there too.
T-Also very earthy, large malt foreground with a nice bitterness, the hop presance is a little high for style but makes for a pleasant addition to the taste.
M-Heavily carbonated, very crisp almost pinches your tounge, not a bitter hop flavor bite
498 characters
2.9
/5
rDev
-6.1%
look: 3.5 | smell: 3.5 | taste: 2.5 | feel: 2.5 | overall: 3
Awesome bottle, looking like a tiny, 330ml squat champagne bottle, with a raised seal for the brewery.
Pours a rather light coloured reddish brown, with a fine, but extremely filmy head of beige. Carbonation is fine when tilted, and the body looks pleasantly heavy at least. Overall, it's a pretty decent look, but certainly not the best of the style I've seen.
Nose is malty and very faintly roasted, without much else in the way of character. A little carob comes through, giving a sweetness, that meshes with overtones of yeast and dark brown bread. It's not bad, but exceptionally generic.
Taste is worse. Here, there's a very disappointing thinness to the palate, giving a lacklustre grainy malt character and a hint of the type of sweetness that comes from underfermentation. Slightly watery, quite bready, with very little to recommend it. Feel is faint and thin as well.
A very average brew indeed. One that has a bit of flavour, but not much more. It certainly has no inspiration or excitement to impart. Very disappointed.
1,037 characters
2.95
/5
rDev
-4.5%
look: 3 | smell: 3 | taste: 3 | feel: 2.5 | overall: 3
Comes in a 500ml bottle and is 4%ABV,it pours a weird colour for a porter with the name Black Duck and is a semi see through cherry dark amber hue with nice carbonation and the colour of it is still making me think as its the lightest looking porter ive ever seen,the smell is quite weak too with hints of burnt toffee,caramel,light mocha and dark berries,the mouthfeel is very light and a tad watery with tastes of burnt toffee,milky coffee,dark chocolate and finished with a twist of roasted malts and ripe dark plums,overall this drop is definately a let down if your after a true tasty porter and i wont be buying it again.
627 characters


2.88
/5
rDev
-6.8%
look: 3.5 | smell: 3 | taste: 2.5 | feel: 3.5 | overall: 3
Dull, slightly grainy, slightly bready aroma with plenty of melanoidins. A touch metallic.
Very clear, medium brown colour with no head.
Thin and insipid flavour with a touch of roast. Not a lot going for this.
Medium-light body with moderate carbonation.
This is a fairly dull porter which lacks interest.
311 characters
Black Duck Porter from Hawkes Bay Independent Brewery
3.09
out of
5
based on
10
ratings.