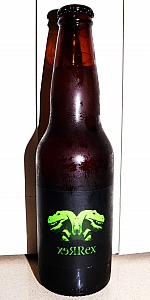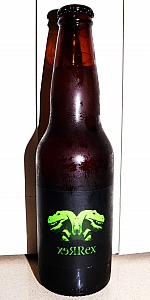 BEER INFO
Brewed by:
Yeastie Boys
New Zealand (Aotearoa)
yeastieboys.co.nz
Style:
Smoked Beer
Alcohol by volume (ABV):
10.00%
Availability:
Limited (brewed once)
Notes / Commercial Description:
No notes at this time.
Added by ADZA on 02-12-2012
This beer is retired; no longer brewed.
HISTOGRAM
Ratings: 12 | Reviews: 12
Reviews by Parrotshake:

4.6
/5
rDev
+23.7%
look: 4 | smell: 4 | taste: 5 | feel: 4 | overall: 5
The bigger and badder version of the most divisive beer I can think of. I was pretty excited for this one given how much I loved the original, and it's a mixed blessing being able to find it whenever I want - good for me, but the abundance of it on local shelves probably means that it's not exactly selling like hotcakes. A touch saddening as it really is one of the most extraordinary beers ever.
Visually, no different to it's little brother. Clear. Golden. Fizzy. Looks mighty refreshing, like a beer in a commercial for a much worse beer. No hints of what's to come.
A big nose of burnt plastic, charcoal and antiseptic. Again, much like the other guy. Taste-wise, there's a bit of a difference. It simultaneously is more like beer and more like whisky than regular Rex. Maybe it's just time having passed, but I pick up more distinct notes of malt sweetness and a little steely noble hop in the finish. But having had a dram of Smokehead whisky not long after consuming my first one of these, the parallels are even more obvious. Charcoal. Heaps of it. Little hints of astringency that resemble dry cocoa powder and/or black tea. But mostly charcoal, iodine and the sea (also, there is a small amount of bacon floating in the sea).
Quite fizzy in the mouth, and quite dry, all told. A sipper. I don't have a smoked loin of venison at hand, ever, and failing that I'm fucked if I know what you'd eat with it. A few squares of dark chocolate worked OK. Regardless, thank God this happened.
1,498 characters
More User Reviews:
3.38
/5
rDev
-9.1%
look: 4.5 | smell: 4 | taste: 3 | feel: 3.5 | overall: 3
Nice bright golden color, but doesn't look watery, looks impressive in fact, just the right amount of head, a strong yellow and gold appearance. Nice aroma, you better like smoke, peat and belgian-esque yeast aroma. Those types of styles tend to be lower on my appreciation scale, but the smell here got me liking that aspect of the beer nonetheless. It was different, but it was appreciable.
Taste, this is where it fell off for me a little bit. Smoke was all over it, not as substantial as in some brews, but easily the most prominent of any flavor. Peat malt, also not my favorite thing in the world. That's quite obvious in the taste. Was surprised to find out this was 10%, the beer at least covered that quite easily. The beer was never hot, just a lil peat smokey for my admittedly biased palate.
Overall, I would only recommend this to those odd souls who really get into smoked beers. Thanks to flexabull for bringing this to the Marquette game where they advanced to the sweet16 by beating the team with the best record in the nation, Murray State.
1,062 characters
4.03
/5
rDev
+8.3%
look: 3.75 | smell: 3.75 | taste: 4.25 | feel: 4 | overall: 4
From notes:
A: Golden, hazy
S: Dominant peat smoke
T: Heavy, overwhelming peat flavour at start, a hint of vanilla through the middle followed by a grapefruit peel finish, nice smokey aftertaste like hickory smoked bacon
M: Oily, viscous
O: While I am not usually a fan of barley wines, this one blew me away! I was lucky enough to be visiting hanging bar in Edinburgh during a yeastie boys tap takeover and enjoyed this one (along many others) in a flight. The tiny glass smelled up the entire area we were sitting in with an incredible peat aroma. The taste is incredibly complex and lingering, it's a long ride of flavour after flavour, after flavour. Most incredibly, there is almost no boozy notes to speak of. Fantastic and complex beer with drinking more than once.
772 characters
2.43
/5
rDev
-34.7%
look: 2.5 | smell: 2 | taste: 2.5 | feel: 3 | overall: 2.5
Just as full-on as regular Rex!
Pours amber with a large, fading head.
Nose shows burnt plastic and campfire, along with the faintest hint of caramel.
Similar flavours; campfire, booze, bitumen, and very, very faint caramel.
Could use more carbonation.
Definitely more drinkable than regular Rex, but still doesn't seem to be ble to carry the massive amounts of peated malt. Another case of curiosity killed the cat on my behalf!
430 characters
2.44
/5
rDev
-34.4%
look: 4 | smell: 2.5 | taste: 2 | feel: 3 | overall: 2.5
Drank from my Duvel tulip
A - Pours a cloudy Heffeweizen like appearance with a two fingered White head that retains well.
S - Aromas remind me of bandages and band aids with a little smoke. Not pleasant.
T - The taste is pretty much the same with overpowering medicinal flavours. The smokeyness is there but overpowered. There are hints of butterscotch and vanilla, but again overpowered.
M - Medium to full body with low to medium carbonation.
O - I applaud the innovative part of this beer, but the execution is lacking. I don't know any beer drinker that likes medicinal flavours in beer, and I see it as a sign of failure. Not recommended.
649 characters
3.7
/5
rDev
-0.5%
look: 3.5 | smell: 3.5 | taste: 3.5 | feel: 4.5 | overall: 4
330 Ml poured into a tulip
A-- Poured a golden straw color. bright white head and decent retention.
S-- Peat, smoke, ash, followed by bread and sweet carmel. Good nose after it got through the peat.
T-- Subdued peat, smoke and ash. Once you get through the peat get a lot of sweet bread and yeast. Complex as heck taste as goes through a lot to get to the malt.
M-- Honestly thought a malt liquor as slightly sweet and slightly peaty. Just a lot going on with this beer. Very smooth beer once get through the peat. Slightly thick and syrupy body but sticks well in the end. Low carbonation and light clean feel for all the peat.
O-- Smoked beer disguised as a strong ale. Very well done. Hve some patience with this and will be rewarded. Something very different out of the Southern Hemisphere and worth seeking out as the body is worth finding beneath all the peat in this. Very complex beer and worth buying again.
925 characters

3.33
/5
rDev
-10.5%
look: 4.25 | smell: 3.75 | taste: 3 | feel: 3.25 | overall: 3.25
Bright golden color, hearty in its use of pale malt. Strong white head, dense tight bubbles. Aroma was complex set of smoke, peat, belgian-esque bunch of yeast.
Taste had lots of smoke, phenols, peat and alcohol. Not super hot, but definitely complex and challenging.
273 characters
3.87
/5
rDev
+4%
look: 3.5 | smell: 4 | taste: 4 | feel: 4 | overall: 3.5
Brought back from New Zealand and shared with some fellow BAs in Reno.
Pours a bright gold color with a decent white head.
Aromas are peaty, ashy, with some bright malt notes.
Taste is similar to the Rex Attitude, but this one is calmed down a bit on the smoke even with the jump in ABV. Ash, peat, and smoke up front, with a background of caramel, sweet, and creamy malts. Finish is a bit warm, but the alcohol is well hidden.
Mouthfeel is full, smooth, and nicely carbonated.
Overall a stronger ABV, but more refined flavor that the Rex Attitude. Surprisingly a bit more approachable than that beer, a nice treat for smoked beer fans.
641 characters

4.04
/5
rDev
+8.6%
look: 3 | smell: 4 | taste: 4.5 | feel: 3 | overall: 4
Pours a caramel amber colour, slight cloud. Head is white just a thin film, with some decent lace. Looks a bit heavy, but decent.
Ooh yeah, that's where it's at. From an arm's length, smoke. Smokey smoke. Meaty smoke. Spicy smoke. Beechwood, bacon, a touch of apricot in there for some reason, but yeah, all smoke. Pretty impressive.
Taste is burnt. So smokey that there's a touch of ashtray to it. Smokey bacon, ash, peat, yeah a touch of spice at the back - tobacco, cayenne pepper and sumac. Not a trace of the 10%. Although there are times when it tastes like one's mouth after a night of heavy boozing and chain smoking, it's otherwise dangerously delicious.
Bizarrely enough it actually feels a little thin, and so the big flavour punch is a bit sharp. I think maybe the flavour and the alcohol just slightly outweighs the body.
Very impressive brew. In spite of the flavour punch in the face I could drink it all night.
930 characters
4.72
/5
rDev
+26.9%
look: 4 | smell: 4.5 | taste: 5 | feel: 5 | overall: 4.5
It's been a long time since I first touched Yeastie Boys' Rex Attitude (although not since I last touched it), and I thought it was high time I reviewed their imperial version. This bottle was purchased from Plonk in Canberra.
Pours a thick, deep golden colour, with an initially frothing head that subsides pretty quickly to a fine ring around the edge. It looks sinister, yet refined. Lacing is pretty good, and the body is immense, like liquified fire. Love it.
Nose is everything you expect. Huge peat-smoked notes give earthiness, morbid campfire tales and a rich resounding sweetness. Big Islay whiskey characters turning towards rubber and even a bleary hint of raspberry. It's so big, so intense, so wrong and yet so, so, right.
Taste is wonderful, in fact probably even surpassing the aroma. This level of depth also gives it an edge of the regular Rex, adding depth, sweetness and a rigorous boozy note to that already complex and complicated flavour profile. Bright smoke comes through strongly on the front, before some of the boozy, slightly spiritous burn makes its presence felt. It creates a weird cacophony on the palate like burning naphthalene. Finish is clean, but with the echo of the booze and a tingle from the still smouldering peat. It's gorgeously untamed and gorgeously anarchic. Feel is superb—rich with whiskey overtones but clean and crisp at the death.
This is magnificent stuff. It's not beer for every day (I mean, that's what the regular Rex Attitude is for, right?), but it's a beer for those occasions when getting smacked in the face isn't enough—this is a beer that will smack you in the face, then rip off your clothes and give you the best sex of your life.
1,705 characters
3.95
/5
rDev
+6.2%
look: 4 | smell: 4 | taste: 4 | feel: 3.5 | overall: 4
Pours a see through golden hue which leaves a creamy two finger head and nice lacing,the smell is bandaids,dettol,peated malts and a clean hospital in a good way,the mouthfeel is sticky and medium bodied and the the tastes are alcohol,candy syrup,caramel candy,goosberries,lots of smoke and finish is more sweet than bitter even though the bitterness is still very present and overall its definately not a beer you would drink everyday cheers.
443 characters
4.2
/5
rDev
+12.9%
look: 4 | smell: 4 | taste: 4.5 | feel: 4 | overall: 4
Clear golden colour with a small, smooth, white head. Fair head retention.
Smoky as anything on the nose with lots of medicinal, peaty goodness. Burnt rubber and leather add a bit more bite and a touch of fruit and alcohol add complexity. Nice.
More smoke up front like a searing bushfire. The mid palate is quite different. All fruit, mild tartness, alcohol and sweet malt. The acidity comes through a bit more to clear the palate. Quite good.
Medium body with moderate carbonation. Fine.
I quite like this in the same way that I enjoyed Rex. It is a good way to integrate intense peat with the sweet maltiness helping to keep it all together.
648 characters
XeRRex from Yeastie Boys
Beer rating:
3.72
out of
5
with
12
ratings