IPA Black

The Kernel Brewery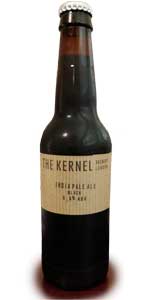 Write a Review
Beer Geek Stats:
| Print Shelf Talker
Style:

ABV:

6.8%

Score:

88

Avg:

4.02

| pDev:

8.71%

Reviews:

12

Ratings:

From:

Avail:

Retired (no longer brewed)

Wants

Gots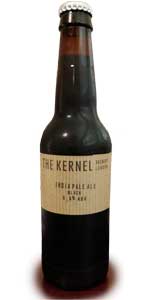 Notes:

3.5
/5
rDev
-12.9%
look: 3.5 | smell: 3.5 | taste: 3.5 | feel: 3.5 | overall: 3.5
Found this one at Oddbins, London Bridge Station, August 2012
A: Brown body, thin head.
N: Green hop nose
F: Tart and tangy hops. Light flavor coming in from the malt.
M: Sharp and astringent
O: Not my favorite style, but well done.
238 characters

4.42
/5
rDev
+10%
look: 4 | smell: 4.5 | taste: 4.5 | feel: 4 | overall: 4.5
Picked this up at the beer store at Brouwerij De Molen. BB date of 7/7/13. Dark brown, almost black pour with a two finger tan head with decent retention and great lacing. Very aromatic nose with a great balance between the roasty, chocolatey malt and the resiny, citrus hops. The taste is big and bold with in your face pine, citrus, and resiny fresh hops. Although the balance leans towards the hops, there's plenty of coffee, mocha, and bitter chocolate maltiness to even it out nicely. The mouthfeel is medium bodied with a bit more carbonation than some of the Black IPA's I've had. The finish is slightly dry with a great tangy, bitter hop bite. I could drink this all night! So far Kernel has not disappointed and is definitely a brewery I will seek out next time in London. Black IPA's are currently my favorite style, and this is easily in the top 5.
859 characters

4.42
/5
rDev
+10%
look: 4.5 | smell: 5 | taste: 4 | feel: 4.5 | overall: 4.5
A 330ml bottle with a BB of July 2013. Bottle conditioned and ABV stated as 6.9% - previous forum discussions on this subject suggest that this is due to batch variation. Acquired from my local beer specialist. I like Kernel's minimalist labels.
Poured into a Delirium chalice. A deep black hue - revealed to be a very dark brown when held to the light. Yields a large head of tan foam with a fine consistency - this lasts for a few minutes before subsiding to a surface layer. A vast amount of sediment remains in the bottle - I've never seen so much yeast left behind. A powerful fruity hop aroma; notes of citrus, grapefruit, tropical fruits and hints of pine.
Tastes overwhelmingly of aromatic hops - stacks of flavour with a surprisingly restrained bitter finish. Notes of grapefruit, citrus, tropical fruit and a piny bitterness upon swallowing. Subtle hints of dark malt, coffee, cocoa and dry yeast undertones. Mouthfeel is tingly and spicy, with a nice body that is neither too thick nor thin. Very astringent - dries the palate. Aftertaste of citrus and pine.
Excellent - a fantastic black IPA. I'm not sure if you could pack more aroma into a beer. The blend of fruit flavours, malt and spicy mouthfeel make this close to perfect. If you chance across it - buy it!
1,278 characters
4.22
/5
rDev
+5%
look: 3.5 | smell: 4 | taste: 4.5 | feel: 3.5 | overall: 4.5
Pours Black with a slight brown/reddish hue in the light and a decent tight head. Aroma is a bit of citrus but heavier on the roasted malt, coffe and cocao. Taste is similar as it starts off with a citrus pine flavor, then goes a bit soapy for a second, an dends with coffee, malted cocoa with the pine sap coming back with the aftertaste. Palate is lighter than I expected. Could be richer and a bit more effervescent than I wanted. Still very good and overall one of my favorite in the style. I am a bit biased with the Kernel but know tha tthey do a great job and continue to get better.
590 characters

3.88
/5
rDev
-3.5%
look: 4 | smell: 3.5 | taste: 4 | feel: 4 | overall: 4
Appearance: Poured dark black with a slight off-white one finger head. Well carbonated.
Smell: Citrussy hops with a slight coffee and caramel smell.
Taste: Upfront citrus and pine with a bitter slight coffee/caramel finish. Coffee aftertaste.
Mouthfeel: Light mouthfeel, slightly resinous.
Overall: Great Black IPA. Had some excellent Cascadian Dark Ales and this isn't far off the mark at all. Could drink this all night.
428 characters

4.3
/5
rDev
+7%
look: 4 | smell: 4 | taste: 4.5 | feel: 4 | overall: 4.5
Drunk at BrewDog Edinburgh on Friday August 5, 2011 at the recommendation of a like minded just met fellow beer aficionado named Stephen.
The label claimed an ABV of 7% though in the past I have seen it listed at 6.8, 6.9 and 7.2%. With the advice of a few other UK BAs I've decided just to review this here as opposed to entering it as a new beer assuming that the recipe is still broadly the same.
And just gorgeous to look at when poured. A bit forboding too in its full black Imperial Stout like colour. Nose however tells differently with virtually none of the expected roast malt flavour escaping the black mass. Instead a piney Americanesque hop nose and a creamy dense thickish magnolia head. Hops dominate the initial taste with an immediate assertive bitterness before the beer's roastiness makes an appearance before merging back into a finish reminiscent of that initial bitterness.
Truly amazing how this works. Such incredible poise complimenting what would seem to be two opposing styles in one glass. Boy does it work without as much as a muttering of opposition.
An impressive display of Negative Capability.
1,130 characters
3.96
/5
rDev
-1.5%
look: 4.5 | smell: 3.5 | taste: 4 | feel: 4.5 | overall: 4
Poured from a 33cL bottle into a Teku glass at the BrewDog bar in Edinburgh. Best before 9 March 2013. From notes. Reviewed 29 May 2011.
A: Brief creamy head atop a shockingly black beer. Opaque, impassive, and impressive.
S: Crazy hoppy. Acerbic American hops...Chinook? Slightly vegetal and very nice.
T: Deepish, full-charactered, bitterish, strongly hoppy, and always pleasant. An odd, pleasing roasted character. A very nice bitter aftertaste. Good beer.
M: Solid, pleasant, robust, lightly/hoppily drying.
O: The beautiful black colour and the roasted finish really set this IPA apart. Recommended.
609 characters
3.8
/5
rDev
-5.5%
look: 4 | smell: 4 | taste: 3.5 | feel: 4 | overall: 4
Very good black IPA. Great smell, very black,unfiltered strong on Cascadian hop. A big head. Pineapple and slightly tangy, chocolate, mildly roasted coffee, anise, mollasses, citrus.Above average mouthfeel.
Bang on the style.Love to have again. Doug's bottle.
259 characters

3.82
/5
rDev
-5%
look: 4 | smell: 4.5 | taste: 3.5 | feel: 4 | overall: 3.5
Bottle shared by Doug, 12oz into a tulip. Best before January 28, 2013.
Pours black, with some shades of mahogany when held to the light. Opaque body for the most part, with a khaki couloured head that's both creamy and relatively dense. Solid retention. Nose has pine, some orange that's subtle but detectable and a general darker malt character that's difficult to distinguish. Taste kicks off with some lemony hop bitterness and pineapple, mixed in with a general roasty character. Light feel and fairly high in terms of carbonation. Reminiscent of their IPA CSC in some regards, and adds an interesting twist on it with the roasted and dark bread character.
662 characters

3.36
/5
rDev
-16.4%
look: 4 | smell: 3 | taste: 3.5 | feel: 3 | overall: 3.5
Bottle from beermerchants.com
Black IPAs or whatever the hell they're called this week are still en vogue. Though I'm still waiting for an all-Citra BIPA that straddles both bandwagons.
It's a fair beer; it's fairly black, there's a fair bite to it with fairly robust citrics. It just doesn't shine as much as other Kernel IPAs; it's more the moody teenager than the ebulliant toddler.
387 characters
4.01
/5
rDev
-0.2%
look: 4.5 | smell: 3.5 | taste: 4 | feel: 4 | overall: 4.5
Bottle bought direct from the brewery. I've had a few BIPAs from the UK and not been wowed by any of them. The standard for me is Hop in the Dark and, although this beer doesn't beat it- it comes closest by a country mile. Poured into my Hommel Tulip. No UFOs, although I've definitely had some in other Kernel brews. Good dark colour with a slightly tan head. Good fresh hops on the nose and a nice balance in the flavour, with a slightly burned background flavour but with the hops winning out. I'd say this is one to enjoy as fresh as possible to see it at it's best though.
577 characters
3.92
/5
rDev
-2.5%
look: 3.5 | smell: 4 | taste: 3.5 | feel: 4.5 | overall: 4.5
My first go at a Black IPA.
Pours a completely opaque dark brown, verging on muddy. Emptied the bottle including a generous helping of UFOs. Nice head retention, but fairly slippery lacings.
Big citrus hops on the nose. Nicely intermingled with milk chocolate and just a touch of coffee bitterness behind.
Very interesting flavour profile. I assume this is par for the course with the style, but the flavours are very tough to pick apart, I hadn't thought the two personalities would meld so well. First impression is citrus and pine from the generous hopping. At some point, hard to tell when, bits of chocolate touch down on the tongue. Fresh bitterness of the hops is gradually replaced with the roasted coffee bitterness you'd expect from a stout. Finish is a combination of the resinous hops and dark coffee.
Very interesting beer. By gut tells me that a tad too much emphasis is on the hops, I feel like the malt barely comes through at all, but, as I said, this is my first of the style, so I could be wrong.
1,028 characters
IPA Black from The Kernel Brewery
Beer rating:
88
out of
100
with
22
ratings