India Pale Ale Galaxy
| The Kernel Brewery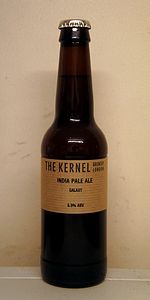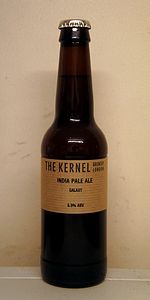 BEER INFO
Brewed by:
The Kernel Brewery
England
,
United Kingdom
thekernelbrewery.com
Style:
American IPA
Alcohol by volume (ABV):
6.90%
Availability:
Rotating
Notes / Commercial Description:
No notes at this time.
Added by Ruds on 01-31-2012
HISTOGRAM
Ratings: 10 | Reviews: 7
Reviews by Roman5150:

4.88
/5
rDev
+18.7%
look: 4.25 | smell: 5 | taste: 5 | feel: 4.75 | overall: 4.75
on-tap at The Kernel in London
appearance: clear golden, pale yellow with 1 finger bubbly white head, some minor lacing
smell: Huge tropical fruity notes: lemon zest, citrus, apple, grapefruit, tangerine, highly pungent and hoppy.
taste: Just like the nose would suggest, opens with a huge burst of fruity hoppiness, with tropical notes ranging from mango, tangerine, lemon, apple, pear to a huge grapefruit bomb mid-palate. Malt backbone is smooth and hidden, very, very well balanced. Bitterness is very floral and lingers on your palate for quite some time. Absolutely amazed by this beer.
mouthfeel: Medium carbonation, medium bodied
overall: By far the best English beer i've had. This blows about 95% of every IPA i've had out of the water, go out of your way to seek this out if you can. I did, after discovering the praise The Kernel got on this site, and it by all means is completely warranted. If you like tropical/fruity hop bombs (or Simcoe or Centennial hops), then you will love this. Literally one of the best beers i've ever had, and it's from England...
1,076 characters
More User Reviews:

4.48
/5
rDev
+9%
look: 4.5 | smell: 4.5 | taste: 4.5 | feel: 4.25 | overall: 4.5
4.47
/5
rDev
+8.8%
look: 4 | smell: 4.5 | taste: 4.5 | feel: 4.5 | overall: 4.5
Poured from a 330ml bottle (BB 30.11.13) into tulip style glass.
Pours a rich murky/fully hazed orange, you cannot see your fingers through the glass! A small white head forms but soon dies off to a gentle puddle on top of the beer.
Wonderful hop and pine smells assault the nose along with citrus fruit, predominately grapefruit.
The taste is all hops, citrus fruit largely grapefruit as per the nose, maybe a sweeter fruit flavour in the background possibly apricot and also a sweet carmel undercurrent, but very subtle and understated.
Great mouthfeel this beer massages the throat, medium bodied with minimal carbonation leading to a bitter-sweet semi-dry aftertaste.
Another winnner from the Kernel that I'll definately stock up on again!
758 characters

4.3
/5
rDev
+4.6%
look: 4.5 | smell: 4.5 | taste: 4 | feel: 4.5 | overall: 4.5
Thx to woosterbill for this beautifull IPA !
33 cl bottel poured into my tulipglass
Hazy orange with a dense white head. Aroma has a blast of tropical hoppiness, passion fruit, pineapple, orange, mango, just all over the place, especially the pineapple stands out to be very powerful. Taste has the same tropical components, adding a hint of lemon zest and with a rather high bitterness. The malts are in the background providing body and only a hint of malt. Really nice and balanced.
Another top IPA from the kernel !
522 characters

4.44
/5
rDev
+8%
look: 3.5 | smell: 4.5 | taste: 4.5 | feel: 4.5 | overall: 4.5
12oz into a orval goblet.
a pale orange/copper. very very hazy. small white head with a fast dissipating head. the bubbles left are VERY large.
s pine, oak, citrus, fresh flowers, sweet.
t very even flavor. impressive. there is a sharp floral hop beginning with a goant pine and oak middle. the ending is a dry pine sap bitterness. the after taste stays for a long time with the frsh pine sap. it reminds me of cutting down a chrsitmas tree and getting that sap all over your hands.
m slightly sharp on the tongue but smooth
o Thsi brewery is amazing. i had a ton of this while i was in london and i brought back eight different bottles. its really impressive that everyone i try is GREAT. i would actively seek this out in the states.
if you ever have a chance to buy this beer DO IT!!! becasue holy shit is it good.
824 characters
3.88
/5
rDev
-5.6%
look: 4 | smell: 3.5 | taste: 4 | feel: 4 | overall: 4
Hazy orange colour with touches of amber and a foamy but thin, white head that settles to a thin and patchy lacing after about 2 or 3 min.
Strong pine aroma with touches of grapefruit in there and a whole lot of hops. There is some citrus and a tonne of bitterness and some more grapefruit notes right at the end that is pretty crisp.
Strong pine hops and a lot of grapefruit, exactly what I would expect from a Kernel IPA. There is huge amount of grapefruit with a touch of citrus, orange and lemon. This one is a standard but fairly nice tasting IPA with great bitter notes and good strength.
Light medium bodied with tonnes of bitterness and light carbonation. It's a smooth beer and has bitter, wet finish that has a lingering grapefruit taste that stays for a while.
Just what I was expecting from this one really; a solid, big hitting IPA with huge amount of pine and bitterness with enough background flavours to make it work.
937 characters


4.6
/5
rDev
+11.9%
look: 4.5 | smell: 4.5 | taste: 5 | feel: 3.5 | overall: 4.5
12oz bottle into a goblet; enjoyed in the alley by the brewery. This batch weighs in at a powerful 7.4%.
A: Cloudy pure orange body capped by a towering two-finger head of creamy white foam. Terrific, rocky retention and some clingy lace. Excellent.
S: Clean, simple hop aroma: orange, tangerine, lemon, grapefruit. Just pure, rich citrus. Terrific.
T: Intense citrus, moderate herbalness, some light malt sweetness and a super-bitter finish. Very, very, very tasty. It doesn't do anything crazy, but it simply provides a perfect IPA flavor.
M: A little on the light side of medium-bodied, with moderate effervescence. Ok.
O: What a great IPA! I enjoyed this one along with Pale Ale - Stella, IPA - Nelson, and IPA - Columbus. All great beers, but this was the star of the bunch.
Cheers!
794 characters
4.01
/5
rDev
-2.4%
look: 3.75 | smell: 4 | taste: 4 | feel: 4.25 | overall: 4
Purchased at the Kernel Brewery in London recently; bottle-conditioned in a 330ml brown bottle, bottled on 08/10/2013, BB 08/02/2014, served lightly chilled in a straight pint glass.
Appearance: pours a cloudy dark amber hue coming with a thin creamy beige frothy head and a moderate level of fizziness.
Smell: intensely tropical-fruity notes hinting at sweet citrus, dried mango slices, ripe guava and even Taiwanese hawthorn fruits manifest upfront, against a semi-caramely, not-too-sweet malt backbone. Nice but quite simple.
Taste: the fruitiness from hops mingles well with the decent malt counterpart, leading quickly towards a rather flat-textured, resinous and malty mid-taste with a sound acidity and undertones of tropical fruits, then a flow of dry bitterness deepens to render a fairly long, tannic, as well as aromatic tea-ish finish.
Mouthfeel & Overall: consistently softly-carbonated on the mouthfeel, the body is medium-plus and the overall bitterness and hop profile are executed rather well on balance. This is a wonderfully drinkable yet boldly hoppy ale, tasting almost 100% as nice in this bottled version as freshly on draught at the brewery.
1,167 characters
India Pale Ale Galaxy from The Kernel Brewery
Beer rating:
4.11
out of
5
with
10
ratings