London Brick (collaboration Red Rye Ale)
| The Kernel Brewery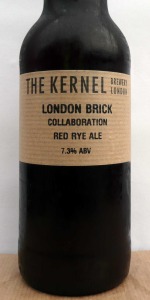 BEER INFO
Brewed by:
The Kernel Brewery
England
,
United Kingdom
thekernelbrewery.com
Style:
Rye Beer
Alcohol by volume (ABV):
7.30%
Availability:
Year-round
Notes / Commercial Description:
No notes at this time.
Added by BlackHaddock on 12-07-2012
Ratings: 14 | Reviews: 5
Reviews by truebluebums:
3.71
/5
rDev
-2.4%
look: 3.75 | smell: 4 | taste: 3.5 | feel: 3.75 | overall: 3.75
App: Hazy Copper with a off-white head that pours a few fingers then simmers down and hugs the sides of the glass
Smell: Hops dominate the nose with delicious citrus notes, grape fruit shines most clearly, but orange and lychee are somewhere in there. You can almost tell its a rye from the smell. A definite sharpness on the nose.
Taste: Really, what you smell is what you get. Resinous captures it quite well. Sappiness almost sticks to the tongue with bitter orange peel, puckering grape fruit and other citrus fruits. The rye does add a nice sharpness to the beer in the malt profile. Crystal malts in there I suppose.
Overall, this is more of a hop show down, though it doesn't over power the tongue. Tastes do a good job of sticking. Maybe there could be more of a maltiness for my preference, but I suppose that wasn't intended. If you like Reds and Ryes, a must try. A good collaboration.
899 characters
More User Reviews:

4.29
/5
rDev
+12.9%
look: 4.5 | smell: 4.25 | taste: 4.25 | feel: 4.5 | overall: 4.25

3.8
/5
rDev 0%
look: 3.5 | smell: 4 | taste: 3.75 | feel: 3.75 | overall: 3.75
A 330ml bottle with a BB of Feb 2013 (bottled Aug 2012). Acquired a little while back from Trembling Madness in York. Apparently this is the result of a collaboration between no fewer than 5 breweries in or near London. Sounds creative....
Poured into a Delirium chalice. Bottle condtioned. A very hazy marmalade-amber hue that darkens as the yeast permeates the liquid. I did my best to leave the lees in the bottle, but didn't totally succeed. Yields a large head of creamy off-white foam that lasts for a few minutes before reducing to a surface layer. Aroma of intensely juicy hops: grapefruit, orange peel, citrus and white fruits. This is underpinned by notes of caramel malt, mild grain, spicy rye, faint brown sugar, earthy yeast and stewed hops. There is a whiff of blue cheese funk lurking in the background (probably from the yeast dregs), which is vaguely unpleasant.
Tastes of exceptionally fruity hops with a powerful bitter finish. Notes of grapefruit, citrus, peel, white fruits, caramel malt, rye, earthy yeast and stewed hops. A distinct hint of funkiness/mould in the background. Spicy and dry, with a strident bitterness upon swallowing. Mouthfeel is smooth and tingly, with a pleasant hoppy prickliness on the palate. Lovely body, but feels a tad flat and undercarbonated. Rather astringent, with an aftertaste of juicy hop notes, yeast, caramel malt and a whiff of funk.
Nice, and certainly one for the hopheads. They must have crammed the mash full of hops. Looks a bit murky after pouring, but the smell is fantastic and the flavour is solid as well. Plenty of fruity notes in the aroma/taste. Body is good but carbonation could be improved. The only downside is the lurking yeasty funk - it's a bit too blue cheese-like for my tastes and detracts from the brew. Other than that, no complaints. Another impressive effort from Kernal (et al.) and well worth sampling if you come across it.
1,915 characters
3.47
/5
rDev
-8.7%
look: 3 | smell: 3.5 | taste: 3.5 | feel: 3.5 | overall: 3.5
330ml Bottle (conditioned): best before 8th feb 2013. Poured carefully into a 'Specale PALM' badged tulip @ home on 7th Dec 2012.
The beer had a full, deep creamy textured head of biege foam/bubbles: below sat a cloudy/hazy/murky body of dirty reddy brown body of beer.
Huge floral hop aroma and taste: this is one hop monster for a UK brew. Some fruity notes stood out (Pink Grapefruit, other Citrus semi-sour flavours and some red berries): giving it a different and interesting taste compared to most UK brewed beers.
The alcohol was just about hidden by the hops but not completely, will not pretend I loved the beer but I'm glad I bought it: as this brewery is making a name for it's self down in London and I wanted to see what all the fuss was about.
766 characters


4.24
/5
rDev
+11.6%
look: 4 | smell: 4.25 | taste: 4.25 | feel: 4.25 | overall: 4.25



3.9
/5
rDev
+2.6%
look: 4.25 | smell: 4.25 | taste: 3.75 | feel: 3.75 | overall: 3.75

3.81
/5
rDev
+0.3%
look: 3.75 | smell: 4 | taste: 3.75 | feel: 3.75 | overall: 3.75
From a 330ml bottle, ABV 6.2%, bottled 21/09/16.
L: Very dark ruby colour (beautiful red/orange when held to the light), but somewhat murky, with a one finger off-white head that has lasting power.
S: Strong citrus nose from centennial hops. Not particularly floral. Much richer, more spicy.
T: Some sweetness. Rich & bready base. Tons of hops. Hint of alcohol.
F: Medium body with moderate carbonation. Bitter and spicy finish. Drying.
O: Quite a heavy beer over time. The intensity of the rye and the hops means this is no shrinking violet. Certainly interesting. Certainly a sipper.
591 characters
4
/5
rDev
+5.3%
look: 4 | smell: 4 | taste: 4 | feel: 4 | overall: 4
At 6.8%abv., purchased from the Kernel Brewery recently; bottle-conditioned in a 330ml brown bottle, bottled on 11/09/2013, BB 11/03/2014, served mildly chilled in a straight pint glass. Notes: the hops used are Simcoe, Centennial and Cascade.
A: pours a dim, murky copper-ish colour with a beige frothy head that lasts perfectly, on top of rather lively but not fierce carbonation.
S: richly fruity hoppy and resinous, featuring mostly ripe pink grapefruits, acidic-sweet citrus and lychees, against a lightly sweet and prune-ish malt backbone.
T: the flavour is robust but not heavy upfront, ensued by a rounded flavour of flowery and citric hops coming hand in hand with a bitter-sweet roast tea-ish maltiness and a lovely dosage of acidity, turning flat-textured bitter and fairly dry in the finish, where the residual undertones of citrus lingers with a light spicy touch (presumably from the rye?).
M&O: the mouthfeel is smooth with very soothing carbonation, the body remains medium-plus and all in all this hoppy amber ale drinks extremely well, showing a colourful flavour profile without treading heavily in any direction. Very well made, all in all.
1,161 characters
London Brick (collaboration Red Rye Ale) from The Kernel Brewery
3.8
out of
5
based on
14
ratings.