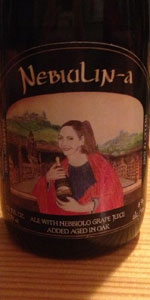 BEER INFO
Brewed by:
LoverBeer
Italy
loverbeer.com
Style:
Fruit / Vegetable Beer
Alcohol by volume (ABV):
8.00%
Availability:
Rotating
Notes / Commercial Description:
This beer is fermented with the grapes used to make Barolo wine. While it is blended, it does not qualify as a gueuze.
Added by ygtbsm94 on 11-26-2013
Reviews: 5 | Ratings: 30
4.43
/5
rDev
+7.3%
look: 4.25 | smell: 4.25 | taste: 4.5 | feel: 4.5 | overall: 4.5
This is a mix of 2010, 2011 and 2012 grapes. Harvested in 2012 per the bottle - Poured into a large snifter
A - Pours a slightly hazy amber/copper color resulting in a finger of slightly pink/off-white head, ok retention, a decent outer ring remains 5 minutes later, lacing is quite good.
S - Lots of sour grapes, bubblegum, blueberries and raspberrys, vinous red wine aromas. A nice medley of sweet and sour fruits with a hint of tannin. Notes of honey/flowers.
T - Great combination of sweet and sour from the fruits initially, not overly sour or puckering sour. Some mild tannins towards the back end and a really nice semi-sweet dry honey finish.
M - Light, relatively crisp, well carbonated, fantastic drinking beer. Big thanks to the boss lady for the Christmas gift!
778 characters
4.21
/5
rDev
+1.9%
look: 4 | smell: 4.25 | taste: 4.25 | feel: 4 | overall: 4.25
Beautifully woven of the Barolo wine making cloth, LoverBeer celebrates these famed grapes in a sour ale that enhances their acidity and dries their sweetness into a distinctively sour ale that's not quite lambic, not quite wine, but unmistakably wild in nature.
Nebiulin-a pours a beautiful and feminine rose and curaçao orange color. Its slight tawny gaze offers a glimpse into its wine-like state while the faintest of creme foam quickly dissolves back into the ale. Bright in sour aromas, its acidic tone is set with grape, lemon, lime, strawberry and kiwi. While its sweetness is short, the taste is delightfully floral and soft; at least ahead of the brunt of sourness to come.
As the sourness washes over the palate, its fruit envelope unfolds, bringing the melon, berry, citrus and tropical tang. Modest in its earthiness, only a semblance to wine-soaked cork and burlap. Yet as the taste travels over the palate, its sourness intensifies and the sensation of clean white vinegar and vinous rose wine gain prominence.
Tanin-heavy in finish, the textures of wood spice, apple skin and grape seed balance the slim lingering sweetness much more in wine-like fashion than of beer. Yet its crisp, clean and light body is effortless on the palate though its complex souring agents are found complexing and charming. Its a beautiful sour ale that defies style and exudes art in the culinary, fermented worlds.
1,414 characters
4.16
/5
rDev
+0.7%
look: 3.75 | smell: 4 | taste: 4.25 | feel: 4.25 | overall: 4.25
An interesting beer. The nose is lambic-like, with some funk and lemon, but the funk is coupled with a more pronounced fruity scent than a lambic carries. Grape and stone fruit.
Similarly, the flavour is also reminiscent of lambic, but is notably sweeter. There is very much a red wine flavour coming through, with berries (cherry, strawberry) and a slightly tannic aftertaste. Slightly tart, but the sweetness is more pronounced for me.
Body is nice. Minimally carbonated but not flat, a tannic finish but not overdone.
A very nice beer. I prefer proper lambic myself, but this is a unique twist on that style, and is quite enjoyable.
640 characters
3.95
/5
rDev
-4.4%
look: 3.75 | smell: 3.75 | taste: 4 | feel: 4.25 | overall: 4
375ml -> teku glass
cloudy reddish color with a small head that quickly dissipates. smell of red grapes, very wine like. taste is lambic-esque but leaning more winelike. grapes are dominate. sweet but not too sweet. easy drinking, alcohol well hidden. slightly sour and slight acidic. not too complex. fruity. good beer overall.
331 characters

3.89
/5
rDev
-5.8%
look: 4 | smell: 3.75 | taste: 4 | feel: 4 | overall: 3.75
A-Pours a cloudy orange color. Thin, off-white head sits atop the beer's body. Light lacing.
S-Aroma is definitely funky and interesting. Tart grape notes. A little bit sweet as well. Rich with sweet and sour fruity notes.
T-The flavor is similar to a Lambic. A bit oaky and noticeably funky and tart. The grapes linger in the finish. I wouldn't say it's solidly a grape flavor; it's more of a fruity, tart medley of fruits. A sweeter, crisp finish.
M-Lightly tannic. ABV hidden well. Bubbly carbonation. Medium bodied.
O/D-A pleasant brew with a hefty price tag. Worth a try but I'd rather pony up with a buddy and split the cost than pay full price again.
661 characters
Nebiulin-a from LoverBeer
4.13
out of
5
based on
30
ratings.