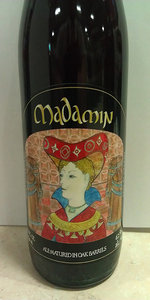 BEER INFO
Brewed by:
LoverBeer
Italy
|
website
Style:
Flanders Oud Bruin
Alcohol by volume (ABV):
5.70%
Availability:
Rotating
Notes / Commercial Description:
Oak amber ale. Fermented and maturated only in oak vats. The name "Madamin" is a piedmontese word meaning "young lady". Available in 375 ml or 750 ml bottles.
Added by glid02 on 07-24-2010
Reviews: 37 | Ratings: 164

3.89
/5
rDev
+2.6%
look: 4 | smell: 4.25 | taste: 3.75 | feel: 3.75 | overall: 3.75
From a 330 ml foil-capped bottle (brewed in 2011) into a tulip.
A-The head is huge (three-plus fingers) and creamy to start. Retention is OK, not great for the height, but good for the style. The brew is murky, nearly opaque, and reddish in color. Looks like cranberry tea.
S-The aroma is pretty tart, verging on outright sour. I get decent acidity, tart cherries, lots of dry oak, mild earthy funk, and a bit of vanilla. As the beer warms I get more earthy tobacco and leather flavor.
T-The taste has more funkiness and less tart flavors than the smell. I get a lot of dry oak, some earthy leather, as well as raisin tart cherry, and a slightly bitter, dry finish. Once the beer nears room temp, the acidity picks up and I get some lemon tartness. It is still pretty funky and dry, even close to room temp.
M-The feel is well carbonated, but medium to heavy for the style.
O-This is a pretty good take on an oud bruin. The oak is very obvious and this is a complex brew, but found it a little too malty and earthy when compared against the best examples of the style. The interesting thing was that despite the earthiness, the beer was still pretty acidic. Odd....anyway, a good beer but probably not worth the steep price.
★
1,230 characters

3.68
/5
rDev
-2.9%
look: 4 | smell: 3.5 | taste: 3.5 | feel: 4 | overall: 4
Pours out a slightly hazy brown and lots of head with good retention.
Smell is sour grape skin and green apple skin.
Yeast and a slight malt aroma too.
Taste is a dark bitterness first then a sour grape/apple comes over the palate then ends with a dry red wine type of finish.
Mouthfeel is very clean and refreshing. No alcohol detected and no stickiness.
Overall this is pretty good but that cost again tends to bring my assesment down even though it shouldn't. But hey, I am not made of money.
★
495 characters

3.98
/5
rDev
+5%
look: 4.5 | smell: 4 | taste: 4 | feel: 4.5 | overall: 3.5
A-dark cloudy amber with a creamy colored head
S-a good sourness with grains and cream. fairly faint.
T-hits the tongue with a taste of moldy oak chips. i know this sounds weird, but...well it tastes weird too, but not too weird. it works, its definitely not bad. after the first few sips, the flavors start to faint. the after-taste is pretty awesome with a fairly tart taste of dark fruits and dark grains. it does has a slight plastic flavor to it.
M-medium dry carbonation with a dry finish
O-this is a really good beer. is the price justified? no, not really. after the first few sips, the complexity loses itself. even though thats true, this is a fun beer to drink all the way through. every sip is quite enjoyable. this is an average example of this style
★
767 characters

4.19
/5
rDev
+10.6%
look: 3.5 | smell: 4.5 | taste: 4.5 | feel: 3 | overall: 4
Beer poured from a bottle into a Snifter shaped glass - Brewed in 2010
A - Beer pours with a copper-reddish colored body; opaque body; little head formed from the pour; sediment was visible and floated around in the beer; no carbonation; no lacing
S - Sour; champagne/sparkling wine notes of white grapes; sour yeast; vinegar; apple; oak; cork
T - Apple; oak; white grapes; flavor profile of a sour champagne wine; vinegar; light touch of herbal flavors round out the sip; heavy astringent sour flavors
M - Thin body; slightly effervescent; dry tangy aftertaste; oak taste lingers for a while after the sourness fads
D - Overall, a very good sour beer; heavy on taste and light on mouthfeel characteristics; smooth and easy to consume, would go great with some strong flavorful food, like pasta with anchovies and capers
★
825 characters

4.2
/5
rDev
+10.8%
look: 4 | smell: 4 | taste: 4.5 | feel: 4 | overall: 4
Purchased in Milan mid-June, consumed 9/20.
Another subtle sour from Italy. Cloudy amber with surprisingly long head retention but no lace. Lots of oak and sour fruit in the aroma. Taste is fermented sour apples and a touch of oak. Light body and lively carbonation. Some malt in the middle and light hop bitterness and a bit of alcohol on the finish.
★
352 characters

3.35
/5
rDev
-11.6%
look: 4 | smell: 4 | taste: 3 | feel: 3.5 | overall: 3
On tap at BBF
Look: The beer pours a dark amber color with a nice head
Smell: Malts, caramel, yeast, leather, wood and some berries
Taste: Medium acidic lemon, sweet caramel. Nice bitterness in the end. But not too much in the taste
Mouthfeel: Medium body, low carbonation
Overall: not too much taste, just sweet sour.
★
318 characters
3.71
/5
rDev
-2.1%
look: 3.5 | smell: 3.75 | taste: 3.75 | feel: 3.5 | overall: 3.75
A: Pours a cloudy reddish brown with a fair amount of tan head.
S: Lightly tart and sweet, notes of cherry and vinegar.
T: Somewhat bready grainy sweetness, leading into a tarter finish. The aftertaste is dry and pleasant.
M: Medium body, medium carbonation.
Overall, pleasant, and good, but probably too expensive for what it is for me to buy it again.
★
357 characters

3.78
/5
rDev
-0.3%
look: 4 | smell: 3.5 | taste: 4 | feel: 4 | overall: 3.5
10oz goblet served at the Blue Monk.
Pours a murky chestnut/mahogany with a thin white head. Sour and funk on the the nose, semi sweet fruits faintly shine through. Sour apples/ a bit of grain, and sour cherries, lots of sugar on the tongue and finishes on a wood or nut like note. Medium bodied, low carbonation, very sour and tart. Overall, this is a good sour, way to pricy in my opinion, but not a bad drink at all.
★
420 characters
3.45
/5
rDev
-9%
look: 4 | smell: 4 | taste: 3 | feel: 3.5 | overall: 3.5
Just shared a bottle of this with Galengeueze. Picked this up in Philly courtesy of Matt at Capones. Poured into tulips.
Poured a cloudy dark amber with some yeast sediment noted in the bottom.
Smelled of funk with a hint of cherries and oak.
Taste was weaker than expected but good. Not the funk and sour I am used to from Belgians. Also noted cherries, oak and some maltiness.
Mouthfeel was OK, not a lot of carbonation but very smooth.
Overall this was an interesting beer but for the cost(20 dollars for an 11 oz. bottle) I would rather drink a Cantillon.
★
561 characters
3.5
/5
rDev
-7.7%
look: 3 | smell: 3.5 | taste: 3.75 | feel: 3.75 | overall: 3
Pours ugly dark brown.
Sour cherry, lemon, tart.
Low sourness, light earth, vanilla, sour lemon, sticky lime finish.
Light mouthfeel, ABV tastes around 7.5%
Not bad.
★
169 characters
4.2
/5
rDev
+10.8%
Bottled beer served in a glass.
Appearance -
Pours a thin, lasting tan coloured head, and presents a cloudy red-amber colour - a hint of wine is evident. Lively effervescence. Plenty of lacing. Some sediment.
Smell -
Oak, grandpa's homemade red wine, roasted malts, red cabbage, sour cherry, methylated spirits.
Taste -
Sour cherry, a slight hint of alcohol, earthy Shiraz, oak barrel aged whiskey, dried fruits. Very sour.
Mouthfeel -
Slight effervescence, not overly carbonated. Moderate body, creamy smoothness, clean and refreshing. Quite sour so slower drinking.
Overall -
Very interesting beer and lots of complexity to explore. There are very strong whiskey and wine flavours in this brew, and lots of fruitiness which makes for a very enjoyable drink. Despite the sourness, and slightly dodgy smell, it was a very enjoyable drink.
★
846 characters
4.07
/5
rDev
+7.4%
look: 4 | smell: 4.5 | taste: 4 | feel: 3.5 | overall: 4
On draught at Novare Res Bier Cafe
Poured a clear copper/brown color with a small, feisty head. You get some good lacto sourness in the nose, followed by mild malt and fruit flavors. The taste is a bit less sour than the smell, a more mild and pleasant version of the lacto funkiness with some berry fruitiness emerging. Mouthfeel was mild and pleasant again, with medium carbonation. Overall it was a very drinkable beer with good tart and lacto character.
★
458 characters
Madamin from LoverBeer
85
out of
100
based on
37
ratings.