Wegmans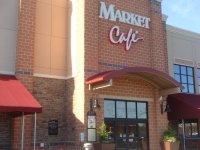 PLACE INFO
Type:
Bar, Eatery, Store
50 Foundry Way
Malvern
,
Pennsylvania
, 19355-1724
United States
(484) 913-9600 |
map
wegmans.com
Notes:
No notes at this time.
Added by regspeir on 07-19-2010
Reviews: 15 | Ratings: 21

4.29
/5
rDev
+15.6%
vibe: 4.5 | quality: 4.5 | service: 3.75 | selection: 4.5 | food: 4.25
One of my go to spots for just about everything. Best prices as they don't need to mark up prices to be profitable like most retail bottle shops. I've gotten BCBS ($25 a 4 pack) The Abyss ($13.99) Hardywood Gingerbread Stout ($12.99) etc. I go to Wegmans before hitting the bottle shops. You obviously won't get some of the "rare" beers here, but the supply of Enjoy By has been dependable, along with Laguinitas, Oskar Blues, Firestone Walker, Ballast Point, Dogfish, Victory, Neshaminy Creek and many more. Check it out if you haven't already and make sure to buy what you were going to buy at The Beer Store Malvern here, otherwise your hard earned dollars are "kindly" removed from your bank account. Cheers!
★
713 characters
3.51
/5
rDev
-5.4%
vibe: 3.25 | quality: 4 | service: 3 | selection: 3.75 | food: 3
The Malvern store is a little far for me to go, but my wife's boss told her that she had to check out the architecture regarding the way they set up their dining area (the "lodge"-like area), so OK, off we went. (NOTE TO BOSS: it's the same in all of the locations; and, honestly, it's not that spectacular).
They've got a very good beer selection but you won't find anything crazy - it's a big market, not a specialty beer store. They've got plenty of room temperature bottles, six-packs, and even cases; as well as a wide variety of cold six-packs and about 12 feet of single bottle shelving to choose from. They offer a mix your own six-pack for $11.99, and the selection is usually pretty good. I should note, however, that most of what they sell is domestic - you're not going to find a lot of Belgians here, or much of anything from the rest of the world either. The saving grace to that is that the prices are pretty good. In comparison to my local specialty beer shop Wegmans is a steal!
Service for me doesn't matter, but unfortunately for anyone looking for it, this is where Wegmans fails. Unless someone who works with the beer just happens to be there you're completely out of luck with special questions or requests, and to be honest, even at that point you'll probably know more than they do. Make contact with them, however, and the "beer guys" will do whatever they can to help you out. Just inquire at customer service and they'll put you in touch.
As they offer food, I should also mention that the Malvern store has a little "bar" area and "restaurant" to it that the other locations don't. There's a menu and you can order food there, but they also have the buffet set-up that the other stores have as well where you can buy many different types of food for $8.99 per pound.
★
1,798 characters

3.58
/5
rDev
-3.5%
vibe: 3 | quality: 3.5 | service: 3.5 | selection: 4
Compared to some of the other Wegmans beer sections I have been to this one quite comparable. Lots of beers from the big boys, both micro and macro, as well as a decent selection of the more widely distributed european offerings.
Atmosphere is what you would expect from a super market bottle shop. Quality is pretty good but nothing to really write home about. Service is just like the others, you may get asked if you need help, you may not. Selection is just like all of the other Wegmans I have been to, nothing too rare but lots of solid craft offerings for a quick pickup.
Overall a decent place to stop if you are in the area, just don't expect some super rare bottles to just be sitting on the shelves.
★
712 characters
3.98
/5
rDev
+7.3%
vibe: 3.5 | quality: 4 | service: 4 | selection: 4.5 | food: 3
A - Its a grocery store with a "pub" in it. Nice concept, but provides a rather stale atmosphere while sitting at the bar.
Q/S/S - Their food and beer selection is all good quality, and a step up from the Downingtown location. Similar to other Wegman's in the area, they don't get any of the super limited release stuff, but they do have a great selection from American and world wide breweries. Service leaves something to be desired. They usually have some grunt stocking the shelves that never seem to know anything about the beers or recent shipments, but I like how they are always eager to help you out, and willing to check the stock room for you.
Overall, its a nice store with a good selection. Better then the Downingtown location since it has a huge refrigerated section, wider aisles, and a pub. The food at the bar is average at best.
★
849 characters

3.53
/5
rDev
-4.9%
vibe: 3.5 | quality: 4 | service: 3 | selection: 3.5
In town on business and glad I can get a few quality beers for the hotel without having to pay way too much and I certainly can't buy a case for a 2 day visit.
Selection was decent, although I was really there for the singles. Unfortunately I couldn't get 6 that I hadn't tried or that I really liked. It looked like the single area was in need of restocking.
I ended up with a sixer of Ithaca Flower Power which made the trip worthwhile. I wanted to try this beer since it's often mentioned in the good IPA threads and I can't get it at home.
The bar/eat in area looked nice, but I wasn't there to stay. I'm glad there are now some places you can get smaller quantities of good beer in PA without having to go to a bar.
★
723 characters
4.05
/5
rDev
+9.2%
vibe: 4 | quality: 4 | service: 4 | selection: 4 | food: 4.5
Man..I Love Wegmans. We go there often for lunch as its close to my work office. I have been to Collegeville and Downingtown Wegmans, and the Malvern has the best beer selection by far in my opinion. The prices are fantastic and the mix six pack selection is very good. Great for extras if your into trading. Food is fantastic as well and prices are comparable to any other fine eatery. Check out one of there Burritos for 6$. Its huge! Sushi and sandwhiches are very good as well. There is a brew pub there as well and I believe they do growler fills. Its tough to go to any other food store once you've been to a Wegmans. I wish I lived near one.
★
648 characters

4.25
/5
rDev
+14.6%
vibe: 3.5 | quality: 5 | service: 4 | selection: 4 | food: 4
On my most recent visit to the Philadelphia area I stopped into Wegmans malvern to take a look around. Now coming from Southern Virginia we don't have Wegmans so i was blown away by the selections they had at the store. It was the beer selection that really caught my eye. Plenty of world and local micros to choose from. At just 11 bucks for a sixer and given the quality beers to choose from I was very impressed. They also offered Wine by the Glass in the stores eatery and had some very upscale menu items for non upscale prices. I will do what I can to visit there again on my next trip to PA.
★
598 characters

3.9
/5
rDev
+5.1%
vibe: 3 | quality: 4 | service: 4 | selection: 4 | food: 4
A great place to stop for beer or for a snack or small meal before or after shopping.
The atmosphere is nothing special, rather cold and inoffensive, nothing here makes you think you are anywhere other than a grocery store.
Beer selection is very nice, nothing to blow you away but there is always plenty to choose from. Similarly, there is a six tap system for growlers or pints with a reasonable selection but nothing special.
Food is really good considering, especially in the pub area but really you can;t go wrong. And when you can have a $4 bottle of Duvel with your selection, everything seems right with the world.
HV
★
630 characters

3.94
/5
rDev
+6.2%
vibe: 3.5 | quality: 4 | service: 4 | selection: 4
This is the typical layout for the newer Wegmans entrants... Much improved selection and much more room compared to older store layouts... Excellent selection six packs and bombers... They even had a small section of single 12 oz... A nice mix of local, us micro, and foreign offerings... Prices are reasonable... I stopped in on a Friday night and was especially in awe of the continual stocking of shelves... There wasn't a blank spot in the entire section... Clean, well organized, very good selection, and good prices... Definitely worthy of a stop...
★
555 characters
3.8
/5
rDev
+2.4%
vibe: 3.5 | quality: 4 | service: 3.5 | selection: 4
Was out in the area for work and decided to stop in the Pub at Wegmans and see what they had to offer.
The Pub is located within the supermarket and it a relatively small space. There are about four aisles of beer and coolers around the outside on the area.
The selection is pretty good. It's divided geographically, but someone should probably get the good folks at Wegmans an atlas since they have Ommegang in their Belgium section. There were lots of the standard PA micros (Sly Fox, Troegs, Victory, etc) and a decent selection of other micros (heavy on Rogue, some Stone, Russian River, etc.
They were also touting Christmas beers heavily with a few displays.
The selection isn't going to blow away most BA members, but it's a decent enough spot. I walked away with a Russian River Damnation, a Stone 14th Anniversary Emperial Ale, and a Fegley's BrewWorks Scotch Ale all for $20. Not bad in my opinion.
If I'm in the area again, I'll be sure to stop by.
★
964 characters
3.48
/5
rDev
-6.2%
vibe: 3.5 | quality: 3 | service: 3 | selection: 4.5
Like others have said, this is a supermarket first and foremost. While you can have a beer here at a table, it is a supermarket and it was just as easy to buy beer and drink it in my hotel across the street. If you do decide to drink while there, it sort of has the vibe of a luncheon eatery. I did not find any beer experts among the staff there, just a bunch of employee's unloading or ringing up stock..It is a grocery store so my standards are not as demanding. The selection I thought was great. Singles alone are $3.50, but if you mix a six with a lot of the available beers, you can get the six for $11 with tax, which I feel is reasonable. The variety of beers available in this option was not as good as I was hoping for, but better than can be expected. The variety is super impressive. They had Russian River, Flying Fish, and mix packs of several local breweries like Lancaster and Erie. The one thing I would caution though is that when I went there, there were several beers on the shelves that were past the drink by date. Service removed them when notified, but did not have fresh replacements available. That said due to the mix a six and reasonable prices, I will certainly continue to stop here in the future when I am in town.
★
1,246 characters

3.66
/5
rDev
-1.3%
vibe: 3.5 | quality: 4 | service: 3 | selection: 4
This is a re-review because it seems much better the more I go there.
The first thing you notice is the beer is organized by geography mostly. They have a local beer section, East Coast US, West Coast US, Belgian and European section. They have a decent variety of beers here, but nothing you can't find at a decent distributor. There are a few problems. First, the BMCs still have a strong presence here. 20% of the West Coast section was Blue Moon and Coors beers. Secondly, they belgian section, while containing many of the popular staples (Chimay, Corsendonk, Duvel, etc.) also devotes a TON of space to Unibroue and Ommegang. Don't get me wrong, I love those breweries, but they are not belgian and they could have moved those over to the Canadian and US sections and added in so many more actual belgian beers.
Prices are very good for the size and comparable to what I would pay in CT where I used to live. You can even do build your own six packs. Unfortunately, as a previous commenter noted, there is a restrictive selection and it's $10.99. Depending on what you get you may or not get your money's worth. Growlers are fairly priced, but they only have 8 or so beers on tap and none of them are anything special.
The biggest benefit to buying here is basically being able to buy portions smaller than a case without paying a large premium. I've gone to many bottle shops around and the prices at Wegmans are probably the best. They don't have a ton of really rare stuff, but they have a good selection of the well-known breweries and a very good local section. I've bought my 192oz's put it in the car and come back in a few times, so it's definitely worth shopping here.
★
1,689 characters
4.5
/5
rDev
+21.3%
vibe: 4.5 | quality: 4.5 | service: 4.5 | selection: 4.5 | food: 4.5
To be fair, this is not a beer store. It's a supermarket. It has a bar and restaurant attached. It gets around Pennsylvania's weird beer laws by having tables where you can sit and drink the beer (even though the majority of shelf space in the beer section is devoted to to room temperature beer). This is the only place with per six pack prices lower for buying one six pack than for buying a case (four six packs) from a beer distributor. Selection is also better than most beer stores (and you don't have to buy a whole case to try something new). But it is a supermarket and staff rotate throughout the store: Don't expect informed advice on beer selections (except from other "beer advocates" shopping when you are). Also a great place to get your munchies to go with the beer: Outstanding selection in both the take-out areas and the supermarket area and great prices, too (they have price comparisons with neighboring supermarkets posted around the store). It is a new store, with new people so be patient. But after a couple of months open, it's my favorite place for beer and for groceries. (These comments also apply to Wegman's Collegeville, which has been open longer.)
★
1,181 characters
3.09
/5
rDev
-16.7%
vibe: 3.5 | quality: 3.5 | service: 1.5 | selection: 4
I was in the area and looking forward to visiting this recently opened Wegman's. Well it wasn't easy to get into, whoever designed the parking lot must be a master maize builder. Inside was squeaky clean and modern, as I expected. Beers were organized by region and the selection was pretty darn good. A wide variety of imports and micro's available as 6 packs. There is also a build a 6 pack area, with a decent beer selection and for $11.00, I can't complain. In fact prices here are as good as it gets in PA. I didn't feel gouged at all. So I am having a pleasant experience, and head for the check out line. The cashier, who I would find out is 20 years old. Not only does she know nothing about beer, as I expected, she asked me for my i.d. Then she asked my wife for her i.d. when it was her turn to check out. Because she does not drive the i.d. in her bag was her Philippines passport. This forced the manager to come over and confirm her age. We are both 40 and I was very annoyed at someone 1/2 our age asking us for i.d. Any way overall this store is off to a good start, and once they get some kinks worked out, I believe a quality place to shop.
★
1,158 characters
3.5
/5
rDev
-5.7%
vibe: 3 | quality: 3.5 | service: 3 | selection: 4 | food: 4
Visited on this store's grand opening - July, 18th, 2010. Good variety of beer - locals, macros and well-known crafts. Nothing exotic and prices were decent. If you look hard, there are some bargains but nothing that knocks your socks off. Mixed-six option is with a very odd and restricted selection of beers. Including the tax is pricing is helpful, just as is the no tipping in the pub. I never quite figured out the rhyme or reason of organization in the store, but the 90-degree temperatures outside gave me more patience? Help was available, although I doubt most BA's would find it useful. There are about 8 on-tap offerings in the pub. Growler fills are priced at $10, not awful but again with a restricted selection. Food was good and reasonably priced in the pub which was attractive and comfortable. All-in-all a nice addition to the area but nothing that will threaten places like Pinocchio's or Capone's which feature exceptional selections and staff who are engaging and knowledgeable.
★
999 characters
Wegmans in Malvern, PA
3.71
out of
5
based on
21
ratings.