Trompe La Mort
| Engel Brauerei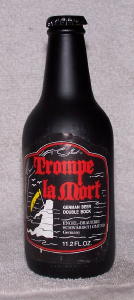 BEER INFO
Brewed by:
Engel Brauerei
Germany
Style:
Doppelbock
Alcohol by volume (ABV):
7.40%
Availability:
Year-round
Notes / Commercial Description:
No notes at this time.
Added by Bierman9 on 04-11-2002
This beer is retired; no longer brewed.
Reviews: 14 | Ratings: 18

3.15
/5
rDev
-21.1%
look: 3.5 | smell: 3.5 | taste: 3 | feel: 2 | overall: 3.5
Had a bottle of this on 11-23-2007.
The pour was kind of boring, it had no head at all anymore. The color of the beer was a copperish red color. The smell of the beer was a bit malty and earthy with some hints of spice. The taste was muted pretty well I think because it just tasted like watery malts and some old spices. The mouthfeel was flat leaving a watery feel in the mouth. Overall I'm pissed I didn't get to try this years ago before 2005 it seems when everyone thought it was great. I feel the bottle I was stuck with had gone well beyond it's life span and sadly I cannot give this a good review because of it.
622 characters
4.49
/5
rDev
+12.5%
look: 3 | smell: 4 | taste: 5 | feel: 4.5 | overall: 4.5
Pours a very nice crystal clear amber with reddish highlights but no head. As would follow, there's no lace either. The nose is limited but displays some slight malt. The body is firm but not full, with a fine and moderate carbonation that leaves it smooth and creamy in the mouth. The flavor expresses a rich, clean, sweet, lightly caramel and honeyish malt with some fruit up-front (apple, pear). The alcohol is very well hidden. A firm bitterness balances the malt exceptionally well; and it finishes dry with a short lingering maltiness. Very enjoyable with great drinkability. Rich and unique. Well worth trying!
617 characters
4.14
/5
rDev
+3.8%
look: 3 | smell: 4 | taste: 4.5 | feel: 4 | overall: 4
Appearance: Pale glowing amber body forms a thin cream head which dwindles rather quickly leaving little or no lacing, carbonation issues well maybe. Aroma: Nice syrupy fruit background slight spiciness of German noble hops here, a hint of woodiness all to it. Taste: Deep over ripened fruit blends nicely together forming one cohesive malty brew with balancing herbal hop notes the pale malts do this beer justice setting it apart from the traditional German Doppelbock. Mouthfeel: Low carbonation syrupy texture coats the palate very nicely. Drinkability: Excellent version of a D-bock takes a different approach then the mainstream Celebrator and Salvator but still comes off very enjoyable in the spectrum of doppelbocks.
725 characters
3.94
/5
rDev
-1.3%
look: 3 | smell: 4 | taste: 4 | feel: 4 | overall: 4
This bier had a surprizingly light color for a Doppel - medium golden. Looked more like a Hell- or Maibock. Poured with no head or lace at all. There was a good, strong aroma of semi-sweet malt, but nothing like a Salvator aroma. Mouthfeel was fairly good, overall. Had a decent malty flavor, in a biscuity sort of way, and it's strength (alcohol) was evident. Still, it did not have the level of malty sweetness as a Salvy or Sammy Doppel. I gave it a decent score for both flavor and drinkability though it's not quite in the Doppel style. Prosit, and thanks to WilliamPhilaPa for helping me find this one!
overall: 3.8
appearance: 3 | smell: 4 | taste: 4 | mouthfeel: 4 | drinkability: 4
279
696 characters
4.25
/5
rDev
+6.5%
look: 3.5 | smell: 3.5 | taste: 4.5 | feel: 4 | overall: 5
Picked this bottle up due to the great grim reaper on the label. 11.2 oz bottle dipped in black.
The brew pours fairly yellow-orange in color and slighlty hazy. A bright white head foams up easily and dissipates quickly.
This is a much lighter color than I expected from a double bock.
THe aroma is actually fruitier than I expected with ripe pears and some other general fruit coming through, also sweet malt is present. Overall mild scent.
The brew has a soft carbonation and lighter body than I expected from a 7.4abv. The flavor is malty sweet with no hint of the alcohol anywhere to be found. I get a very short hop bite in the middle and then the beer finishes rather empty. Very smooth brew and actually fairly refreshing. I could drink this on a hot summer day at the beach. Definitely not what I expected.
It is kind of scary how easy to drink this is. Would buy it again for sure.
896 characters

3.12
/5
rDev
-21.8%
look: 3 | smell: 3.5 | taste: 3 | feel: 3 | overall: 3
Beer bottle (33 cl.), purchased from super market.
Appearance : amber color, with small white foam head (not persistent).
Smell : light malty and hoppy aromas.
Taste and mouthfeel : a strong malt and alcohol presence.
Drinkability : an average beer in the German style Doppelbock.
Review added, the day of the feast of the dead (1/11) Beer name "trompe la mort" (mistaken or deceive death).
392 characters
4.84
/5
rDev
+21.3%
look: 4 | smell: 5 | taste: 5 | feel: 4 | overall: 5
Ok, so this is a bottle from 1994!! Our new German postdoc Carsten has had this sitting in his room for 13 years and gave it to me when he found out that i was a beer geek. As soon as i opened this i knew it was going to be good as the sweet malty fruity odor escaped. Poured a light brown with a little grainy sediment and a tiny ring of a white head on it. Smelled AMAZINGLY good. I have a friend who once described St. Ambroise Oatmeal Stout as a beer he could "smell all day" and this beer fits that description for me. Malty, sweet and rummy, with pungent notes of prunes, oak, and bourbon. some treacle and chocolate notes as well. Taste is surprizingly mellow at first and is sweet and tasty. Fruity with a warm alcohol quality. Tasty malts, oak, fruits. mmm. Medium bodied and almost uncarbonated. An amazing treat. Thanks, Carsten!
P.S. Trompe la morte, according to google translator, means "Mislead the dead." I just want to say that this is an awesome name for a beer.
983 characters

4.09
/5
rDev
+2.5%
look: 3.5 | smell: 4.5 | taste: 4 | feel: 4 | overall: 4
33 cl bottle painted black. Pours a deep golden with some amber highlights. No real head to speak of, just some fizzy carbonation. Looks thick and enticingly light colored for a double bock. The nose is intensely pale malted and vinously wine-like with a lot of fruitiness coming through. Light, yeasty background in the nose, too. Pretty darn smooth tasting. Starts with a honey-like malt sweetness and then goes a bit estery and drier with some fruit suggestions in the finish. Thick and syrupy on the palate, and the carbonation is light, making for a good experience. Strikingly pale for a doppelbock, and it shows in its character.
636 characters
4.42
/5
rDev
+10.8%
look: 4 | smell: 4.5 | taste: 4.5 | feel: 4 | overall: 4.5
Presentation: 11.2 fl. Oz. Capped bottle...which is dipped in a black type of ink, which protects it from light, and also a very nice label of a little Grim Reaper / Ghost type character.
Pours a very nice light copper color...weird because Double Bock's are traditionally a bit darker (I think); anyway the light color had no effect on the taste. On the palate it has a good malt character, tiny hints of citric, pear notes and maybe apple peels too. This stuff is so smooth and refreshing! This is a dangerously drinkable brew, scary because it is so easy to drink. I had this at my usual hangout Ludwig's Garten here in Philly. Overall excellent brew, a little different, not like Salvatore but a must try for you people that like Doppel's... So if you see this stuff, I highly recommend that you snatch some up...
818 characters

4.22
/5
rDev
+5.8%
look: 3.5 | smell: 4 | taste: 4.5 | feel: 3.5 | overall: 4.5
No brew/fresh date available
Nice bottle, painted black for light control, and I like the label (Grim Reaper w/ sickle)
This beer poured into the bottle a yellow/brown color, reminded me of apple juice. It was cloudy and chunky in appearance. There was no head to be had when it was available it was white in nature, but very thin as it disappeared. The aromas that came out were all subtle. I nosed fruits, alcohol, sweet malt, ash and yeast. Again all these were nice and soft. The tastes that came out were of alcohol, fruit (apples), malt, some wood, citrus tones and a bread feel to it. It left no aftertaste. This first struck me as a strong beer with the first sip and I wasn't sure of it, but the second sip and so forth were outstanding. It is a strong beer but VERY drinkable. I liked it allot and would drink again, if I can get more. To me not traditional as far as the style IMO but very good none the less. Go and get one now
944 characters
3.88
/5
rDev
-2.8%
look: 4 | smell: 3.5 | taste: 4 | feel: 4 | overall: 4
This is quite pale for a Doppelbock. It pours a dark gold color with practically no head. The aroma is malty and has some apple in the nose. The body is creamy with some fruit (apple) notes. It hides its alcohol well and finishes crisply. It is not like a lot of Doppelbocks that I have had or maybe it is my mind playing tricks on me because the color is different.
366 characters
4.35
/5
rDev
+9%
look: 4 | smell: 4 | taste: 4.5 | feel: 4.5 | overall: 4.5
Wow what a great beer, so refreashing and not very heavy for a dobblebock. Crisp, clean taste and very refreashing. Very dangerous to drink! If you see a bottle grap it and savor the taste.
189 characters
3.6
/5
rDev
-9.8%
look: 4 | smell: 4 | taste: 3.5 | feel: 3 | overall: 3.5
Picked this out of the line up at one of the few local pubs with any selections. Got it because I saw the Grim Reaper and the black bottle. Advertising works. I didn't ask what it was nor look at the lablel but one sniff and one sip gave it away. A dopple. But it was a little different than what I had prior. Color was a little lighter, and carbonation was kind of low. Almost flat. The aroma was typical of most dopples, sweet, fruity, malty, kind of syrup like, but it was no way a Salvator or Tucher. To me a Sal has more crispness to it. A Tucher much more carbonation and body. Not a bad dopple but certainly not near the best that I've had.
647 characters
4
/5
rDev
+0.3%
look: 4 | smell: 4 | taste: 4 | feel: 4 | overall: 4
Great color but not a lot of head, maybe it is my pour. Good smell and good body. I can feel the 7.4 % alcohol but it is well hidden by the rich, sweet, malt flavor. Clean flavor does not leave a strong after taste. I recommend this brew for fans of the Doppelbock style.
271 characters
Trompe La Mort from Engel Brauerei
3.99
out of
5
based on
18
ratings.