Alt Pott's Landbier
| Pott's Naturpark-Brauerei / Pott's Brau und Backhaus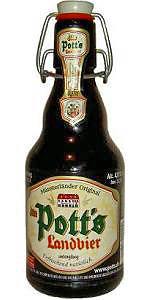 BEER INFO
Brewed by:
Pott's Naturpark-Brauerei / Pott's Brau und Backhaus
Germany
potts.de
Style:
Munich Dunkel Lager
Alcohol by volume (ABV):
4.80%
Availability:
Year-round
Notes / Commercial Description:
No notes at this time.
Added by brewdlyhooked13 on 07-16-2006
Reviews: 9 | Ratings: 14
Reviews by czfreeman:

3.75
/5
rDev
-0.5%
look: 4 | smell: 4 | taste: 3.5 | feel: 3.5 | overall: 4
Picked this up today at a local store, says a Munster land Tradition, so thats what im after since I just moved to the area.
Opening the flip-top, pours a light brown mahangony tone, nice medium brown head. nice light-medium thickness. Lower end of the spectrum on carbonation, so far fits a good dunkel to a tee.
Smells of caramelized malt, sour cherry, oak, nice hint of mustiness, grain, brown sugar. Very solid Dunkel aroma spectrum, fiinishes with a light pepper hint and small notes of orange zest, I like it.
Flavor is thankfully a bit dryer than expected. Upfront a hint of cherry, sugar, caramel, brown sugar, but finishes a bit dry and spicy. Carbonation could be higher and would help, so the end result is a bit flat. Bread, grain, and caramel round out the flavor
Not my favorite style, but in a unsubjective point of view, a solid well made Dunkle that delivers on almost every point. Bump up the carbonation a few notches, and I would buy it again. Not dissapointed, but nothing thrilling. Cheers to a new City!
1,026 characters
More User Reviews:

3.97
/5
rDev
+5.3%
look: 3.5 | smell: 4 | taste: 4 | feel: 4 | overall: 4
A: Pours light brown with foamy head, moderate lacing
S: Smells kind of nutty and beady and a little malty
T: Tastes kind of like you'd expect, caramel, malty, and a little hoppy.
M: Medium body, some carbonation
D: I probably wouldn't drink a lot of this, I prefer other similar beers to this, but this is ok.
314 characters
4.43
/5
rDev
+17.5%
look: 4.25 | smell: 4.25 | taste: 4.5 | feel: 4.5 | overall: 4.5
pours a nice amber brown with a whitish head. a nice malty aroma that lingers. the taste is of nuts and caramel with a nice just right amount of hops. A very drinkable beer. Very tasty
184 characters
3.45
/5
rDev
-8.5%
look: 3.5 | smell: 3.5 | taste: 3.5 | feel: 3 | overall: 3.5
BBE nov 2006. White head that's not too persistant and a dark amber / brown bright beercolor. Nose is very fruity showing banana and ripe sweet apple and next to thatlots of munich maltarome. Taste is quiet dry for this beercollor, low in bitterness but nice and rich maltarome. Still different from munich dark and more a bottom fermentedalt beer IMO. Makes the whole brew a litle unbalanced but still well drinkable and a good alternative if you want something else but in the export/Bavarian vollbier lagerstyle.
515 characters
3.66
/5
rDev
-2.9%
look: 4 | smell: 3.5 | taste: 3.75 | feel: 3.75 | overall: 3.5
4.15
/5
rDev
+10.1%
look: 4 | smell: 4 | taste: 4 | feel: 4.5 | overall: 4.5
Cool looking flip-top bottle, short and stubby. Thanks a ton, Heather!
Crystal clear medium brown, with a bubbly white head. Light and refreshing aroma. Very fresh smelling, full of crispy, floral hops and extra clean malt. Slight grassiness. Well lagered. The flavor opens with grainy, caramel tinged malt and crackling carbonation. Very, very clean. Mildly flavored and well balanced, with nothing occupying your palate too much. Moderate hop bitterness in the finish, very grassy and floral, with a slight metallic bite. Light bodied and very easy drinking. Very nice, perfect on a humid, late May evening. I'm not familiar with "landbier" at all, but it seems to be very drinkable and mild, with an unusual fruity/hoppy twist.
731 characters

3.91
/5
rDev
+3.7%
look: 4.5 | smell: 3.5 | taste: 4 | feel: 4 | overall: 4
This Landbier poured a clear, iced-tea brown color with creamy, light brown foam. The smell was modest but distinct with notes of caramel and dunkel lager malt. The taste had a bit of caramel malt flavor with a hoppy finish. Not overly complex, but then again, not expected to be. The mouthfeel was dry overall with medium body and good carbonation. This was a nice, drinkable dunkel lager, with pleasant mouthfeel.
415 characters
2.39
/5
rDev
-36.6%
look: 3.5 | smell: 2 | taste: 2.5 | feel: 2 | overall: 2.5
Pours a pleasant copper brown color with very little head. Aroma is weak but mostly sweet and little earthy. Taste is very weak - mostly candy sweetness with an ever so slight floral hop flavor. The weakest aspect of this beer was the palate and finishing. Vitually no carbonation to speak of, and what there was resembled soda pop fizz. The body was extreme light and had almost no aftertaste.
394 characters
3.25
/5
rDev
-13.8%
look: 3.5 | smell: 3.5 | taste: 3 | feel: 3 | overall: 3.5
Dark amber in color. Clear. Active carbonation builds up a nice head that quickly disappears. Just a few moments after pouring there is already hardly a CO2 bubble in sight. Sweet, malty, fruity aroma. Apples. Caramel. Slightly burned taste. Somewhat bitter and quite dry. Light (or maybe medium-light at most) body. Can't say that I like the mouthfeel, but it is still farily drinkable.
0.33 l bottle. Brought to me by a friend from Germany (don't you just love it when your friends bring you beer as souvenirs).
515 characters

4.1
/5
rDev
+8.8%
look: 3.5 | smell: 3.5 | taste: 4.5 | feel: 3.5 | overall: 4.5
Stubby swing-top, best by April 2011.
Pours a lovely, sparkling dark amber. Hard pour yields a decent head, but it still could use some work in terms of lacing and retention.
The aroma is malty, with lots of Maillardy notes and a touch of spicy hops.
Very well-balanced beer here, and there's a lot of flavor packed into its low-gravity package. The Maillardy promise of the aroma comes through with lots of toasty, near-roasty flavors. The tangy hops balance adroitly, with just enough cleansing bitterness on the finish. Dry, and almost salty and sulfuric in a way: most interesting. The mouthfeel has excellent, creamy carbonation, but it doesn't last.
This would be the perfect session beer for a malt lover. Incredibly full-flavored for a wee beer.
758 characters
4.23
/5
rDev
+12.2%
look: 4.75 | smell: 4.25 | taste: 4.5 | feel: 3.25 | overall: 4

3.65
/5
rDev
-3.2%
look: 3.75 | smell: 3.75 | taste: 3.5 | feel: 3.75 | overall: 3.75
Alt Pott's Landbier from Pott's Naturpark-Brauerei / Pott's Brau und Backhaus
3.77
out of
5
based on
14
ratings.