Mountain Livin' Pale Ale
| Crazy Mountain Brewing Company
BA SCORE
78
okay
63
Reviews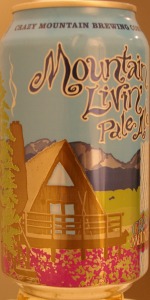 BEER INFO
Brewed by:
Crazy Mountain Brewing Company
Colorado
,
United States
|
website
Style:
American Pale Ale (APA)
Alcohol by volume (ABV):
6.00%
Availability:
Year-round
Notes / Commercial Description:
No notes at this time.
Added by emmasdad on 09-12-2011
Reviews: 63 | Ratings: 283
3.38
/5
rDev
+0.9%
look: 3.25 | smell: 3.25 | taste: 3.5 | feel: 3 | overall: 3.5
An orange/tan colored pale ale, this beer has a slight chill haze and a nose that offers some citrus, bread, and caramel notes. The foam level is good and it leaves a nice amount of lacing as you consume.
This beer has a flavor profile similar to what you expect for the style. Toasted malts, biscuits, caramel, pine, and bread greet the palate first, balanced by the flavor of citrus and peppery hops in the finish. You get some earthy character along with some floral and citrus hops and some peppery spice to keep it interesting.
This pale ale isn't an amazing representation of the style, but it isn't too bad and it's got enough going for it to earn a small stamp of approval. The carbonation seems a little low and the overall taste doesn't hit it out of the park, but it's a decent offering nonetheless.
★
822 characters
2.39
/5
rDev
-28.7%
look: 2.75 | smell: 3 | taste: 2 | feel: 2 | overall: 2.5
12 fl oz can served in a globe, reviewed live:
A - Pours a nearly clear amber copper color with a two finger cream colored head. It's thin and retention is terrible. Generic and not entirely inviting.
S - Stale breads, light mango, honey, and a bit of a medicinal note. Simple and mild, but well balanced. Not really a lot going on.
T - Departs sharply from the nose. Poorly handled crystal malts lend a noticeable astringency. Watery throughout. Bitter near the end and poorly balanced. Little to no hop character I found on the nose. Simple and poorly built. Not good at all. Lacks any true character.
M - Watery, medium bodied, and strangely chewy.
D - This is the second beer I've had from Crazy Mountain and I'm not looking forward to more. Really a poor example of the style.
★
790 characters

3.58
/5
rDev
+6.9%
look: 3.75 | smell: 3.75 | taste: 3.5 | feel: 3.5 | overall: 3.5
This was a 12 oz can poured into a Snifter.
A: pours a dark amber with a small head that dissipates quickly and has low to no retention.
S: I smell black pepper more than anything but then hops.
T: the taste is big pepper and then it fades to hops with a little spice. Maybe one of the spicy hops like sorachi or warrior.
MF: the body is decent and the carbonation is on par.
O: this is an ok beer and I am glad I tried it.
Big ups to JTD1968 for this one.
★
461 characters
3.05
/5
rDev
-9%
look: 3.75 | smell: 3 | taste: 3 | feel: 3 | overall: 3
This was poured into a pint glass.
The appearance was an amber color with a one finger head of off white foam. Some light lacing settles around the glass nicely.
The smell had a fairly heavy malty to bready aroma. Some light caramel with some floral hops round out the rest of the aroma.
The taste was moderately sweet through the previously mentioned malts. The floral hops give the bitterness that I get in the flavor. Mild earthiness intrudes in a nice way and leads into the aftertaste and finish.
The mouthfeel was about a light to medium in body with a slight sessionable feel to it. If the malt level was brought down just a tad bit more, I'd say this one could be just a bit more sessionable.
Overall, well, I didn't mind it so much for me, but for an APA, it did seem like the malt level was a bit too much.
★
816 characters

2.7
/5
rDev
-19.4%
look: 3.25 | smell: 3.25 | taste: 2.5 | feel: 2.25 | overall: 2.5
First I am seeing of Crazy Mountain in NY and grabbed a single. Should have read the reviews here before picking this up.
Reviewers here are being nice. This beer is bad: Tastes flat, aroma was weak, no hop balance to offset the heavy malt. This beer should give anyone hope that they can distribute a beer even if its barely mediocre
★
337 characters

3.01
/5
rDev
-10.1%
look: 4 | smell: 3 | taste: 3 | feel: 2.5 | overall: 3
On tap at Denver Biscuit Co. Poured with a light amber color. Pretty low carbonation almost flat. Nose is really light on pine. Body is lightly bitter complemented by malt sweetness.
★
182 characters
3.58
/5
rDev
+6.9%
look: 3.75 | smell: 3.75 | taste: 3.5 | feel: 3.5 | overall: 3.5
12 oz can poured into a SA Perfect Pint glass.
A - good color. Kind of a sunsety goldenrod body with a white head. Good lacing.
N - peach flavors and some fruity hop notes followed by a little toasty malt.
T - not unlike the nose but a little... flatter maybe. The taste isn't that exciting but it is good.
M - fair body. Again it comes off a little unexciting.
O - very dede t pale ale offering. Would drink again.
Cheers!
★
430 characters
3.51
/5
rDev
+4.8%
look: 3.25 | smell: 4 | taste: 3.5 | feel: 3 | overall: 3.25
What a weird mix. Aroma is awesome! So dank. I expected a hopsplosion but was surprised at how balanced it was. The only problem was a lack of carbonation. Too flat, otherwise tasty.
★
182 characters
2.01
/5
rDev
-40%
look: 3 | smell: 2 | taste: 1.5 | feel: 3.5 | overall: 2
Who dropped their Fruit-Stripe Gum in my beer! I found it!!!
I loooove Crazy Mountain's stuff! Except this one. Maybe good for a Hipster's attempt to get that 'Coors light drinkin' chick into beer.' Ugh.
Not a good APA. I like piney-citrus flavor in my pale ales -not old chewed up tropical fruit flavored bubble gum. Interesting at first, but, nah. Not for me.
★
363 characters
4.89
/5
rDev
+46%
look: 4 | smell: 5 | taste: 5 | feel: 4.5 | overall: 5
Wow...that's all I have to say. this is beer sets the standard for pale ale's in my book. They definitely boosted the hops by adding a beautiful aroma on it. I recommend this beer to anyone getting into craft beer or anyone having trouble grasping the hop flavors. For a Pale ale this beer has a huge hop aroma with a very lite hope bite on the end. They balanced this beer right on the edge of Pale Ale and American Pale Ale (APA). No enough hop bite on the end to consider it an APA but just the right finish to make me wanna drink this all day/night. I give the guys over at Crazy Mountain Brewery Props on this one. It hits all the right spots i expect when drinking a quality craft beer.
★
692 characters
3.76
/5
rDev
+12.2%
look: 4 | smell: 3 | taste: 4 | feel: 4 | overall: 4
Good beer, nice place with plenty of outdoor seating. The interior ceiling could use some work, as it is just unfinished drywall making the place feel like it is in progress. I would almost rather see exposed framing than unfinished drywall, but hopefully they will improve it. The location is easily accessible right off of I-70 in Edwards. Great stop on the way to or from the mountains.
★
389 characters
2.69
/5
rDev
-19.7%
look: 3 | smell: 3.25 | taste: 2 | feel: 4.25 | overall: 2.5
From a 12 oz bottle into a pint glass, no freshness date
1 finger of white foam, medium to large carbonation bubbles
A: Straw in color with notes of orange. Medium plus lacing on the rim. White foam, some large carbonation bubbles
S: Toasty malt, semi sweet, little to no florality, low hoppiness
T: MALTY translates. metallic after taste, All i taste is aluminum., caramel, little to no intricate spice
M: carbonation is balanced, feels tight and velvety. I enjoyed the sensation of this beer.
O: I find the mouthfeel exceptionally pleasant. Where some find it "flat" I find the "microcarbonation" very appealing. The aroma is nice and toasty. Good maltiness. The flavor is MORE than lacking. Straight malt on the front and aluminum on the back. Overall, not very enjoyable.
★
781 characters
3.57
/5
rDev
+6.6%
look: 3.5 | smell: 4 | taste: 3.5 | feel: 3 | overall: 3.5
Poured from a 12 oz can with date code 2 02 24 A 2 B A into a tulip. Gonna assume that's Feb. 24, 2012, since I can't find any info about it, so possibly an older can. At least has been in the fridge for a while.
Appearance: Orange-red with an eggshell white head. Aggressive pour yielded only about 1/2" head. Moderate retention, good lacing. Emptied the can, and there are some suspended particulates in the beer, otherwise pretty clear.
Smell: Sweet, tropical hop notes up front. Pretty fresh considering the date, but not powerful or pungent -- if it weren't my first beer of the night, I might not be able to pick it up so well. Reminds me of papaya and peaches; not very citrusy, but has some spicy character. Caramel malts underneath that, not much else. I really enjoyed the nose on this and am eager to try it fresh on tap.
Taste: Malts really come to the forefront here, possibly due to the age of the beer, but it's still relatively balanced and enjoyable. Medium-low bitterness for an APA, does not really linger, but enough to dry out the finish with all those caramel malts there.
Mouthfeel: Somewhat thin with medium-low carbonation. I'm not a fan of the caramel flavor with the higher alcohol; it implies that the body will be medium, but it falls a bit flat. Needs more body to bring it into balance, and I don't think this would hurt the drinkability at all.
Overall: I really like the hop profile of this beer, and I bet it is very nice when it is fresh. I think it could use a bit more body to balance out the alcohol and caramel malts.
★
1,561 characters
Mountain Livin' Pale Ale from Crazy Mountain Brewing Company
78
out of
100
based on
63
ratings.