Brewmasters Warehouse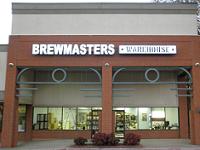 PLACE INFO
Type:
Homebrew Store
2145 Roswell Rd
Ste 320
Marietta
,
Georgia
, 30062-0817
United States
(800) 973-0072
// CLOSED //
Notes:
No notes at this time.
Added by Chello on 07-30-2010
Ratings: 11 | Reviews: 10
Reviews by Slatetank:
4.64
/5
rDev
+17.5%
vibe: 4.5 | quality: 4.5 | service: 4.5 | selection: 5
I ordered ingredients for a Belgian ale from Brewmaster's Warehouse based on a recommendation from a friend, I found the whole experience to be easy and ordering was great as they allow you formulate the recipe on their site for future reference/ordering.
The site itself is pretty straightforward and user friendly with no snags processing the order at all. I found the inventory/selection to have everything I needed for the order and would definitely shop with B W again based on the quick receipt of the package.
518 characters
More User Reviews:
1
/5
rDev
-74.7%
vibe: 1 | quality: 1 | service: 1 | selection: 1
DO NOT USE THEIR WEBSITE. THESE GUYS CLOSED DOWN BUT THEIR WEBSITE IS STILL TAKING ORDERS (3/25/15).
101 characters
2.65
/5
rDev
-32.9%
vibe: 2 | quality: 4 | service: 1 | selection: 3
Decent selection, quality and prices, but VERY poor customer service. Shipping is constantly delayed and don't expect them to inform you about that (although expect you credit card to be charged immediately).
On all calls asking about delivery estimates they promise you to ship "today"... but apparently today means somewhere within 2 weeks.
No replies by emails, do not expect them to follow up on your calls, you need to call them yourself.
Used them a few times, but now decided that shipping speed and customer service forced me to go somewhere else
554 characters
2.09
/5
rDev
-47.1%
vibe: 3 | quality: 2.75 | service: 2 | selection: 1
As some of the other reviewers have mentioned, they have some inventory management issues. Nearly every time I go down to the store, they are out of stock on at least one of the items I was looking for. I'm not talking about some obscure ingredient, I'm talking about US-05 yeast...Crystal 60 malt...bottle caps..etc. Most of the guys are pretty helpful, but some are noticeably intolerant of questions and pretty rude about it. These days, I pretty much just get my bulk grain here because it's close and order the rest of my stuff online.
544 characters
3.07
/5
rDev
-22.3%
vibe: 4 | quality: 3.25 | service: 2 | selection: 3.5
Note: I chose outstanding on the atmosphere based on their website. The website itself is a pleasure to use and the Brewbuilder is great as long as you understand how it calculates.
This shop is probably fine if you're visiting but if you're ordering online, expect long delays in shipping. Out of 4 orders, I cancelled 1 and the others came anywhere from 2 to 5 weeks after placing the order. After cancelling the order, my refund wasn't processed for two weeks so I called them to inquire. A refund was then processed that day.
Twice I was told I was sent an email notifying me that an item was out of stock causing the shipping delay but I scoured my spam folder and deleted items (which I don't permanently delete but every several months) and didn't find anything from them either time. To be fair, Its possible they may have been overlooked, but not likely.
Overall, the service they offer of building your recipe online and ordering exact amounts of ingredients is great. No one else does this. So they've got that. And the employees are personable over the phone which is good. Stock and shipping however, are problematic.
Just be aware that their brewbuilder is only an estimation of a recipe. It almost appears to calculate as if you're doing a full boil. Also, don't order online if you need it for a scheduled brewing session. If you do, call them and verify everything is in stock and stress your need for timely shipping or ask for expedited shipping if time is tight.
It's too bad that stock and shipping times are a problem for them. Otherwise I'd continue to order from them.
1,597 characters
3.41
/5
rDev
-13.7%
vibe: 3 | quality: 4.25 | service: 4 | selection: 2
I've used these guys for years and they are knowledgeable and very helpful if you don't know what to purchase. I most like their brew class. It was free and helpful with getting started years ago. I believe they charge for the class now though. It's still worth learning from these guys.
Along with great service, they do not charge to mill your grains, which is a nice little perk. Just make sure you call ahead for your order because they don't have half of what they say they do in stock. This has created some issues and forced me to order from other companies and pay for shipping.
They have a great website with lots of cool features, like Brewbuilder. This allows you to put together recipes and see what they will turn out like before purchasing. Again, be cautions ordering your grains and hops though because they will likely be out of stock. Flat rate shipping of $6.99 for the out of state folks.
911 characters
4.44
/5
rDev
+12.4%
vibe: 4 | quality: 4.5 | service: 5 | selection: 4
Brewmasters Warehouse is now my go-to homebrew store. The staff are exceptionally helpful and friendly. The store may appear a bit bare, but don't let this deter you. What is lacking in fancy store fixtures is made up for in knowledge of homebrtewing and attentiveness to the customer.
The recipe database available on the website is also a great resource and the staff is always willing to help you fill out or modify a recipe too.
I had found some other homebrew shops in the area a bit rude and overbearing, especially to novice brewers. BW is great place for experienced or novice homebrewers (and very close to home!)
624 characters
4.75
/5
rDev
+20.3%
vibe: 3 | quality: 5 | service: 5 | selection: 5
Once I found Brewmasters Warehouse, I couldn't go back to the just "ok" service I got from the other home brew shops in the area. They have always had everything I've needed, Ed has even taken apart a piece of equipment that came as a set and sold me the one piece I needed as a solo part on the the spot!!
The staff is great, they took the time to taste one of my brews and gave me the info I needed to improve my brewing. They have taken the time to explain new things to me, as well as helping me improve and tweak recipes from time to time.
I'm really happy I found this place and won't spend my money with another home brew shop unless its the only way to get the things I need for my brewery.
701 characters
5
/5
rDev
+26.6%
vibe: 5 | quality: 5 | service: 5 | selection: 5
I have visited several other homebrew stores in the area and it seems that most of them concentrate on something other than homebrewing. I then found BrewMasters Warehouse where the name says it all. They have enough knowledge and expertise for the beginning brewer all the way up to those who are starting nano-brewery. They have several associates who are award winning brewers and can help you with recipe creation, build setups, and all of your kegging needs. I will not be visiting another homebrew store in the area when Ed and his staff have all the equipment, grains, hops, and expertise that anyone person could need!
On a side note they do also sell wine and cheese making kits!
690 characters

5
/5
rDev
+26.6%
vibe: 5 | quality: 5 | service: 5 | selection: 5
Brewmasters Warehouse is Georgia's largest and most customer focused homebrew store. It is also one of the top Internet homebrew shops in the country. The store is a great place to get advice and feedback on recipes and finished beers. The website is the only online homebrew site where you can create a recipe based on bjcp styles, using their brew builder. All the ingredients are fresh, they don't sell kits that sit on the shelves for who knows how long. They carry tons of unique products, and even have specials on facebook, homebrewtalk.com, and the brewing network. What more could you want?
599 characters
4.44
/5
rDev
+12.4%
vibe: 4 | quality: 4.5 | service: 4.5 | selection: 4.5
If your brewing Ales, Lagers, Cider's, Mead, Wine or even the occasional "Toilet Wine", you definatly need to check Ed's store out. The atmosphere is lacking, but I could give two ****'s about atmosphere when it comes down to finding quality ingredients at unbeatable prices! Quality is outstanding, they have a very high turnover on their stock, mostly due to the high volume of online orders, so your pretty much guaranteed that everything from malt, puree's, yeast, and hops will be very fresh! I consider myself to be very lucky to live only about 35 miles from this store, plus I travel to Marietta often and usually always stop by to pick up supplies. Bottom line, if your looking for a clean supply shop to visit or order from, look no further! Cheers!
759 characters
Brewmasters Warehouse in Marietta, GA
3.95
out of
5
based on
11
ratings.