Grazias
| Mike Hess Brewing - Miramar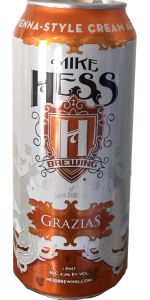 BEER INFO
Brewed by:
Mike Hess Brewing - Miramar
California
,
United States
hessbrewing.com
Style:
Cream Ale
Alcohol by volume (ABV):
5.50%
Availability:
Year-round
Notes / Commercial Description:
No notes at this time.
Added by t0rin0 on 01-03-2011
Reviews: 15 | Ratings: 122

4.25
/5
rDev
+13%
look: 4.75 | smell: 4 | taste: 4 | feel: 5 | overall: 4.5
Had it on nitro tap, super fresh.
Appearance: Looked like chocolate milk right out of the tap. Bubbles slowly raised to reveal a clear, very dark amber with a tan head. Left absurd amounts of lacing along the sides of the glass.
Smell: Roasted malts.
Taste: Sweet right off the bat, into a creamy roasted malt backbone, vanilla. A little bitterness starts to peak in at the end as it warms.
Mouthfeel: Like drinking cream-of-beer soup.
Overall: Creamy texture makes it so easy to drink, but still has plenty of roasted malt flavors to keep it interesting.
560 characters
4.13
/5
rDev
+9.8%
Appearance: Orange/amber color. Nice head that laced the glass where the head, but did not continue down the glass (4.5/5)
Smell: Malty, nothing really stands out (4/5)
Mouthfeel: smooth, lightly carbonated (4/5)
Taste: Malt tasting for a cream ale. Slight hint of sweetness and a very very low bitterness. Very smooth and easy to drink (4/5)
Overall: good beer. Light, easy to drink, and not too complex (4/5)
418 characters

3.98
/5
rDev
+5.9%
look: 4.5 | smell: 4 | taste: 4 | feel: 3.5 | overall: 4
This beer pours a cloudy roasted nut or caramel color with a nice creamy head. Appears to be a thick looking full bodied beer at first glance.
Smells slightly nutty and sweet like kettle popcorn. Malt definitely comes through on this one.
The first few tastes were deceiving for me because the beer was poured a bit too cold. Though refreshing, the true flavors become more apparent after the beer hit a few degrees warmer. Off the bat, I get a bit of the creamy flavors and caramel malt but the beer comes off a bit watery or thin. Let this one rest at room temp for a few minutes and then you start to get a roasted, sweet and fuller taste. A lot more enjoyable and recommended.
As with the taste, the feel of this one gets better when not as cold. The body becomes a little more complex and rich.
Overall I have been happy with everything I have had at Hess. Grazias Vienna Cream Ale is no exception. Bring home a growler/prowler and pull it out of the fridge 5 mins before you pour. You will like it.
1,008 characters

3.93
/5
rDev
+4.5%
look: 4 | smell: 3.5 | taste: 4.25 | feel: 3.5 | overall: 4
This beer looks awesome! I was expecting a lighter color for a cream ale but the darker caramel looking color is foreshadowing a hoppy take on this style - extra dark orange like a hoffner bass. Creamy froth up on top of this brew. Really sexy looking head that hangs out for a while.
Malts dominate the aromas with lighter German hops in the back. No booziness in the smell. Kinda smells like Boston lager -
Taste is similar to smell straight up malt forward brew with German hops- I would say this is a hoppy take on this style - not bitter but the hops do stand out for a cream ale.
Mouthfeel is rather thin for a 6.3 abv. Creaminess was not turned up to 11 bro. Slippery and goes down real easy
Overall I still need more cream ales on my resume. This one is the best one I've had yet. The 4 pack o' pint format is awesome and I will definately be purchasing this again
882 characters
3.88
/5
rDev
+3.2%
look: 3 | smell: 3.75 | taste: 4.25 | feel: 3.5 | overall: 3.75
I have had this beer a couple of times. First on-tap at Hess's tasting room, also at Bruski in Scripps Ranch. One of their beers that I would consider a signature because not many have something like this.
First the smell. The smell is not overly sweet, but you definitely know it has a higher level of malts. The aroma I can describe as butterscotch, warm vanilla, and honey. One might expect that this would be characteristic of a red versus an amber.
The taste is what really shocked me though. The beer is lighter than you might expect because the smell is so malty, with low carbonation and a thin milky texture. A complex body with a light finish reminds me of a high quality root beer float or cream soda type finish. There is a soft, partially nutty taste.
Overall this was my favorite beer tasted there. I really believe that Hess could make this signature beer as it is very unique for what San Diego has to offer.
928 characters
3.88
/5
rDev
+3.2%
look: 4 | smell: 3.5 | taste: 4 | feel: 4 | overall: 4
A really tasty and easy drinking lager that set my visit to Hess off on the right foot and got me prepared for the bigger beers to follow. Dark brown/amber in color, with a decent head and lacing. Simple but appealing aroma is mostly toasty caramel malt and a light nuttiness. Full flavored for this style, with great malt character and an undercurrent of toasted bread and nuts. Very lightly hopped and mildly sweet.
Lively carbonation on a medium body makes for crisp drinking. Smooth and subtly creamy mouthfeel overall despite the carbonation. Very well done take on a simple classic style. Session beer, Hess style.
621 characters
3.86
/5
rDev
+2.7%
look: 4 | smell: 3 | taste: 4 | feel: 5 | overall: 4
My first Mike Hess beer from the can, and I love it! It's dark like a brown ale with dank aromas. The first thing that hits you is the creamy texture. Has a molasses and slight bitter chocolate taste. Even though it's pretty dark, it's on the lighter side, although the creamy texture gives it some body. I've had a few cream ales, but this is my favorite by far! I could drink this everyday! Mike Hess Brewing...!!!
423 characters

3.85
/5
rDev
+2.4%
look: 3.5 | smell: 3.5 | taste: 4 | feel: 4 | overall: 4
Light brown with a creamy white head. Smells of grains and malts. Taste is similar to a stout without any intense roasted flavors, very creamy and refreshing. Silky smooth mouthfeel, to be expected on nitro. Overall pretty good sessionable beer with a lot of flavor, this was my first in this style so I wasn't sure what to expect but defiantly enjoyed it.
356 characters
3.81
/5
rDev
+1.3%
look: 4.25 | smell: 3.75 | taste: 3.75 | feel: 4 | overall: 3.75
Awesome and elegant white can. This is a dark amber beer, smooth carbonation nets a small off white head. The retention is excellent as is the lacing.
Tons of grainy pilsner malt, doughy biscuit and slightly nutty. The ale yeast adds some dried red fruit. Noble hops add some earthy tones. As the beer warms earthy coffee and sweet cocoa nibs rise.
Robust pilsner malt carries a steady breadiness that features hazelnuts and cocoa. Raw grain husks and a twinge of metallic near the finish are the only off notes. Yeast is a bit fruity but maintains a mostly benign task of featuring noble hops which are zesty lemon and grassy. Nutty flavor carries into the finish with low bitterness.
Robust cream ale, run somewhat heavy with smooth and creamy carbonation, not quite Alesmith smooth but still very nice. Alcohol is low rising only after the drink and bitterness follows suit failing to completely dry the punchy malt.
A flavorful vienna cream ale, a definite step up to something local that will knock Boston Lager or a Karl Stauss amber off its perch. While a bit too heavy to session this hard, I'd be proud hand one of these to anyone.
1,144 characters

3.77
/5
rDev
+0.3%
look: 3.5 | smell: 4 | taste: 4 | feel: 3 | overall: 3.5
Fortunately, this is nothing like any Mexican beer I've had. More rich and malty than you're likely to encounter with a burrito. At first sip, a plain malty stew that needs a crisp touch. Grows in dimension as you sip. Lovely amber color. With a bigger head and maybe a dose of shy hops this could be the ideal American Amber beer. Still, it's quite drinkable and clean.
370 characters
3.67
/5
rDev
-2.4%
look: 3.5 | smell: 4 | taste: 3.5 | feel: 4 | overall: 3.5
On tap at Hess Brewing Company in San Diego, CA.
Pours a slightly murky orange-brown with a foamy bone colored head that settles to a film on top of the beer. Foamy swaths of lace form around the glass on the drink down. Smell is of toasted malt, grain, and some slight caramel aromas. Taste is much the same with a mild amount of hop bitterness on the palate after each sip. This beer has a good level of carbonation with a crisp mouthfeel. Overall, this is a pretty good beer that is drinkable but nothing all that exciting.
528 characters
3.55
/5
rDev
-5.6%
look: 3.25 | smell: 3.25 | taste: 3.75 | feel: 3.75 | overall: 3.5
Consumed September 17th, 2015. Poured from can into Sam Adams "perfect pint" glass. ABV on can is noted as 6.5% ABV.
Beer is certainly darker than one would expect from a Cream Ale - on the dark end of golden. Three finger white head disappears soon but leaves nice sheeting on the glass.
Aroma is caramel malt and a faint hop spiciness.
Flavor is familiar to anyone who has ever had a Vienna lager - caramel malt first and foremost. Very faint spice note on the finish followed by a lingering but moderate bitterness. Simple and well-executed, but a touch boozy.
Mouthfeel is creamy, as should be expected. Otherwise, a little thin and hot with alcohol.
Seems to me as if the ABV is just a touch too high form this beer to handle. The flavor is a bit on the simple side as well, but this style isn't really about complexity.
837 characters

3.5
/5
rDev
-6.9%
look: 3.5 | smell: 3.5 | taste: 3.5 | feel: 3.5 | overall: 3.5
7/15/2011
On tap at Hess. Vienna Cream Ale.
A: Dark amber with a frothy beige head. Nice retention and scattered lacing.
S: Notes of corn blend with vanilla (?) and baked bread. It's quite estery, exhibiting a mixture of apple and pear.
T: Light vanilla with orange and corn. I get a little apple and pear as well. Well balanced with a smooth bready and fruity finish.
M: Lower medium in body with moderate carbonation. Mouthfeel is smooth, creamy, and silly.
Overall: An interesting mixture of characteristics that work well together. Unlike any other Cream Ale I've had, but enjoyable nonetheless.
605 characters

3.5
/5
rDev
-6.9%
look: 3.5 | smell: 3.5 | taste: 3.5 | feel: 3.5 | overall: 3.5
Had this on tap at the brewery.
A: The beer pours a hazy dark golden amber brown, with a white cream colored head that rose a good inch and half, and retainded well. Average lacing.
S: Very light sweet toffee malt, light citrus hops, and biscuits.
T: Creamy sweet toffee malt, caramel, toast, light grass. Cold, maybe a bit too much, but it's the lightest beer they pour anyway, and it was a warm day. Alcohol is not noticeable.
M: Medium to high carbonation, but smooth, and slightly sweet.
O: I enjoyed it, it was good. Lager's, to me, are generally light, simple, refreshing, but with light flavor. In contrast to the simple part, this beer actually has a lot more going for it than is typical, but is still smooth, and refreshing, and creamy.
756 characters
3.37
/5
rDev
-10.4%
look: 3 | smell: 3.5 | taste: 3 | feel: 4.5 | overall: 3.5
On Tap at Tasting Room. Cool nano brewery in a small business park outside of the Miramar Air Station in San Diego.
A-Very cloudy brown color. Reminded me of Baileys Irish Cream a little. Nice head with average lacing.
S-Smelled fairly sweet and of malts, very little alcohol or hops came through on the nose.
T-Cold from the tap seemed to mask a bit of the flavor. As it first hits the palate, its hardly distinct but it gets better near the end. Average hop profile.
M-Very smooth beer with a very good medium body. Could enjoy a few of these with a meal.
O-Solid beer overall, although I wish the initial flavors were more distinct. Because they did not really stand out to me, I can't say it was anything more than an average beer. I enjoyed it though, would buy a growler to take home.
800 characters
Grazias from Mike Hess Brewing - Miramar
3.76
out of
5
based on
122
ratings.