The Strath Ale Wine & Spirit Merchants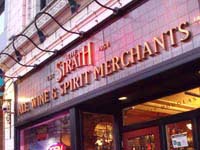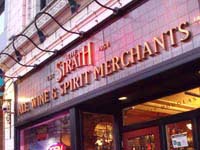 Store
919 Douglas St
Victoria
,
British Columbia
, V8W 2C2
Canada
(250) 370-9463 |
map
strathconahotel.com
Notes: Located in the Strathcona Hotel.
Reviews by Beervana:

Beervana from Canada (BC)
4.13
/5
rDev
-2.4%
vibe: 3.75 | quality: 4.5 | service: 3.75 | selection: 4.25
Feb 11, 2015
More User Reviews:

LampertLand from Canada (BC)
4.08
/5
rDev
-3.5%
vibe: 4 | quality: 4.25 | service: 3.75 | selection: 4.25
The Strath Ale Wine & Spirit Merchants located inside the Strathcona Hotel , (north of Big Bad Johns)
V-clean small/medium size store stuffed with high end spirits , wine & craft beers
Q-expect to pay a little/lot more for your beverage choice , tourist/downtown prices ,
S-staff is friendly ,
S-excellent selection of International beers (especially Belgium) , respectable US beers selection , and all the latest Canadian beers , including good choice of single 473 ml cans , 650 ml bombers in the cooler
prost LampertLand , impressive even for a local
Nov 30, 2018

Beersnake1 from California
4.25
/5
rDev
+0.5%
vibe: 4.25 | quality: 4.25 | service: 4 | selection: 4.5
This is my go-to spot when I visit Victoria. It's a long narrow shop with a fantastic beer selection in the back. They blow me away every time I'm in there. The selection of local craft beer is awesome, but they blow it away with the selection of European beers. Cantillon has appeared, although not recently. They also have a good number of NW USA beers that are relatively hard to get. Definitely worth a stop when in the area.
Jun 11, 2014
TheSevenDuffs from Canada (ON)
4.25
/5
rDev
+0.5%
vibe: 4.25 | quality: 4.25 | service: 4.25 | selection: 4.25
This was my preferred liquor store downtown on a recent trip to Victoria. Great selection of local BC beers, including some seasonals. Also had a great Belgian lineup that included Cantillon, 3F, Fantome, etc.
Prices were slightly on the high end for certain bottles, but fair overall.
Good atmosphere, clean and well organized. Friendly and helpful staff. Definitely a must-visit in Victoria.
Mar 20, 2013
dirtylou from New York
3.93
/5
rDev
-7.1%
vibe: 4.5 | quality: 4 | service: 3 | selection: 4.5
Cool store - selection and treatment seemed superior to the Spinnakers location on Simcoe.
There is a pretty impressive selection of high-end liquors and BC wines dominating the front of the store - craft beer options are in the back with minimal belgian offerings in dry storage and a few coolers of primarily BC/US options.
It was a nice surprise to find Cantillon and Fantome, although it was only one offering per. At around $15/750ml, those prices seemed very fair. Expect to find Driftwood, Phillips, Hoyne, Swans, and all the other BC stuff. The older Driftwood offerings seemed to be less abundant here, suggesting a pretty quick rotation of stock. Seeing Brooklyn bottles, including local 1/2 and sorachi ace, was also a surprise coming from Seattle.
service is more along the lines of just letting you shop, which was fine.
Pretty centralized, and attached to the also BA-listed "Sticky Wicket Pub", though I'm not sure I really recommend spending much time at that place.
May 31, 2012
DaveJanssen from Germany
4.3
/5
rDev
+1.7%
vibe: 4 | quality: 4.5 | service: 4.5 | selection: 4
The beer guy here Lon definitely knows what he is doing and works to bring in the best he can. I didn't know much about the BC beer scene when ii first came here and he gave me a pretty solid rundown of the options and his favorites.
I haven't seen a better selection on the island. The store is clean and well laid out. The beer has to fight for space in the mainly wine dominated store but the layout is great. Which beers are local is very clear.
Good selection of classic belgians, including Cantillon and four of the trappists as well.
If you are in town looking for local beer, this place has all the best including some options not available anywhere else outside of the brewery. If you live in the area and are looking for a solid selection of locals and others, this is one of the best I've seen.
It is a touch more expensive than some of the other better places in town.
Sep 25, 2011
CBA from British Indian Ocean Territory
4.3
/5
rDev
+1.7%
vibe: 4 | quality: 4.5 | service: 4 | selection: 4.5
A clean, well laid out store with an excellent line up of BC's finest. While they do offer a decent international selection (mainly US & Belgians) the real reason to visit is the locals. I found the organization and stock at this store hands above Spinnakers, which surprised me. The prices were better than Brewery Creek in Vancouver as well on most items. Quite a few seasonals and special releases not seen elsewhere. Left with:
*Phillips Hammer
*Driftwood Naughty Hildegard
*Driftwood Cuvee d hiver
*Driftwood Blackstone Porter
*Swans Coconut Porter
Definitely recommended - and it's in walking distance from most hotels downtown.
Mar 30, 2011

Offa from California
4.35
/5
rDev
+2.8%
This is a really good liquor store overall right in the heart of Victoria, and it particularly has a very nice beer selection.
Although the beer area is not huge, the store packs in a very good selection of high-quality and/or unusual or rather hard-to-find beers. It has a good range of high-quality and unusual (at least for my experiences in the US West Coast) British and European beers, including Fraoch Heather Ale, Alba Scots Pine (both extremely iffy to find in the SF Bay Area) and some other more obscure Scottish beers. It also has some good craft beers from California, Oregon and Washington, and, extremely important for my purposes, it has a great selection of local BC craft beers as well as some from other provinces.
For someone from the US seeking to bring back a good selection of BC craft beer, in particular, this is a great place to look. We can't get any of these in California and I have seen only a tiny fraction of them even in Oregon and Washington.
Aug 04, 2010
The Strath Ale Wine & Spirit Merchants in Victoria, BC, Canada
Place rating:
4.23
out of
5
with
9
ratings