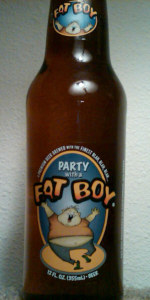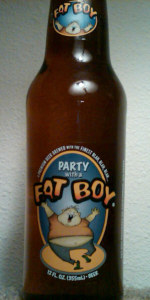 BEER INFO
Brewed by:
Fat Boy Beer
Wisconsin
,
United States
fatboybeer.com
Style:
American Adjunct Lager
Alcohol by volume (ABV):
5.90%
Availability:
Year-round
Notes / Commercial Description:
No notes at this time.
Added by beerwolf77 on 08-05-2010
HISTOGRAM
Ratings: 7 | Reviews: 6
Reviews by sweemzander:

1.29
/5
rDev
-32.1%
look: 2.5 | smell: 1 | taste: 1 | feel: 2 | overall: 1.5
12oz. bottle poured into a nonic. " A premium beer with the finest Blah, Blah, Blah" printed on the front label. . . . A premium beer? With that type of slogan?
(A)- Pours a clear pale yellow color that produced a thin layer of bubbles.
(S)- Smells of a sugary corn husk and dry hay with a tiny bit of lemon rind.
(T)- Its like they mixed a sugary light beer with apple and a twist of lemon juice.
(M)- A crisp carbonation level. Extremely sugary and extremely light bodied. Where are the hops?
(D)- Despite being an extremely light bodied beer that goes down almost as easy as water, I am unable / unwilling to finish this. The only thing that fits the style in some way is the appearance in my opinion. And with a slogan as mentioned above on its label, are they really taking themselves seriously?
809 characters
More User Reviews:
2.05
/5
rDev
+7.9%
look: 1.5 | smell: 1.5 | taste: 2 | feel: 3 | overall: 2.5
Picked this one up at Regent Liquor in Madison.
Pours a pale straw yellow color. Little to no head. Bit of an alcohol smell. Taste is pretty non-descript. Not much to this beer. Faint malty alcohol flavor. Reasonably smooth feel. Very light bodied beer. It's drinkable but there are much better light beers available for cheaper.
331 characters
1.7
/5
rDev
-10.5%
look: 2 | smell: 2 | taste: 1.5 | feel: 2 | overall: 1.5
12 oz bottle poured into a pilsner glass. No date or info.
A - Completely clear and very pale yellow straw in color with a thin pile of cloud-white head. No retention despite the high level of carbonation. Tiny slivers of lace are left on the glass.
S - Very crisp and light starting. Adjunct sweetness changes it up a bit and adds some corn and pale malt accents to the nose. Straw comes through too but no hops. A very bland and lacking nose.
T - Green apple skins give the adjunct-filled flavor a tartness to the finish that probably shouldn't be there. Tons of dry straw and residual cooked corn sweetness. It's not very pleasant.
M - Incredibly high level of carbonation with a very light, slick body and a thin finish. The sweetness keeps it from going fully watery. Just about what I expected here though.
D - Party with a Fat Boy? No thanks. It might seem like our crew is ganging up on the Fat Boy a little bit, but this beer is just garbage. "Premium" it's definitely not and as said before, "brewed with the best blah, blah, blah" might try and give it some sort of attitude, but instead it shows their lack of care. This is more or less a bland American Adjunct Lager and a drain pour. I gotta admit I laughed and instantly bought a bottle when I saw singles of it just to see how bad it really is.
1,315 characters

1.5
/5
rDev
-21.1%
look: 2 | smell: 2 | taste: 1 | feel: 1 | overall: 2
Thanks to Beerwolf77 for this one or should I say, what have I ever done to you Todd?
A- Pours the lightest of light gold with a small head that dies instantly and leaves no lacing behind.
S- Mmm, adjuncts. Some light corn and some candy sweetness. Not much more to say.
T- It is like someone dropped a piece of bread in a glass of water and let it sit. Corn, corn and more corn. Oh yeah and a big chunk of my dignity being washed away as I sip(agonize) through this. Thanks again Todd.
M- This is about as light as you can get. This is about as close to water as you can get which some may like, but probably not.
D- This is one of those beers that you wouldn't recommend to your worst enemy. No taste or body to it. At least this was an extra and the only reason I reviewed it was to put Todd's name in lights. Love ya Beerwolf. And to quote Rick James, "I wish I had more hand so I could give this 4 thumbs down."
922 characters
2.24
/5
rDev
+17.9%
look: 2 | smell: 3 | taste: 2 | feel: 2 | overall: 2
Very pale yellow and not much head. Minimal bubbles floating to the top. Smells like wine - quite fruity. Not much of a taste, very low bitterness...the taste that is there is pretty sweet. It has a alcohol after taste that is left in my mouth. I don't think I will be drinking more of this.
291 characters
1.53
/5
rDev
-19.5%
look: 2 | smell: 1.5 | taste: 1.5 | feel: 1.5 | overall: 1.5
Poured from a bottle into my pint glass.
A: Crystal clear pale yellow, one finger of bright white head fades almost instantly, no lace
S: typical pils, sweet pale malt with a heavy dose of corn chips, blindfold me and I would have trouble picking this out of any of the hundred adjunct lagers.
T: Yep pretty much what you would expect. Light pale malt and corn with touch of hop bitterness in the finish. Nothing real surprising here.
M: thin light body, plenty of carbonation
D: overall wasn't expecting much from this one, pretty standard,
After reading the bottle you would think this beer is actually poking fun at craft beer or beer in general. I wanted to support a local company but unless they come up with something else this will be my only Fat Boy purchase.
775 characters

Fat Boy from Fat Boy Beer
Beer rating:
1.9
out of
5
with
7
ratings