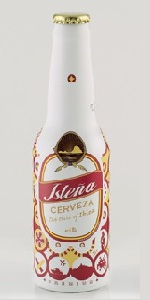 BEER INFO
Brewed by:
Cerveza Isleña
Spain
thebeerofibiza.com
Style:
Kölsch
Alcohol by volume (ABV):
4.80%
Availability:
Year-round
Notes / Commercial Description:
No notes at this time.
Added by glid02 on 08-07-2010
Reviews: 6 | Ratings: 14
Reviews by evlu1441:
2.77
/5
rDev
+12.6%
look: 2.5 | smell: 3 | taste: 2.5 | feel: 3 | overall: 3
I found this in a specialty foods store in Spain, and I was looking for some unique Spanish beers. Everyone knows Ibiza is party central, so I assume this beer caters to that crowd somewhat. While it's described here as a lager, the bottle says it's "ale brewed"
It pours a very pale straw colour and not much of a head to speak of. Kind of what you'd expect from an average mass-produced lager.
The aroma is slightly grainy, and has a hint of fruitiness which is a little surprising. It's interesting, but nothing exceptional.
The taste is very similar to the smell, with a generic kind of grainy backbone, though the fruitiness is not as pronounced. There are some nice earthy hops towards the end, but it finished with a kind of chemical aftertaste. I guess it might be because of the aluminum bottle.
Overall, this is pretty underwhelming, but I can see how it would get the job done at an Ibiza club.
910 characters
More User Reviews:
3.08
/5
rDev
+25.2%
look: 3.5 | smell: 3 | taste: 3 | feel: 3.5 | overall: 3
Bottle at a random bar in Barcelona.
Pours a clear straw color with a one-finger white head. The head quickly recedes into a thin layer on top leaving light lacing.
Smells of light malt and sweet adjuncts. As it warms very light hints of grassy hop aromas waft out but not enough to temper the adjunct aroma.
Tastes similar to how it smells. Light malt flavors linger in the background and take a backseat to sweet adjunct flavors. As with the smell lightly grassy hops are present but they are even fainter than in the aroma. The ending is sweet and fairly crisp.
Mouthfeel is OK. It's a bit on the thin side with moderate carbonation.
Drinkability is also OK. I finished my glass without any large problems but I'm not sure about another.
Overall this just wasn't a very good beer however the bottle does look nice.
823 characters

2.98
/5
rDev
+21.1%
look: 3 | smell: 2.5 | taste: 3.25 | feel: 3 | overall: 3

2.47
/5
rDev
+0.4%
look: 2 | smell: 2.5 | taste: 2.5 | feel: 2.5 | overall: 2.5
4.8%. The beer of Ibiza (my ass). Crude plastic/would-be ceramic aluminum bottle served into a Guinness pint glass in Ibiza. Cost was 1.25 euro for a six pack by the puerto. Expectations were low. Reviewed from notes taken in April 2011.
A: Pours a two finger head of poor retention, poor thickness, and no cream. Colour is a clear textbook yellow cerveza colour. Looks like every other crappy Spanish lager.
Sm: Light aroma of barley and malt. That's it. Simple.
T: Clean barley body, with a dirty malt finish. Refreshing but simple. Built simply but not terribly.
Mf: Light and slightly coarse. Not as crisp as it ought to be for a refreshing lager, but decent.
Dr: At around 21 cents a bottle, it's hard to say no to, especially for 4.8%. It's a great holiday brew for getting locked, but the enthusiast should look elsewhere.
D+
843 characters
2
/5
rDev
-18.7%
Clear straw colour, small head that does not hold. Smell is simply grains. Rough palate,medium body. Taste is nothing more than grains, with a dry and bitter finish and a piquant touch.
185 characters
1.75
/5
rDev
-28.9%
Purchased at Ipercoop in Italy. Says "The beer of Ibiza". Should say "The Pabst Blue Ribbon of Ibiza".
102 characters
2.32
/5
rDev
-5.7%
look: 1.75 | smell: 1.5 | taste: 2.75 | feel: 2.5 | overall: 2.5
From Hipercor, last units. In Legado de Yuste glass. Watching Breaking Bad 2x05. 3 months after best before date. Little foam. A bit stinky, but the taste isnt too bad.
168 characters

1.88
/5
rDev
-23.6%
look: 2.5 | smell: 2 | taste: 2 | feel: 1.5 | overall: 1.5
Hazy orange color, almost nofoam.
In the smell some maltiness and nothing else. Neutral, banal, useless.
In the mouth the malt sweetness again, but not of good quality.
On the label: "to be drinked while you enjoy life"... Not a great life.
Well, really useless beer, even to get drunk.
286 characters
Isleña from Cerveza Isleña
2.46
out of
5
based on
14
ratings.