Owen O'Leary's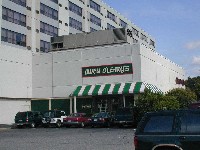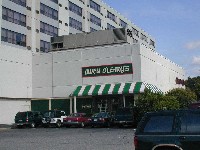 PLACE INFO
Type:
Brewery, Bar, Eatery
319 Speen Street
Natick
,
Massachusetts
, 01745
United States
(508) 650-1976
// CLOSED //
Notes:
No notes at this time.
Added by BeerAdvocate
HISTOGRAM
Ratings: 9 | Reviews: 9
Reviews by albern:
3.88
/5
rDev
+31.1%
vibe: 4 | quality: 4 | service: 4 | selection: 3.5 | food: 4
I had the sampler and was fairly impressed. The restaurant has a pub feel to it, there is a nice long wrap around bar, and the food that I had (and my friend had) were both very good. I had the Rachel sandwich and vegetables, he had the specialty burgers with fries. There are fancier items on the menu, but for the pub fare, it was quite good. The bartender was quite friendly as well. The only negative I can say about the place is that I'm always suspect when brewpubs have crappy beers on tap in addition to the house brews. This is usually not a good sign, but there wasn't much worry here. Plenty of parking, not that difficult to find either. Worth seeking out. The beers are reviewed under the separate beer categories, although I had a seasonal named California Common. The beer is a mixing of lager and ale. It isn't that good, it isn't listed on the beers offered by the place, and I didn't add it to the list either. If you visit Owens, you can easily skip over this rather watery, uninteresting offering.
1,017 characters
More User Reviews:
3.25
/5
rDev
+9.8%
vibe: 2 | quality: 3 | service: 3 | selection: 4 | food: 4
I was at the 50 Turnpike Rd, Southborough, MA location.
The atmosphere is dark and grimy, like an old bar. It wasn't too inviting - very sports bar like.
The quality of the beer was pretty good - I tried the IPA and the Stout, which were both decent, but nothing to write home about.
The service was decent - I was asked if I needed anything else multiple times.
Their selection consists of beers they apparently brew themselves, along with (I think) some random big name domestics and imports. I only tried the local beers while I was there.
I have to say that the food was pretty good - I had an EKG Special (which is a pizza with 3-4 types of meat, implying a heart attack). It was really good, and inexpensive.
I got out for about $20 with tip after 2 pints of beer and a pizza. I was full. Go there if you don't care about atmosphere!
845 characters
3.55
/5
rDev
+19.9%
vibe: 3 | quality: 4 | service: 3 | selection: 4 | food: 3
I came to meet my friends at the hotel bar and was pleasantly suprised. I came in through the back and thought that I was walking into a Denny's. This was not the case.
They offerred 5 different brews including a decent stout and a good IPA. They also had a seasonal plum ale which I was told was quite good (The girls loved it). They did have a sampler and offered growlers.
The food I had was fine (I ordered Pizzas). The service was fast and friendly. I didn't ask any questions to the waitress but I would question their ability to answer them.
There have been some unfavorable reviews of this place but let me say this. It is the BEST hotel bar I have ever been to by far. I wouldn't go out of my way to visit this bar. But if I was staying in Natick this is the only place to consider.
794 characters
2.93
/5
rDev
-1%
vibe: 3 | quality: 3.5 | service: 2 | selection: 3.5 | food: 2
Went to this place to refresh my wife after a 22 mile marathon training run from Boston to Natick. Her pain led to my reward: fresh beer, brewed in house.
First thing we noticed was what others had observed. This was a very odd location for a BrewPub, but we were pleasantly surprised that the atmosphere was much better than the facade' of the hotel would have you believe. Kind of your average pub/sports bar affair.
Now the beer: Had the sampler. Was very pleasantly surprised by the quality of the IPA and their paler counterpart. The IPA had a modest but pleasant floral aroma and good overall taste that will remind you that they used decent hops throughout, but aren't out to create a overpowering hop flavor (sorry Dogfish fans). The pale (can't recall what it was named) had a substantial bitter finish and was very drinkable. I was surprised to note they brewed a nut brown, but was a little disappointed by the lighter mouthfeel of it, it seemed to borrow a little body from the other lighter brews. I wanted this beer to be more thick and more on the slightly malty sweet side. Thankfully the stout was a well rounded beer that presented as more mature than some other small brewpub stouts that overpower you with fresh grain maltiness. It could go down well on a cold Natick night, no doubt about it. I will spare you my review of the blueberry, as i don't care for such brews unless they avoid syrups and use the real deal, which it seems many places float in your glass after the fact instead of using in the brewing process. Overall, a decent selection, but be warned, the beers are served quite cold. Let most of them warm up some and you will be pleasantly surprised by the improvement in aroma and flavor.
Lastly, the food and service were both lackluster. Our server did not know squat about the beers, and he often failed to check on us for refills etc. The food was standard, a nod to the fact that this was actually an interstate hotel bar. I guess one out o' two ain't bad.
All in all, if you are in the area, or find yourself needing a break from the local shopping malls, stop by, cause this place may seem like an oasis in the midst of strip mall mega-chain bar-restaurants.
2,215 characters
3.43
/5
rDev
+15.9%
vibe: 2 | quality: 3.5 | service: 3.5 | selection: 4 | food: 3
I've recently discovered Owen O'Leary's. I've always assumed it was the typical hotel bar with crappy beer, but lo and behold, it's a brewpub.
The beer itself is decent. It may not be what most of the beer geeks on this site look for, but I look at the beers there as good gateway beers to craft brewing for those most use to drinking Bud/miller/coors.
I liked the Double bock a lot, and the blueberry was decent. The IPA was not as hoppy as I like, but it wasn't bad.
The only downfall was, well, it was a hotel bar, not exactly the best atmosphere.
559 characters
3.95
/5
rDev
+33.4%
vibe: 3.5 | quality: 4 | service: 4 | selection: 4 | food: 4
Stopped in here on JohnnyP's recommendation and I am glad I did. Reputation for horrible beer in the past has kept me away, but with news of a new brewer and a renewed focus on the beer finally brought me in. Even though its connected to a hotel, it doesn't have that hotel bar feel. More like a local joint with regulars and riff raff who are just there for the Keno. I like the bar set up -its a rectangular bar with a thin strip in the middle for the bartenders to do thier work. Plenty of TV's around so you don't have twist your neck around to watch the game (or keno if you're into that).
Now onto the important stuff - the beer. The beers were quite good and better than any beer I've had at John Harvard's down the street- nothing to knock your socks off, but at the same time, no bad house made beer either. Patrons seemed to be ordering more Bud bottles than anything else, but hopefully the word will get out and that will change. Had a sampler that included 5 of the 7 beers on tap. They had a light (not sampled), a red which was decent for the style, an ipa which was somewhat bitter, but not much hop aroma, a "light" ipa which was slightly darker and thicker than the ipa, but not as bitter, a golden ale which was very good, a blueberry ale (not sampled), and an dry irish stout that was very flavorful and spot on for the style. I thought the golden ale was the best of the bunch due to sweet malt flavors balanced nicely with hop bitterness and a decent hop aroma/flavor - it is a beautiful session beer. I had the Irish fish with mashed potatoes and slaw. The fish was battered instead of the usual breaded fried fish you usually find in the area and was prepared perfectly. As long as the beer quality holds up, I will be back again and again. John Harvard's? who's that?
Oh yeah, and after you've downed a few pints, you can test your rock star skills and rip a few licks across the parking lot at the Guitar Center.
1,945 characters

1.85
/5
rDev
-37.5%
vibe: 2 | quality: 1.5 | service: 2 | selection: 2 | food: 2
Right off the speen st. exit of route 9, at the foot of a Hampton Inn in the back of the Guitar Center parking lot. Looks like a cheap sit-down-and-eat place, and that is what it is, except this one has a brewery in it.
Atmosphere is a quiet bar with pool tables and darts with a separate dining area. A few guys are always at the bar watching TV sports drinking coors light. Slightly dark interior is very basic and cheesily decorated. If you sit in the back section there are a couple seats that let you see the ugly brewhouse.
Usually about 7 house brews on tap - 5 regulars and 2 seasonal/specialties. The beers range from boring to awful. Mostly English ales, all served ICE COLD. The regulars, if I recall correctly, are a golden ale, an English IPA, a "light" IPA, an ESB, an "irish" red, and an dry stout. They offer a sampler that is cheap and comes with a listing of ingredients for each beer, which is very nice for beer geeks and brewers until they taste the beers.
The food is pizza, sandwiches, and American entrees that tend to be OK. They have chicken, beef, and seafood options too. Last time I was there I ordered a turkey sandwich. They brought out a turkey dinner plate. I said "I ordered a sandwich." Waitress: "That is an open-faced sandwich." Me: "There is no bread." Waitress: <walks away>
It boggles my mind why anyone would bother to build a brewery and pay people to make the beer, and then not care about it. Everyone there seems to drink coors light. I can hardly blame them. An embarassment to brewpubs.
1,552 characters
1.68
/5
rDev
-43.2%
vibe: 2 | quality: 1 | service: 2 | selection: 2
I do nto know why this place makes their own beer. When I visited, I did not witness them sell one of their own beer to any other customers, who were all ordering buds. They looked at me like I was ancient when I asked for a sampler tray and got even more confused when I asked for a logo pint glass (which they did actually have, and had a cool little football in the bottom of the glass). The beer was not very good (I do not remember any specifics). The atmosphere was that of your typical sports bar. The place was located in an small motel and the parking was not very good.
579 characters
1.86
/5
rDev
-37.2%
vibe: 2 | quality: 2 | service: 2 | selection: 1.5
Do not work too hard to visit this "brewpub." I may have only given it one shot, but I learned all I needed to know. This "brewpub" does not make its own beer any more, that I can tell, and even when it did, it was spotty. There are a few microbrews available, but considering the one I got was a. marred by unkempt lines and b. in a cracked glass, I'm not sure why you'd need to visit.
386 characters
Owen O'Leary's in Natick, MA
Brewery rating:
3.4
out of
5
with
22
ratings