Berry Park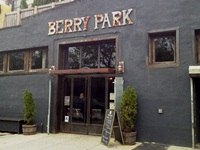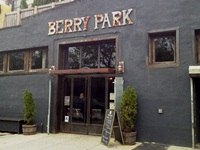 Bar, Eatery
4 Berry St
Brooklyn
,
New York
, 11249-1013
United States
(718) 782-2829 |
map
berryparkbk.com
Notes:
Recent ratings and reviews.
Ratings by elamb106:

Rated by elamb106 from New York
4
/5
rDev
+9.6%
vibe: 4 | quality: 4 | service: 4 | selection: 4 | food: 4
Apr 20, 2016
More User Ratings:

Rated by egrandfield from Massachusetts
3.29
/5
rDev
-9.9%
vibe: 4 | quality: 5 | service: 2 | selection: 2.25
Sick rooftoop outlook to city. Not a huge selection. Bartender was a bit of a douche, but ok clientele. Classy place to bring a date.
Mar 22, 2018

Reviewed by ArsMoriendiOU818 from Virginia
3.88
/5
rDev
+6.3%
vibe: 4.75 | quality: 3.75 | service: 4 | selection: 3.5
There's a few decent beer choices here, although the beers are quite expensive. There's a large indoor area both on the first floor and second floor and a smaller outdoor patio with a largely obstructed view of the skyline. It has a better view than most bars, but nowhere near what the view of The Ides Bar is, though it's usually less crowded and is open later. Aventinus is a great beer that they seem to always have and I rarely see anywhere else, so kudos to them on that.
Aug 03, 2014
Reviewed by ikats from New York
3.13
/5
rDev
-14.2%
vibe: 4 | quality: 3.5 | service: 3 | selection: 2.5 | food: 3
Stopped by Berry Park on a Sunday afternoon, a day before Halloween. It was on my list of places to visit for some time now. I live about 40 min walk away from it.

I guess this place used to be a garage (or had some other similar industrial purpose). This makes it appear quite spacious. The space is completely open save for a few support columns. It is filled with communal tables and benches. When I was there an NFL game was projected onto the main open wall. In the other corner a soccer game (NY Red Bulls) was playing on a TV. The bar is in the back. There is a rooftop terrace, but since it was quite chilly, it was empty (but open to hang out if anybody felt like it).

When I stopped by it was fairly empty. A few people here and there, but plenty of available spots. The crowd seemed nice. Somewhat typical for Greenpoint. Young. A bit on the hipsterish side.

The service was average. Polite and prompt. It's hard to really evaluate service when the place is not busy.

I only had fries with my beer. They were OK, but I expected better. I found the place to be a bit on the pricier side ($14 for a burger). The beer was $6-7.

Selection is the biggest problem for me. Not a single American beer. Granted they do have good German, Belgian and a few British beers on draft, but I strongly feel that a "beer garden" should offer some local choices as well. It's not like they have an authentic German beer garden experience. I had Hofbrau Dunkel and it was good.

Berry Park is a good place to go as a group. I felt a little out of place by myself. I wouldn't mind hanging out there with friends. Overall my visit was enjoyable. However, due to its handicap (in my opinion) selection, I probably will not be making a 40 min track (there are better places in the neighborhood). On the other hand, if I'm nearby with some friends or family looking to chat over a few beers, this will be a good spot.
Nov 06, 2011
Reviewed by slander from New York
3.59
/5
rDev
-1.6%
vibe: 4 | quality: 4 | service: 3 | selection: 3.5
You realize that with each new bar that opens in Williamsburg, it just shortens the distance you have to walk from the last to the next. Phil had been talking about this one for a bit but rooftop? I just couldn't fathom the what, the where until that Saturday that time. I've been referring to it as "the place on the corner of Berry & Gutter" for a while now; probs 'cause I can never remember, you know...

Off the bleak corner, the bright blue doors lead way to a large open room. Splotchy & patched concrete floors, high rafter ceiling with a pair of spinny fans on center, and I beams to keep the sky from falling. Views of Bjorn Butkus tennising up the McCarren Park courts through the forward panel doors, and windows tall & narrow to both sides and above, plus they get some decent light through the barred windows along the top of the front wall. Dark olive rear & side near walls with a barren tree drawn on in white chalk. On the far wall of light beige, a negative bas relief version of the same; this one large and sprawling starting at one end and then the branches drop, extend below the space they need to keep clean for projection screen soccer nonsense, and then rise again. A single blackbird (Randy interrupts to say that it's a rook), on a branch looking to have at your unguarded pretzel. The tree, I'd swear was black chalk looking, but is now somewhat filled purple. I said they must have recently added it to purple glowlit them, and Randy became angry at me for making that into a verb but it could not be helped.

Glossy "L" shaped wood bar to the rear seats a dozen and a half on stools. 14 taps on a stainless steel row basin on the barback center and a pair more on the bar. Tiered booze to both sides, and glassware tucked below shelved. Large angled mirrors over the taps and a single shelf to each side; one with bottled selections and a "specials" board, the other with slight boozings and a board talking brunch. Big "Berry Park" letterings above in case you don't know where you are. Hofbrau & Aventinus flaggings hang to both sides. Drop martini glass lamps over the bar, amber lantern lamps mounted to the upright beams, and a few wall mounted. Also, some light light from the fat glass candles on the tables.

Raised platform under the projection screen wall with a pair of "L" benches, a small table and baby ottoman-like stools. On the opposite wall, a bleacheresque presence with a DJ space on center atop. Out on the floor, 8 narrow picnic tables with benches seemingly mounted to the floor via screw in bracket pieces at the base, but not; I suspect they're trying to give the illusion that they are though so nobody tries to steal them. Spare ½ benches about, for pulling up wherever as needed. In the front corner, I don't know what it is but it's couchlike with a coffee table, more benches and cubed somethings to sit on; brightly colored pillows adorning. Shorty cropped potted plants of different varieties dot the room. Alcohol induced sharp pointy thing dart play in the far corner, beware.

Up a-top beer garden, accessible by staircases fore & aft. Running the entire span of the roof, there's a small bar seating about a dozen to one side, and nearly a dozen square tables out over the floor, plus benches along much of the perimeter and the sun. Roomy & spacious.

16 taps, all imports, half of them Germs (Radeberger, Paulaner Salvator, Wurzburger, Hofbrau Original & Dunkel, Hacker Pschorr Lager, Weihenstephaner, Schneider Aventinus); the remainder are Belgos (Palm, Delirium Tremens, Gruut Wit, Van Diest Fruli, Lindemans Framboise), UK (Belhaven Twisted Thistle, Youngs Double Chocolate Stout), and a stray Austrian (Gosser). Drafts are .5 litre, mostly in the $6-7 range, but a few up at $8-9. I'm generally drinking the Hofbrau Dunkel or the recently rotated in Kostritzer Schwarzbier. I'd like a Paulaner Salvator, but I think I'd die if I drank a .5 litre glass of it. Slight bottled selection (Jever, Austiner, Weihenstephaner Kristall & Vitus Weisses, Xingu), and 8 wines, too.

And, yes, light foodings. A handful of apps (soup, salads, dip, pretzel, cheese/meat/olive plate), and a few each sandwiches & entrees (a seemingly unlikely place to be serving Jambalaya but I would order it just to be able to say that word aloud). Randy got a pretzel. He tried to hide it in his sweatshirt pocket but I saw it. "Try the mustard", he said. I did. Spicy, yes, and there was some heat, but I quite liked it. (He tried to hurt me with mustard and failed. Mostly).

Some good tunes, but Randy is complaining about that, too. Probs' because they charged him $3 for a soda water, which I must agree, is total bullshit. Servers seem to lack joy. Interesting beer selection; not great, not bad, just interesting. Been here a few times now; it's pleasant in the early afternoons with a forecast of young kids later on, and know that Soccer anything = madness.
Aug 09, 2010
Berry Park in Brooklyn, NY
Place rating:
3.65
out of
5
with
6
ratings