Wheatopia
| Hermitage Brewing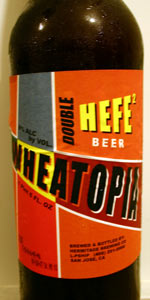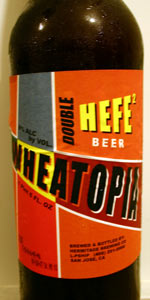 BEER INFO
Brewed by:
Hermitage Brewing
California
,
United States
hermitagebrewing.com
Style:
Hefeweizen
Alcohol by volume (ABV):
8.00%
Availability:
Year-round
Notes / Commercial Description:
No notes at this time.
Added by Pinto21 on 01-15-2011
HISTOGRAM
Ratings: 14 | Reviews: 11
Reviews by monkeylovebeer:
2.87
/5
rDev
+13%
look: 4 | smell: 2 | taste: 3 | feel: 3.5 | overall: 3
I have really enjoyed some tasty craft brews from San Jose's Hermitage Brewing Company in the past, so when I saw their new "double" offerings I had to pick up a couple. The first, a "double hefe," had me intrigued. First of all, I had never heard of a "double" hefeweizen and wasn't sure what would even constitute one.
Wheatopia pours like a somewhat murky American wheat, California sunshine in color with a white head that dissipates pretty quickly leaving a little bit of lace behind. Upon first sip, however, it's obvious that this isn't your ordinary summer thirst quencher. There is something off with this brew that bears consideration.
Backtracking for a moment, the aroma isn't all that enticing, I liken it to wet dog with lemon. Or perhaps a kinder way to describe it would be--to borrow a term from the Scotch lexicon--"peaty."
Oddly missing from what I expect from a decent hefeweizen are the banana and clove flavors associated with the yeast strains traditionally used with the style; in its place is that strange ashtray note that keeps me from liking lagers, bocks, ashtrays, etc.
On the upside, the mouthfeel is active with a hop-driven zing to it although you can't really taste them. All-in-all, not what I expected, if this is indicative of a double hefeweizen, make mine a single.
1,310 characters
More User Reviews:

2.31
/5
rDev
-9.1%
look: 3.5 | smell: 2.5 | taste: 2 | feel: 3 | overall: 2
Bomber from BevMo Sunnyvale. Now this is a lesser seen style here.
Hazy golden-yellow in color with a one-finger white head that fades to a thin film on the beer.
The aroma is grainy, wheaty, floral, and lightly fruity. Some sweetness evident.
The flavor is a little weird, grainy and with some grassy hops, orange peel, wheat, and pale grainy malt.
Medium-plus body with average carbonation.
Not sure where they were going with this one, but I have to say it missed the mark in my opinion. Amping up styles doesn't always work I guess.
544 characters

2.3
/5
rDev
-9.4%
look: 3 | smell: 3 | taste: 2 | feel: 2 | overall: 2
Cloudy orange colored beer with a small white colored head.
Smells strongly spicy with a sharp ginger scent. Other earthy scents to mostly ginseng. Smells more like a witbier than a hefeweizen.
Starts out watery. Little bit sweet and slightly spicy but this is damn close to flavorless. Not much to comment on here.
Mouthfeel is thin.
Overall this is "WTF?" Not much here, sure it is doesn't offend but I DO buy beer to taste it. This is close to Bud Light with added alcohol.
480 characters
1.63
/5
rDev
-35.8%
look: 1.5 | smell: 1 | taste: 2 | feel: 2 | overall: 1.5
For a while I had also wondered if there was such thing as a "double hefeweizen." Hermitage Brewing Company has answered my question. When I saw this one I had to try to it.
THE LOOK of this bear was not great. It is a thin, light golden yellow color. It's extremely carbonated resulting in a nice head that explodes out of the glass but then quickly dissipates to a quarter inch of frothy head before almost completely breaking apart before even 1 sip! (2-3 min.) There's no sediment at the bottom of the cup and virtually none suspended in the liquid either. Honestly, this is a very boring and cheap looking beer. One of the worst I've ever reviewed. What kind of hefeweizen loses all its head in the first 3 minutes?
THE SMELL is definitely the low point of the Wheatopia. It smells very strongly of Parmesan and/or aged white cheddar...maybe a little bleu cheese too. It is no doubt interestingly funky, but really just smells like a tripel gone bad. There are also some sweet hops and nice Kölsch, hay-like aromas. Also noted were a little vanilla cake and astringent alcohol. However nice these are, they are dominated by the funky cheese smell. Beer should not smell like this.
THE TASTE of Hermitage's experiment goes from that same funky cheese flavor --> wheat and grass --> very bitter hops --> burnt barley malt. It ends with a very dry and harsh finish. The flavor progression of this beer isn't very good--almost schizophrenic. The malt bite at the end is very reminiscent of a dry stout yet it just doesn't work with the rest of the flavors. It makes me wonder if they used heavily roasted wheat and that's what I'm tasting (?). Either way, there is some requisite wheat qualities that I was able to pick up but they are sour and taste spoiled--not sweet or crisp in the least bit. The sour wheat is very strong though so I can understand what they were trying to achieve since this is a "double", but as bad as this one tastes it makes me think there's a reason not many people make double hefes!
THE FEEL is odd. It's very thin and has a very dry, almost chalky feeling to it. It's not satisfying at all. How is this a hefeweizen?
CONCLUSION: Clearly the fact that this style is extremely rare earns Hermitage some props for attempting it. However, they either bombed, or this style is just gross. Either way, after tasting this creation I wouldn't let it out of the building if I were them. When drank cold it is pretty bad, upon warming to 60+ it becomes tolerable, but overall it's not very drinkable. Yes, it is interesting, but the intense funkiness really just kills everything else. Kill that, sweeten it up a bit, and Hermitage might have decent beer on their hands. As it stands, it has earned my lowest rating to date. Sorry guys.
2,773 characters


1.47
/5
rDev
-42.1%
look: 3.5 | smell: 1.5 | taste: 1 | feel: 3 | overall: 1
Leaves you breathless-- groping for words to describe what is one of the worst beers I've ever tasted.
Oddly enough, it's an attractive golden with nice head. But the aroma is something cheesy mixed with overheated electronics. What is that flavor? Burnt plastic mixed with coffee dregs. I have had enough bacterial beers to recognize the usual flavors. They must have discovered some new way to infect beer, as this is a new taste for me. It actually tastes poisonous, though probably it's not.
Thank you to BevMo in San Diego-- this one is not just a drain-pour, it's a spew.
579 characters


2.1
/5
rDev
-17.3%
look: 3 | smell: 3 | taste: 1.5 | feel: 2 | overall: 2
Poured from a bomber into a Weizen glass. Reviewed live.
A- finger width white head, little retention and some watery lacing. Clouded orange color.
S- Sugary and very sweet. Not as rich and complex as better hefs, but surprisingly not bad at all.
T- Whoa. Bitter and strong. No semblance of a hefeweizen. Not a fan.
M- Light, watery and wet. Not great.
O- It was going fine until I got to the taste. Don't bother with this beer.
433 characters
4
/5
rDev
+57.5%
look: 4 | smell: 4 | taste: 4 | feel: 4 | overall: 4
I like this beer. I was disappointed to read the other reviews. This is a beer that leaves me feeling satisfied.
Poured from a 22z bottle into a tulip glass.
The color was startlingly like rich pee. Hazy yellow verging into the brown. The head was off-white with well defined bubbles nestled into a creamy bed of smooth velvety foam; two fingers high.
The aroma was immediately floral hops followed quickly by a bomb of honey sweetness.
The front flavor is bitter hops to satisfy any hophead with a middle sour like a belgian, fizzy like a pilsner and bitter like a pale ale. It finishes clean and dry and, like a potato chip, you can't have just one.
I really like this Hefeweizen. It's the second surprise I've had form Hermitage Brewing.
745 characters
2.38
/5
rDev
-6.3%
look: 3 | smell: 2.5 | taste: 2 | feel: 2 | overall: 3
Poured from a 22oz bottle, no date on bottle, purchased 1/17/11.
Golden hay in color. Medium carbonation, next to no head or lacing.
Not a lot going on for aroma, slight sweetness and a hint of smoke.
Nothing what I expected from a "Double Hefe". Overpowering smokiness (in a hefe??) with next to no hop follow through, nothing as advertised.
Not a beer I would enjoy drinking several of in an evening but for an 8% ABV it is relatively smooth. Overall, nothing what I was expecting. As my first Hermitage beer I am hoping their others are more refined.
558 characters

1.78
/5
rDev
-29.9%
look: 3 | smell: 2.5 | taste: 1.5 | feel: 1 | overall: 1.5
I had this back in Oct. 2011 and only now realised that I had failed to enter my review, written down, on the website here. Suffice it to say that I found this to be a dreadful beer.
Hazy dark gold, medium white head steadily shrinks to thin, wispy top and foamy ring, with weak foamy lace.
Aroma is nice, yeasty grain – full-bodied but a bit soapy with old pears.
Taste is rough, alcoholic grain, soap, bitter wet grass, and a dry hay finish. It has a thin, dry mineral-water feel and character and a hint of "liquid smoke." It is a lot like a high-alcohol version of a basic, crude American hefeweizen.
613 characters
2.98
/5
rDev
+17.3%
look: 3 | smell: 2.5 | taste: 2.5 | feel: 4 | overall: 4
Picked up this 22oz at Bevmo! Described as a double Hefe
Looks like a Hefe. Big white head sitting atop a straw body with lively carbonation. Nice lacing from head that last.
Does not smell Hefeish at all. Wheat wine smell. Slightly smokey too. No clove, no banana, no hops, no citrus. Kinda boring.
Taste follows the nose. NOT A HEFE. Not even an American pale wheat ale. I taste smokey malt, and little else. There is some hop bitterness though, but without a lot of hop taste.
Mouthfeel is good, and the beer is very drinkable for the 8% but I just dont enjoy drinking this. It's just boring with some smoke and wheat malt to it. Nothing at all like I was expecting.
MOST IMPORTANTLY NOT A HEFE!
705 characters
3.31
/5
rDev
+30.3%
look: 2 | smell: 3.5 | taste: 3.5 | feel: 2.5 | overall: 3.5
Unforunately anything labled "heff" in this style seems mislabled. This "california wheat" beer is quite nice and the scores seem to reflect a disapointment with anticipation of a European heff.
The taste is crips and refreshing, extremely drinkable for 8% ABV. Quickly finished off the 22oz's.
Mouthfeel is a little thin for the style, cloudy yet its lacking in body.
Overall I enjoyed it. I think its deff getting unfairly slammed due to a "nomenclature" difference Euro hef vs American hef (wheat beer)
511 characters
Wheatopia from Hermitage Brewing
Beer rating:
2.54
out of
5
with
14
ratings