Admiral Hops (Single Hop Series)
| Hermitage Brewing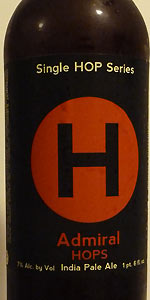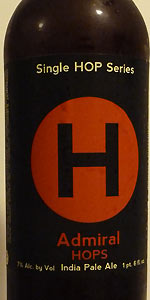 BEER INFO
Brewed by:
Hermitage Brewing
California
,
United States
hermitagebrewing.com
Style:
American IPA
Alcohol by volume (ABV):
7.00%
Availability:
Limited (brewed once)
Notes / Commercial Description:
No notes at this time.
Added by Zorro on 09-11-2011
This beer is retired; no longer brewed.
HISTOGRAM
Ratings: 13 | Reviews: 7
Reviews by codynevels:

More User Reviews:


3.5
/5
rDev
+8.4%
look: 3.5 | smell: 3.5 | taste: 3.5 | feel: 3.5 | overall: 3.5
Look: Copper in color with a 1 inch tan bubbly head and some spotty lacing
Smell: Sweet caramel maltyness upfront and just a very light floral hopiness on the back end
Taste: Upfront is some hop sting that carries a bit of pine and spice. There is just a touch of caramel
Mouthfeel: Low to medium body with medium carbonation and some hop sting and a dry finish
Overall: The flavor is just not on point like most of hermitage beers. not very good
450 characters

3.15
/5
rDev
-2.5%
look: 3.5 | smell: 3.5 | taste: 3 | feel: 3 | overall: 3
In truth this really by style is an English style IPA. But the whole Single Hop series is about brewing the same beer and changing only the hops used. This beer series is labeled as an American IPA so that is why this one is here.
Dark amber colored beer with a tall tan colored head.
Smell is all English ale. Earthy and herbal with a notable toffee candy scent. Malt scent really comes through and isn't obliterated like most American IPAs tend to do. Slight savory scent like caramelized onion but sort of faint.
Starts out mild and woody but the bitterness grows and there is a metal aftertaste. Tastes like it smells, flavors of mushroom and wood and a faint dirt and soap taste. Flavors of onion and MSG. Tastes a fair amount like an English Barleywine. I would like to be generous here but I can't say this tastes all that good.
Mouthfeel is thin.
Overall this tastes like a failed IPA. But it is what it is, an example of the flavor and smell that a single hop gives to a beer. Too bad they don't sell this as a six-pack with one beer of each hop type in it. That would be a wonderful tool for beer tasters and brewers to have as a flavor reference.
1,174 characters

3.23
/5
rDev 0%
look: 4 | smell: 3.5 | taste: 3 | feel: 3.5 | overall: 3
Malt contributes to a medium body, but any grain and sweetness is overwhelmed. This stuff is plenty bitter. The longer you sip, the more it borders on harsh. Maybe with more restraint it might be a good thing. I don't think I've seen a more orange colored beer. Head is a little coarse but enough carbonation on the tongue. Woody and vegetal flavor. Aroma of fresh sawdust and citrus peel. I'd like to say it's an educational experience.
Another of the oddities to be found on the warm shelves at BevMo.
504 characters

2.98
/5
rDev
-7.7%
look: 3.5 | smell: 3 | taste: 3 | feel: 2.5 | overall: 3
Bomber poured in a pint glass. Reviewed from notes.
A- Nut brown, fluffy white head. Sticky lacing and medium carbonation.
S- Floral fruity hops.
T- Dark fruits, extremely bitter. Like dark chocolate.
M- Thick bodied, filmy linger.
O- Something grosses me out about this beer and I can't figure out exactly what.
317 characters
3.53
/5
rDev
+9.3%
look: 4 | smell: 3.5 | taste: 3.5 | feel: 3.5 | overall: 3.5
Having tried others in their range (which were decent enough, especially the Citra), I saw this new addition and thought I'd check it out. Admiral is apparently a UK-bred hop designed to add a more versatile bittering variety to the English stable. Unfortunately, everyone seems underwhelmed by its potential as a bittering hop, and so we'll see how it goes as an *only* hop.
Pours a bright, slightly hazed orange-bronze colour, with a fine and full head of yellow foam. Minimal lacing, and the body looks solid, but fluid. I like the subtle haze, the colour of the body and the head. Retention could be better, but otherwise it looks pretty great.
Nose is mildly hoppy, in a generic way, giving some earthy hop tones, a touch of citrus and a burly leather aroma. A slightly spicy savoury character comes through as well that smells like... yes, weirdly... pizza. This is probably due to the contention between the rather thick malt character and the quite earthy, savoury hops. It's unusual, but not unpleasant.
Taste is, indeed, less bitter than many an IPA, but it has a pleasant biscuity bite to it, with a touch of crushed greens to it. There's a deep, dark sweetness to it, as well, it almost reminds me of the blackberry characters you get with Bramling Cross. I know, I'm probably just evaluating the hop here, and not the beer, but the fact that the beer does allow me to evaluate the hop is a good sign.
It's an interesting beer, showcasing a hop oddly unsuited to the style in which it is showcased. It's pleasant enough, and smooth enough in its way. It doesn't do anything particularly interesting except get you a look at the hop variety. But really, do you want more than that?
1,696 characters

3.6
/5
rDev
+11.5%
look: 4 | smell: 4 | taste: 3.5 | feel: 3 | overall: 3.5
Poured beer into a pint glass.
Beer has a dark amber color to it. A decent floating head with good lacing apparent.
Beer has a very citrusy/piney aroma to it, with a decent malt profile in the background.
A kick of admiral hops up front; piney, citrusy, with a lingering bitterness after the swallow. The maltiness of the beer once again in the background.
Ok mouthfeel, a little too watery for my taste.
Definitely better than the other single hop serries I tried (Columbus).
484 characters

3.46
/5
rDev
+7.1%
look: 2.5 | smell: 4 | taste: 3.5 | feel: 2.5 | overall: 3.5
Pours a copper orange with one finger head and some slight lacing. The nose is bright with slightly citrusy and very earthy hop aroma. I got some bready malt in between the hoppy bitterness. Toasty malt followed by some fruity, citrusy flavors fade and come back with a vengance, very bitter and herbal. This was light in the mouth, watery. Doesn't linger too long.
This was my favorite of the three single hop series I tried with hermitage. That being said, it wasn't awesome. I just know that Admiral hops are my favorite between Citra, Columbus, and Admiral.
562 characters
Admiral Hops (Single Hop Series) from Hermitage Brewing
Beer rating:
3.23
out of
5
with
13
ratings