Nelson Sauvin (Single Hop Series)
| Hermitage Brewing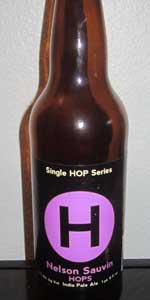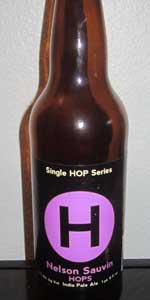 BEER INFO
Brewed by:
Hermitage Brewing
California
,
United States
hermitagebrewing.com
Style:
American IPA
Alcohol by volume (ABV):
7.00%
Availability:
Limited (brewed once)
Notes / Commercial Description:
No notes at this time.
Added by Drinkerofales on 12-17-2011
This beer is retired; no longer brewed.
HISTOGRAM
Ratings: 15 | Reviews: 9



3.26
/5
rDev
-14.4%
look: 4 | smell: 3 | taste: 3 | feel: 4 | overall: 3.5
*Bottle share from my bro last Friday night (01/06/12)
-22oz to pint glasses, no bottle dating. Who knows how long this was sitting on the shelves at BevMo.
A: Pours a hazy orange-ish caramel hue with a two finger khaki soap float that dissipates leaving some speckled lacing upon the glass.
S: Has a very malt forward aroma with an overall caramel sweetness that gives way to a white grape juice smell. Definitely signature Nelson hops albeit somewhat concealed by the malts.
T: Taste is malt forward as well and a bit sweet for my liking. Has a caramelized biscuity cracker flavor overall with maybe some English style malts in use here. Decent bitterness does kick in mid palate with again white wine grapes. Grapefruit with some earth and spice notes. Sweet in finish. Slight off metallic aftertaste. Time may have got the best of this one.
M: Medium in body that is somewhat filling with all of the sugars present. Slight creamy texture with a bit of sticky mouthcoat. Carb seems on lower end.
D: My pint was a bit of a struggle to finish with the heavy sugars and off metallic flavors. Some decent hops do pony up midway but it is a little too late for this one I am afraid.
I knew there was a reason I had not picked this one up yet. Another BevMo special. Probably wouldn't recommend even if you are a Nelson fan.
1,329 characters
3.43
/5
rDev
-10%
look: 3.5 | smell: 3 | taste: 3.5 | feel: 4 | overall: 3.5
Picked this up knowing that the hermitage beers aren't great, but I still love trying single hop IPAs for the educational experience.
Typical copper with big fluffy, rocky head, like most IPAs. Good lacing, decent retention, blah blah.
There's an iron-y, metallic, unpleasant aroma. Behind that, it is like wine grapes, fruit, sweet caramel. Very unique and hard to describe. The aroma isn't great, even without the weird off aroma that seems like someone tossed a handful of pennies into my beer.
It gets better as it warms up and the foam dies down (I think most of the awful metallic aroma is in the foam), and it starts to smell like... I dunno, an orange-frosted baked good, or kids cereal (fruit loops?). Like I said, hard to describe! Weirdest hop I've ever experienced by far. Aroma reminds me of muscat grapes/moscato wine or white port. Let me emphasize that it DOES smell pretty decent if you give it some time; don't pour it down the drain after the first whiff.
I would compare the aroma to the 6th batch of homebrew I ever made, which was the Pilothouse Pilsener Mr. Beer kit. Made with Nelson Sauvin hops. Go figure.
The flavor is WAAAY better than the aroma, and tastes nothing like that old homebrew from way back when. Again, hard to describe, but I *know* I've had it before. It makes me want to go find what other beers have used these hops so I can go A-HA that's where I've had it!
Really pleasant sticky bitterness that lingers but isn't harsh; reminds me of Columbus in that way. The hops really coat your entire mouth on every sip, leaving behind a mostly grapefruit-like sensation. There's also some of that white wine grape character everyone talks about.
Thick bodied, but really not that sweet, unlike what the last reviewer said. The body is more like a DIPA, and the ABV is approaching DIPA territory too. Seems clean to me, but these hops are so fruity I can't tell where the hops end and the esters begin.
Frankly, with the body, ABV, and sheer massive levels of hops in this brew, I'm kinda surprised they can sell it this cheap. These aren't the best made beers (I had the Citra and the Columbus a few months ago as well), but they compare favorably to other bombers in the $4 range, especially IPA/DIPA. Frankly, I would recommend it. It isn't half bad, is a good value, and you'll learn a lot about this unique hop you've probably never had before (or had and didn't know it). Pick up at least one before it's gone.
2,462 characters
3.63
/5
rDev
-4.7%
look: 4 | smell: 3.5 | taste: 3.5 | feel: 3.5 | overall: 4
A: Pours cloudy orange-amber, white medium head, moderate lacing that's sticky but settles to thin head and stays to a for the duration of the beer.
S: Faint, bittersweet, almost citrus
T: Somewhat dry, almost barley-like hop. not my favorite. ends on the outside of the tongue and leaves only a sour aftertaste. slight abv hint.
M: light but creamy. Not dry, but almost dry finish.
O: Fair beer. not bad at all but not anything to write home about. I'm trying all the "single hop" series just to see which I like the best.
EDIT: 11/19/12
Okay, so a few months after my first review I am trying a new bottle. These were only brewed one time so I'm assuming this one was aged 6 months, and it's a whole different beast.
Strong as hell mineral aroma and flavor. Hops diminished completely except some back end grapefruit and the rotten "white wine" aftertaste that sauvin is known for. It just tastes funky as hell and I would never buy one again. It was a lot better fresh, now it's just weird. I paid $3 for a bomber and at least I got the bottle for my homebrews and it's 8% ABV funk. I will chug the rest but I'm not enjoying this bottle now that it's old. It's just yuck, but If they made it regularly, I would drink it fresh.
1,235 characters

3.65
/5
rDev
-4.2%
look: 4 | smell: 4 | taste: 3.5 | feel: 3.5 | overall: 3.5
So far, I find this to be one of the best Hermitage beers by far, and it is a good, solid IPA.
Slightly hazy orange amber, it has a big pale tan head steadily shrinking to thin foamy top, a tiny bit of lace.
Aroma is juicy & citrusy (mostly grapefruit & orange), pineapple, hint of bread. Simple, a bit one-dimensional, but good and full.
Taste is juicy yeasty, lightly sweet up front with light balancing spicy bitterness which takes over a bit to sharply at aftertaste. Bitterness is faintly citrusy but mostly vaguely spicy before the grapefruit oil takes over in the finish. It has some good jammy qualities with hint of bread dough lurking underneath. However, it is a bit thin and one-dimensional, with the bitterness a bit too hot and sharp in the end.
762 characters
3.7
/5
rDev
-2.9%
look: 4 | smell: 4 | taste: 3.5 | feel: 4 | overall: 3.5
Hermitage single hop Nelson Sauvin
A- pour produces a 1-1/2 finger off white head that recedes quick leaving little lacing. Beer is orangish/amber in color and hazy. 4
S- citrus, slight pine, caramel malt in backgraound. Definite white wine smell 4
T- this is actually a pretty good beer which surprises me from hermitage. Not great just good. Again it's slightly citrusy like grapefruit and lemon with a slightly dry white wine taste all the way through characteristic of the Nelson Sauvin hops. Caramel malt is too strong, slightly overpowering the hops which is a shame. 3.5
M- good carbonation and mouthfeel. 4
O- a good beer but overdone on the malt. Please, if your going to do a single hop beer to show off the hops flavor, make that thing a hop bomb! For the sale price of $3.50 I'd visit another of this series, but at the regular price of near $6, there are far better IPA's. 3.5
B
897 characters

3.88
/5
rDev
+1.8%
look: 4.25 | smell: 3.75 | taste: 4 | feel: 3.75 | overall: 3.75
3.88
/5
rDev
+1.8%
look: 4 | smell: 3.5 | taste: 4 | feel: 4 | overall: 4
Before I even open this beer, I am only trying this one because the lone review of it was favorable in score and all the others from the single hopped series were so low. (At least, at the time of purchase there was one review) I may refer to this as "taking one for the team." We shall see. And let's crack open the beer and see...
Ouch. That was my first reaction. The beer looks nice, but the nose is really intense and insane levels of citrus. Seems to calm over time. Maybe my nose is just worn out, or maybe it just genuinely calms down. The whole beers seems to do just that fairly quickly (calm down, that is) after I initially thought this was going to be an utter train wreck based on my first sip. Gives vibrant citric tones with piney aspects. Unfortunately, it really starts to show nicely at the oh so very end of the bottle. Regardless, I dig this one. The first sip was a complete turnoff, but things got very nice soon after. I have to admit that I had it in for this brewery off all these horrid reviews, but this beer works for me. (Can't say it's enough to get me to try all of their others. But who knows...) I'll step out and say that I would recommend trying this one; if for nothing else but to see what the other tickers have to say.
1,259 characters

4.08
/5
rDev
+7.1%
look: 4.5 | smell: 4 | taste: 4 | feel: 4.5 | overall: 4
I was surprised to find a new beer in the Single Hop Series at my local BevMo. The Nelson Sauvin hop version was a nice surprise for me, especially since I can't find it here on the BA. Looks like I have to add the beer.
Pours a perfect amber with giant fluffy bubbles that stick the whole way down. It appears slightly murky.
Smells very juicy, floral, and of tropical fruit, not overwhelming, but nice.
Taste is unlike the smell, has bitter grapefruit up front with the tropical aspect coming in the middle and a light dry bitter aftertaste.
Feels like a typical IPA, good body and a hint of oily stickiness. Smooth finish makes this one really nice.
I don't think one can really review this beer alone, as the series must be viewed as a whole, to understand each hop as an individual. That being said, this and the Citra are my favorite. If you have tried the others in this series, this makes for a great addition.
DOA
928 characters
4.19
/5
rDev
+10%
look: 4 | smell: 5 | taste: 4 | feel: 3.5 | overall: 4
Poured from a 22 ounce (sparsely labelled) bottle into a brandy snifter.
A: A finger of reluctant head has decent retention but produces heavy lacing. Clearish amber, with a few sparse bubbles. Pretty enough.
S: To be fair, I may be a bit biased by my love of Nelson Sauvin hops. The aroma delivers a blast of the tropical fruit I long for, along with a healthy of resiny bitterness. Orange, pineapple, mango, grapefruit, and a touch of garlic or onion.
T: Not the best Nelson Sauvin single hop IPA I've tasted (BrewDog's IPA is Dead), but it's better than Mikkeller's effort. I'm uncertain how fresh this bottle, but my inclination is to say not quite fresh enough. Flavours seem a bit muted, but what is present is nice. Quite bitter, I'd guess around 80 IBU, with more emphasis on the earthy resin than the fruit (unfortunately). In fact, there is so little sweetness in the maintaste, that the mango and pineapple don't shine through at all, unless one really smacks on the aftertaste.
M: Not noticeably carbonated, but bracingly hoppy and drying on the endtaste.
O: Overall, a good beer, but the Nelson Sauvin topnotes could have been more present in the taste. Still, a stellar hop can make up for an average beer. Tentatively recommended, but I would drink again.
1,275 characters
4.27
/5
rDev
+12.1%
look: 4 | smell: 4.5 | taste: 4.25 | feel: 4 | overall: 4.25
A: Dark honey color with a white head.
S: Pineapple, orange and mango in the nose. Smells amazing.
T: General citrus peel, orange, pineapple (though not as much as I had hoped for) and a touch of grass.
M: Medium bodied and fairly smooth. Better than average for an IPA
O: I love this hop! This is a great IPA, especially if you like Nelson Sauvin hops. I'd recommend it if you like IPAs, but I'm not sure how far their reach is, and would guess it's only available in the SF bay area, or maybe Northern California in general.
530 characters

4.36
/5
rDev
+14.4%
look: 4 | smell: 4.25 | taste: 4.5 | feel: 4.5 | overall: 4.25

Nelson Sauvin (Single Hop Series) from Hermitage Brewing
Beer rating:
3.81
out of
5
with
15
ratings