Cassaro Golden Premium Pilsener
| Cervecería Cassaro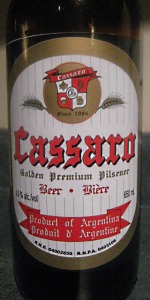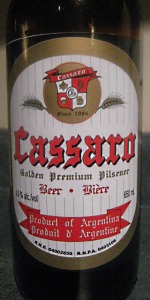 BEER INFO
Brewed by:
Cervecería Cassaro
Argentina
Style:
American Adjunct Lager
Alcohol by volume (ABV):
4.90%
Availability:
Year-round
Notes / Commercial Description:
No notes at this time.
Added by IronDjinn on 08-22-2010
HISTOGRAM
Ratings: 5 | Reviews: 4
Reviews by IronDjinn:

1.66
/5
rDev
-23.5%
look: 2.5 | smell: 1.5 | taste: 1.5 | feel: 2.5 | overall: 1.5
From a 650 ml brown bottle. Pours out a clear pale straw, loose spongy white head.
Smell of adjunct right from the start, DMS, and industrial aromas.
Crisp metallic grains, cooked veggies, sulfur in the flavour. Tastes industrial as well.
Mouthfeel is light, carbonation is moderate but doesn't much add to the body.
This one's a pass, especially for the hefty price tag of $7-8 CAN for a lone bottle. For this calibre I could buy a 6 pack of the local economy beers and call it even. Always good to see new imports on the shelves, but I can't speak for the quality of this one.
591 characters
More User Reviews:
2.05
/5
rDev
-5.5%
look: 2 | smell: 2 | taste: 2 | feel: 2.5 | overall: 2
Bomber from South America, hombres!
This beer pours a clear, very pale straw colour, with one finger of loose foamy white head, which melts away in an instant, leaving pretty much nothing in the way of lace. It smells of mild, sweet corn/rice grain (I haven't put much effort into improving my ability to discern amongst the two...), nail polish remover, and further echoes of melting plastic. The taste is more sweet corn pithiness, some subdued, but noticeable, skunky, vegetal 'character', and a weirdly perceptible metallic booze edge - tame, but c'mon, this is a sub-5.0 point beer! The carbonation is average for the style, as in just a bit too strong, enough to annoy, at least; the body follows suit, showing an ill-gotten weight, clammy in its cloyingness. It finishes with an immediate rehash of everything just endured.
Not the worst of the international lot available around here, but that's faint praise.
919 characters

1.91
/5
rDev
-12%
look: 3 | smell: 2 | taste: 1.5 | feel: 2.5 | overall: 2
650ml bottle poured into pint glass feb2 2011
A clear straw yellow with some suspended particles pushed around by large bubbles that feed a thumbs width of head that hangs around for a minute and leaves no lace
S sweet corny skunky lemon
T see above but with the faint flavor of what I imagine pennies taste like
M quite thin but with enough carbonation to give it some life
D I finished the bomber but would have preferred a little serving
pretty basic beer that I doubt I'd bother with again, don't go searching for this one
535 characters

2.53
/5
rDev
+16.6%
look: 3 | smell: 2.5 | taste: 2.5 | feel: 2.5 | overall: 2.5
This beer comes from a microbrewery, it is very hard to review it because it changes from mediocre to good beer from batch to batch, i think they haven`t got enough technology or equipment to maintain the same quality.I have tried this beer several times with dissimilar results.
It is one of the few argentine semi-craft beers that allows you to taste the lager yeast more clearly.
So, the above values could be considered in regards to the worse sample i have tasted from this beer, add 1 point to each category for the best one i have tasted.
545 characters
2.72
/5
rDev
+25.3%
look: 3 | smell: 2.75 | taste: 2.75 | feel: 2.25 | overall: 2.75
Cassaro Golden Premium Pilsener from Cervecería Cassaro
Beer rating:
2.17
out of
5
with
5
ratings