Viking IPA

Ekim Brewing Co.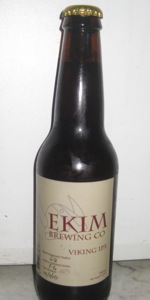 Write a Review
Beer Geek Stats:
| Print Shelf Talker
Style:

ABV:

6.3%

Score:

Avg:

3.21

| pDev:

9.97%

Reviews:

9

Ratings:

From:

Avail:

Rotating

Wants

Gots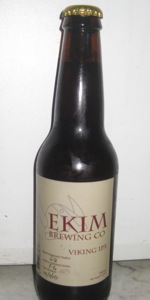 Notes:
Reviews by Decko:
3.62
/5
rDev
+12.8%
look: 3.75 | smell: 3.5 | taste: 3.75 | feel: 3.5 | overall: 3.5
Had it out at a bar so writing from memory. Nice hoppy aroma with a bit of fruitiness. The dry hoppy taste dominates with it getting to dry acrid but actually not in a bad way at all. Quite enjoyed it and would have again although not a big stand out.
251 characters
More User Reviews:
2.88
/5
rDev
-10.3%
look: 3.5 | smell: 3 | taste: 2.5 | feel: 3.5 | overall: 3
Classified this as an American IPA - apparently it is brewed with English Malts but American hop varieties.
Pours quite a dark amber colour, really too dark for a classic IPA. Head is a thick and frothy creamy beige colour. Lacing is pretty good. Masses of carbonation in the body. Looks ok.
Bit of grain on the nose, with some carbonic smell, and a little citrus. Weird hint of cinnamon. Overall, it's not very IPA like. But again, it's ok.
Taste is a bit sharp, with a little acetone. Back palate bitterness is a little cloying. It doesn't grab me much at all. Thick body with a mess of carbonation leaves it a little bloating.
It's not a bad beer. Bitterness is not clean enough, and I want more hop flavour in an IPA, but it's decent and drinkable enough as it stands.
784 characters
3.15
/5
rDev
-1.9%
look: 3 | smell: 3 | taste: 3 | feel: 3.5 | overall: 3.5
330 ML bottle poured into a SA Perfect Pint
A-- Poured a dark amber color (IPA?), very little of a head with the pour. What was there was off white in color. Good head retention when swirling. Well better than the pour. Got at least a half a finger of head. Lots of little beads of carbonation with the pour and for a while afterwards.
S-- More of a floral orange citrus based smell. Flashes of grapefruit and lemon but more orange. More malt based smell also. Get more of a toffee type smell. Nothing overwhelming. Smell wise close to an ESB to me.
T-- Orange, lemon, and butterscotch. A little bit oily but that is OK.
M-- Picks up a lot in the mouthfeel. Get the toffee like malts and also get the hops. Hops are more active in the mouth. Get orange lemon and some pine and grapefruit. Not real big but balanced in a way. Get a bit of a prickly feel on the tongue and the hop feel sticks around a while.
D-- Well hidden ABV (6.3%). For what it lacks in the first 2 parts it does pick up in the mouthfeel and drinkability. Interesting idea on using English malts with US hops. Get kind of a cross between a ESB and a mellower style US IPA. Could do 2 in a sitting but that might be it. Not a bad version and better than some other larger breweries efforts in IPA's here.
1,277 characters
3.6
/5
rDev
+12.1%
look: 4 | smell: 4 | taste: 3.5 | feel: 3 | overall: 3.5
650ml bottle specifying ABV at 5.9% rather than 6.3%
Copper-bronze with a hefty two-inch head, plenty of lacing. Looks good.
Biscuity malts and liquorice bullets on the nose. Surprisingly sweet overall. Pick up pretty much all fruity hops. Only a hint of citrus.
Gingerbready malts upfront quickly pushed aside by a piney bitterness which lingers for longer than expected. Doesn't quite live up to the aroma but still keeps your attention.
Pretty full mouthfeel considering the ABV; a little prickly and drying. Not overly satisfying.
Finish detracts a little for me - without it I'd gladly drink more.
609 characters

2.73
/5
rDev
-15%
look: 3.5 | smell: 3 | taste: 2.5 | feel: 3 | overall: 2.5
5.8%
This is just over three weeks old.
A: decent colour, decent head. 3.5
S: English fruity aromas: pineapple, mango, apple. Pretty bland.
T: Bitter and fruity, again in an English way. Don't particularly like the British hop bitterness. Alcohol quite present. 2.5
M: Pretty average. 3
O: Not bad for an English style IPA but I just don't like the flavour profile. It's also marketed as an American IPA (which it doesn't taste like) and is definitely overpriced. Does get a bit nicer when some oxygen gets to the beer. On the whole, not recommended unless you want a very English-style beer.
598 characters

3.03
/5
rDev
-5.6%
look: 3.5 | smell: 3 | taste: 3 | feel: 3 | overall: 3
A - Poured a pale amber colour with a off white frothy head that retained failry well.
S - Sweet candy and caramel aromas with a hint of sweet pear and apricots
T - Get some musk or sweet candy coming upfront with some citrus fruit and apricots and a hint of toffee. Some hops but nothing really pronounced.
M - Light in body but a little over carbonated for my liking.
O - Not a great beer. Leaves a average metallic taste in the mouth and lacks that hoppiness an good IPA has.
482 characters

2.99
/5
rDev
-6.9%
look: 3.5 | smell: 2 | taste: 3.5 | feel: 3 | overall: 3
Bottled 20/4/11. 6.2 on the variable ABV.
Ekim site describes it as a hybrid English-American IPA.
A - Very dark amber colour. Slightly off white head, which ends in a thin film.
S - Not much of anything really. Definitely no hops. Mostly a musty, almost indistinguishable malt and grain mix.
T - At least there is a flavour. The hops come through despite skipping the nose part of the beer. Not much in terms of longevity. Taste comes and goes quickly. Some sweet citrus there. Not much there
M - Very thin. Medium carbonation.
O - Not much of an IPA. Was excited as these guys are local, and like to promote anything that tries to promote craft beer. Hope the After Battle Ale is better.
697 characters

3.08
/5
rDev
-4%
look: 3 | smell: 2.5 | taste: 3.5 | feel: 3 | overall: 3
Bottled 14/1/12, poured into a leffe glass
Hazy amber orange with small tidy head, minimal lacing.
Caramel malt, cardboard, earthy/musty hops, pear skin. A little bit of a mess on the nose.
More sweet caramel malt, some metallic bitterness, fairly tame. Nothing really exciting here.
It has this strange buttery/creaminess that antagonises the crisp dryness. Reminds me of feral white in this section.
Average. I won't be buying this again.
445 characters

3.82
/5
rDev
+19%
look: 3.75 | smell: 4.25 | taste: 3.75 | feel: 3.25 | overall: 3.75
A beautiful, strong and fruity aroma is the first thing that greets you when opening this beer.
taste: toffee, orange marmalade, grapefruit, pine, spice, peach, citrus and all round fruitiness.
Overall: A good session beer that is a cross between an English and American IPA. Not outstanding or brilliant but definitely above average in a tough category to compete in.
370 characters

Viking IPA from Ekim Brewing Co.
Beer rating:
83
out of
100
with
12
ratings