The Library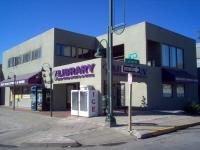 PLACE INFO
Type:
Store
521 N 12th St
Manhattan
,
Kansas
, 66502-5325
United States
(785) 539-5269 |
map
librarydiscountliquor.com
Notes:
No notes at this time.
Added by TheLibrary on 08-19-2010
Ratings: 7 | Reviews: 5

4.03
/5
rDev
+3.6%
vibe: 3.75 | quality: 3.75 | service: 3.75 | selection: 4.75
The Library is my go-to store in Manhattan because of it's selection and location. It's right center of the action, in Aggieville. Stopping here is a little harder on say a Friday or Saturday night because the parking lot across the street will fill up by 6pm. It's very easy though to pop-in any other time. It's a fairly small store but they pack it dense with bottles. The aisles are a little narrow and you might need to squeeze past someone as they shop.
The beer is located in a large walk in cooler in the back. You can either open the cooler doors, or walk into the racks and pick stuff from inside the cooler. It's tough to spend much time in the cooler because they keep it below freezing or close to it. My girlfriend refuses to go in there. The walk in portion is where they keep the new release packages (sixers, 12 packs, sampler boxes). There is also a ton of random stuff in there, but be careful, some beer will sit for a looong time. Check for dust on the caps.
Starting from the furthest right of the cooler doors, and working my way leftward, you can find Rogue, New Belgium, Stone, Deschutes, Goose Island, Odell, Hoppin' Frog, Schlalfly, German imports, British imports, and Belgians. There are some great beers here that often get overlooked because of the price, namely the Odell Woodcut series or the Goose Island sours. I've also gotten amazingly lucky buying up Barrel-Aged B.O.R.I.S. variants here. If you're into cider they have more here than any other Manhattan store. In fact, just in general, The Library has more selection than any other Manhattan store.
The staff is mostly college kids, except for the manager, I think his name is John. I've never been offered advice from any of the young folks but the manager is constantly asking me if I've tried the beers that I buy. He likes to discuss BA ratings with me and I'll let him know how I feel about certain stuff. Almost every Tuesday he will post to twitter what new beers they've got in which makes getting limited release stuff easier.
If you have a reason to come to Manhattan, you should probably find a reason to come to this bottleshop.
2,135 characters

3.59
/5
rDev
-7.7%
vibe: 2.5 | quality: 5 | service: 1.5 | selection: 4.5
During my time in Manhattan I visited both The Library and Nespor's and The Library is the clear victor.
Vibe: Unfortunately this is located within the college bar district. Most of the people I saw in here were college kids getting cheap beer and cheap liquor.
Quality: All of their beer were refrigerated with all of their bombers on display divided by breweries. Their was a walk in where you could get their bigger packs of beers, 4, 6, 12, 24, 30 packs nice and cold. All of their beer selection was located in the back in a cooler/walk-in.
Service: I was in this place for close to 45 minutes looking up a chunk of their selection of my phone since I am from Texas. No one came up to me and asked if I needed help. The workers do not seemed informed of their knowledge since they were mostly young college kids. I would expect for being there so long someone who at least ask me if I needed help.
Selection: Their selection for such a small place was impressive especially since it was nice and easy to find everything. One of the superior beer selections I have seen in quite some time.
Overall: This is the best place to come if you are in Manhattan, Kansas for their selection and care of their beers.
1,215 characters
4.04
/5
rDev
+3.9%
vibe: 3 | quality: 4.5 | service: 3.5 | selection: 4.5
I had visited The Library a few years ago and wasn't that impressed. I have been a pretty loyal fan of another store in town since then. At the recommendation of a friend I stopped by The Library recently and have changed it to my primary store.
The atmosphere isn't anything special - it is located on the edge of the college bar district and still acts a little like a fraternity destination. The service is friendly but they don't go out of their way to help. Not that I asked.
The store shines in the area of selection and quality. Except for one small section, all the beer is refrigerated. They carry a lot of domestic micro-brews and good selection of imports - primarily German and Belgian. They have a decent selection from other countries too. They don't have a lot of singles, but they do have some and they have a lot of growlers. If you're throwing a party they even have a reasonable selection of decent beer in kegs.
Overall, it will take a long time to sample all the beers here - even the ones I haven't had before.
1,035 characters
3.9
/5
rDev
+0.3%
vibe: 3 | quality: 4.5 | service: 3.5 | selection: 4
I went to college in Manhattan and only went to The Library to pick up beer a couple of times due to their (slightly) higher prices compared to other stores. It was a bit crappy in there at that time, honestly. It has changed a LOT since then. They have put in a huge cooler section in the back and have stocked it with the best selection to be had in Manhattan for sure, slightly better than Nespors.
Quality: All of the craft beer was refrigerated in very attractive looking coolers. Honestly all of the beer looked brand new, there is no way you will find any old bottles in there, at least at this point in time.
Service: Had offers of help from a couple of people, which is fine. If you want to talk beer I'd go to Nespors, though.
Selection: Like I said before, this place was stocked with a very good selection. Avery, Hoppin' Frog, Goose Island, Bear Republic, lots of good quality Euro beers, Boulevard, the list goes on.
I will certainly be going back to this place whenever I can get back. They have really done a huge favor to it by renovating it.
1,064 characters
3.85
/5
rDev
-1%
This downtown Manhattan liquor store gets an award for such a great name. Kudos to you Mr. Great Named Bar Guy Owner!
Inside is super clean and all the beer is in the back...lots of signs will point you there. They were in the midst of putting in LOTs of new coolers and stocking them all with tons of great beer.
If I had been here a month from now it might have beaten Nespors for selection and quality. It looks like they may end up having more options in the end. The walk in cooler is HUGE in back with pretty much every regional craft brewery represented.
Definitely worthy of a visit as they do have a very good focus on craft beer. I talked with the owner for a bit and he seems very interested in pleasing both students and beer geeks alike (and where those two might meet in the middle).
Great little beer/liquor store. I can imagine it would be a little crazier on a Thursday, Friday or Saturday night. Tuesday afternoon was nice and quiet.
956 characters
The Library in Manhattan, KS
3.89
out of
5
based on
7
ratings.