Extraomnes Tripel
| Extraomnes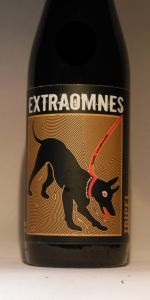 BEER INFO
Brewed by:
Extraomnes
Italy
extraomnes.com
Style:
Tripel
Alcohol by volume (ABV):
8.60%
Availability:
Year-round
Notes / Commercial Description:
No notes at this time.
Added by stcules on 04-03-2011
Ratings: 15 | Reviews: 6
3.98
/5
rDev
+14.4%
look: 4.25 | smell: 4.25 | taste: 3.75 | feel: 4 | overall: 4

3.73
/5
rDev
+7.2%
look: 3.75 | smell: 3.75 | taste: 3.75 | feel: 3.5 | overall: 3.75

4.03
/5
rDev
+15.8%
look: 4 | smell: 4 | taste: 4 | feel: 4.25 | overall: 4
Poured into a Gulden Draak tulip. Pours a hazy caramel orange with a fine, half finger white head with great retention and lots of lacing. Aroma of bready malt, clove, candied fruit, dried light stone fruit, unusual spiciness with unfamiliar esters. Flavor is bready, candi and caramel malt, peaches and apricots, apple and pear, pepper and clove; hints of grassy hops with a spicy, peppery finish. Medium to heavy bodied with a rich, creamy mouth feel, luxurious. An interesting take on the tripel style, all the elements are here, although this is more full bodied, somewhat sweeter and fruity than a traditional tripel. Unusual aroma, but the flavor is more as expected, although a pleasant surprise. The hops in the finish were a nice touch and melded well with the spicing. After the initial surprise of the aroma and taste, I really grew to like this tripel and will get it again. I hope the Roman fresco inspired dog on the label is going to be OK, he looks a little peaked.
981 characters
2.33
/5
rDev
-33%
look: 3 | smell: 2.5 | taste: 2 | feel: 2 | overall: 2.75
Color very clear, light yellow withe foam.
Nose high ester and fell slight Belgian spiced beer (Yeast)
Taste phenolic, spicy.
128 characters

2.5
/5
rDev
-28.2%
look: 2.5 | smell: 2.5 | taste: 2.5 | feel: 2.5 | overall: 2.5
Nothing particularly wrong with this, but a bit below average.
62 characters
3.61
/5
rDev
+3.7%
look: 3.5 | smell: 3.75 | taste: 3.5 | feel: 3.5 | overall: 3.75



3.45
/5
rDev
-0.9%
look: 3.5 | smell: 3.5 | taste: 3.5 | feel: 3 | overall: 3.5
Pours a very pale straw-gold colour, quite clear with white foamy head. Not bad, but could use some more head, plus I don't mind a bit of cloud in any Belgian styles, really.
Smells quite big, with lots of grains. Smells quite like barley husks with a slight nutty edge. Spicy, touches of fruit esters coming through the big booziness. A bit simple, really. Smells big, but unnuanced.
Taste is quite sweet too, also with a slight nutty edge. Plenty of fruit in there as well with a big boozey whiff coming late. Notes of pepper, mediciney characters, vanilla on the back as well. Touch of brandy to the alcohol. Decent, but again way simple for the style, doesn't quite layer on the flavour and complexity the way other Tripels do.
Bit of booze heat, otherwise OK on the texture.
Not as complex as a tripel should be. Touches on the right notes but doesn't explore them in depth.
883 characters
3.22
/5
rDev
-7.5%
look: 3 | smell: 3.5 | taste: 3 | feel: 3 | overall: 3.5
Pours orange with a lasting head.
Nose shows floral and fruity esters, with lots of pear notes. Also some doughy Belgian yeast and distinct spicy phenols. Hits the mark style-wise.
Flavours include more doughy yeast, spicy notes, higher alcohols, sweet light malt and ripe pears. The alcohol seems a little harsh though.
Carbonation is excessive.
346 characters
2.65
/5
rDev
-23.9%
look: 3 | smell: 3 | taste: 2.5 | feel: 2.5 | overall: 2.5
Had on-tap at the Italian Spectapular at the Local Taphouse in Sydney.
Pours a very clear, light yellow colour. Very clear indeed, and very light indeed. Head is a white, solid ring that leaves some misty, partial lace. Overall, I'm unimpressed.
Nose has a slight Belgian roundness to it along with some bland, pedestrian spice characters. This is trumped by a very dry floury time aroma that doesn't really do anything for it. Pretty bland overall.
Taste is clean but very dull. Roundness from the Belgian characters, with a mild, floury yeast finish—it's getting towards offensive there. More spice, in a very generic kind of way. Overall, it feels rather cloying after a while. The feel is smooth, but it cloys as well, despite feeling weak.
Not a fan. This is a poor parody of a tripel.
796 characters
3.78
/5
rDev
+8.6%
look: 4 | smell: 3.5 | taste: 4 | feel: 3 | overall: 4
Draught at BQ (Naviglio Grande), Milano. Color dark orange with huge lasting white head. Aroma malt, yeast, hop, spicy, fruits. Taste apricot, sugar, yeast, hop, spicy, orange. Medium body. Quite good, not overdry tripel, i like it a lot, worth trying.
252 characters
3.83
/5
rDev
+10.1%
look: 4 | smell: 3.5 | taste: 4 | feel: 3.5 | overall: 4
Beer blond in color, cloudy with suspended particles. White foam, creamy and abundant: very beautiful.
The smell of yeast (that crust of bread on top) dominates in the nose, then shows a fairly good honey and after a while even a light hop, quite rare for the style, but nice.
Also in the mouth, after a beginning quite malty and honey, as is required for a Tripel, it comes a surprisingly dry and hoppy feeling. This highlights clearly the difference from other triple (or such pseudo triple) that rely exclusively on the sweetness note.
The mouthfeel confirms the significant presence of hops (you'll find a pleasant peppery on the finish). Good, well balanced, very drinkable: you do not perceive the 8.5% for anything.
Someone spoke of "Westmalle inspiration": I don't know if it is true, but the result is still remarkable.
832 characters
Extraomnes Tripel from Extraomnes
3.48
out of
5
based on
15
ratings.