Strong Place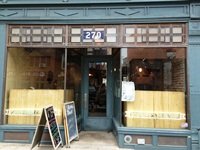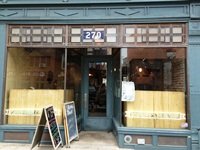 Bar, Eatery
270 Court St
Brooklyn
,
New York
, 11231-4448
United States
(212) 255-1212 |
map
strong-place.com
Notes:
Recent ratings and reviews.
Ratings by Skellbop:

Rated by Skellbop from New York
4.29
/5
rDev
+0.9%
vibe: 4.25 | quality: 4.5 | service: 4 | selection: 4.25 | food: 4.5
Apr 24, 2016
More User Ratings:
Reviewed by slander from New York
4.55
/5
rDev
+7.1%
vibe: 4.5 | quality: 4.5 | service: 4.5 | selection: 4.5 | food: 5
On the heels of the concert we attended ever so briefly with Phil's imaginary VIP tickets, completely unnecessary for a free concert of not good enough for us to stick around too long for. Afforded us some drinking time down the block some, and poised us well for this dinnerish hour. Strong Place, at long last, although not really, if you knew how far in arrears I run. Parked a failed meter, which I think is actually a win, we'll see; if I get a ticket, then not…

Long narrow joint with what looks like not a whole lot of room. Thankfully we just beat a tour crowd of many and set up barside. Good tunes from the moment we walked in, starting with Led Zeppelin 'Hey Hey what can I do' on entry, followed by Radiohead 'Weird Fishes/Arpeggi' (so starts Phil on a tear, he won't shut the fuck up about the many bands he thinks are better than Radiohead; all I want to hear is the amazing background vocal piece here. Please, Phil, be quiet! You can continue to blather at me in 5 minutes time).

Brick inner wall, painted yellow outer wall with a full walk by kitchen halfway back on the left, hardwood floors, and a ceiling of yellow with ductwork involved. Decorative piece of tree art on the walls and drop work light lamps tracing the bar and over the seating to the rear. Flatscreens in opposite corners of the bar showing Soccer just now, and another to the rear where the seating be.

Off to the right, an "L" shaped brown painted wood plank topped bar, seating a dozen on slight backed stools. The barback is a collection of wooden boxes displaying books, bottled beers, wine & glassware; fit into some recessed brick wall space and held in place by mini I-beams.

Funny U shaped box booths in the large front windows over Court Street to both sides of the door with stained glass pieces running the length above. Seating for 5 just past there on a small bar counter, and to the rear, 5 small tables in a row sharing a common bench and 4 booths across from them on the shorty wall past the kitchen. Through and out the back, a half dozen tables mix & match; from hightop roundies to a long banquet type player to cut tree somethings; all painted black with shared bench play and single stools. Now, The Kinks 'Come Dancing' and The Beatles 'Here Comes the Sun' back to back.

Meanwhile the food menu calls to me. I peruse and decide on the duck and then Phil suggests we just take in a snack. Hmm, okay. So he orders up 3 artisanal cheeses (Cabot clothbound cheddar, Rogue Smokey Blue cheese & Cypress Grove Humboldt Fog), and seasoned rosemary fries, and then calls out for a tier 1 shellfish platter (oysters, lobster tail, jumbo shrimp, little neck clams). Um, doesn't really sound like snack mode, Phil. Ate some cheese carefully avoiding the (evil) bleu cheese and anything that may have touched it, had some fries, a shrimp or two and a chunk of the lobster tail, and now Phil's talking like he's good to go, and we can do dinner later at one of the other places. I explained, "Dude, it's 6:30 now, this is when dinner happens", and flagged the server to order the Long Island duck breast (with baby carrots, leeks and a brandied cherry sauce), and the snow peas with toasted almonds side. The duck showed sliced and cooked perfectly rare. Fuck! Those brandied cherries made the duck explode with awesome! The snow peas came in a big bowl, and had great almondy goodness. Great meal, totally the way to go.

Looong box with 24 taps on bar center with nondescript handles but ID'd by small paper markers clothespinned to a band just above the handles. All American craft beer and a single cider. Nearly 2/3 of them are local/regional (Brooklyn Pilsner, Sixpoint Sehr Crisp Pilsner & Mad Scientist #4 Hibiscus Wit, Greenport Harbor Canard Noir, Ommegang Rare Vos, Weyerbacher Slam Dunkel, Troegs Dream Weaver Wheat, Victory Headwaters Pale Ale & Baltic Thunder, Smutty Dubbel, Pretty Things Field Mouse's Farewell, Harpoon Belgian Pale Ale, Allagash White, Four & Curieux), and the remainder are local/regional to someone else (Left Hand Milk Stout & Good Juju, 2 Brothers Bitter End Pale Ale & Domaine DuPage, Sierra Nevada Bigfoot Barleywine Ale, Ballast Point Big Eye IPA, Bear Republic Hop Rod Rye, Stone Sublimely Self), and the aforementioned cider (Farnum Hill Dooryard cider) out of New Hampshire. I drank a Victory Headwaters Pale Ale and a Sixpoint Serh Crisp Pilsner. Both were in good shape. They do beer flights (bitter, dark, Belgian) should you want to try a few things beyond a sample. They've also got a dozen and a half bottles, 12's & 22's & 750's, all craft beer, and 30 wines (some of which they're pulling from a tub at the end of the bar.

Now, Dylan 'Positively 4th Street' and The Who 'Won't Get Fooled Again'. Like I said, good tunes. Excellent gastro house, with pleasant eye candy server types and a guy named Joe in the know. Good beer, great food. Was expecting to first see this place for brunch but din was a better option, apparently.
Jan 16, 2012
Reviewed by SkunkWorks from New York
4.2
/5
rDev
-1.2%
vibe: 4.5 | quality: 4.5 | service: 4 | selection: 4 | food: 4
After going to Bar Great Harry and finding there was no food, getting a little hungry, we asked the bar tender where a good place for food was and she recommended Strong Place, so a short walk later, there we were. We were there during the afternoon on a Saturday before we went over to Beer for Beasts.

The atmosphere was fairly simple. There's a bar up front and a few tables in the back. The kitchen is visible from the floor but a wall keeps you from being able to see what they are actually doing in there. I thought it was a nice touch. There's a window to the back of the building is kind of a desolate yard that isn't that appealing to look at (hopefully they do something about that soon).

There's not much in the way of decor or anything like that, which is fine. Most people in the place were at the bar and it seemed all the stools were taken.

One thing that was strange is that we were there around 3PM and they were still on brunch, instead of lunch/dinner.

The selection was very nice. There was a large variety of offerings and I went with a Great Divide Espresso Yeti and my girlfriend went with a Southampton Bier de Mars and both were good. One thing though is that they werent served in appropriate glassware. My Yeti came in the same pilsner glass that her Bier de Mars came in.

The food was good. I got a burger with fries and gave the fries to my girlfriend (I gave up fries for Lent...) and my girlfriend had one of the salads. I was pleased with the burger and she was pleased with the salad and the fries... and I have to say the fries looked very good. The food was a little pricy though, but beer is what you can expect to pay at any craft place around here.

The food came out very quickly, which was nice. The waitress was friendly, attentive and kept her distance in a nice balance.

Overall, a very nice place and its certainly a place worth visiting if you're in the area. Cheers!
Mar 27, 2011
Reviewed by bklynbeerbaron from New York
4.83
/5
rDev
+13.6%
vibe: 5 | quality: 5 | service: 4.5 | selection: 5 | food: 4.5
Checked this place out on a Friday night, was pretty quiet when I arrived, but it was early, it got more and more crowded as the night went on.

Loved the atmosphere of this place, lot of exposed wood and brick, nicely lit. There are tables in the front and back - next to a semi-open kitchen - separated by a long bar with plenty of seats. Clientele was typical of the neighborhood: young, middle-aged and families with young kids, relatively well-heeled.

The tap selection was excellent: 24 taps, local to non-local, familiar to obscure. Had a Captain Lawrence Kolsch and a Ommegang Rare Vos, each poured nicely and tasted fresh, everything is served in a weizen glass. The bartender was very knowledgeable and encouraged sampling. Prices were reasonable, too - most beers were $5 a glass. There's also an excellent wine selection for non-beer drinkers.

The food menu looked interesting: New American meets locavore meets bistro food. Had a big lunch, so just nibbled on a cheese plate ($11), which was fine, and a cone of seasoned waffled potato chips with an onion dipping sauce ($4), which was excellent.

Yes, it tilts more toward a restaurant, but this is the best beer bar in the neighborhood. One could spend many hours here. And it's right down the street from Thrifty. Helluva block for beer, no?
Sep 22, 2010
Strong Place in Brooklyn, NY
Place rating:
4.25
out of
5
with
7
ratings