De Graal Speciale
| Brouwerij De Graal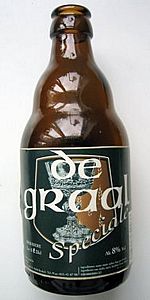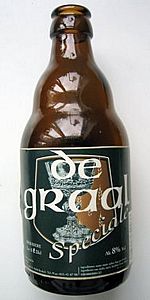 BEER INFO
Brewed by:
Brouwerij De Graal
Belgium
degraal.be
Style:
Belgian Strong Dark Ale
Alcohol by volume (ABV):
8.00%
Availability:
Limited (brewed once)
Notes / Commercial Description:
No notes at this time.
Added by TheLongBeachBum on 03-01-2005
This beer is retired; no longer brewed.
HISTOGRAM
Ratings: 10 | Reviews: 8
Reviews by SmokinSmyth:
3.59
/5
rDev
-1.4%
look: 3 | smell: 4 | taste: 3.5 | feel: 3.5 | overall: 3.5
Pours a dark chocolate brown into a tulip glass. Inch of head that disappears quickly, no lacing.
Smells of roasted malt, as would be expected with the color. Slight hint of caramel.
Taste follows the smell, a bold roasted malt flavor, very rich.
Feels a little flat in the mouth, a bit of a disappointment considering the strong body hinted at by the flavor.
362 characters
More User Reviews:
3.6
/5
rDev
-1.1%
look: 3.5 | smell: 3.5 | taste: 3.5 | feel: 3.5 | overall: 4
Straight brown colour,a minimal amount of white circle. Medium plus sticky flavour,a little citrus, pruney, carmel though not too sweet, not all that much flavour. More malt aroma than anything. Drinkable but certainly not a great Belgium.Premiere Gourmet.
256 characters
3.13
/5
rDev
-14%
look: 3.5 | smell: 3 | taste: 3 | feel: 3 | overall: 3.5
Awesome. Upon opening, a good few ounces immediately spews from the top of the bottle. This is more of a gusher than some of the bourbon barrel Angel's Share bottles.
Muddy brown color with an oddly minimal head given how much it foamed from the bottle.
Raisins, toffee and prunes in the nose.
Taste is a rather simple dubbel style beer. Requisite raisins, candied fruits and sweetness present? Check. Gets boring pretty quickly though. Meh. Not bad..definitely not great.
Minimal carbonation (surprisingly) in the mouthfeel.
Drinkability is good enough.
Not recommended. At least it was cheap.
600 characters
3.67
/5
rDev
+0.8%
look: 3.5 | smell: 4 | taste: 3.5 | feel: 3 | overall: 4
A dark brown beer with a beige, creamy head.
Smell of coffee and chocolatemalt. A nice roasted smell. There are fruity notes of mango and some spicy notes.
Taste is roasted with dark chocolate notes and a good maltbitterness. A whiff of dirty socks and old flower water, but this is overpowered by a good Belgian fruitiness, which has mango and lychees. Carbonation is sizzling and a bit on the high end. Drinkability is good.
429 characters

3.8
/5
rDev
+4.4%
look: 4 | smell: 4 | taste: 3.5 | feel: 4 | overall: 4
Beer has a best by date of June 2009. Poured into my Rochefort chalice, it forms a creamy, light brown 2 finger head that dies quickly. No lacing to speak of but the color is quite nice; a dark chocolate brown that transforms into a lovely burgundy under direct light. Nose is roasted malts and caramel; it's nice but it's sublte and I was expecting something a bit more pronounced and complex. It's a smooth beer that is medium bodied. Taste is dark fruit, with some alcohol and malts. Easy to drink considering the ABV but it's lacking depth and complexity. I wouldn't seek this out but I wouldn't turn it away either. I did enjoy the Gember from this brewery a bit more.
673 characters
4
/5
rDev
+9.9%
look: 4 | smell: 4 | taste: 4 | feel: 4 | overall: 4
BB 09-07. Nice beige head and a dark mahony like beercollor that shows not haze and a red shine when holding into the light. Nice is fresh and green having a good and spicy hoparome with dark candy and lots of amber& caramellic maltnotes aswell as something liquorice like. Litle coffenote that flows over it completes a fine nose. Taste is also fine having a full body that hangs to the sweet side but nicely backed with a fine hoppy and roasty bitterness and well dosed alcohol that shows itself without being too strong. Fitting carbonisation level and plesant and smooth mouthfeel without being dull. Fine and enjoyable brew.
629 characters
3.95
/5
rDev
+8.5%
look: 4 | smell: 4 | taste: 4 | feel: 3.5 | overall: 4
Yet another beer which I wonder why is recorded as "retired"?! BB DEC 07, served lightly-chilled in a broad-rimmed goblet.
A: semi-cloudy, dark chestnut brownish hue with red glows, coming with a hissing and loosely foamy off-white beer head settling fast to a thin carpet sustiaining on top; lively carbonation.
S: perfumy fruit-estery aroma, with lots of ripe black cherries/cherry-jam and dried dates in the mixture; backed by pronounced dark candy-sugar, a slightly sharp herbal yeastiness, and firm backnote of brown-sugary dark malts with a faint touch of sweet coffee. Overall the aroma is focused and intense, yet the complexity is retained and the nose remains smooth~~
T: slightly sharply-fizzy on the texture upfront, gradually a perfumy taste of red-bean paste and brown-sugar abounds, quickly giving way to a deeply herbal bitter-sweetness, slightly roasty dark malts, and residual brown-sugary taste... quite chewy on the mouthfeel, yet not going too thick overall, and a subtly dryish-hoppy and licorice-spicy aftertaste lingers well in the medium-length finish.
M&D: slightly too fizzy to my liking, but the body holds very well and actually goes moderate vis-a-vis the high alc. content. This is a potent, perfumy, reasonably complex dark ale to savour. Interestingly, the aroma and flavour somehow are reminiscent of some English dark barley wines.
P.S. having mixed all of the residual yeast sediments in my second pour, the flavour goes absolutely wild and yeasty, bringing out more estery, vegetation, and dryish flavours... gorgeous~~
1,563 characters
3.45
/5
rDev
-5.2%
look: 3.5 | smell: 3.5 | taste: 3.5 | feel: 3 | overall: 3.5
Blood orange with tangerine borders. The crown consists of three fingers of golden beige foam that has a finely pitted surface and is melting exceptionally slooowly. Unfortunately, it doesn't have the magnificence of most Belgian lids and isn't laying down much lace.
The aroma is dominated by toasted grains and caramel malt, with an underlying musky fruit quality and a subtle spiciness. De Graal Dubbel wasn't outstanding beer and it looks like this BSDA will be merely above average as well. I'd love to be proven wrong.
Even though De Graal Speciale is no longer being brewed, the 'best by' date on this 750 ml bottle is still three months away. Besides, big Belgians are famous for aging well. The beer doesn't taste old, but it does taste... merely above average. There isn't enough malt and the yeast isn't impressive. All which of which leads to a serious lack of complexity.
If blinded, I would have called Speciale a dubbel. It's primarily brown malty and features flavors of cocoa, steely caramel, toasted nuts and lightly sweet fruit (figs, mushy apples). Clove is present if one goes looking for it. This is decent, drinkable beer. Too bad it fails to rise above that low bar.
The mouthfeel is too thin for the style. More bubbles might have helped, if they created volume from the inside rather than being harsh and fizzy around the edges. The above score is probably too generous, but I'll stand by it.
With two of their offerings under my reviewing belt, it's obvious that Brouwerij De Graal isn't the second coming of Brouwerij St. Bernardus. It looks like pulling the plug on this brew was justified. Now these guys need to show me something with whatever they've come up with to replace it.
1,715 characters
De Graal Speciale from Brouwerij De Graal
Beer rating:
3.64
out of
5
with
10
ratings