1847 Rye Stout
| Lavery Brewing Company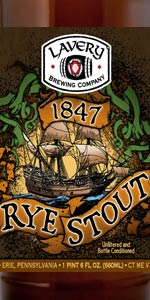 BEER INFO
Brewed by:
Lavery Brewing Company
Pennsylvania
,
United States
laverybrewing.com
Style:
Irish Dry Stout
Alcohol by volume (ABV):
6.80%
Availability:
Winter
Notes / Commercial Description:
No notes at this time.
Added by brentk56 on 03-25-2012
Reviews: 15 | Ratings: 82

3.91
/5
rDev
+2.1%
look: 4.25 | smell: 3.75 | taste: 4 | feel: 3.5 | overall: 4
Appearance - Pours black with nice dense mocha colored head. Excellent lacing.
Aroma - Mostly roasted malts and milk chocolate with just a touch of vanilla. There are also hints of coffee.
Taste - The taste is similar to the aroma, mostly roasted malts and some bitter dark chocolate. Just a hint of coffee.
Feel - Feel is pretty thin, decent carbonation
Overall - A pretty decent stout. If not for the thin feel it would be much better. Flavors are very balanced.
469 characters
4.3
/5
rDev
+12.3%
look: 4 | smell: 4.5 | taste: 4.25 | feel: 4.25 | overall: 4.25
This pours a nice dark inky looking black, with a small head, and a little bit of lacing.
This smells like rich dark chocolate, oats, rye spice, and grainy roasted malt.
This is the type of stout I'm often looking for when the world is overly filled with dessert sugar bomb stouts- it's grainy, bitter, and roasty in all the right ways. There's lots of rustic rye character, grainy and spicy, with bitter, almost charred roasted malt, dark chocolate, and bitter coffee. There's barely any sweetness, which works for me.
This is medium bodied, feels thicker than the lower ABV would suggest. It's pretty creamy and rich.
This is a really nice stout from these guys- just very well constructed.
696 characters
2.96
/5
rDev
-22.7%
look: 4 | smell: 3 | taste: 2.75 | feel: 3 | overall: 3
Bottle to glass. Dark black pour. Tan head. Aroma is smoke, malt, touch of coffee. Taste is bitter oats, toasted malt. Rye joins in with the oats, barley. Feel is a Touch flat. Ok. Dry.
195 characters
3.83
/5
rDev 0%
look: 4.25 | smell: 3.75 | taste: 3.75 | feel: 3.75 | overall: 4
A - Deep shade of blackness thick but not Imperial thick. Head is a 1/2 inch of mocha tint.
S - Mild spicy rye mixed with some roasty tones and chocolate malt. Mildly sweet smelling.
T - Rye is there giving it a good dry taste. Mild sweet chocolate malts mixed with a bit of coffee roasts. Not bad.
M - Medium bodied with some good chewy taste.
Overall a good rye based beer. Tasty.
383 characters

2.99
/5
rDev
-21.9%
look: 3.5 | smell: 3.25 | taste: 2.75 | feel: 3.5 | overall: 2.75
I really hate being forced to write a review since thats not what i do. just let me rate the beer? anyway didnt like this. there was a very unpleasant bitterness that made this almost undrinkable. could just be an old bottle.
230 characters

3.84
/5
rDev
+0.3%
look: 3 | smell: 4 | taste: 4 | feel: 3.5 | overall: 3.75
Undated bottle at 40 degrees into snifter
Aroma of chocolate and coffee
Head small (1 cm), light brown, frothy, diminishing to 2 mm ring and broken layer
Lacing none
Body dark brown/black, opaque
Flavor begins with bitter chocolate coffee, and some smoke; no hops, no alcohol, no diacetyl
Palate medium, watery, soft carbonation
Appearance 3, Aroma 4, Flavor 4, Palate 3.5, Overall 3.625
An above average offering from Lavery. The aroma and flavor are good but the minuscule head and absence of lacing, coupled with the watery palate, lower the overall appeal of this beer.
575 characters
4.09
/5
rDev
+6.8%
look: 4 | smell: 4.25 | taste: 4 | feel: 4.25 | overall: 4
Pours a dark black color with light brown head that lingers and leaves a thick ring if lacing around the glass.
Smell is outstanding with strong coffee and cocoa.
Taste is excellent of course coffe and chocolate but not bitter. Slightly better than most stouts I've tried.
Medium bodied with the typical bitter coffee and cocoa aftertaste.
Overall very well brewed beer and definitely close to the top of my list.
416 characters
3.73
/5
rDev
-2.6%
look: 3.75 | smell: 3.75 | taste: 3.75 | feel: 3.5 | overall: 3.75
22oz bomber given to me as a sample by my rep. Poured into a Chimay goblet.
AP: Nice solid black colour, looks like it may be a bit chewy (fingers crossed). Not much head though when poured. Just a dusting across the surface and around the rim. Some decent lacing on the sides of the glass.
AR: Wow, wasn't expecting this to be so chocolaty in aroma, but there it is. Not a sweet/milk chocolate, but cocoa or baking chocolate. Nice roasty notes as well with black bread. Little hint of coffee in the background. Not much complexity on the aromas, as this is about all I'm getting. No dark fruits, molasses or brown sugar to speak of. But, the aromas that are there are very nice.
T: A solid brew by the taste. Not great or fantastic, but solid. A good sipper for a cold/cool night. In addition to the above noted aromas I also get some spicy rye as well which mixes in quite well. The roastiness is more assertive in the taste, which is fine. Some Earthy bittering hops on the finish.
M: Low carbonation, not chewy as it may have appeared, medium bodied for a Stout and a rather dry finish.
OV: This is a solid Stout with the addition of the spicy rye adding a nice little dimension of depth to the typical Dry Irish Stout flavours. If the coffee notes were stronger I'd be enjoying this even more, but it's good. I'd have this again.
1,335 characters

3.74
/5
rDev
-2.3%
look: 4 | smell: 4.25 | taste: 3.5 | feel: 3.25 | overall: 3.75
22
Pours jet black, tan lacing for a head.
Smells of caramel, toast, a bit of cocoa, a hint of vanilla, and rye.
Tastes of light roasted coffee and oak with some caramel and a hint of rye.
Medium body with a slight carbonation on the tongue.
A great looking, great smelling stout that falls a little short in the taste department. Average mouthfeel as well. Makes it disappointing ultimately, wish there was more flavor and body. Not bad though, just left me wanting more.
480 characters
3.95
/5
rDev
+3.1%
look: 4 | smell: 4 | taste: 4 | feel: 3.5 | overall: 4
Pours pitch black with a tan, lasting head. Webbed lacing sticks.
The smell is of chocolate, coffee/dark malts with earthy notes and a touch of mint.
The taste is bittersweet - dark with roasted nuts, coffee and milk chocolate. There is a minty touch from the rye that gives an impression of mint chocolate chip. Finishes dry.
The carbonation fits the brew well. The body could have more heft, but I'm far from complaining. It is smooth and the finish lingers.
This is a nice dry stout. Good example of the style, with the addition of rye that works well, giving a refreshing minty character to it that is not over-done. Thumbs-up!
My bottle says 5.6% abv.
661 characters
3.84
/5
rDev
+0.3%
look: 3.75 | smell: 4 | taste: 4 | feel: 3 | overall: 3.75
LOOK: Dark brown, bordering on black. Light off white head forms and leaves behind a trail of lace. No sediment, though the bottle reads : Unfiltered and Bottle Conditioned.
SMELL: Chocolates, sweet grains, roasted malts, smoke.
TASTE: Smooth flavor of dry roasted malts, citrusy hops, tangy yeast and a charcoal finish. As it warms, some spicy rye characteristics come into play with a subtle note of whiskey. Above all, very stoutish and roasted in its ways.
FEEL: On the lighter side of medium bodied. A bit thin, carbonation is very fine. Finishes with citrus, roast and rye.
OVERALL: Mild in its ways, but very agreeable, this was an easy drinking, well brewed beer from Lavery. I would be interested to see what age would do to this, I believe it would sour a good bit from the house yeast employed.
810 characters
3.95
/5
rDev
+3.1%
look: 3.75 | smell: 3.75 | taste: 4 | feel: 3.75 | overall: 4.25
A: The beer is very dark brownish red in color (black when viewed from afar). It poured with a thin beige head that quickly died down, leaving delicate lacing covering the surface and a thin collar around the edge of the glass.
S: Light to moderate aromas of dark malts and spicy rye are present in the nose.
T: Like the smell, the rye is very much evident in the taste of this beer that contributes a light amount of spiciness from start to finish. Hints of dark roasted malts are also noticeable, particularly in the finish.
M: It feels early medium-bodied and slightly thin on the palate with a low to moderate amount of carbonation.
O: I really liked the spicy nature of this beer as it wasn't just a one dimensional stout with roasted malt flavors. It is quite drinkable.
780 characters
5
/5
rDev
+30.5%
look: 5 | smell: 5 | taste: 5 | feel: 5 | overall: 5
I like the beer.Good taste and a great draft beer. Worth sipping and enjoying. Gotta be the right temp when served. I tasted the beer the first time at the Crossroads restaurant in Edinboro, PA. My comment length is t o short so I will add some additional stuff so it meets the comment field requirement for number of characters.
329 characters

3.59
/5
rDev
-6.3%
look: 3 | smell: 4 | taste: 3.5 | feel: 3.5 | overall: 3.5
Practically black beer with no head of note. 3.0
Roasted rye malts equipped with spicy and tart notes. A little coffee and oak leak through. 4.0
Spicy rye malts and some black malt. A little smoky and quite woody. Oak spirals, peat, black coffee, and full-on rye. Not bad. 3.5
Decent lingering carb. The body is a little thin. Well-hidden booze. 3.5
It's not much, but it was worth trying. Love to see fun locals on-tap. 3.5
428 characters
3.9
/5
rDev
+1.8%
look: 3.5 | smell: 3.5 | taste: 4 | feel: 4.5 | overall: 4
Appearance: Arrives with a modest cap topping the pitch black liquid; just a few dots of lacing left behind
Smell: Toasted black bread
Taste: Well-toasted black bread and Baker's chocolate, up front, with spicy rye and hop elements arriving at mid-palate; the roast takes over, after the swallow, and drives home the finish
Mouthfeel: Medium body with moderate carbonation
Overall: Refreshing - really like the mouthfeel here; also like the way this one finishes very dry; the brewer knows how to brew a well attenuated beer
536 characters
1847 Rye Stout from Lavery Brewing Company
3.83
out of
5
based on
82
ratings.