Lá Bealtaine
| Lavery Brewing Company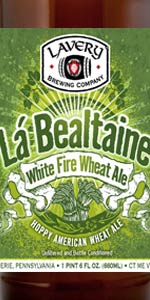 BEER INFO
Brewed by:
Lavery Brewing Company
Pennsylvania
,
United States
laverybrewing.com
Style:
American Pale Wheat Ale
Alcohol by volume (ABV):
5.00%
Availability:
Spring
Notes / Commercial Description:
No notes at this time.
Added by brentk56 on 04-21-2012
Reviews: 13 | Ratings: 45
4.39
/5
rDev
+14%
look: 3.5 | smell: 4.5 | taste: 4.5 | feel: 4 | overall: 4.5
Appearance: Pours a cloudy honey color with a relatively modest head that leaves a few strands of lacing behind
Smell: Tangerine citrus and pine, with a hint of bread
Taste: After an intial taste of bread, the tangerine, lemon and pine flavors take over producing a flavor akin to a citrus drop candy - primarily tart and citrusy, but strangely sweet without being sugary; the sweet/tart flavors linger into the finish
Mouthfeel: Light to medium body with moderate carbonation; a bit puckery from the citrus flavor though it could stand to be a bit crisper
Overall: Another fine beer from this relatively new brewery; I really appreciate the way Jason packs flavor into a sessionable beer
Thanks, Axic10, for the opportunity
729 characters

3.05
/5
rDev
-20.8%
look: 3.5 | smell: 3.5 | taste: 2.5 | feel: 4 | overall: 3
Pours a hazy blonde in the tall tulip. A pleasant sudsy appearance. Plenty of carbonation in the mouth.
Taking a big mouthful, it takes just a second to think "grapefruit." Tastes more like grapefruit juice than any other beer I've had. Totally a fresh hop experience. But it's so anemic on the wheat flavor with so little malt to provide any balance. Thin and bitter. Not a bad hop, but it's all citrus, and the bitter pith taste just keeps on and on.
It's a decent alternative to a lighter style of IPA, if you're looking for a big mouthful of hops. In the 22 oz bottle from the Foodery in Philadelphia.
607 characters
4
/5
rDev
+3.9%
look: 4 | smell: 4 | taste: 4 | feel: 4 | overall: 4
Extra pale golden color with a bright white head basically describes this beer as well as I can. The nose is full of amarillo and grapefruit notes, with a bit of skunked wheat and light malts including malted wheat. Fuckin' fantastic flavor I'm tasting beautiful light beer from the draft twice at two different bars both Bocktown and Fathead's has done me well. Flows very well on the palate with a big hop flavor with balanced wheat bread notes I really enjoyed and I plan to drink it some more when I find it in bottles or draft again. Another mouthfeel aspect belongs to the carbonation and the oily hop textures going on in this beer, I really enjoyed it. Overall damn tasty beer that I will meet again with all intentions.
728 characters
3.85
/5
rDev 0%
look: 4.25 | smell: 4.25 | taste: 3.75 | feel: 3.75 | overall: 3.5
This beer looks great off the pour. And the nose is phenomenal; a floral, fruity thing. But the flavor profile does not fit for the style. There is no discernible wheat character here. Just a lot of hop influence that seems to clash with the wheat. And this seems somewhat Belgian to me also. Carbonation fills the mouth quite a bit.
As a beer, this certainly tastes nice. But as a wheat ale, it doesn't really fit the bill. I'd give a 4.25 based on taste alone. But as a wheat beer, it doesn't quite work.
507 characters
4
/5
rDev
+3.9%
look: 4 | smell: 4 | taste: 4 | feel: 4 | overall: 4
Pours hazed golden with a foamy white head that lasts, leaving some lacing.
The smell is of citric and tropical fruits with herbal spicing and a wheat malt backing.
The taste is of citric zesty/spicy hops with a sweet grainy and dry wheat backing. Finishes refreshingly dry.
The feel is crisp with a smooth light body that is not too thin or watery.
This is a nice, refreshing, well-hopped wheat ale. Great for a spring or summer day! Well-done!
449 characters
4.15
/5
rDev
+7.8%
look: 4 | smell: 4 | taste: 4 | feel: 4.5 | overall: 4.5
Poured into a Ball jar on a sweaty summer day. This is just what I was looking for in the heat. It poured a hazy amber with a tall white head. It's a subtle lighter-bodied beer with a crisp, hoppy finish that makes it a wonderful session beer. The flavor has a biting, citrus rind hops character with underlying floral fruit notes, and long peppery grapefruit finish. I don't get much wheat, but I could say the same for Oberon (I'd rather have this beer). The aroma has a cleaner pineapple and floral citrus mix, which makes a great contrast to the rougher flavor. Check this out.
581 characters
3.8
/5
rDev
-1.3%
look: 3.5 | smell: 3.5 | taste: 4 | feel: 3.5 | overall: 4
Lá Bealtaine
Lavery Brewing Company
Style: American Pale Wheat Ale
ABV: 5.00 %
Pours like a wheat beer, almost white and very pale. White head forms and leaves plenty of lace. Aroma of citrus hops, grapefruit, lemon and herbal elements. In the flavor, a nice dose of grapefruit and bitterness, with a light wheat malt backing. Nicely hoppy, bitter, and pretty tasty. Light bodied feel with a good level of carbonation. Overall, another winner from Lavery, a local brewery that can do no wrong it seems.
505 characters
3.98
/5
rDev
+3.4%
look: 3.75 | smell: 3.75 | taste: 4 | feel: 4 | overall: 4.25
Uh oh picked this up despite it being over 6 months old. Into a goblet
A - Held up actually quite well the head is low just a finger of lace that turns to a ring but no cloudy color a very bright yellow. Seem the sediment has caked in the bottom of the bottle.
S - Still quite bright citrus and wheat. Biscuit malt smells good.
T - Well it's good easy drinking wheat ale with exceptional hop balance to boot. No off flavors!
M - Easy drinking and smooth. Interesting flavor.
Overall it was worth picking up and held up well despite a spring release. Give it a try its still good!
581 characters

3.18
/5
rDev
-17.4%
look: 4 | smell: 3.5 | taste: 3 | feel: 3 | overall: 3
Pours a hazy yellow color with an off white head. In the aroma, a sweet fruitiness of peaches, and somewhat sugary. In the taste, faint dry peach skins and a thinner flavor than nose. A smooth and light bodied mouthfeel, with a small dry faint peach skin in the aftertaste. Big nose, but a touch watery. Decent nonetheless.
323 characters

3.97
/5
rDev
+3.1%
look: 3.5 | smell: 4 | taste: 4 | feel: 4 | overall: 4
Hazy yellow-orange pour with one finger head with minimal retention and decent lacing. Nice fresh hop nose with hints of grapefruit, lemon, pine and just a touch of tangerine. The taste follows suit with great fresh hop resins and tons of citrus, specifically grapefruit. Just enough malty sweetness to keep it balanced. The mouthfeel is slightly fizzy and a bit oily with a nice tangy, crisp, dry bitter hop finish. I'm not typically a fan of wheat beers, but this one stands out from the pack. My first Lavery beer, but definitely not my last!
545 characters

3.95
/5
rDev
+2.6%
look: 3.5 | smell: 4 | taste: 4 | feel: 3.75 | overall: 4
Undated bottle into pint glass. Pours a hazy straw color, with a thin eggshell-white head. Initial impression is citrus rind, balanced by wheat and biscuit malt. Light mouthfeel; medium carbonation. Very refreshing. Dry finish with a lingering bitterness on the back of the tongue.
286 characters

4.12
/5
rDev
+7%
look: 4 | smell: 3.75 | taste: 4.25 | feel: 4.25 | overall: 4.25
Pours an orange color with decent head. Head dissipated but also left some retention along the way. Soft citrus and wheaty/bready smell. The taste has amazing balance between the citrus, the wheat, the biscuityness, and the hop bitterness. Very easy drinker. Overall this beer exceeded my expectations. It is a great drink for the hot summer days. I would definitely recommend this.
383 characters

4.08
/5
rDev
+6%
look: 4.5 | smell: 4 | taste: 4 | feel: 4.5 | overall: 4
Poured into an oversized pint glass.
Pours a cloudy; dirty even (in a good way) honey like orange. Lots of sediment and floaters settle to the bottom. Near white wispy, creamy head layers the top. Really tremendous lace stays around the whole drink. Nice think layer settles to a dense island as you drink. Looks excellent.
Brew smells of piney hops, oily resin, citrus notes as well. A nice malt mellow wheat backbone sits in the background. Good nose.
Brew is good and creamy upfront, full bodied and loads of flavor going on here. Some sweet tartness intertwined with resiny hops. Surprising this brew only sits at 5% abv. Really good oily pine hops here and then you get the citrus hops in the finish. Citrus flavors shine in the end. Brew finishes a little dry and goes down very smooth. Good hop bitters here are balanced by the wheat here. An interesting tasting brew with lots of body and flavors. Comes across thicker than some of the others in this style that I have had. Very good stuff here.
A stand out for sure for the style for sure. Very impressive brew here in terms of looks and mouthfeel. Surprising that so much flavors and feel is going on with a lower abv like this. A very good brew here. Cant wait to try more of Lavery's offerings.
1,260 characters
Lá Bealtaine from Lavery Brewing Company
3.85
out of
5
based on
45
ratings.