Hesperus

Rising Tide Brewing Company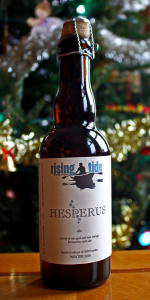 Write a Review
Beer Geek Stats:
| Print Shelf Talker
Style:

ABV:

11.2%

Score:

Avg:

3.97

| pDev:

9.57%

Reviews:

11

Ratings:

From:

Avail:

Winter

Wants

Gots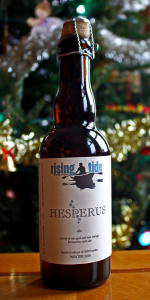 Notes: "The snow fell hissing in the brine, And the billows
frothed like yeast." —Wreck of the Hesperus, Henry Wadsworth Longfellow

A blend of oak aged and new vintage barleywine style ales.
4.18
/5
rDev
+5.3%
look: 4 | smell: 4 | taste: 4.25 | feel: 4.25 | overall: 4.25
This rating is for the 2018 version, limited to 900 bottles. Copper to amber colored, with little head or lacing. Taste is primarily malt and alcohol, with a light graham cracker flavor. Almost no hop flavor to speak of, but it's comparatively light for a barleywine. Overall, a pretty good barleywine, though I prefer a bit more hop flavor or a heavier malt, like an old ale.
382 characters

4.02
/5
rDev
+1.3%
look: 4.25 | smell: 4 | taste: 4 | feel: 4 | overall: 4
Malty, floral, sweet and drinkable. Outstanding blended barleywine...I think. This is my first experience with a blended one - I've had barrel-aged and multiple versions of the style but not a blend of old and new. Interesting take, almost like a traditional gueuze. It's delicious, regardless. Nice cooper-gold pour that's lighter than I would expect. Pencil-thin head that doesn't last. Aroma is floral with candied fruit and toasted malt. Taste has a nice balance of oak, sweet malt, candied fruit, figs, raisins and very light bitter hops. Surprisingly light feel for such a large ABV; not too sweet or resinous but feels like it finishes without a proper finale - slightly watery. Dangerously easy to drink.
712 characters
3.81
/5
rDev
-4%
look: 3 | smell: 3.75 | taste: 4 | feel: 3.75 | overall: 3.75
On the 12.7 ounce bottle: Limited release of 2,040 bottles.
Corked topped bottle which did not seem to have any pressure at all. Even with a vigorous pour, I could only generate rim foam and a thin film of bubbles. The liquid is a muddy light brown.
Sweet with a strong note of alcohol to the nose.
Relatively flat, carbonation wise. Very rich body as one would expect. Lots of raisin up front. The swallow brings a little bitterness, but the real tale is the strong alcohol warmth. It's rum-like, going along with raisin nicely. The warmth goes all the way into the belly.
586 characters

4.02
/5
rDev
+1.3%
look: 4.25 | smell: 4 | taste: 4 | feel: 4 | overall: 4
Poured into a 16 oz snifter not sure when it was bottled. Pours a very attractive rusty red, with a 2 plus finger off white head that leaves thin wisps of lace behind.
Smell is toffee, caramel, oaked vanilla, dates,figs, and some warming alcohol.
Taste follows toffee, caramel, oaky vanilla, dark fruits, and a little alcohol in the warm finish.
Mouthfeel is medium, moderate carbonation, a little dry for sure, and for 11.2% ABV it slides down pretty darn easy.
Overall this is a excellent Barleywine that is complex and approachable for its heft.
555 characters

4.1
/5
rDev
+3.3%
look: 4 | smell: 4 | taste: 4.25 | feel: 4 | overall: 4
Many thanks to SawDog505 for this 2016 Vintage.
A - Deep copper bronze on the pour, nice clarity, and very thin vibrant white lacing.
S - Sweet toasted toffee with some light citrus along with delicate vanilla. For 11.2%, the alcohol is not detectable in the aroma. (Was expecting more alcohol presence.)
T - Follows the nose: toasted sweet candy-like toffee, vanilla, a little bit of oak, and ends with some piney/citrus bitterness. Bitterness lingers and eventually scrubs the sweetness off the palate. Nice finish.
M - Thick and full bodied, velvety and viscous.
O - This is a nice barleywine and upped my initial score.
632 characters
4.22
/5
rDev
+6.3%
look: 4.25 | smell: 4 | taste: 4.25 | feel: 4.5 | overall: 4.25
Winter 2016 version, one of 2040 caged/corked bottles ($10.00 from The Beer Store Nashua).
Poured into a small tulip just now on a rainy, raw Christmas Eve afternoon... I poured the entire bottle in, including the sediment at the bottom. Color is a slightly cloudy apricot, and I can't see any carbo within, just some minute yeasties. Head is off-white and quite creamy and fine. It ebbs quickly yet leaves a nice ring of foam at the rim and a bit of lace. Nose has a healthy amount of oaky caramel plus some toffee and vanilla. The body is medium-plus, though not quite into chewy territory. And smooth? Yes, exceedingly so!
Flavor is lovely, with plenty of caramel, vanilla and toffee melding together in a superb blend. Also has some caramelized brown sugar, raisins and brown bread; sort of like a boozy fruit cake. The oaked aspect is noticeable in the finish, along with some earthy hopping. All in all, a very solid, tasty brew. Prosit!!
4.22/5 rDev +3.7%
look: 4.25 | smell: 4 | taste: 4.25 | feel: 4.5 | overall: 4.25
1879
1,038 characters

4.32
/5
rDev
+8.8%
look: 3.75 | smell: 4.25 | taste: 4.5 | feel: 4.25 | overall: 4.25
Picked up a 2016 bottle of this about a week ago, so this is fairly fresh. I've never had this particular blend of beers from RT, but I had a Polaris a few years ago which was the same bottle format (numbered batch, C&C 11.2 oz bottle) and found it solid enough. Apparently this is a blend of barleywines, one old batch that was aged in oak barrels and one newer batch. At 11.2%, this is certainly not a beer to screw around with, so I guess we'll see how the blend worked out for them.
Pours a ruddy copper-orange color with a thin, small head that nevertheless retains pretty well overall. The murky colored beer shows a lot of solids suspended in its body, and the lace appears as soapy and inconsistent scrawls of beige along the inner rim of the glass. Not the most attractive beer ever, but I don't expect much from English barleywine-type stuff in general, especially with blending being involved.
Nose is forward with toffee and roasted nuts. There's a bit of caramel, golden raisin, slight tannic/oaky qualities, vanillins and some fruity hop notes with some herbal and earthen aspects as well. It's not really a huge nose, but it's surprisingly deft and not brutal for being a double-digit strength brew. Nice bready malt and a slight tinge of darker fruit keep this very well-grounded.
On the tongue, this starts with a light note of dates or figs, crossing the palate with a nice hit of caramelized sugar/toffee and a very English-type, leafy hop component. A bit of coconut, vanilla and oak towards the finish, which closes out smooth and a bit buttery (not in a bad/diacetyl-like way, mind you). A slight hit of ethanol towards the end that goes down long, giving a nice warming sensation that works very well for a Winter seasonal blended barleywine. Loving the very well-balanced flavor here. Feels like they went through a lot of trouble to get the beer to this point.
Feel is sort of leaning towards the medium side of "light-bodied" here, with some expressive carbonation showing up to push the flavors along. It isn't as mouth-coating as I want it to be, though, and that's one of the minor faults I have with it. Though the finish is nice and long, the rather stiff and direct way this beer gets to that point can cause it to feel unimpressive upfront. I would prefer a slight bit less of the oak and probably more of the new batch here, as this can sometimes feel dominated by those woody and tannic notes. If you like the sound of that, however, your mileage will likely vary. This is an interesting beer that I hope to be able to follow in the upcoming Winter seasons. Great stuff, RT!
2,613 characters
4.33
/5
rDev
+9.1%
look: 4.5 | smell: 4.5 | taste: 4.25 | feel: 4.25 | overall: 4.25
Smell: oak vanilla rasin plum apple Carmel toffee grapefruit
Taste: upfront Carmel toffee midddle of the mouth vanilla carmel apples rasin plum in the finish you get some of the oak toasted coconut and a trace of grapefruit bitterness
Feel: Medium body creamy mouthfeel.
Overall: I'm not sure the exact date on this bottle but it's a winter 2014 bottle. I think the age on this beer did wonders. I still get hints of biterness but not over the top it's just enough to balance out the sweetness. Really complex I'm really surprised how good this is glad I got this as an extra in a trade!
592 characters

3.5
/5
rDev
-11.8%
2014 version. Hops are still stronge, oak notes, smells coconut and burbon. Taste is sweet With bourbon and grapefruit. Will look fowl Rd to this again In a year.
$3 10 Oz pours at the brewery on black friday.
212 characters

4.22
/5
rDev
+6.3%
look: 4.25 | smell: 4 | taste: 4.25 | feel: 4.5 | overall: 4.25
Winter 2013
780 Bottles
Pours a muddy amber color, a great deal of sediment flows out and floats around, large head that fades at a wick slow rate, not as much lacing on the glass as you would expected considering how slow it faded.
Smell starts out with roasted malt, then an oaky presence comes through and becomes more strong, hop presence is surprisingly subdued since it was blended with a "hoppy strong ale" but the barrel aging must have tamed the hops.
Taste has a good strong malt backbone and seems to have an oddly fruity presence, could be a grapefruit flavor that the hops had imparted but mostly gone away, the oak character is quite nice and adds a good deal of complexity, mild bitterness in the aftertaste that helps prevent this beer from being sweet, soft yet ample carbonation gives this beer a good creamy mouthfeel.
840 characters

4.25
/5
rDev
+7.1%
look: 4.25 | smell: 4.25 | taste: 4.25 | feel: 4.25 | overall: 4.25
A: Pours a hazy bronze color with 2+ fingers of head that very slowly fades down to a good sized cap
S: Lightly sweet, with notes of caramel, raisin, fig, oak, and other fruits. Alcohol very well hidden
T: Starts off with the sweetness of the caramel, raisin, and fig. Alcohol comes through mid-palate along with the oak and fruity hops. Finishes with a light oaky woodiness and a moderate bitterness
M: Medium-full bodied with moderate carbonation
O: A very nice blend of American barleywine and hoppy strong ale. The oak definitely enhances the complexity and helps to mellow out the alcohol. Grab some if you can find it, as there were only 780 bottles released
668 characters
Hesperus from Rising Tide Brewing Company
Beer rating:
88
out of
100
with
40
ratings