Ursa Minor
| Rising Tide Brewing Company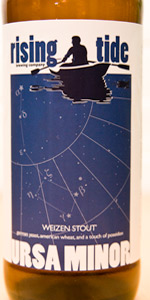 BEER INFO
Brewed by:
Rising Tide Brewing Company
Maine
,
United States
risingtidebrewing.com
Style:
American Stout
Alcohol by volume (ABV):
6.70%
Availability:
Winter
Notes / Commercial Description:
Dark as squid ink and moody as the sea, Ursa Minor is our take on a winter wheat beer. Starting with a German wheat-beer yeast and a base of malted wheat, we added a blend of dark crystal and roasted malts to create a wheat stout. Redolent of dark fruit, weizen yeast esters, and roasted barley, Ursa Minor is perfect for an icy winter's eve.
Added by dciBA on 12-18-2010
Reviews: 56 | Ratings: 161

4.12
/5
rDev
+5.9%
look: 4 | smell: 4.5 | taste: 4 | feel: 4 | overall: 4
22 oz. bomber poured into a cervoise. I missed out on the first release from this new Maine brewery, but the idea of a "weizen stout" drew me in immediately.
Very dark pour, alomst opaque, with a decent head that fades, but lacing remains. The nose on this is great: like a German dunkel with some dark fruit and chocolate notes. Very unique and very inviting.
Tastes like the star chart label states, like a "weizen stout." No burnt malt bitterness, no chalky aftertaste. This is wheaty, chocolaty, and smooth all the way through. Incredibly easy to drink. I love this departure from both traditional wheat beers and traditional stouts. This goes down very easy and I could easily consume another bomber without blinking.
Overall this is a very creative take on a stout, yet it works so well, you could call this sessionable, even with a higher-than-session ABV.
Well done Rising Tide. Give us more beer please, because your creativity is filling a void in the beer spectrum... or something like that.
1,006 characters
4.45
/5
rDev
+14.4%
look: 4 | smell: 4 | taste: 5 | feel: 4.5 | overall: 4
Purchased bomber for $7 on 1/29/11 from Lighthouse Wine & Seafood in Manchester, ME.
I thought Rising Tide's Ishmael was a solid, if unspectacular, first effort. A little pricey as a starting price point, but I definitely wanted to give them another try.
As a "Weizen Stout" this beer drew on mostly German ingredients... which did not excite me, quite honestly. Totally unneccesary though -- this was amazing!
Nearly black pour with attractive tan head... I get both Weizen and Stout characteristics in the aroma... A cacophany of flavors hit your tongue: chocolate, banana, vanilla, hazelnut, roastiness and bitterness... Medium bodied, spot on carbonation, and very clean.
Simply put, this one shocked me. I thought it came together just perfectly. The best beer I have had for a couple of months. Try it.
813 characters

4.22
/5
rDev
+8.5%
look: 4 | smell: 4.5 | taste: 4 | feel: 4 | overall: 4.5
Pours dark brown, but not quite black, with a little light sneaking in around the edges when backlit. The first pour into goblet was done carefully, and the dense mocha head was thin, and didn't stick around too long. The next pour was more aggressive, and there was plenty of head, though the retention was still modest. There was some patchy lacing left after the foam receded. Very good looking stout.
The general character is precisely "weizen stout," something I had never heard of, or even pondered. But what a great idea. The aroma is delicately balanced roasty and banana-fruity german yeast influences blending and banking off one another very well. Would I have picked up on the banana specifically if I didn't know about the weizen yeast? Not sure, but it's there. Kinda musty too, in a subtle way. It's also got some malty sweetness and chocolate adding depth. Not super duper complex, but but really smooth. ...and upon the second, more aggressive pour, more of everything!
Medium roast, rich chocolaty malty sweetness, and banana fruity yeasty flavors coincide delightfully. I couldn't quite go 4.5, but I thought about it.
Spot on medium carbonation, medium body, light viscosity and a very clean finish with just the faintest hint of roasty bitterness.
Not only a creative idea, but the execution of this guerilla attack upon the style nazis was done perfectly! I'm impressed. Really good beer. Looking forward to having it again, and seeing what else Rising Tide has up their sleeves.
1,506 characters

4.07
/5
rDev
+4.6%
look: 4 | smell: 4.5 | taste: 4 | feel: 3.5 | overall: 4
A new one from Rising Tide, awesome. Their first beer (Ishmael) hit the shelves last fall, then I didn't hear much, and now I'm glad to see both that and the new Ursa Minor on the shelves. Shall we?
Wasn't sure what to expect from this "Weizen Stout". It pours an nice deep brown, nearly black, nice ample brown head somewhat like a dunkel, recedes to a nice covering foam that sticks around. Nose is pretty great - cocoa powder and light roast, melded with a banana wheat profile. One might could think of something like a chocolate covered banana covered in nuts.
Mmm, lots of roasty goodness to this one, mellowed out by the wheat and fruity German yeast base. Hops seem to not be much of a factor in this beer. Smooth and soft on the palate, slightest hint of bitterness in the finish, but I will again use the word "mellow" here. This one is all too smooth and easy quaffable at a sneaky %6.7... Very nice, and I like the German / American hybrid thing this brewery seems to have going, at least as far as their first two beers are concerned. Good flavor, easy drinkin', laid back beer. Will look for more from these guys in the future... Can they brew a hoppy beer?
1,174 characters
4.3
/5
rDev
+10.5%
look: 4 | smell: 4 | taste: 4.5 | feel: 4 | overall: 4.5
An impressive second offering from Rising Tide that does not disappoint!
I was fortunate to get a glass on draught at the GLB two weeks ago during the Brewer's preview before the Ursa Minor sold out (in less than two hours!). I just picked up a couple of bottles (at RSVP in Portland) in time for the holidays. I have visions of Ursa dancing in my head . . . .
Ursa pours a beautiful, rich black and it offers a nice bouquet that smells like roasted bananas to me. The taste is complex but well-balanced: Initial sip offers the sort of roast-y goodness one would expect from a stout. And though it's got a bit of bite it is nicely followed by toffee and banana (though it's not sweet). Notably, Ursa has a nice, clean finish; it is not cloying on the palate like some stouts/full-bodied beers.
Also notable: it's not a heavy stout. Despite the complexities in the palate, its effervescence keeps it light, making it very drinkable and accessible.
They're on a roll--cannot wait for Rising Tide's next offering!
1,016 characters

4.2
/5
rDev
+8%
look: 4 | smell: 4 | taste: 4 | feel: 5 | overall: 4.5
Pours a nice black into my shaped pint glass. Labeled as a weizen stout, I wasn't sure what glass to use. Weizen glass didn't seem appropriate for a stout, and after pouring those suspicions were confirmed. A thin tan head forms and lingers for quite a while.
Most notable on the nose is roasted barley and coffee. There's also a nice amount of banana from the weizen yeast.
Flavor is dominated by a rich roastiness initially followed by banana and some caramel and toffee as well. Taste is quite nice and just what I expected after reading the label.
Mouthfeel is stellar with this beer. Full and creamy with a touch more carbonation than the average stout. I suspect this was done on purpose due to the use of wheat, and a weizen yeast. Overall this is a very drinkable wheat stout. Perfect for wheat beer fanatics like myself who want to drink wheat beers year round but grow tired of the usual weizenbock during the cold months.
935 characters
Ursa Minor from Rising Tide Brewing Company
3.89
out of
5
based on
161
ratings.