Dismiss Notice
The Resistance
| Iron Fist Brewing Company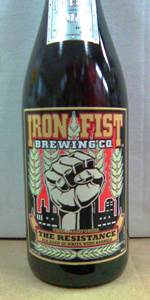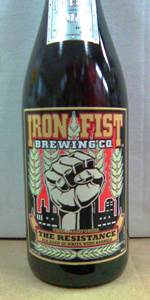 BEER INFO
Brewed by:
Iron Fist Brewing Company
California
,
United States
ironfistbrewing.com
Style:
American Wild Ale
Alcohol by volume (ABV):
7.00%
Availability:
Limited (brewed once)
Notes / Commercial Description:
No notes at this time.
Added by BeerAdvocate on 04-18-2011
This beer is retired; no longer brewed.
HISTOGRAM
Ratings: 34 | Reviews: 17

2.77
/5
rDev
-25.1%
look: 3 | smell: 3.5 | taste: 2.5 | feel: 2.5 | overall: 2.5
Bottle shared by mdfb79. Thanks Dan.
The beer is slightly hazy and appears golden orange hued. The head is thin and wispy, quickly fading to virtually nil. The aroma brings a heavy dose of citrus among some wild yeast. The flavor takes a downward turn. Unbalanced and a bit off. Some acetone and off flavors in the finish. Hopefully, some recipe tweaks are in store for this beer. As of now, I can't recommend it.
414 characters

2.9
/5
rDev
-21.6%
look: 3.5 | smell: 3.5 | taste: 2.5 | feel: 2.5 | overall: 3
Bottle courtesy of Dan. Served in a SAVOR wine glass.
Pours a fairly clear peach color with a good white head and just a touch of lacing. The nose carries a good amount of peach and a bit of wheat plus some light acidity. The flavor is very mellow wi no really acidity and faint peach. Almost light a like Berliner. Light body and lowish carbonation. No real acidity. Decent beer but certainly not an American Wild.
416 characters
3.25
/5
rDev
-12.2%
look: 4 | smell: 4 | taste: 3 | feel: 2.5 | overall: 3
750 mL bottle shared by Dan.
Pours a hazy peach golden color with a light, wispy white head. Oak, white wine, brett, peach and mild sourness throughout the aroma. Medium light body, with light carbonation and a watery presence throughout into the finish. Oak and light tannic presence in the flavor but no sourness. Strong wheat taste, grain and dry, with minimal fruit. Too watery and bland to be recommended.
411 characters
3.85
/5
rDev
+4.1%
look: 4 | smell: 4 | taste: 4 | feel: 3.5 | overall: 3.5
Poured into a tulip.
Golden/amber hue. Clear. Two fingers of white head. Retention and lacing are decent.
Smells quite vinous. Good white grape character, some green apple.
Grape skin, smooth oaky tannins, apricots, some melon. Not as sour or tart as I expected. I thought there were some metallic notes at first, but once it warms they went away, so I'd definitely recommend letting it warm a bit.
The mouthfeel is probably my biggest criticism. Should have been more carbonated for sure. Also, wanted it to be more tart.
Not bad. More tartness and carbonation would be nice, but otherwise pretty solid.
609 characters
4.32
/5
rDev
+16.8%
look: 4 | smell: 4.5 | taste: 4 | feel: 5 | overall: 4.5
A- Pours a nice golden with a pretty white cap that is small and loose with large bubbles in the 1/4" foam. The cap hangs around for the entirety of the drink, with nice lacing.
S- Immediate and pleasant brett funk hits the nose, oak and bright white fruits follow. Zings of fantastic fruity esthers swirl about.
T- Pleasant funk, tart white wine oak and delicious fruits swim on the palate. Flashes of white wine grapes, pears, and juicy fruits are tempered by an appropriate, ever so slightly tannic, bitter in the end, leaving a luscious, strawberry-banana aftertaste hanging in the background.
M/D- Absolutely brilliant. Thanks to the crisp tight carb, the wonderfully balanced flavors of funk,oak,and fruit leave the palate clean, and my tongue literally waters for the next sip. Neither too cloying/rich, or thin. Perfect.
O- Light,bright,and refreshing. Balanced and fantastic. Should be a gateway for many into the style, given the incredible balance.
967 characters
2.74
/5
rDev
-25.9%
look: 4 | smell: 2.5 | taste: 2.5 | feel: 3 | overall: 3
A- Bright light golden color with a pearl white head that resides for a little then goes away.
S- White wine, little oak, very sweet. Not bad, but not too impressive either.
T- white wine, little bit of oak, very sweet like the nose led onto. Too sweet for me.
M- light and fluffy, the better aspect of the beer.
O- Not into this really, and now that i remember i paid $25 for this, im pissed. the price doesn't reflect quality in this beer.
445 characters
3.75
/5
rDev
+1.4%
look: 3.5 | smell: 3.5 | taste: 4 | feel: 3 | overall: 4
A- cloudy yellow with hints of orange pure white head
S- Lots of Apple. Hints of lemon. Chardonnay, white table wine hint of sweetness
T- Fairly complex but also lIghtly balanced. Apple cider up front. White wine, Chardonnay and the oak really comes through. Brett funk and dryness. Mild hop bitterness and bready malts.
M- low to mild carb out of the bottle. Liked the carb better on tap. A little thin. But the ABV is hidden. Tastes more like 5 percent then 7.
D- Overall super drinkable session tasting beer with brett, oak, fruit and citrus and wine notes. Reminds me of a non-sour Russian River Temptation but with higher Brett, wine and barrel characteristics. Flavors are slightly subdued but I think the barrel and wine flavors are where this shines. Good intro to beer for wine lovers.
799 characters
3.28
/5
rDev
-11.4%
look: 4 | smell: 3.5 | taste: 3.5 | feel: 3 | overall: 2.5
On Tap
Churchill's Pub & Grille
San Marcos, CA
Bright golden yellow with a thin white head that eventually leaves spiderwebs of lace down the glass. Pretty.
A fairly faint aroma consisting of mild funk, a bit of stinging sourness, and some white and bright fruits, namely apple and lemon. Very simple but pleasant enough.
The Brett yeast is the most dominant flavor, providing a mild barnyard funk. There's some apple and lemon flavors and a mild acidic sourness throughout, but most of the flavors are quite faint. Decent enough I suppose for a first effort.
Medium bodied with low to moderate carbonation. I would have preferred a thinner body with higher carbonation.
There's nothing bad about this beer, but there's really not much very good either.
759 characters

2.65
/5
rDev
-28.4%
look: 3 | smell: 3 | taste: 2.5 | feel: 2.5 | overall: 2.5
11/6/2011
On tap at Iron Fist.
A: Transparent gold with a small white head.
S: White grape and aromatic apple with a touch of oak. Lightly lactic with a hint of leather. Very simple.
T: Ripe golden apple with a little acetone. Light oak notes and a little white grape. Not a lot going on to be honest. There's a whisper of acidity and more acetone in the finish. Very light Brett notes.
M: Medium body with low carbonation. It definitely could use a lot more carbonation on draft.
Overall: A very mild aroma and an okay flavor until the acetone kicks in. I'm shocked Iron Fist is charging $23 a bottle. That's outrageous. 
629 characters
The Resistance from Iron Fist Brewing Company
Beer rating:
3.7
out of
5
with
34
ratings