Uprising
| Iron Fist Brewing Company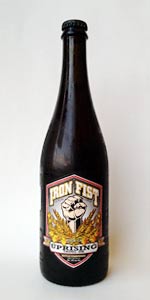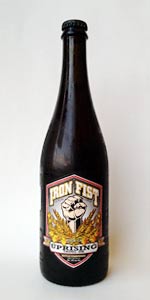 BEER INFO
Brewed by:
Iron Fist Brewing Company
California
,
United States
ironfistbrewing.com
Style:
Belgian IPA
Alcohol by volume (ABV):
12.00%
Availability:
Year-round
Notes / Commercial Description:
No notes at this time.
Added by BrlyHpsWtrYst on 07-10-2011
HISTOGRAM
Ratings: 139 | Reviews: 36
3.91
/5
rDev
+0.5%
look: 4.5 | smell: 3.5 | taste: 4 | feel: 4 | overall: 4
A - Poured into chalice. Dark ruby-reddish brown in color with a finger of cream colored head.
S - Fruity, bubblegum, banana, malts, very subdued hops.
T - Bready, malty, bubblegum, banana, some hop bitterness. Alcohol is quite hidden but still gives some warmth.
M - Medium to full bodied, medium carbonation. Not too thick.
O - This is what I would call an "Imperial Belgian IPA", due to its relatively high ABV. Overall its an interesting brew.
451 characters

4.03
/5
rDev
+3.6%
look: 4.5 | smell: 4 | taste: 4 | feel: 4 | overall: 4
A- Deep caramel malt with a reddish hue.
S - Floral. Juicy fruit all over it. Hops and malt there but WAY in the back.
T - Large malt at first, floral and fruity in the center, nicely bittered at the end.
M - Creamy, well carbed, at bit to the bitter in the end.
D - I like it! Tasty.
289 characters
2.93
/5
rDev
-24.7%
look: 3 | smell: 2.5 | taste: 3 | feel: 3.5 | overall: 3
On tap at Iron Fist Brewing Company in Vista, CA.
Pours a slightly hazy honey brown with a tan head that settles to a an oily film on top of the beer. No lacing on this one. Smell is somewhat fruity along with some notes of vinegar and nail polish remover. Taste is really just a mixture of fruity flavors. There is a medium bitter finish after each sip. This beer has a lower level of carbonation with a slightly crisp mouthfeel. Overall, this is a pretty average beer and the smell is a bit weird. When I tried this one there is no way I would have guessed it is supposed to be a Belgian IPA.
595 characters

3.53
/5
rDev
-9.3%
look: 4 | smell: 3.5 | taste: 3.5 | feel: 3.5 | overall: 3.5
On tap at Churchkey in DC, served in a snifter, beer is amber and clear with a thin white head some lacing moderate carbonation.
Aroma is yeasty, mildly solvent, mildly hoppy, smells fine.
Not the best Belgian IPA i've had but decent, it is strong with a nice floral yeast / hop profile, a little dry on the finish but there's nothing wrong with it. I dont' think I'd have it again though.
391 characters



3.87
/5
rDev
-0.5%
look: 3.5 | smell: 4 | taste: 4 | feel: 4 | overall: 3.5
Fellow BA Bigturo brought a growler of this to share. Review is from notes, and one of the earlier tapping of this beer about two months ago. I've had the oppurtunity to taste this again on 8/6, and the beer had improved, so I adjusted my point scores a bit as a result.
A: Poured from the growler into a tulip glass, the beer pours a cloudy and hazy dark amber organge, with less than a quarter inch of head, depositing some lacing if swirled.
S: Bread, sugar malts, and mild hops, surprisingly given the style, it's a bit malt heavy. Label says it was tripel hopped, and they are there, but it smells more of an malt heavy imperial IPA to me.
T: Touch of caramel, pepper, orange zest, hops, and sweet malt. Slightly bitter finish, but not too dry. The alcohol barely registers. If this were a blind taste, I'd say it was 7.5%, not 12%, so in that regards a lot of care to balance the beer was done.
M: Lightly carbonated, medium mouth, a little sticky.
O: Interesting, not bad, but just okay for me personally. In my opinion, for what it's worth, the beer might need some tweaking before they bottle this, in my humble opinion, or perhaps it is just not to my tastes. I think there were some unfermented sugars in there, which can of course happen at this high ABV, and when it is unfiltered (A plus, not a ding) If and when it is bottled, the conditioning in the bottle, and some cellaring should round it out just fine. Iron fist just about hit a year, so they are still young for brewery. I do like the fact they are already coming out with some new draft only brews.
1,582 characters

3.66
/5
rDev
-5.9%
look: 2.5 | smell: 4 | taste: 4 | feel: 2.5 | overall: 3.5
7/31/2011
On tap at Iron Fist. They call this a Belgian Tripel/IPA. I guess it's a strong Tripel that's heavily hopped.
A: The beer is a sort of dull and cloudy orange in the snifter. There is almost no head. There is one tiny piece of foam clinging to the glass, and it doesn't look like it will last much longer. The beer looks forlorn.
S: Sugary bread with caramel and ripe apple. Caramel apple!? Notes of grapefruit and orange are evident, as well as light floral notes. A light clove-like spiciness is apparent. 12%? I don't smell any alcohol. This is very interesting, and I dig it.
T: Similar to the aroma, with sweet bread and sugar as well as apple, grapefruit, and orange flesh. Alcohol is very well hidden, surprisingly so. There's a little spicy clove and a moderate bitterness. The finish is dry, fruity, and bitter.
M: Upper medium body with very low carbonation. Mouthfeel is smooth and sticky with alcohol warming.
Overall: A nice Tripel with a little more hop character than a traditional example of the style would have. This would be better with a lot more carbonation.
1,094 characters
4.09
/5
rDev
+5.1%
look: 3.5 | smell: 4.5 | taste: 4 | feel: 4 | overall: 4
** notes from vacation week...
A: A hazy/cloudy brownish-amber pour with very little head.
S: For a pretty strong beer, the alcohol is not really evident on the nose. Sweeter presence of some fruit and floral notes.
T: Very easy to drink for a big beer. The fruit & floral notes are present; the Belgian yeast are evident. I'd like to drink this side-by-side a Belgian IPA from Belgium sometime. It'd be interesting to compare.
M: Medium to heavier/thicker bodied...little carbonation present. Very smooth pour.
O: Another tasty offering form a small brewery out on the West. I'm thinking Iron Fist will be one that will continue to hit the market with treats that many will continue to enjoy and look for!
715 characters

4.12
/5
rDev
+5.9%
look: 4 | smell: 4.5 | taste: 4 | feel: 4 | overall: 4
Served on tap at Iron Fist. Draft only release
Desribed as a "Belgian Trippel IPA"
A: Pours a hazy amber/orange with an off white head
S: An enormous bouquet of Apple, pear and perhaps orange blossom, sweet esters, hardly any booze which is impressive to me
T:Follws the nose. Big sweet fruit flavors dominate which I am told is due to a very unique new hop that was used. Hoppy but not bitter, A very belgian yeast component on the finish. Warming but not hot in any way
M: Medium to full bodied, light carbonation
O: A very unique approach to this "style".. Belgian IPA's tend to taste, to me, like a west coast IPA pitched with a Belgian yeast strain, this is not that way. Unconventional and interesting
715 characters
Uprising from Iron Fist Brewing Company
Beer rating:
3.89
out of
5
with
139
ratings