Comptoir Des Arts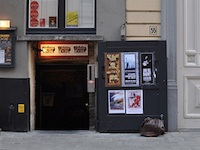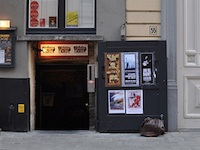 PLACE INFO
Type:
Bar
Vlamingstraat 53
Brugge
, 8000
Belgium
+32 494 387961 |
map
comptoirdesarts.be
Notes:
No notes at this time.
Added by UncleJimbo on 09-13-2010
PLACE STATS
Reviews:

8

Ratings:

pDev:

5.02%
HISTOGRAM
View: Place Reviews
Ratings: 14 | Reviews: 8

3.98
/5
rDev
-13.1%
vibe: 4.25 | quality: 4.25 | service: 4.5 | selection: 3

4.76
/5
rDev
+3.9%
vibe: 4.75 | quality: 5 | service: 4.5 | selection: 4.75
Enjoyed my experience here, can't remember exactly what beer I had but I remember leaving feeling awfully good about my experience.
131 characters
4.67
/5
rDev
+2%
vibe: 4.75 | quality: 4.5 | service: 5 | selection: 4.5
For beer in Brugge, everyone knows about De Garre and 't Brugs Beertje. Any google search for "Beer in Brugge" will turn those two places up in the results. And rightfully so. I think the number of reviews are lower for Comptoir Des Arts because it's just that much further off the beaten path than a lot of the *other alternatives*. If in search of a fun time, good vibe, and great beer, though, it's worth the walk.
Our visit here was pretty late at night, and the place was very full but not overly-crowded. The place had a great buzz about it, and a cool mix of people of all ages (20's - 50's, maybe even 60's). Music was "loud" but not "overly loud". And the staff, including the owner, were incredibly attentive and personable for such a busy night. The owner was a younger English gentlemen, and he couldn't have been much friendlier and personable if he'd tried. Chatting everyone up, and not in a "passing by" sort of way. He seemed to take a genuine interest in each and every person; where they were from, and how their visit to Brugge was going so far.
The beer list was strong. Not *the best* to be had in Brugge, but certainly on the short list (Top 5, easily) of all the places I hit up over my 3 day stay. If you are a lover of Belgian beer, you will find several offerings to your liking here.
If visiting Brugge, and looking for a fun-filled evening of great beer, my #1 recommendation is to head North of "Markt", spend a couple of hours chilling/relaxing in Cafe Rose' Red's back patio, and then continue heading North to Comptoir Des Arts for a "night out". My wife and I thoroughly enjoyed both.
1,634 characters

4.43
/5
rDev
-3.3%
vibe: 4.5 | quality: 4.5 | service: 4.25 | selection: 4.5




4.68
/5
rDev
+2.2%
vibe: 4.75 | quality: 4.75 | service: 4.75 | selection: 4.5
This fine establishment was recommended to us by the folks at Cambrinus as they were closing their doors at 1am. I wish I found Comptoir Des Arts earlier as the lighting, music, ambiance were all to my liking - not too bright with a nice change of musics from the innecent pop at other places.
I had no problem finding new beers to try on the 90+ bottle list. It seemed they were picked with care. Everything from geuze to a cloyingly honey sweet Barbar that some locals talked me into trying.
I found the place friendly and had a good conversation with the owner, stoolmates and even some random passers by. Once the owner knew my preferences, he was able to suggest two excellent beers I had yet to try. It made my night and left a great impression afterwards.
Overall, this should be a definite stop on everyones Brugge cafe tour.
838 characters
4.7
/5
rDev
+2.6%
vibe: 5 | quality: 4.5 | service: 5 | selection: 4.5
After getting booted from Cambrinus at 1pm, we were told to stroll down the street to Comptoir Des Arts. What a fantastic find. While they only have 90 beers these are some of the best beers Belgium has to offer up. Bram is the Man! The bartender (owner/manager?) was an absolute treat and answered any and all questions about the beers and was not rude or put off by any of the questions and in fact talked to us for quite a while. We ended up staying until 4am. Atmosphere is second to none. Fantastic music, even if it wasnt live, all morning long.
Selection really should be a 5 but it doesnt compare to Cambrinus with hundreds, but you dont need hundreds when you serve the best.
The first place I visit when back in Brugge.
733 characters
4.64
/5
rDev
+1.3%
vibe: 4.5 | quality: 4.5 | service: 5 | selection: 4.5
Unexpectedly, this happened to be one of my favorite bars from my trip to Belgium. We were going out to dinner one night, and wanted to stop at a place for a beer before. Comptoir Des Arts is on a quieter street of Brugge, maybe a 5 minute walk from the Bell Tower square.
There were maybe 6-8 draft lines and an excellent selection of bottles, including vintages of Orval (young, aged, and vintage). The bartender was extremely friendly and spoke with us about our time in Belgium and where we were from in the States. We enjoyed this place so much that after dinner and other bars throughout the night, we ended up coming here for a nightcap around 1am. The bar was still lively and the bartender remembered us from earlier on. I'd definitely recommend this bar to anyone looking for a low key atmosphere while traveling to Brugge..
835 characters
4.64
/5
rDev
+1.3%
vibe: 4.5 | quality: 4.5 | service: 5 | selection: 4.5
The old 'De Zolder' shell, completely changed by Bram and his wife (ex employee of Daisy).
Cool classical music and paintings by the De Dolle brewer adorned the walls, a regular feature will be changing art displays by various painters throughout the year.
I was here during the first two months of it opening, still finding its feet, but busy none-the-less. Another fine beer bar in Brugge, get here before the new set of guide books come out and it becomes well known.
A good mix of draught and bottled beers choosen by Bram, he knows his beers and has some interesting selections. I really hope this place takes off, it certainly should. We know each other from his days at 't Brugs Beertje and we had a good chat about his expectations and hopes, good luck to him!
771 characters
4.94
/5
rDev
+7.9%
vibe: 4.5 | quality: 5 | service: 5 | selection: 5
This place was recommended to us by Daisy (T Brugs Beertje)and well worth the visit! We were in town for 3 days and spend a lot of time here. This used to be "De Zolder" and hasn't changed that much, it improved were needed. Bram is a former waiter from Brugs Beertje and knows his beers! The beerlist contains all the good stuff (90 Belgian beers). Draught beers limited to "classics" and "main stream" such as Brugse Zot blond and La Chouffe but also Inbev beers.
Watch out when going down the stairs, it's tricky to bump your head, watch out even more on your way out (after several beers...)!
The music was great, we heard Otis Redding to Etta James and Joe Bonnamassa to Dave Brubeck. Great selection and taste, played at perfect volume, loud enough allowing conversation.
The bar is beautifull, warm, cozy and clean. Nice artwork on the walls. Get a seat at the bar and meet the locals. Some are here for the beer, some for the whisky (impressive list!) and some "enjoy a Stella" while having a chat. Great place to hang out with excellent service. They are open late (till 2am I think) and so this is the best bar to end your night.
Prices to me were low.
1.80 for a lager, 4 euro for a Rockefort 10 is what I wrote down.
I recommend Comptoir Des Arts all the way!
1,276 characters

4.34
/5
rDev
-5.2%
vibe: 4.5 | quality: 4 | service: 5 | selection: 4
No sign outside, but across the street from 't Poatersgat which is more clearly marked. It's just a staircase down from the street with a few beer signs, no outward indication of what waits below.
An open floor plan, cozy but not tight. Great wood character, very clean, great old R&B music playing at a wonderful level that allows conversation.
We were promptly taken care of with honest evaluation of our choices (warned off a beer I hadn't heard of). Selection is extensive, a couple pages of choices including the old standards and beers I'd never heard of. Our beers were fresh and tasty.
Go on, take the dive, well worth it.
Many thanks to Bierschenker for showing me the way.
Reviewed on: 07-17-2010 21:13:43
716 characters
4.86
/5
rDev
+6.1%
vibe: 5 | quality: 5 | service: 5 | selection: 4.5
This is basically the same review I gave for De Zolder as it has has changed hands again. It is now Comptoir Des Arts Kunstkroeg and is advertising itself as a Jazz, Blues and Soul lounge. If you check out De Zolder reviews, the two reviews below mine are actually for Comptoir Des Arts.
The owner told me he had been there for about 90 days and was a former employee of 't Brugs Beertje. He and his wife had decided to go into business for themselves and were the only employees, so you know you are going to get service from someone who cares about how you perceive your visit.
From the moment we walked in, my girlfriend and I were quite pleased. Except for the evilly low door frame upon entry, everything about this place made us feel at ease. The music was at just the right level and felt right for the cozy stone walled cellar pub. They do have live bands occasionally although none on the two nights we visited. The place was very clean and the washrooms were as well. While we were obviously not regulars or Belgians, we sat at the bar and were welcomed graciously. All questions were answered with patience and all requests were available (unlike a certain place in Brussels, where the staff seemed to deem tourists as not worthy of, at first, a beer list and then, beers from it).
While the draught selection is not huge with 7 taps - I believe it was 5 regulars with 2 rotating specials, including Jupiler for the Belgian regulars (including the young men at the end of the bar playing some sort of dice game) who weren't quite aware of the spectacularness of most of the beers of their country. They also have a very nice bottle list of about 90.
They are also big on whiskey with a nice selection of bourbon and scotch. Girlfriend was very impressed with the Belgian scotch (very nice for a 3 year old, the companies first) and also one from India.
We enjoyed two nights here, just minutes away from Market Square and our hotel, and wish we could transport the place home with us to become our local.
2,019 characters
Comptoir Des Arts in Brugge, Belgium
Place rating:
4.58
out of
5
with
14
ratings