Mesquite Smoked Porter - MSP
| Ranger Creek Brewing & Distilling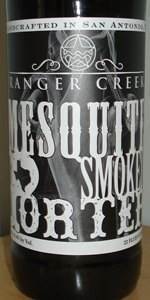 BEER INFO
Brewed by:
Ranger Creek Brewing & Distilling
Texas
,
United States
drinkrangercreek.com
Style:
American Porter
Alcohol by volume (ABV):
6.10%
Availability:
Year-round
Notes / Commercial Description:
No notes at this time.
Added by champ103 on 12-10-2010
Reviews: 63 | Ratings: 186
4.12
/5
rDev
+8.4%
look: 4 | smell: 4.5 | taste: 4 | feel: 4 | overall: 4
Thanks to redredwino (Reddit) for this one.
Pours a huge darker colored head with big fluffy and some lacing as it slowly fades, super dark almost black colored beer.
Nose brings smoke, but not crazy overpowering smoke, some smoked meats, a definite mesquite smoke aroma and almost hickory, then some crystal malts under that, light toasted caramel and hint of black malt aromas.
taste starts again with some smoked malts, there is mesquite but much less prominant than the nose brought, some light smoked meat flavors, and hint of char, some roasted malt flavors bringing a slight burnt char salty flavor, a bit of acidic charred malt flavor that gets just a touch acrid, some malts with that bringing a light caramel and toasted crystal malt flavor, very light black malts and touch of a creamy porter, a bit of bitterness more from the charred malts than any hops. Finishes a bit drier, not sticky like I thought it would be, with a long smoked malt finish, a bit of charcoal like taste, and some bitter charred malt flavors.
Mouth is med bodied, good carbonation as I was a bit worried it would be over carbonated as many try to do with smoked beers to bring the smoke out more but the smoke speaks for itself in this one.
Overall not bad, the charred malt flavors get a bit tough to swallow but they never get too strong, a light burnt acrid taste starts to come but never really dominates, otherwise nice malt flavors, a nice smoke addition, the nose has a nice mesquite smoked aroma, and nice body that wasn't over carbonated.
1,538 characters
3.8
/5
rDev 0%
look: 3.5 | smell: 3.5 | taste: 4 | feel: 3.5 | overall: 4
On tap at Flying Saucer San Antonio, 4.20.11, $4.75 shaker pint.
Little if any head, a thin broken layer of medium brown foam, ultra quick dissipation, over dark brown almost black body, no visible carbonation, a really dark beer. Not picking up much smoke in the nose, but starts to assert itself in taste, big chocolate hit, a bit of burnt brown sugar not molasses, floral and grassy hops. Medium mouthfeel, not much effervescence, got really interesting as it warmed. Worth a try for smoke beer fans.
504 characters
4.54
/5
rDev
+19.5%
look: 4 | smell: 5 | taste: 4.5 | feel: 4 | overall: 4.5
This is as close to a brisket or plate of ribs in a bottle as I have ever had. I was blown away by the smoke and bbq like smell and taste. A great way to diet. The appearance was black black with a very small head. The first sip will catch you off guard.
254 characters
3.9
/5
rDev
+2.6%
look: 4 | smell: 4 | taste: 4 | feel: 3 | overall: 4
A: pitch black crude, the faintest ring of a tan head.
S: smoky kielbasa, paprika, chipotle, molasses.
T: wood chips, obviously, tastes like a sauna smells, charcoal, molasses, savory like breakfast sausage, soy sauce, real sharp sweetness that's broken down by hops lurking in the background and that's absent at the finish
M: medium body, very low carbonation, I'm surprised this wasn't the cask (it wasn't but they did have it), dry bitter charcoal finish.
D: smooth, mild, not too smoky, though it did leave my mouth taste like a smoker's. The mouthfeel was a big drawback for me, it was very flat, considering this was the draft veraion. Otherwise it's well executed beer by a new Texas brewery (new to me at least).
725 characters
4.27
/5
rDev
+12.4%
look: 4 | smell: 4.5 | taste: 4 | feel: 4.5 | overall: 4.5
On tap from the Draught House in Austin. On cask.
A - black with a quarter inch of fluffy tan head.
S - all smoke with a hint of sour mash
T - less smoky than I expected but still very complex, hint of vanilla off the start, with smoke in the middle and finishing with dark malts plus enduring light bitterness
M - light with only slight carbonation
D - slight alcohol warmth, but super smooth
Very nice beer, awesome Sunday patio cool weather beer.
455 characters
4
/5
rDev
+5.3%
look: 4 | smell: 4 | taste: 4 | feel: 4 | overall: 4
I had this on tap at the Flying Saucer in Houston. It was dark brown and opaque, with a thin tan foam. It had good smoked malt aromas, some sweet malts beneath, very solid smelling.
Tastes a lot like Stone Smoked Porter, at least based on memory. Not a bad thing, I appreciated it quite a bit. Lots of smoke character, less of the roasty malt character that you might get from a porter but still you know what you're getting when you order this. A rauchbier through and through.
Medium-to-medium plus body, and easy sipper. This was my final beer for the night, and the lingering flavors kept me satisfied.
610 characters
4.3
/5
rDev
+13.2%
look: 4 | smell: 4 | taste: 4.5 | feel: 4 | overall: 4.5
On tap at the Draught House in Austin.
The beer pours a dark brown color with a tan head. The aroma is heavy on the smoke with some chocolate and roasted malt mixed in. The flavor is more of the same, with the mesquite smoke really standing out. The other flavors, chocolate and roasted/burnt malt, really compliment the smoke and prevent the beer from being overly smoky and hard to drink. Creamy, medium to thick mouthfeel and medium carbonation. I love smoke beers and this one didn't disappoint.
501 characters

4.1
/5
rDev
+7.9%
look: 4 | smell: 4 | taste: 4 | feel: 4 | overall: 4.5
Black. Brown around edges, light tan finger of head.
Smells like a bag of BBQ chips. Smoky, malty, rich, smoked chocolate.
Bitter chocolate, smoky finish, malts, light sweetness, roasty.
A bit thin, but creamy, low carbonation and slick. Smooth though.
Drink is solid. Solid smoked porter.
294 characters

4.15
/5
rDev
+9.2%
look: 4 | smell: 4 | taste: 4.5 | feel: 3.5 | overall: 4
Got it with a size able amount of head(1.5 fingers worth) still in the glass, great black color, the head quickly dissolved into a thin lace ring around the outside of the glass
Smells like smoked chocolat with coffee and that's really all I could get from it, don't get me wrong though the smell was pretty cool!
The mesquite flavor really comes through, coffee and chocolate flavors are present as well as some roasted malt flavor on the finish. The mesquite flavor is present all through out and I was afraid at first that after a few sips it would feel like I was drinking wood pulp but that never happened the mesquite stayed a pleasant flavor the whole time.
Doesn't feel heavy at all and it's very drinkable, the smoke my be a turn off for some but I will certainly be ordering this again
798 characters

4.15
/5
rDev
+9.2%
look: 4.5 | smell: 4.5 | taste: 4 | feel: 4 | overall: 4
Pours a very dark brown with a one finger head that has a slight reddish glow and which provides occasional lacing during drinking. A spicy and smoky nose with noticeable mocha and lots of mesquite-infused malty goodness. It hits the back of the tongue with a woody kick and the expected bite of the coffee. The combination of the moderate carbonation, felt primarily in the front and mid palate, and the bitterness works well. The mouthfeel is semi-dry but not overwhelmingly so, and it is occasionally reminiscent of drinking a well-made root beer as it warms. A pleasant smoky aftertaste that is reminiscent of what one expects after enjoying a dessert containing high percentage cacao.
FourthBeer potential: VERY HIGH, as a good porter with more intriguing taste characteristics relative to others.
803 characters
3.85
/5
rDev
+1.3%
look: 4 | smell: 4 | taste: 4 | feel: 3.5 | overall: 3.5
Tried on tap at Black Star, 8 Jan 2011.
Small dark brown head. Medium carbonation. Very dark brown, almost black. Aroma is smoky and toasty, almost charred. Lots of Roasty smokiness. Some coffee, slight touch of chocolate. Medium body. Moderate alcohol. Mocha and BBQ, like a smoked pork with a cola rub. Finishes with lingering charred malts.
344 characters

3.78
/5
rDev
-0.5%
look: 4 | smell: 3.5 | taste: 4 | feel: 4 | overall: 3.5
mmm, aroma is goood!! like sucking on the exhaust of an oil spewing Trabant.. . high roast level, lip smacking with oil notes, a touch of spicey smoke, tar and very light espresso .. nice balance .. smooth fun beer but as a smokehead- would have liked more sweet smoke! .. but a great beer from this brand spanking new brewery!.. . No its not melissa! its my brother!!
368 characters
4.08
/5
rDev
+7.4%
look: 4 | smell: 3.5 | taste: 4.5 | feel: 3 | overall: 4.5
Sampled at the Ranger Creek grand opening. Musky cheese with some fruitcake and toasted malt aromas. Muddy brown leather in color. Very fruity... raisin and crusty rye bread flavor profile. Banana notes as well. Overall, good! This one should be a crown jewel for Ranger Creek as time goes on. Well done!
304 characters
Mesquite Smoked Porter - MSP from Ranger Creek Brewing & Distilling
3.8
out of
5
based on
186
ratings.