Fireside Ale
| Lumberyard Brewing Company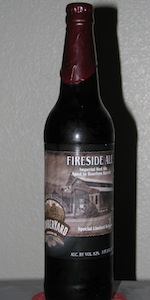 BEER INFO
Brewed by:
Lumberyard Brewing Company
Arizona
,
United States
lumberyardbrewingcompany.com
Style:
American Strong Ale
Alcohol by volume (ABV):
9.20%
Availability:
Limited (brewed once)
Notes / Commercial Description:
No notes at this time.
Added by Phelps on 02-13-2012
This beer is retired; no longer brewed.
Ratings: 14 | Reviews: 6
Reviews by JeffH:

More User Reviews:

4.18
/5
rDev
+2%
look: 4.5 | smell: 4 | taste: 4.25 | feel: 4 | overall: 4.25
Poured a gorgeous, cloudy amber red with one finger of fluffy off-white head that receded slowly and left abundant lacing down the glass. A big, gorgeous looking beer. Scents of fruity esters, figs, dark fruit, some apple and slight sourness, heavy brown sugar, some orange peel
and hints of alcohol. Very well done, not the deepest, most complex aroma, but enticing. Taste begins with caramel malt and brown sugar notes, mingling with a wild sourness that continues throughout the sip. Hop character is fairly high, mostly a citrus pith bitterness that arrives in the middle of the sip and is sustained throughout and lingers on the aftertaste. In the middle there is some faint fruit, hard to tell what, apple mostly. Alcohol and bourbon appear in the background of the finish adding a little weight. Its a good flavor profile, though a little sour for a normal barleywine, which leads me to believe my bottle was infected. But it works and compliments the hops and sweet malty quite well. Mouthfeel is medium heavy bodied, a bit drying and prickly, leaving the mouth with a feel similar to drinking a sour. Rather low carbonation and a bit of an alcohol burn. Quite nice, but again I think the sour-like elements are due to infection. Overall this was good beer, in spite of the possible infection. If my bottle was slightly infected, it worked in the beers favor and added more complexity to a good, malty and hoppy base. I enjoyed it and recommend it, even if you do end up with an infected bottle.
1,503 characters

4.14
/5
rDev
+1%
look: 4.25 | smell: 4 | taste: 4.25 | feel: 3.75 | overall: 4.25
I'm pretty sure this is not retired. Picked up a bottle at the brewery in Flagstaff over the summer July 30th. Consumed last night and full notes taken.
A- Amber red pour from a bomber into several pint glasses with a just about two finger creamy frothy cap. Decent head retention while a large pillow and ring remains. Thick pillows and large blankets of lacing.
S- Light colored slightly toasted oak presence as the barrels lead the aroma. Caramel sweet malts and a bready fruitiness from the yeast. Fresh sappy woody vanilla sweetness.
T- Big malts and a flavorful barrel. The barrel feels fresh but somehow smooth at the same time with woody oak, vanilla, diluted Bourbon Dickel and peppery notes. Amber toasted grains, caramel, citrus and floral hops fairly strong, raisin and nuttiness.
MF- Medium bodied overall and smooth like an Amber rather than an oily Barleywine. Medium high carbonation brings on a somewhat creamy texture. Feels a bit thin at times. Finishes a touch warm.
I like the back and forth between the Amber malts and the fresh and smooth barrel. Actually has a decent amount of hops which really provide a nice angle and balance. More BA Ambers please.
1,182 characters

4.2
/5
rDev
+2.4%
look: 4 | smell: 4 | taste: 4.25 | feel: 4.5 | overall: 4.25
22oz red waxed bottle poured into a CBS oversized snifter.
A - Pours a slightly hazy mahogany tinted amber with a short half finger of foam the falls quickly and leaves behind a thick, foamy collar around the edge of the glass. Traces of lacing linger on the glass.
S - Interesting aroma - a bit different. First whiff, I get some nice fresh grassy hops - a pleasant opening surprise that I wasn't expecting. Behind that I get some potent bourbon and a strong helping of sweet, caramelly, toffee malt. Smells very well balanced - approaching, but not quite barley wine like in impression.
T - I continue to get grassy hops in the flavor too which is very welcome and well placed here. Sweet caramel malt, traces of earthy malt, lightly fruity/estery. Sweet bourbon notes too - integrated nicely without an overbearing intensity. First and foremost this is still a red ale - the barrel adds bourbon nuances with a touch of booziness, but well controlled.
M - Quite full bodied, thick and rather syrupy in feel. Lower level carbonation fits in well adding only a low tingle on the tongue. More tingle from the bourbon boozy warmth, but again at a low level. Just the way I like it - enough to be well noticed, but not so much as to overpower the base beer.
O - Had no idea what to expect going into this - no experience with the beer or the brewery itself...not to mention bourbon barrel imperial reds aren't exactly mainstream either. I find it rather enjoyable. Stops short of being an out and out barley wine in character. Feels lighter although the fullness of the body cannot be denied. I like the firm grassy hop character in the nose and the taste - really brightens things up in both areas. Balance is quite good, drinkability is far better than I expected. I would definitely have this one again.
1,808 characters

3.99
/5
rDev
-2.7%
look: 4.25 | smell: 4 | taste: 4 | feel: 3.75 | overall: 4
Thanks to Cam for sharing this. Unheard of brewery, amber ale aged in bourbon barrels, intrigue all around.
A - Pours a nice amber color with an off-white head. Retention is great and some pretty good lacing left behind as well.
S - Caramelly bourbon, sweet vanilla, toasty barrel, brown sugar. Pretty barrel-influenced but fruity hops and reddish malts make themselves known.
T - More amber ale coming through here bringing citrus, grassy hops, a good mix of sweet toffee+toasty malts. Quite barrely still but blends nicely with plenty o caramel, bourbon, and oaky vanilla. Somewhat reminiscent of a BA scotch ale.
M - Fine body overall, a touch on the thin side with highish carbonation, little bit of alcohol bite.
O - Nice, red ale+bourbon barrel is an unlikely combo and this pulls it off well - pretty good barrel, hoppy amber manages to stay relevant and mesh nicely. A unique and complex treat.
907 characters

3.78
/5
rDev
-7.8%
look: 4 | smell: 3.5 | taste: 4 | feel: 4 | overall: 3.5
Fireside is Lumberyard's Big Rapid Red aged in bourbon barrels for three months. Enjoyed in a tulip at the brewpub.
Slightly hazy cranberry-brown. Thin, fuzzy head of light tan.
Big hits of caramel, red apple, fruity hops, orange peel and apricot in the nose. Just a hint of buttery bourbon on the back, with some vanilla. Not as vibrant as the base beer, sadly.
Buttery caramel and harsh bourbon are noticeable in the flavor, but not huge. Bitterness is big, marked by pithy citrus. Caramel and biscuits come through on the malty side, as does a big, fruity, sugary hit as well as some candied orange. Bourbon isn't huge, but lends an oaky, alcoholic bite. Little heavy on the booze.
An exciteable body. High, prickly carbonation in a sugary, medium feel with just a bit of fizz. A bit of alcohol shows up on the tongue, but I get more in the flavor. Big bitterness.
Fireside isn't as good as the base beer. The bourbon seems to have taken away from the awesome malt sweetness and extended aging has muted the awesome hops. It's still good, just not great.
1,071 characters
4
/5
rDev
-2.4%
look: 4 | smell: 4 | taste: 4 | feel: 4 | overall: 4



4
/5
rDev
-2.4%
look: 4 | smell: 4 | taste: 4 | feel: 4 | overall: 4
4.47
/5
rDev
+9%
look: 4 | smell: 4.5 | taste: 4.5 | feel: 4.5 | overall: 4.5
Picked up a bomber from BevMo in early June for $13.99. Came as a recommendation by one of the Bell Road BevMo guys.
Beer poured a reddish brown with a nice white head upon the initial pour.
Nose has classic barleywine notes, sweet caramel malts and dark fruits dominate with hints of citrusy northwest hops.
Taste is classic barleywine, figs and raisins malt base, aged citrus hops have held up quite well and balance out the malt sweetness. There is a hint of the bourbon booze in the finish but it complements an already very nice beer instead of overwhelming it.
Mouthfeel is medium to full bodied and quite smooth.
Overall this brew has the wow factor for me. I was very impressed with the impy red on its own but the aging process turns the hoppy impy red into a nice balanced barleywine. If you are willing to throw down $15 pricey splurge definitely check this out!
878 characters

Fireside Ale from Lumberyard Brewing Company
4.1
out of
5
based on
14
ratings.