Porter's Rye Ale
| Kaimai Brewing Co.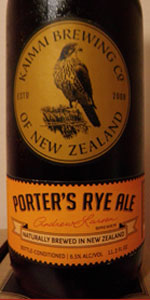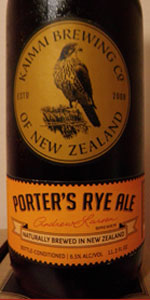 BEER INFO
Brewed by:
Kaimai Brewing Co.
New Zealand (Aotearoa)
kaimaibrewing.com
Style:
Rye Beer
Alcohol by volume (ABV):
6.50%
Availability:
Year-round
Notes / Commercial Description:
No notes at this time.
Added by DefenCorps on 10-14-2010
Ratings: 13 | Reviews: 11
Reviews by CrazyDavros:
3.02
/5
rDev
-13.7%
look: 3 | smell: 3.5 | taste: 3 | feel: 1 | overall: 3.5
Pours black with a massive, growing tan head.
Nose shows chocolate, roasted malt, cocoa and nutty notes. Very appetising.
Flavours also include some chocolate and roasted malt but seem thin. Noticeable acidity in the finish, which includes very little bitterness.
Ridiculously overcarbed.
288 characters
More User Reviews:
4
/5
rDev
+14.3%
look: 4 | smell: 4 | taste: 4 | feel: 4 | overall: 4
11.2 oz bottle gushes when opened in spite of careful storage. First pour results in a glass full of beige foam. It finally settles down to reveal a clear chestnut body. The large foamy head becomes pitted and rocky and deposits some creamy lace.
Aroma has a prevailing dark roastiness, with coffee, toffee, and cocoa notes. Peppery and twangy rye is very apparent.
Body is a creamy medium with plenty of carbonation.
Taste opens with toffee and a nutty maltiness. Coffee and cocoa add depth. Peppery rye is present throughout. An earthy hop bitterness joins with the dark roastiness to balance the meaty malts. A nice black bread character emerges as it warms.
Meaty malts perform well here but the hops and dark roast balance things out. Tasty!
751 characters
3.78
/5
rDev
+8%
look: 4 | smell: 3.5 | taste: 4 | feel: 4 | overall: 3.5
(Served in a dimple mug)
A- This beer pours a dense hazy walnut brown with a thick bubbly deep tan head that settles to a nice cream. This beer is a bit too dense to see any carbonation.
S- There is a light tart and spicy aroma that gives way to a more full coffee roasted malt aroma which grows as the beer warms, but still remains mellow. There is a light smoky char note that comes through as the beer opens up.
T- The deep dark dry toffee flavor has some spice quality to it with a coffee roasted malt behind it. There is a light smokey note in the finish with some chocolate notes aswell. There is a light watery tartness after the malt that grows as the beer opens up.
M- This beer has a medium mouthfeel with a tight little fizz and no alcohol heat noticed.
D- This is a nice beer but it is a bit subtle in flavor, and might make a good session beer. However the aroma was just a bit off or odd and it got in the way of the flavor a bit.
949 characters
3.75
/5
rDev
+7.1%
look: 4 | smell: 4 | taste: 3.5 | feel: 3.5 | overall: 4
Porter's Rye Ale
A: slightly hazy amber to brown. Appealing ruby highlights in the light. Tight small carbonation leaves a nice creamy half cm head that stays to the bottom of the glass.
S: English character. Subtle English or nobel hops and slight toffee note. Some fruitiness.
T: toffee and roasty grain character. Some spice, coffee with tartness on the finish of the palate. Low restrained bitterness And hip character.No alcohol presence balanced and rounded out nicely. 
M: Medium body than finishes dry.
O: rather sessionable and unusually refreshing for an amber/brown porter. 
588 characters
1.75
/5
rDev
-50%
look: 3.5 | smell: 3.5 | taste: 1 | feel: 1 | overall: 1
330 ML bottle
A-- Just like everybody else has said so far. Lots of carbonation. Slow pour got a two finger light brown head. Decent swirling got three fingers of head. Go figure. Dark brown, near black body. Good amount of ruby showing in this. Rather clear though. Head finally settled down to a thick film and left a 1/4 strip of lacing.
S-- Carmel, vanilla, chocolate and slightly spicy and earthy nose. Nice attention grabber.
T-- Prickly carbonation and slightly sour. Bummer, quite infected.
M-- High carbonation and sour lemon notes reign supreme in this.
O-- Drain pour as sour notes just ate this up. Nice nose but infected as heck. massive fail as more like a home brew gone bad. Bummer
706 characters
4.05
/5
rDev
+15.7%
look: 4 | smell: 4 | taste: 4 | feel: 3.5 | overall: 4.5
On tap at Max's today. What a beer!
Hazy, turbid dark brown with reddish brown highlights, there's a light brown head that recedes leaving little lace. The nose is just refreshing. Soured rye with sourdough and some cocoa and roast, the nose really reminds me of the New Glarus Old English Porter. Dry cocoa, lactic sourness with grainy tannins, this is quite excellent.
The palate opens tart with lactic sourness, grainy tannins and cocoa with coffee grounds. The lactic sourness really cleans up on the finish, resulting in a clean, dry, tart character with a little cocoa. Rye spice is present mid-palate. A touch watery on the finish, the high carbonation is a little too scrubbing. Refreshing and enjoyable, I will drink this again.
744 characters
3.55
/5
rDev
+1.4%
look: 3.5 | smell: 3.5 | taste: 3.5 | feel: 4 | overall: 3.5
Purchased from the Liquour Collection, Honolulu, HI.
Appearance: Look out below! This one gushes with foam. Just be paitent and it will subside.
Murky brownish in color with an offwhite foamy head that starts at a massive 3-finger, but levels down to a thinner lacing
once it warms up.
Smell: Sweet syrup like molasses. Plum/raisin smell with some dark bread elemnets (rye?).
Taste & Mouthfeel: Intially thin in body with a sweet, dark wine flavoring. The rye is there, along with a carbonation spike
that melds into a creamy mouthfeel. Levels back down to a dry,tart dark cherry flavoring. Ends with a dry bite with one of the best floral backgrounds that I've had in a beer before.
Overall: What a suprise! I'll admit that the combonation of the bird on the label and the word, "Rye" had me at first, but the
beer itself was equal to what my eye first had spied. The first venture with the Kaimai Brewing Co. was an excellent one that I'm looking forward to continuing with.
986 characters
4
/5
rDev
+14.3%
look: 4 | smell: 4 | taste: 4 | feel: 4 | overall: 4
Pours a dark mahogany cherry hue which leaves a two finger well carbonated head which shows heaps of bubbles in it and leaves a rim of lacing,the smell is spicy rye,chocolate coated cherries and roasted malts,the mouthfeel is light bodied and well carbonated with tastes of spicy rye,fruit punch,chocolate,a touch of coffee and finished a punchy tart cherry finish and overall its not bad at all and very different to your normal run of the mill Porters and would drink again cheers.
483 characters
3.95
/5
rDev
+12.9%
look: 4 | smell: 4 | taste: 4 | feel: 3.5 | overall: 4
A: three finger frothy head with little rentention, dissipates rapidly. Murky brownish black.
S: Lots of roasted malt and coffee. some brown sugar
T: Toasted rye, toffee and roasted malt which fades to a very smooth smokey and mostly chocolate flavored finish.
M: thinner than I expected. High carbonation. oily in the finish.
Overall: A very nice beer actually. The carbonation is too much but the taste is smooth and different. The rye is actually present and not overwhelemd by the roast malt.
500 characters

4.2
/5
rDev
+20%
look: 4 | smell: 4 | taste: 4.5 | feel: 4 | overall: 4
A - A ridiculous, excessive five finger head of foam that makes it difficult to actually pour the beer, though it settles down pretty quickly and leaves very little lace. The body is a dark brown color with almost no light showing through.
S - A brown, malty aroma of nutty caramel and chocolate. A hint of smoke and some light pine hops in the background.
T - Dark bread, caramel, and toffee up front. Some darker notes of chocolate and licorice come up in the middle and fades into a smoky coffee flavor in the finish as the malt is balanced by moderate bitterness and light pine hop flavor. Coffee, smoke, and dark chocolate linger in the aftertaste.
M - Medium body, very high carbonation, and a balanced finish.
D - Aside from the bizarrely high carbonation, this is a very nice beer. The malt character is intense and complex, but it doesn't ever become overwhelming and the mild but noticeable hop presence keeps the beer from being on dimensional. Quite good.
971 characters
2.72
/5
rDev
-22.3%
look: 4.5 | smell: 2.5 | taste: 2.5 | feel: 3.5 | overall: 2.5
Clear, dark mahogany colour that verges on opaque brown. Nice, creamy, light tan head with great head retention.
Lightly roasty but with a prominent acetic note. Some fruit but mostly tart.
Roast gives way to a fruity, lightly acidic note. Some caramel sweetness. Clearly this is a bit infected.
Medium-light body with moderate carbonation. Decent.
Infected. Unfortunately, it appears that Kaimai has some issues with bottle quality and this lets the beer down. I can see a nice base in this beer with the roast and malt character and some fruit. The tartness just thins is out though.
589 characters
Porter's Rye Ale from Kaimai Brewing Co.
Beer rating:
61.5%
out of
100
with
13
ratings