Tres Cruces
| Ajeper S.A.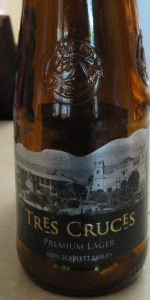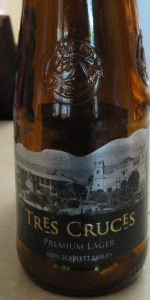 BEER INFO
Brewed by:
Ajeper S.A.
Peru
ajegroup.com
Style:
American Pale Lager
Alcohol by volume (ABV):
5.00%
Availability:
Year-round
Notes / Commercial Description:
No notes at this time.
Added by twiggamortis420 on 03-18-2012
HISTOGRAM
Ratings: 10 | Reviews: 5
Reviews by GMB:
More User Reviews:

2.09
/5
rDev
-35.9%
look: 3 | smell: 4 | taste: 1.5 | feel: 1 | overall: 1.25
I had very high hopes for this beer as it was made in Peru and I guess the images of Machu Picchu and the Incas got the best of me. I have had a six pack of this beer in my fridge since last fall as I was saving it for a long time. Finally tried one tonight and all I can say is that I was very disappointed. Bottle mentions that it is made of scarlett barley so I was highly anticipating a tasty brew. Pours a very clear light yellow with a 3/4 inch head that quickly dissipates. Smells like honey. Took a sip and it is flat and tasteless. No carbonation at all. I'm trying to be very impartial here but is this the worst beer I have ever had in my life? Even worse than the Chili Beer? A resounding yes. At least the Chili Beer had the flavor of chili peppers! This thing is tasteless, lifeless and flat as hell. Took a few more sips just to make sure I was not dreaming or missing anything and then poured the rest down the drain. And the next thought was who the hell was I going to offer this beer to? I can't give this to my guests at the next party. That would be cruel and unusual punishment. Well maybe I will as it would be a nice discussion topic.
1,158 characters

3.7
/5
rDev
+13.5%
look: 3.5 | smell: 3.5 | taste: 4 | feel: 3.5 | overall: 3.5
12 oz bottle pours a crystal clear, dark gold color with a tight-bubbled cap of white head. Retention is not bad for the style and it does leave a few patches of spotty lace.
Nose is not bad either, honeyed cereal grains and kiss of floral hops. Clean and relatively fresh.
Taste is very clean graininess with a nice little toasty aspect. Not bad, goes down easy and this is one of the better imported lagers I have had recently. I would like to see a more pronounced hop presence on the flavor, but maybe a fresher sample would show a bit more lupulin. If I found myself wandering the streets of Lima, I would be happy to throw back a few of these.
655 characters

3.94
/5
rDev
+20.9%
look: 5 | smell: 3.5 | taste: 4 | feel: 4 | overall: 4
First beverage of my Peru trip, beer or otherwise, and it's not a bad one at all. A helluva looker poured into a tall pils glass, this golden brew is topped with a huge meringuelike head. Excellent retention and abundant soapy lacing top to bottom. Fresh grainy nose with light floral sweetness and an earthy quality underneath. Tastes pretty much as advertised, although the snap of bitterness and hint of citrus are pleasant surprises. Plentiful carbonation and plentiful chuggability. Exceedingly refreshing. Something tells me I may revisit this brew a few times before this trip is over.
592 characters
3.24
/5
rDev
-0.6%
look: 3.25 | smell: 3 | taste: 3.25 | feel: 3.75 | overall: 3.25
A - Clear, pale, straw yellow color with a one-finger, white head of bubbly foam. It left little to no lacing.
S - It smelled of caramel, grains and grasses.
T - Spicy upfront with a nice sweet backbone of caramel and grains.
M - It was crisp, sharp and smooth. A light bodied lager.
O - This is an okay pale lager. Only my second Peruvian beer.
349 characters

2.84
/5
rDev
-12.9%
look: 3 | smell: 2.75 | taste: 2.75 | feel: 3 | overall: 3
Regarding the others peruvians beers, this one is a bit better. The color is yellow and gold, thin foam and average carbonation. The taste is malty, few hop, a bit watery. A perfect lager for hot days in Piura or Lima.
218 characters
Tres Cruces from Ajeper S.A.
Beer rating:
3.26
out of
5
with
10
ratings