Terrapin SunRay Wheat Beer
| Terrapin Beer Company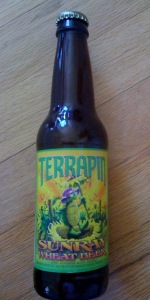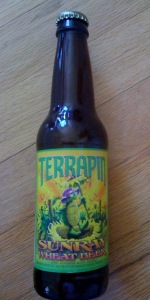 BEER INFO
Brewed by:
Terrapin Beer Company
Georgia
,
United States
terrapinbeer.com
Style:
Hefeweizen
Alcohol by volume (ABV):
4.50%
Availability:
Summer
Notes / Commercial Description:
No notes at this time.
Added by ncvbc on 09-27-2008
This beer is retired; no longer brewed.
HISTOGRAM
Ratings: 238 | Reviews: 180
2.78
/5
rDev
-21%
look: 3 | smell: 2.5 | taste: 2.5 | feel: 3 | overall: 3.5
A so so wheat ale. Everything about this beer was average. The aroma was stale malt with some grass, a hint of skunk and beer. Pour was a medium gold with a thin off white ring for a head with no bubbles. Taste was too malty for a wheat ale. Stale light malt with a wheaty bite and just slight carbonation
305 characters
2.83
/5
rDev
-19.6%
look: 3.5 | smell: 3 | taste: 2.5 | feel: 3 | overall: 3
12oz bottle into stange-like water glass (not at my house).
Cloudy golden orange hue with a two finger white head with a little bit of tan color where the yeast went through.
Tart wheat aromas set a base for the string citrusyness with a little bit of clove.
A little bit of banana is in there, but the flavor seems to have a lot of spice and clove. A little bit of mild orange (the fruit, not the color) flavors are in there. Medium bodied with high carbonation.
Certainly not close to a true hefe weizen, but closer to an American Pale Wheat Ale. Either way it's not the best I've had. The creamy banana was on the low end and there was a little too much spiciness.
672 characters

3.85
/5
rDev
+9.4%
look: 3.5 | smell: 3.5 | taste: 4 | feel: 4 | overall: 4
I would guess this was an American Pale Wheat ale and not a Hefeweizen, but I guess I'm wrong there.
Yellow to Beige body with a fairly small white head. Doesn't leave much lacing around.
Smells of some fruits, bannanas, lemon, apples. Some peppery yeast notes. Floral hop aroma.
Fruit is noticeable in the taste also. Bannana lemon and just a tiny touch of apple again. However, the most prominant flavor is the peppery characteristics from the yeast. Tastes like white peppercorns. The whole brew is backed with a flowery hop profile that is not strong, but is strong for the style. Finishes with just a kiss of honey that works rather well.
Very light, well carbonated.
I liked this beer. If you're a fan of wheat beers, I would say it's worth a shot.
760 characters

3.65
/5
rDev
+3.7%
look: 4 | smell: 4 | taste: 3.5 | feel: 3.5 | overall: 3.5
Pours a hazy pale yellow-ish color with a big, fluffy white head. In the aroma, wheat notes, honey, clove, and a small tobacco hint. In the taste, wheaty, honey and tobacco, with some citrus notes. A small bite and medium bodied mouthfeel, with a small dry, citrus aftertaste. Pretty nice, honey and tobacco notes makes it more interesting.
340 characters
3.52
/5
rDev 0%
look: 3 | smell: 3.5 | taste: 3.5 | feel: 4 | overall: 3.5
A. 12 oz poured into a pint glass. Cloudy pale yellow with just a trace of head.
S. Smells of bavarian yeast and some straw like grains. Not a very strong smell but nothing out of place.
T. Heavily carbonated with a wave of bubbles hitting the palate. Bavarian yeast strain hints of banana. Slight roasted edge. Good but not great.
M. Crisp, high level of carbonation. Pretty refreshing, solid.
D. Pretty decent hefe here. Good thirst quencher for sure. Lacks on the flavor dept. Still falls in the middle of the pack though.
529 characters

3.45
/5
rDev
-2%
look: 3.5 | smell: 3.5 | taste: 3.5 | feel: 3 | overall: 3.5
12oz bottle poured into a pint glass.
Pours a hazy, bright yellow with a short lived white head that dissipates to a ring with little lacing.
Smell has all the typical hefe elements with bananas, clove and the wheat in the background. It's the hints of honey that make it slightly different.
The honey comes through a bit more in the taste and the other hefe characteristics stay in the background with the clove joining the honey prominently in the finish.
The mouthfeel is a smooth with the honey but also a little prickly with carbonation and spices.
This is a decent hefe and the honey is a nice twist though it's not quite as drinkable as some of the world class hefes.
679 characters
3.7
/5
rDev
+5.1%
look: 3.5 | smell: 3.5 | taste: 3.5 | feel: 3.5 | overall: 4.5
Had this on tap at the brewery (several glasses), so how I misplaced my notes. Poured up in the Terrapin Pint glass they give you for the tour.
A: Pours a nice orange to golden color. It is hazy and cloudy like you expect from a wheat beer. Has a decently frothy white head off the pour but has little retention. What foam that does linger leaves a bit of lacing on the glass. Not a bad looking brew.
S: Smell is what you expect. Nice notes of wheat coming through. Honey sweetness is the show stopper though. Nice honey notes pour from the nose. Clove and banana are there as well. Pretty nice.
T: Once again the honey is there and wants you to know it. Really makes this Hefe somewhat sweet and mixes it up a bit IMO. Wheat is subtle and pleasant. Clove, banana, citrus and touch of apple can all be noticed in the flavor profile. Very nice.
M: This is a bit thin but nothing that puts you off. Medium in body that is very refreshing and easy drinking. Carbonation is not too crazy. It is a bit slick and sticky in the mouth, coating a touch and leaving behind honey aftertastes. Dig it.
D: This is a solid brew from Terrapin IMO. Nice that it is a new beer to the line, but a bit disappointing that you can only get it in the mixed 12s. Sixers would be really nice to have for sure. This beer goes down so easy and really quenches the thirst when you need. Flavors and interesting and enjoyable. Worth a try IMO.
1,421 characters
3.7
/5
rDev
+5.1%
look: 3.5 | smell: 3.5 | taste: 4 | feel: 3.5 | overall: 3.5
Very nice artwork on the label of a turtle in the sunshine. Poured into a pint glass.
SunRay pours a bright sunshiny yellow. This Heffe is unfiltered, cloudy, and Pale. A wheat beer with a small white head that leaves very little lacing.
The aroma is of banana, clove, and honey. It has a light aroma, nothing to overpowering.
A mild Hefeweizen, not really lacking in flavor but a soft mixture. A nice combination of banana, spice and honey. Basicly in that order. The honey at the end is the best part about this beer.
The mouthfeel is thin and creamy. A medium bodied beer that finishes dry.
Drinkability of the SunRay Wheat Beer is pretty good. Easy to drink but is a mild version of a Heffe.
701 characters
3.24
/5
rDev
-8%
look: 2 | smell: 3 | taste: 3.5 | feel: 3 | overall: 3.5
12oz brown bottle with a freshness date on the side of the label.
Not much of a psst! when the cap was cracked off, pours a thin white lace and the last 1/4 of the beer was swirled in the bottle and the yeast was poured into the glass to show a cloudy beige golden color. A little spicy and nutty in the aroma from the yeast, fruitiness ranges from apple skin to a faint ripe banana. Smooth and semi-slick medium body, bread wheat runs a little dry. Quick kiss of fermented honey with a mild hopping in back. Fruity spicy mix from start to finish show a light clove flavor and mild tropical fruit. Finishes dry.
Not half bad, it sits in the middle of the pack when you look at all that is available both domestic and imported. Worth a try if you are into wheat beers.
769 characters

3.75
/5
rDev
+6.5%
look: 4 | smell: 4 | taste: 3.5 | feel: 3.5 | overall: 4
Had from a 12 oz bottle found in the Terrapin variety pack. Pours a slightly hazy pale golden with a relatively thin head that fades to a thin ring. Smells sweetly of honey, banana, and light spice, but light on the clove. The taste is a bit thinner than I'd like. It starts sorta empty and grainy and slowly adds some sweet banana and honey, but stays remarkably light in flavor. Smooth, but perhaps a tad too much carbonation. This is enjoyable, and crisp, but it could use a bit more creaminess and intensity of flavor.
522 characters
3.65
/5
rDev
+3.7%
look: 4 | smell: 4 | taste: 3.5 | feel: 3.5 | overall: 3.5
I poured this beer into a Terrapin pint glass from the new 12oz bottle that came in the mixed 12 pack. The body of the beer is a cloudy orange with a decent sized frothy head that is just off white and dissipates down to a ring and wisps across the top the beer. A little bit of lace is left of the size of the glass, but I really would have expected a bigger head and more lace from a beer with such a high amount of wheat.
The aroma is mostly sweet honey and banana with a subtle clove undertone.
The flavor of the beer is also up front with sweet honey and banana, but clove also swims around with a bit of alcohol. The flavor is just a bit sweet and not quite as refreshing as one would hope from a wheat beer.
The body is also a bit big for the style and the beer is a big cloying. Again, not quite as refreshing as one would hope.
Overall, its a decent American Wheat. It just lacks the balance, depth, and refreshing quality of the big boys. Either way, a nice crossover beer, and this one should have a good big of appeal. Certainly better than other options out there.
1,081 characters
3.87
/5
rDev
+9.9%
look: 3.5 | smell: 4 | taste: 4 | feel: 4 | overall: 3.5
Got this on-tap at Trappeze after not being able to get it at either the brewery or Trappeze the day before. I was really glad to get a chance to try this so fresh.
Pours a cloudy lemon color with a half-finger white head that dissipates quickly into a wispy layer and a thin ring around the glass. Eventually the head disappears completely and there are a few bubbles clinging to the side of the glass. Almost no lacing.
Smells good. Big bubblegum, banana, and clove aromas.
Tastes similar to how it smells. Sweet and fruity up front, then crossing over into a mild spiciness before reverting back to sweetness at the end of the sip. There's a very slight light fruit aftertaste that leaves me wanting more.
Mouthfeel is good. It's got a very good thickness for a Hefeweizen (or whatever it is), however the carbonation is a bit too heavy in the beginning, but as it warms it evens out a bit.
Drinkability is good. It went down easily enough, but I didn't really want to order another one.
Overall this is an interesting beer that's been tacked on to Terrapin's repertoire. I won't be snapping this one up like I have BHM and others, but it's certainly worth a shot.
1,173 characters
3.93
/5
rDev
+11.6%
look: 4 | smell: 3.5 | taste: 4 | feel: 4.5 | overall: 4
I have heard this is a Pale Wheat Ale but it was listed otherwise on the menu at Trappeze, so I'll go by that.
A hazy golden pour with a rich, creamy head, slowly fading to a ring. Somewhat subtle on the nose but very clean and refreshing. Light coriander, clove, and bubble gum. Great taste with light spices and a hint of some hops underneath. A great bready yeast rounds it out and again there is a touch of bubble gum. Nice, creamy texture with ample carbonation that makes this one go down all too easy. I only had one but I could stick with this for a few pints, no doubt.
580 characters
Terrapin SunRay Wheat Beer from Terrapin Beer Company
Beer rating:
3.52
out of
5
with
238
ratings