Dismiss Notice
Terrapin TomFoolery
| Terrapin Beer Company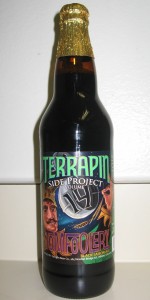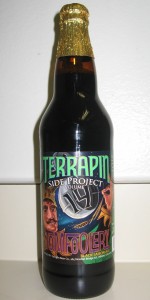 BEER INFO
Brewed by:
Terrapin Beer Company
Georgia
,
United States
terrapinbeer.com
Style:
Saison / Farmhouse Ale
Alcohol by volume (ABV):
7.30%
Availability:
Limited (brewed once)
Notes / Commercial Description:
This is Terrapin's 14th side project.
Added by Anthony1 on 02-08-2011
This beer is retired; no longer brewed.
HISTOGRAM
Ratings: 140 | Reviews: 92

3.4
/5
rDev
-2.9%
look: 4 | smell: 4 | taste: 3 | feel: 4 | overall: 3
22oz bottle
A- Pours a dark black color with a nice light tan head with great retention and lacing.
S- At first whiff, the aroma has a lot of the spices and fruity esthers that I enjoy out of a regular saison. However, the background features some faint roasted malts that support the dark color.
T- The taste has some roastiness up front with spices and a Belgian fruity characteristic as well. The finish has some more roasted malts along with some Belgian yeast. The taste almost reminds me of a cross between a saison, tripel and a dry stout. Not bad, I just feel the different flavors tend to clash and don't mesh particularly well.
M- The mouthfeel is is medium bodied with a good amount of carbonation.
D- Overall, this one was interesting to try but it didn't quite work the way I was hoping. Not bad though, worth a try.
834 characters

3.03
/5
rDev
-13.4%
look: 3.5 | smell: 3 | taste: 3 | feel: 3 | overall: 3
A: Pitch black color, with about a finger or so head that melted into a mere dark peppery brown ring around the brew within seconds. No light passing through whatsoever.
S: Strong smell of rye and maybe something else with kind of a burnt quality... tobacco perhaps? No fruit... just dark malt and maybe a tinge of wheat.
T: Same taste throughout from start to finish. Rye, rye, malt, wheat, and even more rye. This one would have benefited greatly from a bit more fruitiness.
M: Nothing light or refreshing about this brew... and therein lies the problem. The carbonation was OK, and there is malt to spare.... too much malt even. My mouth became very dry and my palate started to crave something fruity!
D: Definitely not. It seems like Terrapin releases a beer about every month... all ranging from marginal to outstanding. I'll put this one in the former category.
872 characters
3.93
/5
rDev
+12.3%
look: 4 | smell: 3.5 | taste: 4 | feel: 4.5 | overall: 4
On cask during Flying Saucer Raleigh's 11th anniversary served in a tulip glass a deep opaque black with a thin slowly diminishing light tan head that leaves decent lacing on the glass. Aroma is lemon peel, pepper, and a bit of cocoa. The taste is a nice blend of sweet malts, spice and just a touch of dark malts, very interesting for such a dark beer. The beer is quite light and crisp with smooth carbonation. This is a great saison, if I were blind, I would think this was a regular saison.
494 characters

1.71
/5
rDev
-51.1%
look: 3.5 | smell: 2.5 | taste: 1 | feel: 3 | overall: 1
In a word- yuck! I really disliked this beer. I've had other black saisons, and although I've enjoyed a few of them, I generally think it's the wrong direction to take a saison. This one in particular has far too much dark malt to pull off the balancing act between saison crispness and spiciness, and the dark brooding flavors of the malt. There is a huge bubblegum component here as well, particularly in the aroma, and while not out of place for the style necessarily, here it seems exagerated almost to the point of parody. far more egregious to me, however, is the fact that this beer has a pronounced bandaid flavor to it. This is often the result of infection. Now, there are a few funky beerss that sucessfully utilize a hint of these flavors from the wood that they age in, but not only do those beers ride a razor thin edge of acceptability when exhibiting those flavors, but even then I can't help but feel that they would better without that particular dimension of taste. In this case, there is no edge being ridden. There is simply too much bandaid. Now, it could be an infection, If so, so be it. I could understand, and excuse that if it were an older beer. But a brand new Side Project, freshly bottled and bought that exhibits those qualities is simply the fault of the brewery. I've come to expect better and to hold the brewer accountable for the lack of quality control. Either way, I didn't enjoy this beer (although I usually do enjoy Terrapin's offerings). Oh well, here's hoping 15 is better.
1,517 characters

3.65
/5
rDev
+4.3%
look: 3.5 | smell: 3.5 | taste: 3.5 | feel: 4 | overall: 4
Pours a very dark brown color, bordering on black. Off-white head forms and doesn't last terribly long and does not present much lacing. The nose brings forward quite a bit of yeast with some spice and earthiness dominating along with a bit of light citrus and some darker malts. The taste falls along the same lines. Nothing too overpowering, though it lacks complexity. Mouthfeel is nice--good body and nice carbonation. Drinks fairly well and went down quite smoothly. I'd have this again but wouldn't specifically seek it out.
530 characters

3.65
/5
rDev
+4.3%
look: 4 | smell: 4 | taste: 3.5 | feel: 3.5 | overall: 3.5
A - Pours with one finger of medium tan head on top of a black body with some dark brown highlights showing through. The head settles slowly and leaves moderate lace.
S - Yeasty notes of bubblegum and light clove with some darker spice note of cinnamon and allspice in the background. A little bit of bready malt supports the yeast with lots of brown sugar and a hint of molasses.
T - Brown, malty bread flavor up front with sweet brown sugar. Spicy yeast comes out in the middle, notes of clove and allspice as well as light bubblegum. The beer finishes with moderately dry, toasty malt and some smoky molasses flavors as well as a renewed bubblegum character. Light bitterness balances and there may even be some spicy hop flavors in there somewhere, but the molasses character is so strong that I can't really tell.
M - Medium-thick body, moderate carbonation, and a slightly sweet finish.
D - Not bad, though I can't say I am in love with the yeast character. This is a strange style and it is really hard to even know what to expect. The dark sugar character really dominates the flavor and while the yeast is also prominent, it interacts with the dark malt is weird ways. Bubblegum and molasses is a very odd combination and it doesn't work as well as fruitier yeast character probably would. The clove also clashes with the dark malt a bit and it is pretty far away from the bright, tropical fruit character that is usually present in a normal saison. Still, it is an interesting beer and worth a try if you come across it.
1,534 characters

3.38
/5
rDev
-3.4%
look: 4.5 | smell: 4 | taste: 3 | feel: 3.5 | overall: 3
bomber poured into a Sam Adams glass
A - black; nice creamy head; very good lacing
S - malts and sour yeasty notes
T - citrusy zing (though not hops) to go along with the Belgiany yeast; the malts are here, adding a different, though not necessarily welcome, flavor
M - pretty creamy for a saison, low carbonation level
D - different, but nothing about it screams "wow" other than the novelty of all the malt; alcohol warms you
432 characters
3.67
/5
rDev
+4.9%
look: 3.5 | smell: 4 | taste: 3.5 | feel: 4 | overall: 3.5
Another Terrapin side project! Very excited.
A - Pours a nearly opaque black with a two finger tan head. Leaves very little lacing.
S - Smell is similar to a normal saison. Spicy and fruity. But a coffee smell is in the nose as well and I'm not sure it works.
T - Taste follows the nose. Fruity and spicy as you would expect from a saison but there is just a slight coffee/chocolate tinge to the taste throughout. Very unique.
M/D - Mouthfeel is a little more full than a normal saison. Drinkability is slightly lower because of the thicker mouthfeel.
An interesting and very unique brew from my favorite brewery. I can't say that I would seek it out again but I enjoyed it.
679 characters
3.55
/5
rDev
+1.4%
look: 4 | smell: 4 | taste: 3.5 | feel: 3.5 | overall: 3
Black in body with light coffee head that sticks around for a while. Aroma of spices, plums, and grapes. Tastes of plums, dark fruit with spice, slight cola, and booze. Medium bodied with medium carbonation. Good but difficult to drink a few pints of it.
255 characters

3.3
/5
rDev
-5.7%
look: 3.5 | smell: 3.5 | taste: 3.5 | feel: 2.5 | overall: 3
A- Black body with a creamy tan head
S- Yeasty, spicy, herbal hops, some citrus notes in there too
T- Citrusy/floral hops from the start, some spices in the middle and finishes with a touch of bitterness I'd expect from a saison
M- Light/medium body, seems lacking
D- Not a bad beer, but if I were in the mood for a saison, I would turn to others first. If I wanted something on the lighter end I could see myself coming back to this (trippy that it's light since it's such a dark body)
491 characters

3.3
/5
rDev
-5.7%
look: 4 | smell: 4 | taste: 3 | feel: 3 | overall: 3
appearance: deep dark black, nearly ebony, loaded head
smell: loaded belgian yeast smell, and sublte chocolate aromas
taste: very belgian yeast forward beer. dark malts brought some chocolate and it had a spicy tinge to it.
mouthfeel: medium bodied anf highly carbonated
drinkability: what's going on with Terrapin lately. Some of the last side projects have been a littl eoff. Not liek them
397 characters

3.57
/5
rDev
+2%
look: 3.5 | smell: 4 | taste: 3.5 | feel: 3 | overall: 3.5
A: Poured into a pint glass, this brew pours almost a pitch black with a tan head that is about 3 fingers thick, but doesn't have the balls to hold up after the last sip.
S: The aroma actually smells like a good Saison. A yeasty Belgium spice and cloves. This brew has a good herbalness to it that one would inspect.
T: The flavor is like a cross between a BSDA and a Saison. Don't be fooled by the darkness, this brew is not as strong as it looks. More herbal notes and Belgium spice, but not enough complexity to satisfy the pallet.
MF: Mouthfeel is average at best, this brew has no body...I thought this was Belgium inspired?
D: Drinkability is meh....this is an average brew.
Overall, if this brew was on tap, I wouldn't mind it. It is crafty, but off for the style. I would have keep the strong spice notes in this brew, added a dab of chocolate malt with dark fruit (figs and raisin) notes and turned this into a bad ass BSDA.
938 characters

2.45
/5
rDev
-30%
look: 3 | smell: 3 | taste: 2 | feel: 3.5 | overall: 2
A: Tomfoolery is near black, and has little in the way of a head.
S: An unpleasant combination of chocolate and coffee are mixed with fruity/spicy esters.
T: More coffee, fruit, and spice. Who thought this would be a good idea?
M: Light body, high carbonation, no texture.
D: This might not be so bad if the roasty flavors weren't so prominent. I'm all for trying new things, but this just isn't appetizing.
411 characters
3.41
/5
rDev
-2.6%
look: 2.5 | smell: 4 | taste: 3 | feel: 3 | overall: 4
Pours a ever so slightly hazy very-dark-brown with two fingers of tan foam, settles quickly to a thin ring and leaves a few splotches of lace. Missing the billowing long lasting head of a nice saison.
Smell: a big hit of rye bread with a little lemon peel. Faint fruity notes in the background (pear, banana) and a touch of roasted grains.
Taste: again it's mostly about the rye but this time with a little more of the black malt. Spicy, grainy with a tinge of earthy hopping, balancing sweetness, and finishes peppery. A bit undercarbonated.
More interesting to look at than to drink. Ignore the black saison label, it's really a heavily rye'd saison and if they had gotten more out of their yeast (or had less muddied its contributions) this could have been pretty good. As it is, another in a string of disappointing side projects.
840 characters

3.62
/5
rDev
+3.4%
look: 3.5 | smell: 4 | taste: 3.5 | feel: 3.5 | overall: 3.5
TomFoolery is Terrapin's 14th side project.
I had it on tap at the brewery, poured into a pint glass.
Pours dark, but transparent, thin head, with some lacing.
A nice fruity/peppery aroma. smelled slightly grassy/earthy. nice hint of hops and smokeyness.
The taste was somewhat unexpected. it started as a fresh saison, with a stronger expected roastyness at the end. had citrus notes of, perhaps lemon peel, with a pepper spice.
very crisp feel to it
i enjoyed it at first, but was undecided about the drinkability.
I will redo this review when i have a proper pour into a better glass.
595 characters
Terrapin TomFoolery from Terrapin Beer Company
Beer rating:
3.5
out of
5
with
140
ratings