Terrapin Midnight Project Peaotch
| Terrapin Beer Company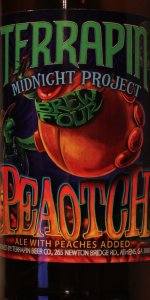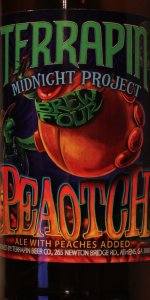 BEER INFO
Brewed by:
Terrapin Beer Company
Georgia
,
United States
terrapinbeer.com
Style:
Fruit / Vegetable Beer
Alcohol by volume (ABV):
7.20%
Availability:
Limited (brewed once)
Notes / Commercial Description:
Ale with peaches added. Brewed in collaboration with Left Hand Brewing.
Added by 7ways on 09-21-2011
This beer is retired; no longer brewed.
HISTOGRAM
Ratings: 86 | Reviews: 39
3.65
/5
rDev
+1.7%
look: 4 | smell: 4 | taste: 3.5 | feel: 3.5 | overall: 3.5
A= It had a strong amber/orange color nice foamy white head kind of disappears rather quick. Some spotty lacking.
S= The smell is what the label says and that is peaches. The peach smell is very strong I really like the nose of this beer.
T= The taste is peaches not as strong as the nose with some wheat in there tasted nice just wished it would have had a stronger peach taste.
M= Nice carbonation, A little on the lighter side nice clean finish.
O= Overall, it was a good beer I was really impressed with nose and appearance of this beer it is worth a try and would probably get it again.
595 characters
3.69
/5
rDev
+2.8%
look: 3 | smell: 4 | taste: 3.5 | feel: 3.5 | overall: 4
The amber colored body was lightly carbonated, with little to no head formation. The lack of foam allowed the peach aroma to come through very clearly. Taste was very malty with more than a hint of peach. There was a lot of the juicy fruit in the barrel apparently, as little else was detectable in the flavor. Mouthfeel was medium thick, and the finish was sticky and sweet. A bit one dimensional, as most fruit beers are apt to be, but deliciously peachy.
457 characters
3.92
/5
rDev
+9.2%
look: 3.5 | smell: 4 | taste: 4 | feel: 3.5 | overall: 4
Aroma is malty with a strong overtone of peach. I love peaches! (My roots are in Georgia, though I was born in Canada.) It pours an attractive clear amber with a fairly thick, if not persistent, off-white head. Malty flavor has a strong peach component to it, though this does not overwhelm the flavor the way it did the aroma. The peach sweetness nicely balances the hoppy bitterness, making for a very satisfying flavor. Firm-bodied texture is quite fizzy, leaving behind a firm and persistent tingle and a malty, peachy flavor. Another great collaboration!
559 characters

4.12
/5
rDev
+14.8%
look: 4 | smell: 4.5 | taste: 4 | feel: 4 | overall: 4
Poured from a bomber into a Duvel tulip
A- pours a crystal clear shade of orange with a two finger offwhite head that fades quickly. Looks real nice
S- peaches! The smell doesn't hide what this beer's calling card is...the peach scent is very strong and appealing
T- peachy. Getting some wheat flavors out of this as well. Not bad
M- pretty malty. The wheat really accentuates the malt
O- solid beer. You don't see a ton of peach beers that aren't lambics, so this was a nice change of pace
495 characters
3.08
/5
rDev
-14.2%
look: 3.5 | smell: 3 | taste: 3 | feel: 3.5 | overall: 3
22 ounce bottle - $7.99 at Olde Crabapple Bottle Shoppe in Alpharetta, Georgia.
Appearance: Pours a clear, very light copper-hued body with a scant, short-lived, whitish head.
Smell: A fragrant scent of peaches and cream atop far, far lighter, lesser notes of mild-scented, bready malts.
Taste: Faintly toasty, bready malts, faintly sweet and also a bit faintly grainy. Just when you have the malts within your firm, ruthless grasp, that's when the peaches surge forth, leaving everything else seemingly a launch vehicle for the peach flavoring. Mildly bitter with some low herbal, citrus hints (quite low, mind you). At a point the peach taste shreds away, leaving behind what seems to be a bland, faintly boozy blonde ale.
Mouthfeel: Medium-plus body. Medium-plus carbonation.
Overall: About as inspiring a fruit beer as Abita's Purple Haze. Time for a Midnight Project recap! Terra-ryezd was good, Depth Charge was killer, and this was a peach of a beer (and blah).
973 characters

4.09
/5
rDev
+13.9%
look: 3.5 | smell: 4.5 | taste: 4 | feel: 4 | overall: 4
A - Poured in a pint glass with a 2" orange/caramel colored froth. Thick ring sticks around afterwards and the head stays thin. Beer has a slight foggy light orange tint to it with a straw like color.
S - Apricots and peach galore with some orange zest coming in like a light breeze. Its like a dead ripe peach in your glass with no scents of alcohol.
T - Like peach nectar with a slight fuzzy alcohol taste. A creamy finish reminding me of those creamsicles I use to get.
M - Very smooth and light carbonation.
O - I enjoyed this one very much. I'm thinking this one is going to be one of those love/hate types.
620 characters

2.98
/5
rDev
-17%
look: 4 | smell: 3.5 | taste: 2.5 | feel: 3 | overall: 3
#122. This was a special birthday gift split between my girlfriend and I, one beer she had been looking forward to for a long time. A 22 oz bottle runs about $7.99.
Served in 2 15 ounce Becker glasses from Terrapin's Hop Harvest Festival 2011. Served at 40 degrees Fahrenheit.
(Appearance) Pours about a 1-2 finger depth frothy head which fades gradually and leaves medium lacing. Color is a peach-toned caramel, slightly hazy and with medium carbonation. There was a little bit of peach sediment in the bottom of the glass, always an originality to some fruit beers. It's not a bad appearance. 4
(Smell) Yes, there is a very obvious tart and sweet peach aroma to this beer. It's blatantly noticeable to just about anybody with a nose but it's calm. The peach character masks most other smells in the nose, including a grassy aroma. This smells nice like fruit should but isn't very complex beyond the peaches or even bold. 3.5
(Taste) First and final wave is a very bitter peach tartness, with much less sweet malty flavor than I would have anticipated. However, there's even far less peach in the taste than the aroma gave off. It has a bit of a grass & super dry cracker finish. The peach flavor is underwhelming overall, and bizarrely far more bitter bitter than I would have desired. Kind of a bummer. 2.5
(Mouthfeel) Very mildly crisp but it could have been sharper still. I think that crispness would have better complemented the more bitter taste. Alcohol is mostly hidden away and the body is a light-medium. It isn't bad, but it doesn't pair ideally with the taste. If it had been a touch sweeter, than this would have worked. 3
(Overall) A mildly pleasant beer but probably not my ideal Terrapin choice brew. Certainly worthy of being a one-off beer. I'll try it again later this fall but I doubt things will change. It's about average and needs some serious work if we should try it again. It'll probably work for fans of Magic Hat #9 and other fruit beer lovers, but I expected better. 3
Terrapin Beer Company's
Midnight Project Brew Four: Peaotch
C (2.93)
2,077 characters
3.88
/5
rDev
+8.1%
look: 4 | smell: 3.5 | taste: 4 | feel: 4 | overall: 4
On tap at Rackhouse Pub, had to order this just in case I can't pick up a bottle locally. Dark orange color, scant head smells a little bit peachy and maybe some biscuit thrown in. The flavor was very peachy in a sweet way and reminded me of peach jolly ranchers but with less sugar. Maybe they used a purée for this? Either way I could have drank more than one if I didn't have to drive.
389 characters

3.58
/5
rDev
-0.3%
look: 4 | smell: 3.5 | taste: 3.5 | feel: 4 | overall: 3.5
Poured into a Terrapin melting point pint glass
A - Pours a deep amber with a small white head
S - Smells like peach rings...I like it!
T - I think the peach taste is pretty well balanced in this one. Really sweet with a decent amount of hoppiness
M - a little thin
Not the most impressive beer from Terrapin, but I think it's pretty tasty.
345 characters

3.08
/5
rDev
-14.2%
look: 4 | smell: 3.5 | taste: 3 | feel: 4 | overall: 2
Pours a nearly-clear golden with a white head. Aroma is of mild peach -- not intense, but you can't miss it either. Peach Jolly Rancher. The taste is of a simple golden ale with some subtle peach include. A sort of bread/corn taste in there as well. The profile is not particularly sweet and not tart; and a bit too heavy on the palate to be refreshing. There's an aftertaste that lingers briefly...it's the taste that I've grown to associate with cheap American-based fruit beers. Decent mouthfeel. Medium bodied and briskly carbonated.
All in all, a reasonably easy drinker, but it strikes me as a beer without a niche. I'm not sure when or if I would ever want another bottle of this. I think I'd have to call this one a disappointment. Basically a mildly peachy golden ale. And not a particularly good golden ale at that.
The brilliancy of Depth Charge is starting to look more like accidental greatness. The rest of this series has largely sucked.
954 characters
2.7
/5
rDev
-24.8%
look: 3 | smell: 3 | taste: 2.5 | feel: 3 | overall: 2.5
Pours a brilliant, crystalline orange. Let's say the color of peach juice. A heavy handed pour leaves less than a centimeter of white head.
Some sweet peach in the aroma, but I had to literally stick my nose all the way in the glass and inhale very deeply several times. Mostly just reminds me of a mildly hopped English pale ale with a hint of fruit.
The peach is definitely there in the taste, but not very intense. Some Belgian yeast strains could make beer taste fruitier than this. It is fairly tangy, and a bit sour, and only a tad sweet. It is more like a picked-too-early store bought peach compared to fresh from the tree (that's not a comment on the brewing process, I don't know what they used). Malty and bready at first, peachy in the middle, crackers and mild astringency on the finish.
Nothing terrible to say about this beer from a technical standpoint, but I would not recommend it. Definitely not worth the money.
And yet again, negative style points for cheesy artwork and nonsensical prattle on the label.
1,030 characters
Terrapin Midnight Project Peaotch from Terrapin Beer Company
Beer rating:
3.59
out of
5
with
86
ratings