Urban Cowboy
| Rockmill Brewery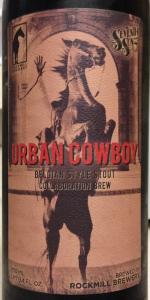 BEER INFO
Brewed by:
Rockmill Brewery
Ohio
,
United States
rockmillbrewery.com
Style:
American Stout
Alcohol by volume (ABV):
8.00%
Availability:
Limited (brewed once)
Notes / Commercial Description:
No notes at this time.
Added by doldham on 03-06-2014
This beer is retired; no longer brewed.
Reviews: 7 | Ratings: 27
3.57
/5
rDev
-6.1%
look: 4 | smell: 3.75 | taste: 3.5 | feel: 3.25 | overall: 3.5
2014 Rockmill version enjoyed November 14, 2015 in an Indians tulip/snifter.
Look - Very bubbly. Hard to contain the head. It is fine bubbled. Dark brown to black. Decent lacing. I can see the sediment in the bottle.
Smell - Pop (Dr. Pepper and Coke). Char. Chocolate. Yeast. Sweet.
Taste - Chocolate. Yeast. Fruit. Raisin.
Feel - Watery. Very carbonated.
Overall - I do not have high hopes for Belgian stouts and had better. This wasn't quite a Belgian but more a watery stout. I will still try to seek out Seventh Son's version.
537 characters

3.81
/5
rDev
+0.3%
look: 3.75 | smell: 4 | taste: 3.75 | feel: 3.75 | overall: 3.75
Urban Cowboy is a black beer lassoed by a coarse, hemp-like rope of lace. These brownish strings also stick to the glass and droop all the way to the bottom, even long after the liquid is gone. All inspections to the light are fruitless; this is an opaque beer through and through.
The aroma features familiar notes of dark chocolate, black coffee, and charred barbecue roast. It is, on first impressions anyhow, definitively stateside - not even remotely Belgian, save maybe for a tinge of dried fruit but even that's not out of place for a higher-gravity stout.
Belgian yeast, absent in the aroma, does make an appearance on the palate; stronger ripe flavours of red grapes and raisin blend into the backdrop of roasted grain and black licorice. A subtle tartness underlines everything, keeping yeast as much as malt in the forefront of the mind.
This is no light stout, but to its credit the 8% alcohol is well disguised. It's a breeze to drink - the added character and strength notwithstanding. The finish tastes considerably rich, kind of like fudge, and has a subtle element of lactic sweetness that is almost chocolate milkshake-like.
Urban Cowboy is much more domesticated than its broncobuster name might suggest. A pleasant and approachable stout, this has super agreeable chocolatey and coffee-ish flavours all within a milky frame that doesn't register as nearly as strong as it is actually is. A tamed black beauty.
1,441 characters
3.44
/5
rDev
-9.5%
look: 4 | smell: 3.75 | taste: 3.25 | feel: 3.5 | overall: 3.25
Decent dark brown head; extremely dark black body, but not cloudy at all.
Dry, spicy Belgian aroma.
Brew is remarkably tart, with a smoky finish. As it warms, a bit of bitter cacao comes through on the flavor, while the smoke fades and the tartness remains.
Lively brew with a medium mouthfeel.
I don't know what to make of this brew. It hardly classifies as a stout; if ever a dark saison classification were called for, this is it. While it isn't bad, I can't imagine ever desiring this beer specifically, or reaching for it if I have options. "Belgian Stout" certainly doesn't spring to mind.
599 characters

3.75
/5
rDev
-1.3%
Bottle 1085/1500, poured from a 750ml bottle into a pint glass
A: Pitch black with a one-finger head
S: Cocoa, wheat, yeast, a bit nutty
T: Largely matches the nose- dark malts, bitter cocoa, yeast and something else I can't quite place; tasty just a little off balance
M: Medium-bodied, fairly smooth
O: Definitely worth a try, not my favorite Rockmill beer but glad to see them do a collaboration and this is solid along with all of their lineup
447 characters

4
/5
rDev
+5.3%
look: 4 | smell: 4 | taste: 4 | feel: 4 | overall: 4
The second beer for tonight, Rockmill's collaboration with Seventh Son Brewing. Pours a deep rich blackish brown with thick tan head that dies down and leaves nice lacing. Smells of chocolate, smoke, black cherries, and deeply roasted malts. Taste has a chocolate and a hair of coffee up front with earthy undertones, smoke on the back, light sour tinged cherry flavor, and sweet malts rounding it all together with roasted goodness. Great mouthfeel, not as dry as it's counterpart, good carbonation. Improves with warmth. Very nice. Between this and the Urban Cowboy from 7th I slightly prefer this one. A great side by side comparison. Cheers!
645 characters
3.95
/5
rDev
+3.9%
look: 3.75 | smell: 3.75 | taste: 4 | feel: 4.25 | overall: 4
This is the last of my Rockmill brews. Parting is such sweet sorrow.
So this is a Belgian stout? Well, the Belgian influence seems minimal, to be honest. But the stout character is nicely defined. Thick malt tones with a mild smoked and roasted edge. Feel could be thicker, I have to say. A nice drinker overall, though.. A good beer with good enough complexities to keep it more than interesting. I like it.
409 characters
4.09
/5
rDev
+7.6%
look: 3.75 | smell: 4 | taste: 4.25 | feel: 4 | overall: 4
750 ml caged and corked bottle, bottle #1301 of 1500. Served in a Unibroue tulip, the beer pours dark brown/black with an inch tan head that didn't stay around for too long. Lacing is decent. The brew smells like cola, candy sugar, roasted malt, chocolate, and some earthiness. It tastes like dark fruit (cherries, plums), roasted malt, cola, candy sugar, bittersweet chocolate and some herbal earthiness. Mouthfeel/body is medium, it's slick and smooth with a moderate amount of carbonation. I thought this was a good brew, I liked it. Definitely worth a try if you come across some. $12.99 a bottle.
601 characters
Urban Cowboy from Rockmill Brewery
3.8
out of
5
based on
27
ratings.