Dismiss Notice
Extreme Beer Fest:Los Angeles
Join us December 9th in Los Angeles for the ultimate throwdown of craft beer creativity!
Learn more...
Dismiss Notice
Bourbon Barrel Imperial Stout
| Neil House Brewery & Homebrew Supply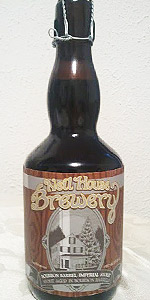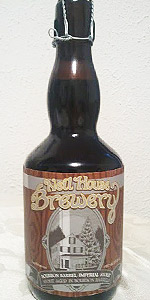 BEER INFO
Brewed by:
Neil House Brewery & Homebrew Supply
Ohio
,
United States
Style:
American Double / Imperial Stout
Alcohol by volume (ABV):
8.00%
Availability:
Limited (brewed once)
Notes / Commercial Description:
No notes at this time.
Added by MbpBugeye on 06-20-2011
This beer is retired; no longer brewed.
HISTOGRAM
Ratings: 7 | Reviews: 5
Reviews by DougRFlowers:
More User Reviews:
2.45
/5
rDev
-20.2%
look: 3 | smell: 3 | taste: 2.5 | feel: 1.5 | overall: 2
22 oz picked up in Columbus on the way home from Christmas.
Black pour, brown around the edges, no head to speak of, pretty becalmed.
Aroma, Bourbon oak and vanilla. Some malt, very little roast. A bit too boozy.
Taste, bourbony oak, some char and burnt sugars. Light malt and roast malt background. Chocolate and cocoa get replaced with some bourbon again to finish.
Mouthfeel is a bit thin, but it coats good enough. A little more warming than one would expect for "only" 8%. One of the colder nights we've had in a while, so not bad really. Some more carbonation would help this also.
Still think this is above average, barely, but mine's slightly older than the other reviews. So maybe it's improving if only a little.
Everything not so desireable got worse as this warmed. Becomes a peat whisky/bourbon bomb. I couldn't finish it.
So yeah, not above average.
868 characters

2.8
/5
rDev
-8.8%
look: 3 | smell: 3 | taste: 2.5 | feel: 3 | overall: 3
Poured into an E&J Cask & Cream glass on 7/25/11
Pours a dull, medium dark brown. Similarly dull black once in the glass. The mocha colored head reaches just shy of two fingers before starting its slow decent to a thin layer. No retention or lace by the mid-point of the glass.
The barreling smells fresh; sweet bourbon, vanilla and just a faint oak note. Tangy roasted notes act as a supportive base - dark berries, cocoa and some burnt chocolate. Coffee ghost note. Doesn't smell too bad, but it's very two-dimensional and not complex.
Though similarly simplistic, I think it tastes decent enough. I'm a fan of the burnt and ashy flavors in imperial stouts and this critter delivers in that regard. Burnt chocolate varieties and some molasses fill out much of the flavor profile without being excessively sweet. That said, it is an absolute burnt mess. The bourbon isn't nearly as strong in the nose, being blanketed in burnt/ashy thievery. Some bourbon heat manifests on the black half with charred barrel and a very subtle vanilla hint lingering amid the ash. Warmth finds more of a musty oak presence. It starts to wear on me over time.
This beer is on the hot side but it seems more like fresh whiskey heat than a result of the abv, which is only 8% - fairly restrained for the style. The feel is full with an enjoyable viscosity. It does become sticky as it warms up, My biggest gripe though is that carbonation is an odd cross between fizzy and fluffy, at least upfront. It does tame over time and the feel starts to better gel.
As far as Neil House is concerned, this isn't all that bad. It's far from a great beer and it fits comfortably in the middle of the pack. It's worth reiterating how much this leans toward burnt flavors; be forewarned if that isn't your thing. I much prefer a mess of ash to a mess of sweetness. This should be the focus of refined efforts; it could be rather good.
1,906 characters
4.2
/5
rDev
+36.8%
look: 4 | smell: 4 | taste: 4.5 | feel: 4 | overall: 4
Picked this up in Nelsonville, never seen if before. Comes in an interesting bottle (caged and corked, though the bottle has indents to be a pop top).
This one pours an opaque black with a decent tan head, falling quickly to about half a finger...and lingering there.
The aroma here is solid. There are hints of vanilla, bourbon, wet wood, sage, oak, rich caramel, and burnt brown sugar. The aroma has a hard sweet edge to it, along with pungent chocolate and whiskey.
As for the taste, the up front flavors are burnt sugar and caramel. There are dense roasted malts, vanilla, and a backbone of chocolate and bittersweet espresso. The bourbon flavor here is very present, pairing well with a good tasting stout.
Overall, this is a really good beer. A nice stout (on the lower end of the "imperial" spectrum) with an excellent bourbon treatment. I'm glad to have found this and given it a shot--a fine ale here.
916 characters

2.88
/5
rDev
-6.2%
look: 4 | smell: 3.5 | taste: 2.5 | feel: 2 | overall: 3
Poured into a Brothers Drake Tulip glass.
A: Dark Burnt Black but able to have light pass through on the edges.
S: ALL BOURBON!! No malt profile to speak of. The nose is heavy booze and nothing else.
T: Again all booze. Some slight oak tannins but not much else. The malt profile has no real representation except some slight roasted notes. Hot and strong.
M: Lean and way to light for an Imperial Stout.
O: This is a weak representation of the style. It seems rushed and young. It tastes more like bourbon with some beer mixed in. I am saving a bottle for future tastings but I do not have much hope. The malt profile needs modified and the bourbon aging needs WAY more time.
682 characters
2.69
/5
rDev
-12.4%
look: 4 | smell: 2.5 | taste: 2.5 | feel: 3.5 | overall: 2.5
This is in quite the peculiar packaging. I almost passed it up, thinking that it was just more of the normal Bourbon Barrel Stout, but with a new bottle and new price tag ($7.99). The label is pretty much the same, you have to actually read the small print at the bottom. The bottle is a 1 pint swing top bottle, but without the hinged plug. It had a wine style cork stuck in with a cage twisted on half assed to try to hold it in. Personally, I'd much rather this bottle have its swing top, its a perfect size for hand bottling.
Poured into a Darkness glass.
Appearance
This has amazing head retention. Its easy to coax out a tall, parchment colored head. It is content at settling at a thick 1/2 finger covering. Blotchy lacing slides back down. The beer isn't the darkest of dark, but its respectably black.
Aroma
The first thing this aroma brings to mind is burnt cookies, specifically oatmeal raisin cookies. It begins to have a deep fruitiness, but these fruits are all burnt, going well beyond caramelized and into the realm of tarry. Even the licorice smells are burnt. Bourbon begins to peek out, but its mostly a set of barrel notes. The wood brings a damp forest floor aroma that weighs heavily on the aroma overall. Things finish off with a spoonful of old fashioned cough medicine.
Taste
It comes as a surprise to me that the taste isn't as burnt as the aroma, opting instead for ashiness and smokiness. I can't stay away from the descriptor of cigarette butts here. Lots of ash and damp wood. There is a sweet fruitiness that runs in close proximity to sweet alcohol, creating a cough syrup flavor. The burnt raisins are still here. Bourbon is pretty pure on the taste, running in conflict to its aroma. It has appreciable notes of vanilla and pear. If you keep searching for new flavors you will continue to find them, but I'm not entirely sure I really like what I've found.
Mouthfeel
Carbonation is low. The beer isn't insanely full bodied but has a very syrupy manner anyway. Its very sweet and certainly very warm for being 8%.
Overall
This is quite different, right down to the bottle. Its not a home run just yet, but its not a bad beer. My complaints are that its much too fruit syrupy. It keeps calling to mind Robitussin.
2,256 characters
Bourbon Barrel Imperial Stout from Neil House Brewery & Homebrew Supply
Beer rating:
3.07
out of
5
with
7
ratings