Bottles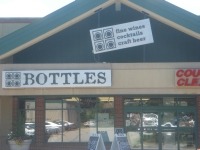 PLACE INFO
Type:
Store
141 Pitman St
Providence
,
Rhode Island
, 02906-5112
United States
(401) 372-2030 |
map
bottlesfinewine.com
Notes:
No notes at this time.
Added by liammaloney on 09-21-2010
Reviews: 8 | Ratings: 20
4.85
/5
rDev
+27%
I just tried this place out the other night. Right next to the East Side Market off of gano street. What I really liked about this place is how organized their craft beer section is. The beers were all shelfed by style. I was in the mood for a nice stout, so I went over and found my old friend BORIS. What a score!
They also had a good selection of bombers in the fridge and plenty of chilled 6 packs. Sound brands I noticed were DFH, Hoppin' Frog, Rogue, a few of the Trappist breweries and all the local breweries (newport storm, ipswhich, harpoon)
good selection and pleasant experience.
I recomend a visit
616 characters
4.5
/5
rDev
+17.8%
vibe: 4.5 | quality: 4.5 | service: 4.5 | selection: 4.5
A good spectrum of imports and American craft brews. Congenial and personable staff, reasonable pricing for the quality and location. Enjoyable regular tasting sessions on Friday afternoons. A clean and attractive physical plant, well stocked. (There are stacks of economy domestic cases tucked in the corner, and a rotating selection of six packs and singles in the cooler.) The shelves are well laid out, well organized, and clean. Easy to find and convenient parking. For the size of the store, I consider it a jewel.
520 characters
4.4
/5
rDev
+15.2%
This location just opened up within the past month or two. They have a great selection of craft beer, wine, and other liquors. Their focus is on high quality beverages and the look of the store shows it. The store is well designed and looks quite modern and upscale. They often have beer tastings and the staff is helpful when looking for anything in particular. You can buy bottles individually or buy 3 larger bottles (larger than 12 ounce) for 10% off total price or buy 6 12ounce bottles for 10% off. There is not that great of a selection for mixing 12 ounce bottles but they make it up for their selection in bombers and full 6 packs. I often go back because of their clean store and good selection. They also have a rewards plan where you get store credit for spending $500 or more.
789 characters
4.04
/5
rDev
+5.8%
vibe: 3.75 | quality: 4 | service: 4.25 | selection: 4
The place is really top notch.
The craft beer section is divided into three tall shelves each one having different sections like Trappist beers, abbey beers, ciders, etc.
They also have coolers with packs and a section with more stacked packs uncooled in one corner.
If you do not have an American license, don't bother showing them the international because they won't take it. Take your passport instead.
Additionally, make sure, if you're European, to explain that the format dates are reversed.
I went there for the first time without my license and I had to go back home for my passport. Once I got my passport, I had to reassure them I was 21 because of the switch Europeans do with the day and the month.
Other than that, outstanding place with am extremely extensive section of wines and other hard alcohols.
If you're by the area and want to try unique beers, this place is for you.
897 characters

4.03
/5
rDev
+5.5%
vibe: 4 | quality: 4.5 | service: 3.5 | selection: 4
I stopped in to check this place out based on a recommendation from a friend.
It's a good sized space. They carry wine, beer and spirits. The beer section occupies less than a quarter of the space. The singles (both 12oz and larger bottles) are kept out on shelves while the six packs are refrigerated. They had a good amount from Europe and the northeast but the rest of the US seemed a bit underrepresented. But they had enough of a selection to find something you'd like and leave happy. I'd certainly recommend it if you're in the area or passing through but it's not worth a special trip.
595 characters

3.63
/5
rDev
-5%
vibe: 4.5 | quality: 3.5 | service: 3.5 | selection: 3.5
On the east side. Nice parking, store is laid out very nice, bright, clean and spacious.
The beer is in the back- arranged by style. Fair number of imports and some oddities- 2003 Aventinus among others. Mikkeller, some De Molen, other Belgians. Good selection of German and UK beers too. Cooler for 6pks, have been able to score Ghandi Bot from the cooler in the past.
Mix a 6 section too, although it was picked clean the last time I went.
So... not a bad store. But they lose serious points when it comes to pricing.
I see beers for $16 at Nikki's that are $21 here. I see 6pks that are $8 at Nikki's are $11 here. Hands down there is no way you are getting the best price if you are shopping here.
That makes my time at bottles limited. If Nikki's has it (and they prob. do, as they have a better selection than Bottles, with some exceptions) then it's going to be cheaper at Nikki's. Perhaps that comes with the territory/location- I am sure bottles is paying a premium for being on the east side- but I'll go to Nikki's where the prices are consistent and consistently low.
Sorry, Bottles. Still a nice store, I just can't reccomend you over Nikki's.
1,167 characters

3.52
/5
rDev
-7.9%
vibe: 3.75 | quality: 3.25 | service: 4.25 | selection: 3
Small shop with a nice parking lot next to a very good grocery store. The store is clean, well lit, and pretty well organized. Focus seems more on wine. Beer is in the back corner, organized by style on some back-to-back shelving units. Selection is small, talking with the staff they rotate things in and out because they don't have a ton of space. What there is - well organized, clearly priced, easy to pick through. Mix a six section was WIPED OUT when I visited, but no objections when I did it anyway from intact six packs. They had a few unusual specimens as well as the more common items in small quantities. Overall, prices were higher than usual, so the value isn't great. I will stop in since I am in the neighborhood frequently, but would not go out of my way to shop there. Staff was very friendly and helpful just to talk to - kudos for that.
856 characters
2.75
/5
rDev
-28%
vibe: 1 | quality: 3 | service: 3 | selection: 3
Way way way way overpriced. You walk in and right away it doesn't feel right, where is the bud the miller the coors. They are hidden. I like to sip on a nice craft beer but then I feel like a bud or how about a Gansett to drink. Not very comfortable in this store felt like I was at the museum of fine art. I was looking for a $10 bottle of wine not to be found the least inexpensive was $17 The best part is when I asked the manager for a good inexpensive Australian and he suggested a 1.5l of Rene Junot. That's when I had enough and left. Positive points is East side Mkt place just next door, oh and there is plenty of parking. In a nutshell Bottles is Swan Liquors only on a bigger scale.
693 characters
Bottles in Providence, RI
3.82
out of
5
based on
20
ratings.